Jim Obergefell fought all the way to the Supreme Court to be listed on his husband's death certificate. He won.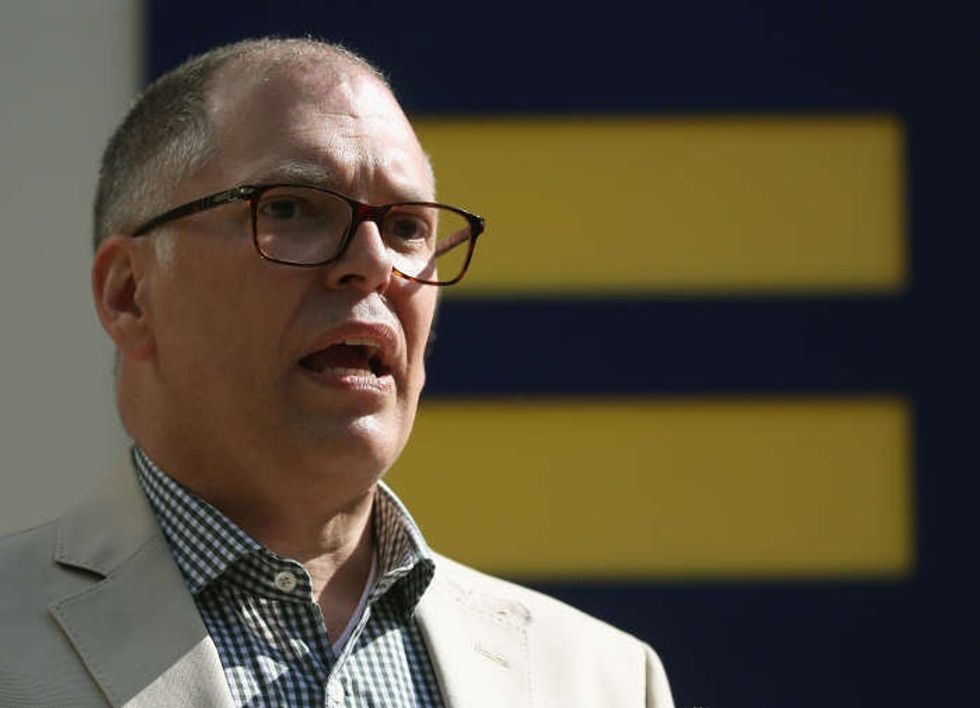 Jim Obergefell. Photo by Mark Wilson/Getty Images.
Now, thanks to a unanimous city council vote in his hometown, the couple will be listed together, forever, on the street corner where they lived.
<p>On June 21, 2017, Cincinnati renamed the block of Mercer Street "John Arthur and Jim Obergefell Way" two years after Obergefell's successful suit made marriage equality the law of the land. </p><iframe width="100%" height="150" scrolling="no" id="twitter-embed-877634389101891585" src="/res/community/twitter_embed/?iframe_id=twitter-embed-877634389101891585&amp;created_ts=1498079318.0&amp;screen_name=TJParkerNews&amp;text=Jim+Obergefell+taking+off+the+cover+to+the+sign.+%40WCPO+https%3A%2F%2Ft.co%2FfEO5upoJsF&amp;id=877634389101891585&amp;name=T.J.+Parker" frameborder="0" class="rm-shortcode" data-rm-shortcode-id="J507X71559347084"></iframe><p>"I still struggle when people call me a hero, an icon," Obergefell told <a href="https://www.youtube.com/watch?v=ztOa97wny0o" target="_blank">WLWT5 at the naming ceremony</a>. "I don't feel that way. I just feel like someone who loved my husband and fought for him and fought to live up to my promises."</p><h2>Obergefell and Arthur were forced to take extraordinary measures to <a href="https://www.buzzfeed.com/chrisgeidner/his-huband-died-in-2013-but-jim-obergefell-is-still-fighting?utm_term=.yrOnzePjN#.fywK03XrE" target="_blank">marry in 2013, since Ohio did not recognize same-sex marriage at the time</a>.</h2><p>The couple chartered a small plane that could accommodate Arthur, who was suffering from ALS, and provide for his medical needs. </p><p>The pair exchanged vows on the tarmac in Baltimore before flying home 10 minutes later. </p><p class="shortcode-media shortcode-media-rebelmouse-image"><img type="lazy-image" data-runner-src="https://assets.rebelmouse.io/eyJhbGciOiJIUzI1NiIsInR5cCI6IkpXVCJ9.eyJpbWFnZSI6Imh0dHBzOi8vYXNzZXRzLnJibC5tcy8xOTQ3Njg4OC9vcmlnaW4uanBnIiwiZXhwaXJlc19hdCI6MTU5NDczNjY1NH0.MgTJF0AEyKNzmhu0Tk4NVXU_pMhyULIYxiI5Q1WksCI/img.jpg?width=980" id="8ec6d" class="rm-shortcode" data-rm-shortcode-id="0270e018def256261c8408e342d8660c" data-rm-shortcode-name="rebelmouse-image"><small class="image-media media-caption" placeholder="add caption...">Private planes park at Baltimore's airport. Photo by Patrick Smith/Getty Images.</small></p><h2>By taking his case all the way to the Supreme Court and winning, Obergefell helped transform marriage equality from a cultural lightning rod to a virtual non-issue. </h2><p>In the year following the ruling, same-sex marriages <a href="https://www.usatoday.com/story/news/politics/2016/06/22/same-sex-marriage-gay-lesbian-supreme-court/86228246/" target="_blank">spiked 33% to include nearly 1 in 10 LGBTQ adults, a total of approximately 1 million couples</a>. </p><p>Meanwhile, support for marriage equality has grown steadily after the ruling, following a brief dip. Over <a href="http://www.latimes.com/politics/washington/la-na-essential-washington-updates-support-for-same-sex-marriage-has-grown-1498485534-htmlstory.html" target="_blank">60% of Americans now belief same-sex couples should be allowed to marry, according to a Pew Research report</a>. </p><h2>Yesterday's high court decisions, however, demonstrate that the fight for full equality continues. </h2><p>Citing Obergefell, the Court ruled that Arkansas must <a href="http://www.nbcnews.com/news/us-news/supreme-court-arkansas-must-list-same-sex-parents-names-birth-n776746" target="_blank">list same-sex parents on their child's birth certificate</a>, but also announced plans to hear a case involving a Colorado bakery owner who <a href="http://www.politico.com/story/2017/06/26/supreme-court-agrees-to-take-up-colorado-gay-wedding-case-239952" target="_blank">refused to bake a cake for a same-sex wedding on First Amendment grounds</a>. </p><p class="shortcode-media shortcode-media-rebelmouse-image"><img type="lazy-image" data-runner-src="https://assets.rebelmouse.io/eyJhbGciOiJIUzI1NiIsInR5cCI6IkpXVCJ9.eyJpbWFnZSI6Imh0dHBzOi8vYXNzZXRzLnJibC5tcy8xOTQ3Njg4OS9vcmlnaW4uanBnIiwiZXhwaXJlc19hdCI6MTYwMDM5NjM4NX0.zIFFA_vOhDo-_y8CqhqPSAc13txmEn3owbp8G76BgmA/img.jpg?width=980" id="70629" class="rm-shortcode" data-rm-shortcode-id="f0a6847550a7415828aae0a0b3dad6e1" data-rm-shortcode-name="rebelmouse-image"><small class="image-media media-caption" placeholder="add caption...">An anti-gay marriage protestor in front of the Supreme Court in 2015. Photo by Mark Wilson/Getty Images.</small></p><p>A ruling for the plaintiff could open the door for businesses with religious proprietors to discriminate against LGBTQ customers. </p><p>Meanwhile, anti-trans "bathroom bills" continue to make their way through <a href="http://www.ncsl.org/research/education/-bathroom-bill-legislative-tracking635951130.aspx" target="_blank">legislatures in 16 states</a>. Efforts to repeal North Carolina's HB2 led to a "compromise" bill which <a href="http://www.slate.com/blogs/outward/2017/03/30/hb2_repeal_bill_is_a_disaster_for_north_carolina_and_lgbtq_rights.html" target="_blank">limits local efforts to pass trans-inclusive policies</a>. </p><h2>For Obergefell, the most rewarding aspect of his visibility is hearing how his struggle to acknowledge John has inspired others.</h2><p>"The best thing possible is when people recognize me and stop me to tell me a story. To thank me. To hug me." he told WLWT5. </p><p>To those whose lives were touched by the Supreme Court ruling, a small city corner must seem a well-deserved honor for a man and the husband he fought to recognize. Meanwhile, the struggle he helped lead goes on.</p><p>Here's to many more streets named for many more heroes and icons in the future. </p><p class="shortcode-media shortcode-media-rebelmouse-image"><img type="lazy-image" data-runner-src="https://assets.rebelmouse.io/eyJhbGciOiJIUzI1NiIsInR5cCI6IkpXVCJ9.eyJpbWFnZSI6Imh0dHBzOi8vYXNzZXRzLnJibC5tcy8xOTQ3Njg5MC9vcmlnaW4uanBnIiwiZXhwaXJlc19hdCI6MTU5NzI0ODExN30.vz-lHqMmJC9qCUSDJE_SnfEzfc3lWRKSe-JEBUb_iKQ/img.jpg?width=980" id="099c3" class="rm-shortcode" data-rm-shortcode-id="4602b255231cbcdffb319f6b7a330085" data-rm-shortcode-name="rebelmouse-image"><small class="image-media media-caption" placeholder="add caption...">Obergefell marches in San Francisco's Pride Parade in 2015. Photo by Max Whittaker/Getty Images.</small></p>