Most Shared
"At some point, you've got to decide for yourself who you're going to be."
On Jan. 8, 2017, "Moonlight" won Best Motion Picture — Drama at the Golden Globe Awards.
The film follows the life of Chiron, an African-American boy born into poverty in Southern Florida, as he wrestles with his sexual identity, dangerous bullies at school, and growing up with an abusive, drug-addicted mom.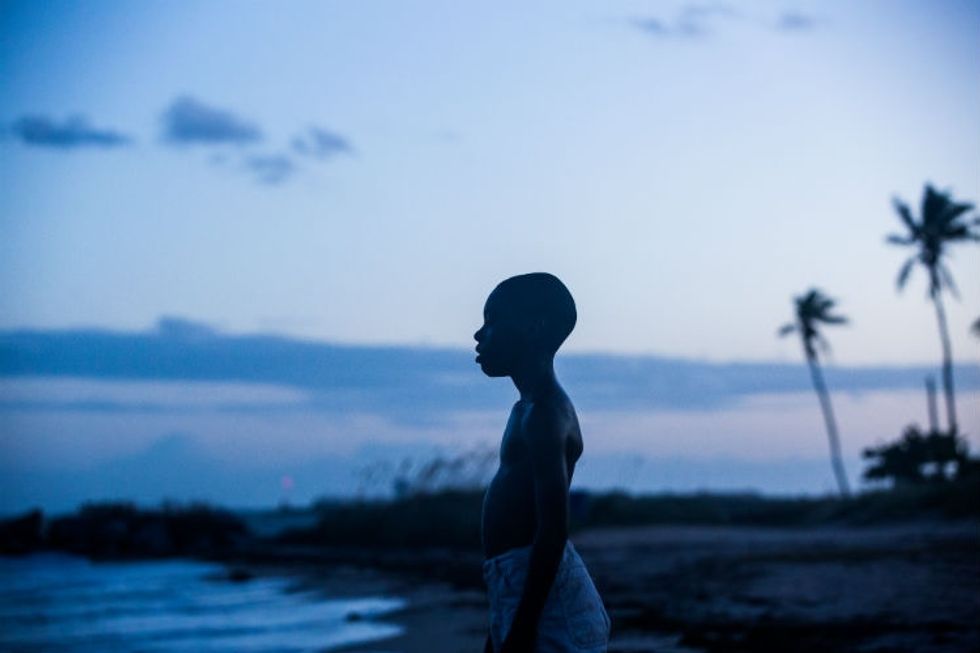 </div></div></div><p>Shedding a light on the powerful forces of race, class, homophobia, and addiction, "Moonlight" offers the type of unique perspective that doesn't just tug at heartstrings and win awards — it challenges us to think critically about important issues, too. </p><p><strong>Here are four powerful moments in "Moonlight" that illustrate just how important the film really is:</strong></p><h2>1. You see the gut-wrenching realities of bullying among kids who are, or who are perceived to be, LGBTQ.</h2><p>In the film, young Chiron (played by Alex R. Hibbert) is forced to hide in an abandoned building after being chased down by boys slinging homophobic slurs. </p><p>Later in the film, the bullies are more successful. When teenaged Chiron (played by Ashton Sanders) is in high school, he's brutally beaten up by someone he believed to be a friend. That gut-wrenching scene ends in bloodshed.</p><div><div class="push-wrapper--mobile" data-card="image" data-reactroot=""><img type="lazy-image" data-runner-src="https://assets.rebelmouse.io/eyJhbGciOiJIUzI1NiIsInR5cCI6IkpXVCJ9.eyJpbWFnZSI6Imh0dHBzOi8vYXNzZXRzLnJibC5tcy8xOTUyNTMzMS9vcmlnaW4uanBnIiwiZXhwaXJlc19hdCI6MTYyMjU5NjYwNX0.ZnIPGTZyK7hzakHVBnc_opdNzhJnRhqwFxo4xJqjtQw/img.jpg?width=980" id="1d494" class="rm-shortcode" data-rm-shortcode-id="13f41362b200a2bb4472828c0b294955" data-rm-shortcode-name="rebelmouse-image"><div class="image-caption"><p>Photo by David Bornfriend, courtesy of A24.</p></div></div></div><p>Bullying is a problem for many, especially <strong>LGBTQ youth, who are <a href="http://www.huffingtonpost.com/2015/05/07/lgbt-kids-bullying-research-_n_7226674.html" target="_blank">91% more likely</a> than their heterosexual peers to be bullied</strong>, according to a study published in the New England Journal of Medicine in 2015. </p><p>Seeing bullying play out on the big screen brings that statistic to life.</p><h2>2. You see how the power of addiction can rip apart families and destroy childhoods. </h2><p>At one point, teenage Chiron is assaulted by his mother (Naomie Harris), who <strong>begs him for cash in order to feed her drug addiction.</strong> </p><div><div class="push-wrapper--mobile" data-card="image" data-reactroot=""><img type="lazy-image" data-runner-src="https://assets.rebelmouse.io/eyJhbGciOiJIUzI1NiIsInR5cCI6IkpXVCJ9.eyJpbWFnZSI6Imh0dHBzOi8vYXNzZXRzLnJibC5tcy8xOTUyNTMzMi9vcmlnaW4uanBnIiwiZXhwaXJlc19hdCI6MTU5OTE0MDYyMX0.Tc71yO2mWXMS9Q4h81cNZbOOYyPS_I4W9vA3FgeCzRE/img.jpg?width=980" id="f9d49" class="rm-shortcode" data-rm-shortcode-id="e71c49e0d5bad3782fb1ab2d6d75a1bc" data-rm-shortcode-name="rebelmouse-image"><div class="image-caption"><p>Courtesy of A24.</p></div></div></div><p>It's a gripping scene that shows how addiction can transform even the most doting parent into a physical and emotional abuser. It also reflects an America grappling with its own addiction crises with <a href="http://www.nytimes.com/2017/01/06/us/opioid-crisis-epidemic.html?_r=0" target="_blank">opioids</a> and <a href="http://www.cnn.com/2016/09/16/health/huntington-heroin/" target="_blank">heroin</a>.  </p><h2>3. You see the complexity in people and why even the "bad guys" can turn out to be the heroes. </h2><p>In the film, Chiron befriends prominent Miami drug dealer Juan (Mahershala Ali), who ends up feeding him, housing him, and accepting him for who he is — regardless of Chiron's sexual orientation. </p><div><div class="push-wrapper--mobile" data-card="image" data-reactroot=""><img type="lazy-image" data-runner-src="https://assets.rebelmouse.io/eyJhbGciOiJIUzI1NiIsInR5cCI6IkpXVCJ9.eyJpbWFnZSI6Imh0dHBzOi8vYXNzZXRzLnJibC5tcy8xOTUyNTMzMy9vcmlnaW4uanBnIiwiZXhwaXJlc19hdCI6MTY0MTA5MjQ1MH0.9Fr28W23Ty1flXlIbOtEqbAZcWaUTWF3OoRfg3mh5sA/img.jpg?width=980" id="8fdc2" class="rm-shortcode" data-rm-shortcode-id="388fea28eb34642214117518347c9eb9" data-rm-shortcode-name="rebelmouse-image"><div class="image-caption"><p>Photo by David Bornfriend, courtesy of A24.</p></div></div></div><p>While Juan's work in the drug industry has inarguably caused harm — you can see its direct effect on Chiron's own mother — you also see how <strong>Juan's compassion saves Chiron, helping him survive his tumultuous childhood. </strong></p><p>"At some point, you've <a href="https://www.youtube.com/watch?v=9NJj12tJzqc" target="_blank">got to decide for yourself who you're going to be</a>," Juan says in a pivotal moment on screen. "You can't let nobody make that decision for you."</p><h2>4. You see Chiron kiss a boy, Kevin (Jharrel Jerome), on the beach...</h2><div><div class="push-wrapper--mobile" data-card="image" data-reactroot=""><img type="lazy-image" data-runner-src="https://assets.rebelmouse.io/eyJhbGciOiJIUzI1NiIsInR5cCI6IkpXVCJ9.eyJpbWFnZSI6Imh0dHBzOi8vYXNzZXRzLnJibC5tcy8xOTUyNTMzNC9vcmlnaW4uanBnIiwiZXhwaXJlc19hdCI6MTYzNzkwNTEzM30.9QZSOyPpI2-JLlbNCvHl7BebP6wC3rPTC2ywx73Z6_c/img.jpg?width=980" id="3ade0" class="rm-shortcode" data-rm-shortcode-id="1a2ffb18c9fd7b2a3694045b2385821b" data-rm-shortcode-name="rebelmouse-image"><div class="image-caption"><p>Photo by David Bornfriend, courtesy of A24.</p></div></div></div><h2> ...and then come back to his hometown as an adult (played by Trevante Rhodes) years later to find Kevin (André Holland) once again.</h2><div><div class="push-wrapper--mobile" data-card="image" data-reactroot=""><img type="lazy-image" data-runner-src="https://assets.rebelmouse.io/eyJhbGciOiJIUzI1NiIsInR5cCI6IkpXVCJ9.eyJpbWFnZSI6Imh0dHBzOi8vYXNzZXRzLnJibC5tcy8xOTUyNTMzNS9vcmlnaW4uanBnIiwiZXhwaXJlc19hdCI6MTYwOTk4MTgyNn0.KBeyYVdZdK_qilEu-nmrrRZsZQGATsGSJ7ujoNbX22Y/img.jpg?width=980" id="99acc" class="rm-shortcode" data-rm-shortcode-id="4feacad414ab05aa94c54d212a4c4608" data-rm-shortcode-name="rebelmouse-image"><div class="image-caption"><p>Photo by David Bornfriend, courtesy of A24.</p></div></div></div><p>It's still <a href="https://www.glaad.org/whereweareontv16" target="_blank">too rare</a> to see same-sex love on screen — <em>especially</em> LGBTQ love scenes between young men of color. </p><p><strong>Media representation matters. </strong>And to thousands of boys and men watching the complicated, contentious, and beautiful scenes between Chiron and Kevin, "Moonlight" has made a difference. </p><h2>Stories like Chiron's matter. And it's not every day that films like "Moonlight" get the Hollywood recognition they deserve. </h2><p>Congratulations to the cast and crew of "Moonlight" — not only on their Golden Globe win, but for creating a piece of art that will stay in the hearts and minds of many for years to come.</p>