More
This is why organ donation matters.
The day before her wedding, Jeni Stepien was probably a little more anxious and excited than most brides-to-be — with good reason.
She was about to meet Arthur Thomas, the man who was going to walk her down the aisle, for the very first time.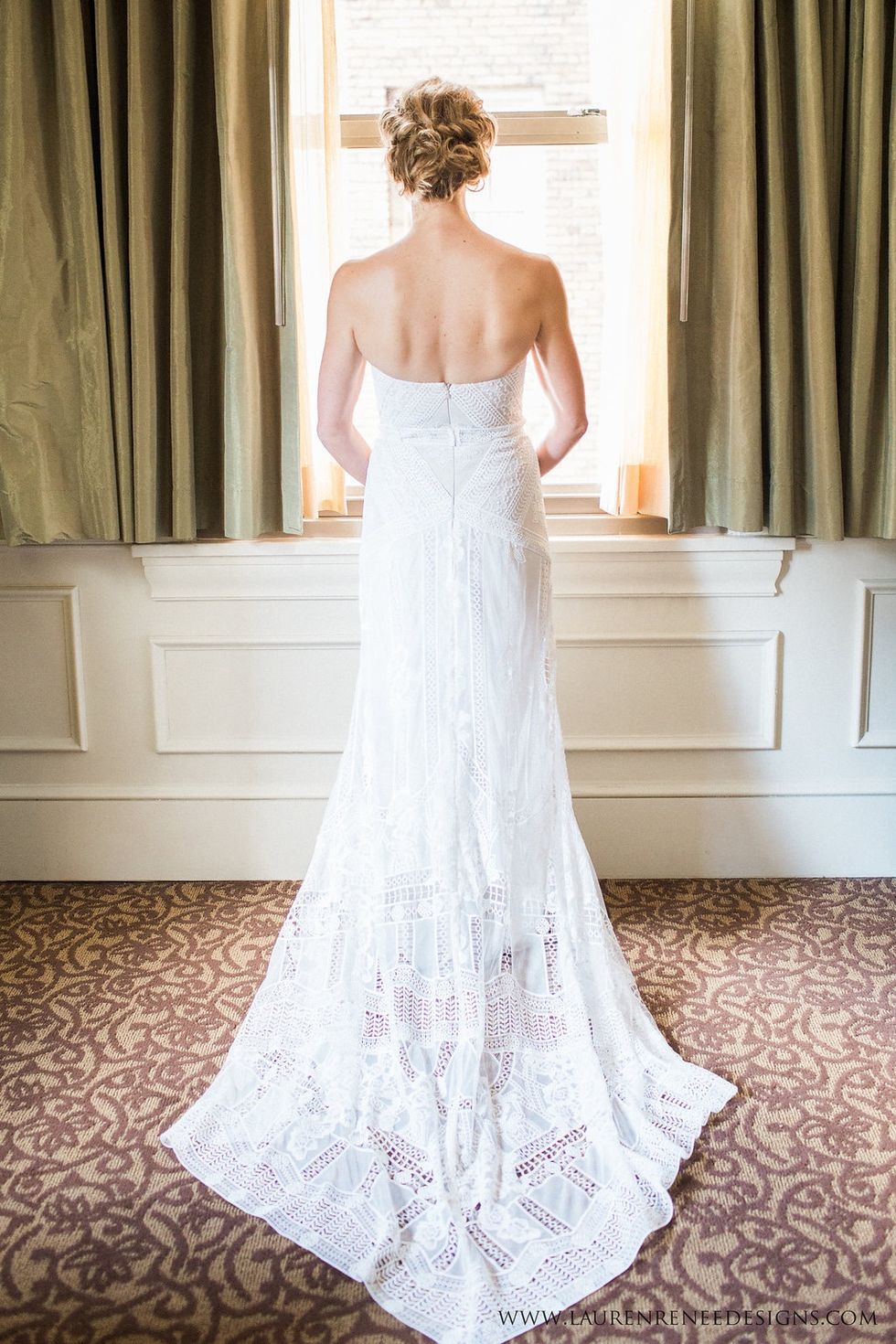 <p class="image-caption">Jeni on her wedding day. Photo by <a href="http://www.laurenreneedesigns.com/" target="_blank">Lauren Renee Designs</a>, used with permission.</p><h2>Jeni lost her father, Michael, 10 years ago. He was tragically murdered during a robbery. </h2><p>While he was on life support, Michael's family was informed that it was his wish to have all his organs that could be useful to others donated.</p><p>They were incredibly supportive of his decision, so within 48 hours, his heart and kidneys were given to two people who were in dire need of them.</p><p>Arthur Thomas was one of those people.</p><h2>Thomas received Michael's heart in the nick of time. </h2><p>Thomas (or Tom, as they call him) was days away from dying himself, Jeni tells Upworthy. He had been waiting for years for a heart, and her dad's was a literal lifeline.</p><p><img type="lazy-image" data-runner-src="https://assets.rebelmouse.io/eyJhbGciOiJIUzI1NiIsInR5cCI6IkpXVCJ9.eyJpbWFnZSI6Imh0dHBzOi8vYXNzZXRzLnJibC5tcy8xOTUyMjQ2Mi9vcmlnaW4uanBnIiwiZXhwaXJlc19hdCI6MTYzNzU4NzE0MH0.e8U8FqvaYs92SSEU_zp5-C8L1uuF4WRmdp5Mmb6i3yc/img.jpg?width=980" id="427c7" class="rm-shortcode" data-rm-shortcode-id="0743c57990735f3e5eacdde39dc72ad9" data-rm-shortcode-name="rebelmouse-image"></p><p class="image-caption">Jeni's mom and dad with her as a baby. <a href="https://www.facebook.com/photo.php?fbid=10100760985191955&amp;set=pb.58400067.-2207520000.1470661825.&amp;type=3&amp;theater" target="_blank">Photo via Jeni Stepien</a>, used with permission.</p><p>Needless to say, Tom was incredibly grateful, but he also recognized that the Stepien family was going through a considerable grieving period.</p><h2>Tom waited until Christmas of that year to send the Stepien family a thank-you letter.</h2><p>Jeni's mother wrote back immediately, and for two years the family exchanged letters with Tom through <a href="https://www.core.org/" target="_blank">CORE (Center for Organ Recovery and Education)</a> before agreeing to have an open communication.</p><p>Understandably, Jeni says, in the beginning, their relationship wasn't the easiest.</p><p>"I wanted my father to be there so badly," Jeni explains. "There were times, right after my father's passing, when I would feel so cheated by the man who took this experience from me. But then I would think of Tom and how much love there was surrounding him." </p><h2>When Jeni got engaged, she knew it was time to finally meet Tom face-to-face. </h2><p>"As soon as I got engaged, I thought, 'But who will walk me down the aisle?'" Jeni recounts. "I thought instantly of Tom, and how special and meaningful it would be to be able to bring everything full circle for my mom and sister, as well — and for Tom."</p><p><img type="lazy-image" data-runner-src="https://assets.rebelmouse.io/eyJhbGciOiJIUzI1NiIsInR5cCI6IkpXVCJ9.eyJpbWFnZSI6Imh0dHBzOi8vYXNzZXRzLnJibC5tcy8xOTUyMjQ2My9vcmlnaW4uanBnIiwiZXhwaXJlc19hdCI6MTYwOTc2OTM4N30.35IZy88K47rTihbCo1OhIQ0djDvEhHDNkHwYCzxV86w/img.jpg?width=980" id="1d10e" class="rm-shortcode" data-rm-shortcode-id="ecced917e4239c82af2ac9deb359bc50" data-rm-shortcode-name="rebelmouse-image"></p><p class="image-caption">Jeni and her now-husband, Paul Maenner. Photo by <a href="http://www.laurenreneedesigns.com/" target="_blank">Lauren Renee Designs</a>.</p><p>In a letter, she asked Tom if he'd be willing to take on the important role in her wedding. A few days later he called and tearfully accepted.</p><p>The two would officially meet just one day before the impending nuptials.</p><h2>Everyone was anxious to meet Tom, but the family couldn't think of a more perfect and loving occasion. </h2><p>When Jeni finally saw Tom at the church in her hometown of Swissvale, Pennsylvania, she knew he was meant to be with her and her soon-to-be-husband, Paul, on their big day.</p><p><img type="lazy-image" data-runner-src="https://assets.rebelmouse.io/eyJhbGciOiJIUzI1NiIsInR5cCI6IkpXVCJ9.eyJpbWFnZSI6Imh0dHBzOi8vYXNzZXRzLnJibC5tcy8xOTUyMjQ2NC9vcmlnaW4uanBnIiwiZXhwaXJlc19hdCI6MTY1NDM5NDkxNn0._pyOyXssURf3sVG6V4mMeFP9FYR_yFqKfYUZf3iELzE/img.jpg?width=980" id="74319" class="rm-shortcode" data-rm-shortcode-id="de8f18e10c3ee1c02e2734af9222c7c7" data-rm-shortcode-name="rebelmouse-image"></p><p class="image-caption">Jeni and Tom at the wedding rehearsal. Photo by <a href="http://www.laurenreneedesigns.com/" target="_blank">Lauren Renee Designs.</a></p><p>"Tom has a presence about him, like my father did when he was in the room. Everyone wants to be near those people, and likes them instantly," Jeni tells Upworthy.</p><p>Jeni says she felt her dad with her throughout her wedding — a milestone in her life that would not have been complete without him there in some way.</p><p><img type="lazy-image" data-runner-src="https://assets.rebelmouse.io/eyJhbGciOiJIUzI1NiIsInR5cCI6IkpXVCJ9.eyJpbWFnZSI6Imh0dHBzOi8vYXNzZXRzLnJibC5tcy8xOTUyMjQ2NS9vcmlnaW4uanBnIiwiZXhwaXJlc19hdCI6MTYwMzY1MTY1OX0.jVU71E5L1MsVJe0NrLW7olAyCsQ3Bq_wY6ud58jkIfc/img.jpg?width=980" id="82e56" class="rm-shortcode" data-rm-shortcode-id="aaac2464ff374462567af5de70d286ae" data-rm-shortcode-name="rebelmouse-image"></p><p class="image-caption">Jeni dancing with Tom. Photo by <a href="http://www.laurenreneedesigns.com/" target="_blank">Lauren Renee Designs.</a></p><h2>Jeni hopes sharing her experience will help other families that have lost a loved one see what extraordinary things organ donation can do.</h2><p>She does recognize, however, that making such a decision is not always easy.</p><p>"I know that the grief can be so intense that you can't imagine life without your loved one. It can be hard to make that call," Jeni says, offering words of advice for anyone in a similar situation.</p><p>I urge people to have this conversation openly with your loved ones about your thoughts on organ donation. [My family] focused on helping people, and that actually eased our grief significantly as we adjusted to life without my father."</p>