Most Shared
Patagonia's ambitious plan to save Bears Ears National Monument might just work.
Without having been there in person, it's hard to fully grasp the majesty of Bears Ears, 1.35 million acres of public land in southeastern Utah.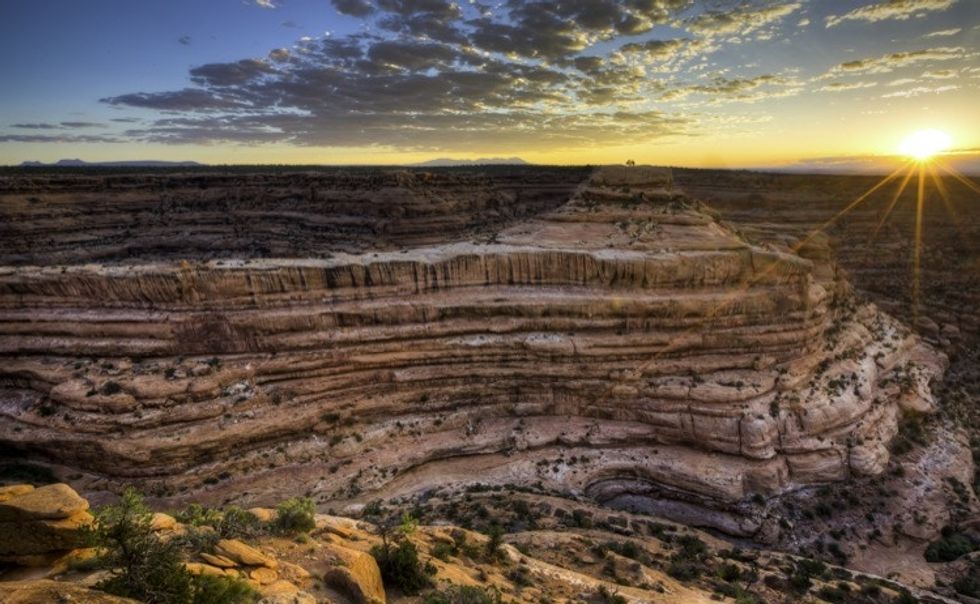 During his final weeks in office, President Obama declared the land a national monument, providing legal protection to its pristine landscape.
For years, local indigenous tribes had lobbied the president to use his power under the Antiquities Act of 1906 to designate the land a national monument to protect it from vandalism and mining. Rich with spiritual significance, the area contains ancient cliff dwellings, rock art, and other fascinating archaeological artifacts dating back thousands of years.
<div><div class="push-wrapper--mobile" data-card="image" data-reactroot=""><img type="lazy-image" data-runner-src="https://assets.rebelmouse.io/eyJhbGciOiJIUzI1NiIsInR5cCI6IkpXVCJ9.eyJpbWFnZSI6Imh0dHBzOi8vYXNzZXRzLnJibC5tcy8xOTUzMDE1OC9vcmlnaW4uanBnIiwiZXhwaXJlc19hdCI6MTY1NDE5NDk1MH0.Wl-1LF9aqCp90UtSdSO5B-a-su6Ido7CF2c1uzmDKXM/img.jpg?width=980" id="a488f" class="rm-shortcode" data-rm-shortcode-id="6229c63f2e7ade28bf18a01d212bd4c1" data-rm-shortcode-name="rebelmouse-image"></div></div><div><div class="push-wrapper--mobile" data-card="image" data-reactroot=""><img type="lazy-image" data-runner-src="https://assets.rebelmouse.io/eyJhbGciOiJIUzI1NiIsInR5cCI6IkpXVCJ9.eyJpbWFnZSI6Imh0dHBzOi8vYXNzZXRzLnJibC5tcy8xOTUzMDE1OS9vcmlnaW4uanBnIiwiZXhwaXJlc19hdCI6MTYwNjQzNDkyMX0.pBQ3m7AOxsByB6S6me9vwIF9EM0L0vRhHT7uNSWUZoc/img.jpg?width=980" id="939a9" class="rm-shortcode" data-rm-shortcode-id="ef861bd174296d14508a176056094687" data-rm-shortcode-name="rebelmouse-image"></div></div><h2>But with Obama out of office, Bears Ears is once again threatened, and one company has a plan to rally support.</h2><p>Last month, Utah Governor Gary Herbert signed a resolution calling on President Donald Trump to revoke Bears Ears' status as a national monument, again opening it up to exploitation by people and groups who want to drill and mine natural resources from the land. </p><p>That's where Patagonia comes in.</p><div><div class="push-wrapper--mobile" data-card="image" data-reactroot=""><img type="lazy-image" data-runner-src="https://assets.rebelmouse.io/eyJhbGciOiJIUzI1NiIsInR5cCI6IkpXVCJ9.eyJpbWFnZSI6Imh0dHBzOi8vYXNzZXRzLnJibC5tcy8xOTUzMDE2MC9vcmlnaW4uanBnIiwiZXhwaXJlc19hdCI6MTYzMDc0NDg4Nn0.opFc5HmF0TMDjs8sndLKbOi7nLRxJrtTVGSsx5vUhFs/img.jpg?width=980" id="f4d76" class="rm-shortcode" data-rm-shortcode-id="385365a6e0c0f2167f1a056f1b39bf80" data-rm-shortcode-name="rebelmouse-image"></div></div><div><div class="push-wrapper--mobile" data-card="image" data-reactroot=""><img type="lazy-image" data-runner-src="https://assets.rebelmouse.io/eyJhbGciOiJIUzI1NiIsInR5cCI6IkpXVCJ9.eyJpbWFnZSI6Imh0dHBzOi8vYXNzZXRzLnJibC5tcy8xOTUzMDE2MS9vcmlnaW4uanBnIiwiZXhwaXJlc19hdCI6MTYxOTcyMzYwOX0.BYT73fe-ld9HwTIphnZe7637cdbx2hRcwuxN1Is4pQY/img.jpg?width=980" id="f4058" class="rm-shortcode" data-rm-shortcode-id="5f2c8d6381c14a6569e0104fb34c9303" data-rm-shortcode-name="rebelmouse-image"></div></div><h2>What better way to rally support for the national monument than to bring the experience of Bears Ears to the people directly? That's what Patagonia set out to do with an ambitious virtual reality video series.</h2><p>Teaming up with Google, Patagonia created a virtual reality experience that immerses viewers in Bears Ears National Monument to hear stories from the likes of Navajo Mountain community member <a href="http://bearsears.patagonia.com/culture/escaping-places" target="_blank">Willie Grayeyes</a>, Hopi archaeologist <a href="http://bearsears.patagonia.com/culture/living-museum" target="_blank">Lyle Balenquah</a>, and Zuni medicine man <a href="http://bearsears.patagonia.com/culture/cave-spring" target="_blank">Octavius Seowtewa</a>, among others.</p><div><div data-card="youtube" data-reactroot=""><div><span style="display:block;position:relative;padding-top:56.25%;" class="rm-shortcode" data-rm-shortcode-id="b3059e29282739ed10ac65406f32b6a3"><iframe type="lazy-iframe" data-runner-src="https://www.youtube.com/embed/kESZx1Q6kmE?rel=0" width="100%" height="auto" frameborder="0" scrolling="no" style="position:absolute;top:0;left:0;width:100%;height:100%;"></iframe></span></div></div></div><h2>It's a really cool experience — whether on desktop, mobile, or a virtual-reality-enabled device — and it has one goal: to inspire people into action.</h2><p>Last year, the outdoor retail giant <a href="http://www.upworthy.com/a-retail-giant-is-giving-its-black-friday-sales-to-fight-climate-change-why-trump">donated its Black Friday sales (estimated at more than $2 million) to grassroots environmental groups</a> to fight climate change. Its campaign to help save Bears Ears follows a similar thread.</p><p>In January, Yvon Chouinard, the company's founder, <a href="http://www.patagonia.com/blog/2017/01/the-outdoor-industry-loves-utah-does-utah-love-the-outdoor-industry/" target="_blank">wrote an open letter to Governor Herbert</a> urging him to accept the new designation protecting the land. Patagonia CEO Rose Marcario began work retooling an in-progress "<a href="http://bearsears.patagonia.com/" target="_blank">This Is Bears Ears</a>" project meant to celebrate the new designation with one that more forcefully defends it.</p><p>"The call to action really came out of necessity because of the attacks by the legislature and governor," Marcario told Mashable. "And we wanted to get more people just understanding the issue, understanding what's at stake, and coming into the dialogue with us and the environmental fight to protect these public lands."</p><div><div data-card="youtube" data-reactroot=""><div><span style="display:block;position:relative;padding-top:56.25%;" class="rm-shortcode" data-rm-shortcode-id="492461a991f7b20197d9d41fb2ba8096"><iframe type="lazy-iframe" data-runner-src="https://www.youtube.com/embed/vZwgTdPqIbo?rel=0" width="100%" height="auto" frameborder="0" scrolling="no" style="position:absolute;top:0;left:0;width:100%;height:100%;"></iframe></span></div></div></div><h2>Now, the 10-part video series ends with a firm call to action urging viewers to call U.S. Secretary of the Interior Ryan Zinke to make the case for preserving the land.</h2><p>"It is imperative that we protect this culturally rich and recreationally spectacular landscape and keep public lands in public hands," <a href="http://bearsears.patagonia.com/take-action" target="_blank">reads a portion of the call script</a>.</p><div><div class="push-wrapper--mobile" data-card="image" data-reactroot=""><img type="lazy-image" data-runner-src="https://assets.rebelmouse.io/eyJhbGciOiJIUzI1NiIsInR5cCI6IkpXVCJ9.eyJpbWFnZSI6Imh0dHBzOi8vYXNzZXRzLnJibC5tcy8xOTUzMDE2Mi9vcmlnaW4uanBnIiwiZXhwaXJlc19hdCI6MTYwNjIwMzgxN30.w6tZXR5jY_NzxcdXh4LkFd8j4K2fvwl6bghIzwg7oSM/img.jpg?width=980" id="d8550" class="rm-shortcode" data-rm-shortcode-id="cb4c6618a376f6629cea5cd39d42d452" data-rm-shortcode-name="rebelmouse-image"></div></div><div><div class="push-wrapper--mobile" data-card="image" data-reactroot=""><img type="lazy-image" data-runner-src="https://assets.rebelmouse.io/eyJhbGciOiJIUzI1NiIsInR5cCI6IkpXVCJ9.eyJpbWFnZSI6Imh0dHBzOi8vYXNzZXRzLnJibC5tcy8xOTUzMDE2My9vcmlnaW4uanBnIiwiZXhwaXJlc19hdCI6MTYzMTcxNjU1MH0.PaYcr8GMkhuMpwvl1sraldC98x0bqr6J3awxmubyYI8/img.jpg?width=980" id="17fd5" class="rm-shortcode" data-rm-shortcode-id="482733dee9e847dbd8fb42713c41ee3f" data-rm-shortcode-name="rebelmouse-image"></div></div><h2>The Trump administration poses a very real threat to lands like Bears Ears and to the environment in general. Luckily, there are things you can do.</h2><p>In addition to following through on <a href="http://bearsears.patagonia.com/" target="_blank">Patagonia's Bears Ears call to action</a>, we've created a list of <a href="http://www.upworthy.com/how-to-take-your-panic-over-trump-and-the-environment-and-turn-it-into-real-actionnew-president-giving-you-environmental-angst-weve-got-21-actions-you-can-take-today">21 things you can do right now to help save the environment</a>. While things may have, in many ways, shifted backward, it's important to remember that the fight to protect our world, our environment, is not over.</p><div><div class="push-wrapper--mobile" data-card="image" data-reactroot=""><img type="lazy-image" data-runner-src="https://assets.rebelmouse.io/eyJhbGciOiJIUzI1NiIsInR5cCI6IkpXVCJ9.eyJpbWFnZSI6Imh0dHBzOi8vYXNzZXRzLnJibC5tcy8xOTUzMDE2NC9vcmlnaW4uanBnIiwiZXhwaXJlc19hdCI6MTYxNDM0NzMzN30.v1g5Vl6U-rxcAflUETQqctmWqVQxZjjNqcmIZ2pX3AI/img.jpg?width=980" id="1a376" class="rm-shortcode" data-rm-shortcode-id="42a505f336258756d87ce803615326a7" data-rm-shortcode-name="rebelmouse-image"></div></div><div><div class="push-wrapper--mobile" data-card="image" data-reactroot=""><img type="lazy-image" data-runner-src="https://assets.rebelmouse.io/eyJhbGciOiJIUzI1NiIsInR5cCI6IkpXVCJ9.eyJpbWFnZSI6Imh0dHBzOi8vYXNzZXRzLnJibC5tcy8xOTUzMDE2NS9vcmlnaW4uanBnIiwiZXhwaXJlc19hdCI6MTYzNjM2MDIzMH0.mY0BWGLfMrB9C-5SwNRsnXGGmNcV1ODTWGpIYd8_9s8/img.jpg?width=980" id="8f07a" class="rm-shortcode" data-rm-shortcode-id="490c03f64b2578c689b36f3ac7e9fca8" data-rm-shortcode-name="rebelmouse-image"></div></div>