via Engin_Akyurt / Pixabay
There's a bizarre prejudice directed at women who have C-sections to deliver their babies.

They're often asked if they feel they "missed out" on giving birth or are told they took the "easy way out" by having surgery instead of delivering the baby vaginally.
Ask any woman who's had a C-section and she'll tell you, it's no walk in the park.
A C-section is major abdominal surgery that takes around six weeks to completely heal. It carries a long list of potential complications, including: infections, excessive bleeding, blood clots, and uterine ruptures.
Sherri Bayles, a New York City-based certified Lamaze instructor, lactation consultant, and registered nurse, says: "The important thing is to have a healthy baby—it doesn't matter how he gets here."
Three years ago, Missouri mom Raye Lee attempted to put an end to all of the shaming by posting raw photos of her body after her C-section on Facebook.
It all started when someone told her "Oh. A c-section? So you didn't actually give birth. It must have been nice to take the easy way out like that."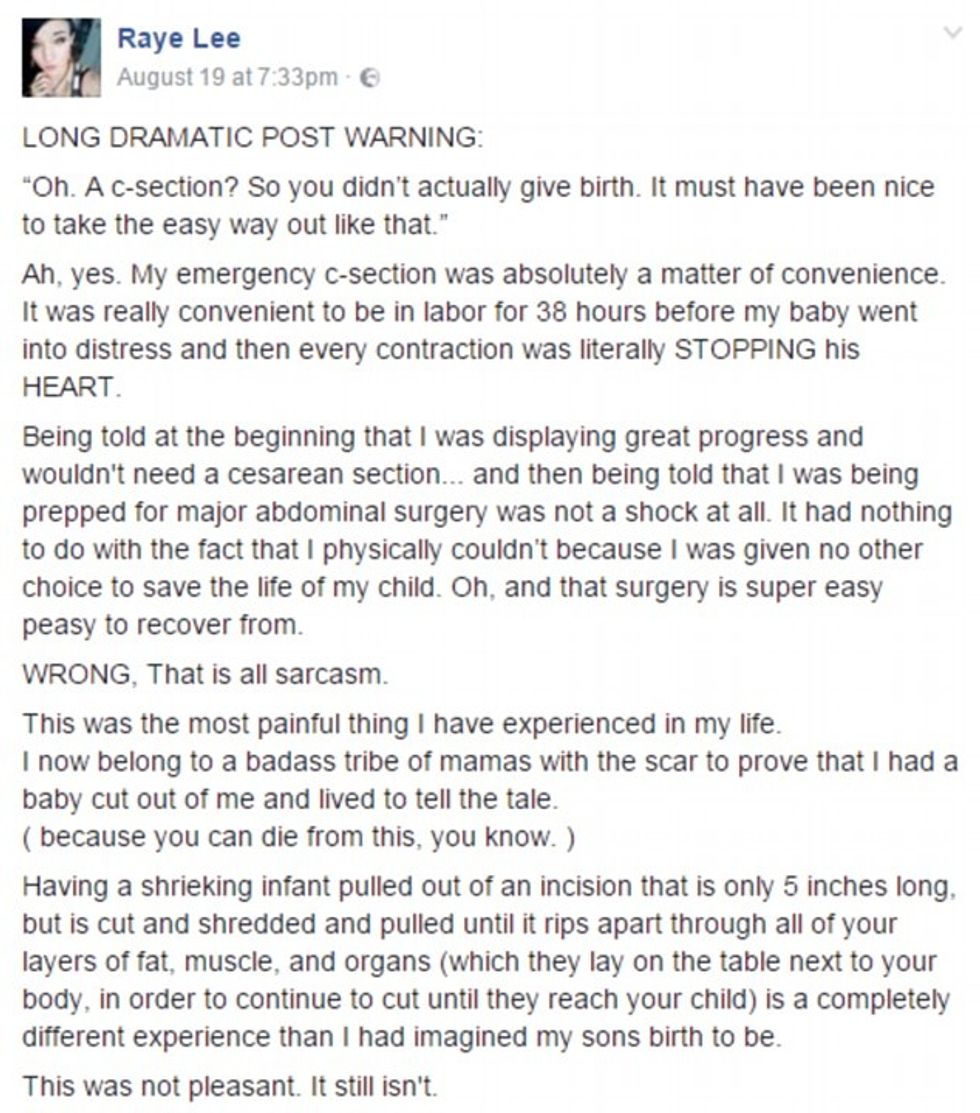 via Facebook
Lee was in labor for 38 excruciating hours before reaching the point whereevery contraction was "literally stopping his heart," she wrote in her post which has since been removed. At that point, her doctors decided it was time for surgery.

"Being told at the beginning that I was displaying great progress and wouldn't need a cesarean section… and then being told that I was being prepped for major abdominal surgery was not a shock at all," she wrote, sarcastically.
"Oh, and that surgery is super easy peasy to recover from."
Her photos show that the surgery was no minor procedure.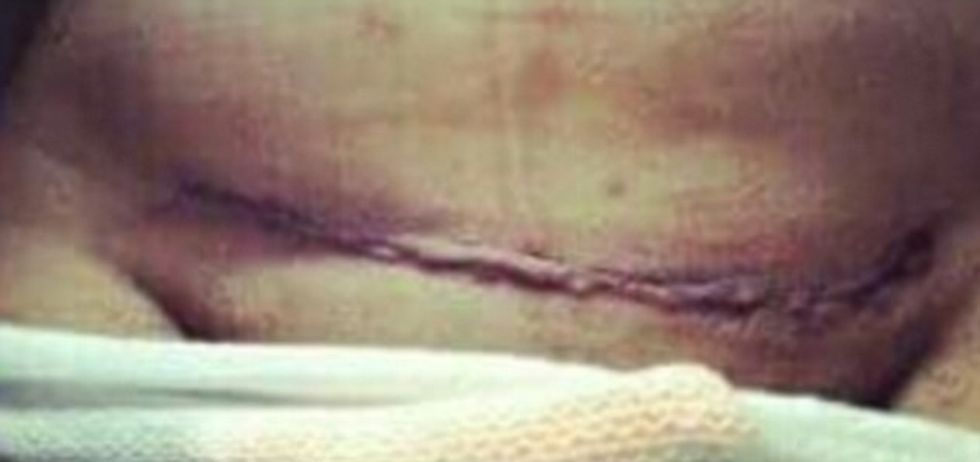 via Facebook
Lee describes her surgery as "a completely different experience than I had imagined my son's birth to be."

"When that first nurse asked you to try getting out of bed and the ripping pain of a body cut apart and stitched back together seared through you, you realized the irony of anybody who talks about it being the 'easy way out,'" she wrote.
She never expected how difficult it would be to recover from the damage done to her core by the surgery.
"You use your core muscles for literally everything... even sitting down," she wrote. "Imagine not being able to use them because they have literally been shredded and mangled by a doctor and not being able to repair them for 6+ weeks because your body has to do it naturally."
But, in the end, for Lee going through the painful surgery was worth the agony.
"I am the strongest woman, that I know," she ended her post. "Not only for myself, but for my beautiful son… and I would honestly go through this every single day just to make sure I am able to see his smiling face."