More
Continuing her streak of being LGBT-positive, Demi Lovato made a pretty awesome move.
Demi Lovato is all about LGBT rights, and she has been for a while.
Just last month, LGBT media watchdog GLAAD awarded her with its Vanguard Award, presented to people in the media who have made a big difference in promoting equality and acceptance. Basically, it's like a super-duper ally award.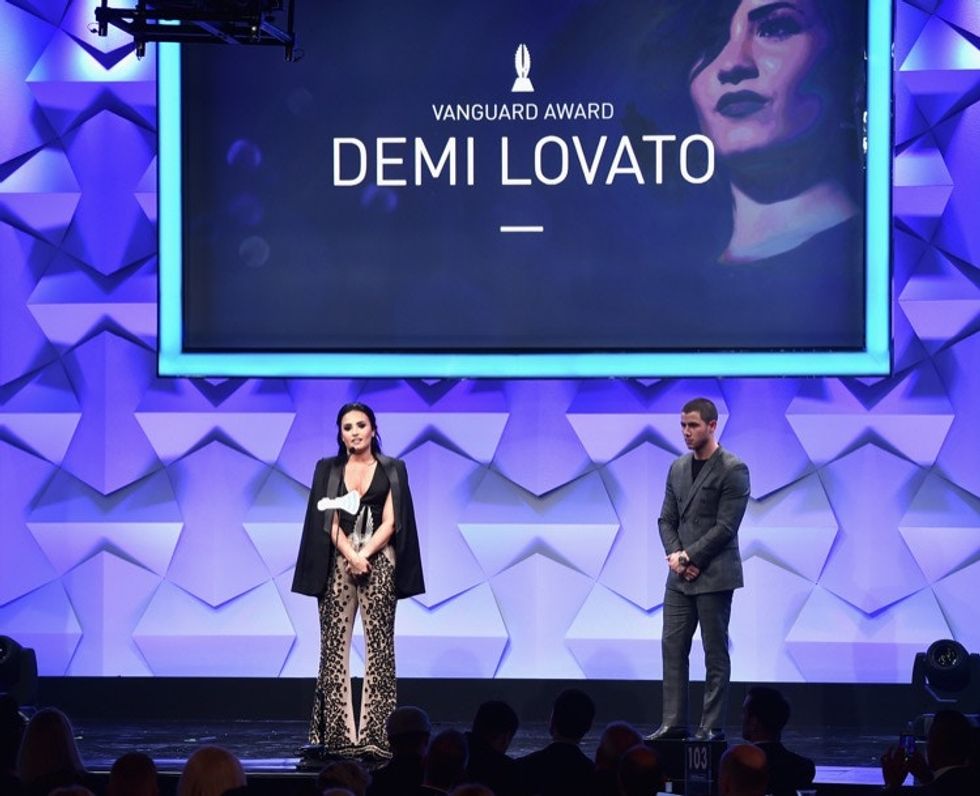 <p class="image-caption"><span class="redactor-invisible-space">Photo by Alberto E. Rodriguez/Getty Images for GLAAD<span class="redactor-invisible-space">.<br></span></span></p><p>"Demi Lovato has consistently used her platform as a successful artist to send messages of acceptance and support to LGBT people everywhere," <a href="http://www.glaad.org/blog/video-demi-lovato-honored-vanguard-award-glaadawards-la" target="_blank">said GLAAD President and CEO Sarah Kate Ellis</a>. "She is an extraordinary ally who is committed to helping young people embrace who they are and live the lives they love."<br></p><h2>So it should come as no surprise that she used her performance at the Billboard Music Awards to make a statement about equality.</h2><p>Lovato was there to perform her single "Cool for the Summer," but what was <em>really </em>cool was what she was wearing: <strong>a mesh shirt with a symbol that's come to represent trans people in the ongoing fight for trans legal protections (and <a href="http://www.upworthy.com/north-carolinas-anti-trans-bathroom-law-is-ridiculous-and-this-interview-proves-it" target="_blank">the opposition's obsession with bathrooms</a>).</strong></p><p><strong></strong><img type="lazy-image" data-runner-src="https://assets.rebelmouse.io/eyJhbGciOiJIUzI1NiIsInR5cCI6IkpXVCJ9.eyJpbWFnZSI6Imh0dHBzOi8vYXNzZXRzLnJibC5tcy8xOTUyMTkzNi9vcmlnaW4uanBnIiwiZXhwaXJlc19hdCI6MTY1MjU4OTk2Mn0.5fS1kpWtmG3FEIOdLPL8rhG4m85I0vWwUvtXsmEe-n4/img.jpg?width=980" id="5e12d" class="rm-shortcode" data-rm-shortcode-id="93fdd0571c1567ad2a6aec8cf83aea86" data-rm-shortcode-name="rebelmouse-image"></p><p class="image-caption">Photo by Kevin Winter/Getty Images.</p><h2>A few weeks back, she and tour mate Nick Jonas made the decision to cancel their North Carolina shows over the state's anti-trans HB2 law.</h2><p>Just like <a href="http://www.upworthy.com/bruce-springsteens-letter-to-north-carolina-after-canceling-his-show-is-a-must-read" target="_blank">Bruce Springsteen</a> and other artists did. It's a strong statement against a discriminatory law.</p><p><img class="tweet-placeholder" data-content="#RepealHB2 pic.twitter.com/cXwWeo2lVP— Demi Lovato (@ddlovato) April 25, 2016" data-tweet="https://twitter.com/ddlovato/status/724705165186457600" src="/assets/tweet-placeholder.png"></p><h2>The absolute coolest part? Replicas of Lovato's shirt will be sold at upcoming tour dates, with proceeds supporting LGBT organizations in North Carolina.</h2><p><a href="http://www.glaad.org/blog/demi-lovato-wears-support-trans-community-during-billboard-awards-performance" target="_blank">All proceeds from shirt sales</a> will go to <a href="http://equalitync.org/" target="_blank">Equality NC</a> and <a href="http://www.timeoutyouth.org/" target="_blank">Time Out Youth</a>. Equality NC is a statewide group fighting for the equal rights of LGBT North Carolinians, and Time Out Youth is an LGBT-affirming community center for Charlotte youth.</p><p style="text-decoration: line-through;"><img type="lazy-image" data-runner-src="https://assets.rebelmouse.io/eyJhbGciOiJIUzI1NiIsInR5cCI6IkpXVCJ9.eyJpbWFnZSI6Imh0dHBzOi8vYXNzZXRzLnJibC5tcy8xOTUyMTkzNy9vcmlnaW4uanBnIiwiZXhwaXJlc19hdCI6MTY1NTA4NDc3M30.4dO7GMr6sV4z4vl4JOYMeEsGsDmIKPPhpMA889WedTA/img.jpg?width=980" id="575ae" class="rm-shortcode" data-rm-shortcode-id="60196bb73b77dec8b3356d043ceddcd7" data-rm-shortcode-name="rebelmouse-image"></p><p class="image-caption">Photo by Kevin Winter/Getty Images.</p><h2>When all eyes were on her at the Billboard Music Awards, she didn't let the opportunity go to waste. That's what makes her a great ally.</h2><p><strong>Way to go, Demi Lovato. Way. To. Go.</strong></p>