Most Shared
The reality star makes an excellent point about body-shaming.
Chances are, you feel some sort of way about Kim Kardashian.
She's built a career on snapping selfies, starring in reality TV, and blanketing the home pages of tabloid websites. She's not everyone's cup of tea, and hey — that's perfectly fine.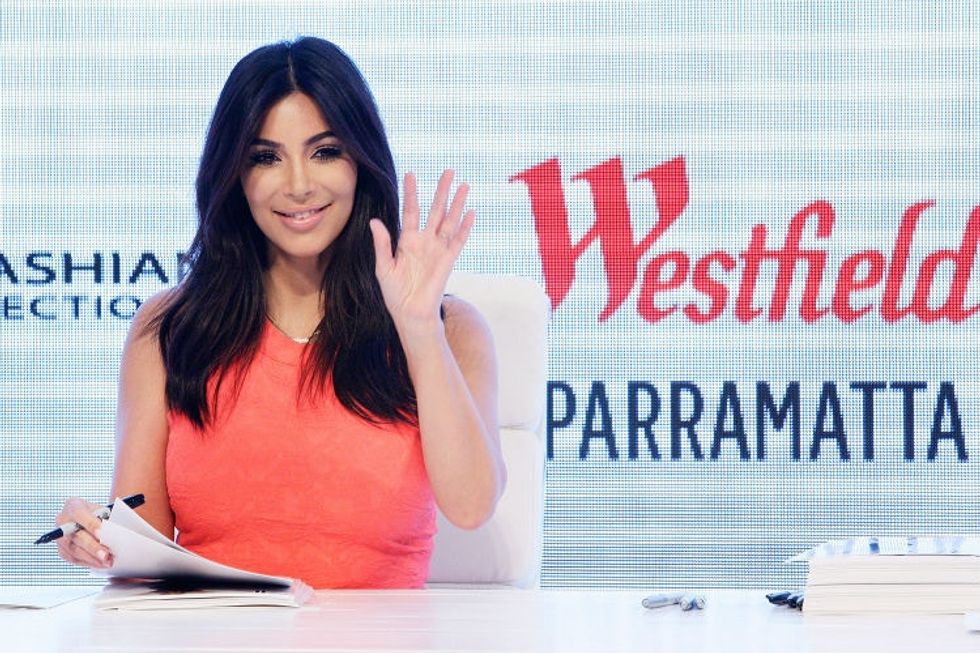 <p class="image-caption">Photo by Lisa Maree Williams/Getty Images<span class="redactor-invisible-space">.</span></p><p><strong>But even if you're not a fan, you should probably read the <a href="https://www.kimkardashianwest.com/behind-the-scenes/776-kim-kardashian-nude-instagram/" target="_blank">open letter</a> she published <strong>March 7, 2016,</strong> on her website in honor of International Women's Day.</strong><strong> </strong></p><p>Because the essay <a href="http://www.buzzfeed.com/sheridanwatson/enough-is-enough#.lnqZRbw58" target="_blank">makes some excellent points</a> about how we view women and their bodies — especially given the news surrounding her social media presence.</p><h2>If you haven't heard, Kardashian posted a nude selfie to her Instagram account. </h2><p><strong>And the <a class="hoverZoomLink" href="https://www.instagram.com/p/BCpQBQROS5l/?taken-by=kimkardashian" target="_blank">photo</a> caused quite the (unfortunate) stir.</strong></p><p>Many people on social media — including celebrities like <a href="https://twitter.com/piersmorgan/status/707207149076803584" target="_blank">Piers Morgan</a>, <a href="https://twitter.com/BetteMidler/status/706914093567873024" target="_blank">Bette Midler</a>, and <a href="https://twitter.com/ChloeGMoretz/status/706986603810394112?ref_src=twsrc%5Etfw" target="_blank">Chloë Grace Moretz</a><span class="redactor-invisible-space"> — decided to chime in on the image to let Kardashian know they were <em>not</em> thrilled. And a</span>ll it takes is one glance at the more than <a href="https://www.instagram.com/p/BCpQBQROS5l/" target="_blank">341,000 comments</a> left on the photo to spot the consistent theme of many of the criticisms directed at Kardashian because of <em>her</em> <em>decision</em> to share a nude photo:</p><p><span class="redactor-invisible-space"></span></p><p><strong>Slut-shaming. </strong>It's alive and well on the Internet, folks.<span class="redactor-invisible-space"></span></p><p><img type="lazy-image" data-runner-src="https://assets.rebelmouse.io/eyJhbGciOiJIUzI1NiIsInR5cCI6IkpXVCJ9.eyJpbWFnZSI6Imh0dHBzOi8vYXNzZXRzLnJibC5tcy8xOTUxNTQwMy9vcmlnaW4uanBnIiwiZXhwaXJlc19hdCI6MTY1NzI0NTg1NH0.ZrU-GKdYjQ0JzhQG_-R-nn6DPNmD53SX-t443H140cY/img.jpg?width=980" id="e41f1" class="rm-shortcode" data-rm-shortcode-id="d5440eff589d142df0cb39e956d35f77" data-rm-shortcode-name="rebelmouse-image"></p><p class="image-caption">Photo by Frazer Harrison/Getty Images.</p><p>Degrading Kardashian for <em>choosing</em> to share an image of her<em> own </em>body is sort of messed up. Why? "Embarrassing, insulting or otherwise denigrating a girl or woman for her real or extrapolated sexual behavior"<span class="redactor-invisible-space"> is never good for <em>any</em> woman, as <a href="http://www.huffingtonpost.com/soraya-chemaly/are-you-a-slut-shamer-the_b_1093045.html" target="_blank">writer Soraya Chemaly once put it</a>. And that includes Kim K.</span></p><p><span class="redactor-invisible-space">It's an issue the reality star took head on in her essay.</span></p><h2>Kardashian defended her decision to share the photo, saying that for her, her body is a source of strength and empowerment.</h2><p>"I am empowered by my body," <a href="https://www.kimkardashianwest.com/behind-the-scenes/776-kim-kardashian-nude-instagram/" target="_blank">she wrote</a>.</p><blockquote> "I am empowered by my sexuality. I am empowered by feeling comfortable in my skin. I am empowered by showing the world my flaws and not being afraid of what anyone is going to say about me. And I hope that through this platform I have been given, I can encourage the same empowerment for girls and women all over the world."</blockquote><p><img type="lazy-image" data-runner-src="https://assets.rebelmouse.io/eyJhbGciOiJIUzI1NiIsInR5cCI6IkpXVCJ9.eyJpbWFnZSI6Imh0dHBzOi8vYXNzZXRzLnJibC5tcy8xOTUxNTQwNC9vcmlnaW4uanBnIiwiZXhwaXJlc19hdCI6MTYwNzYwMjE5M30.-yLZCxMNTd0j07dArDsSn7TBErIrrfgA1niucvBqN2o/img.jpg?width=980" id="55e02" class="rm-shortcode" data-rm-shortcode-id="816be658931238f502951ff231589735" data-rm-shortcode-name="rebelmouse-image"></p><blockquote>"I feel so lucky to have grown up surrounded by strong, driven, independent women. The life lessons I've learned from my sisters, my mother, and my grandmother, I will pass along to my daughter. I want her to be proud of who she is. I want her to be comfortable in her body. I don't want her to grow up in a world where she is made to feel less-than for embracing everything it means to be a woman."</blockquote><p><strong>"It's 2016," Kardashian concluded. "The body-shaming and slut-shaming — it's like, enough is enough. I will not live my life dictated by the issues you have with my sexuality. You be you and let me be me.</strong><span class="redactor-invisible-space"><strong>"</strong><br></span></p><p>Kardashian closed the letter with the hashtag #HappyInternationalWomensDay.</p><p><em>You can read it in its entirety on her <a href="https://www.kimkardashianwest.com/behind-the-scenes/776-kim-kardashian-nude-instagram/" target="_blank">website</a>.</em></p><h2>Fortunately, plenty of stars stood by Kardashian's decision to do whatever she wants with her body (and Instagram account).</h2><p><strong>Like Abigail Breslin, who ran to Kardashian's defense.</strong></p><p><strong><img class="tweet-placeholder" data-content="Anybody who tries to say how a woman chooses to display their OWN body is wrong, is severely misinformed and misguided.— Abigail Breslin (@yoabbaabba) March 8, 2016" data-tweet="https://twitter.com/yoabbaabba/status/707088619685679104" src="/assets/tweet-placeholder.png"><br></strong></p><p><strong>And actor and model Emily Ratajkowski</strong><strong>, who said it like it is.</strong></p><p><img a="" body="" bullsh="" career.="" class="tweet-placeholder" data-content="Love when a man comments on a woman" data-tweet="https://twitter.com/emrata/status/707225353035587585" decision="" emily="" her="" march="" nude="" photo.="" post="" ratajkowski="" s="" sexist="" src="/assets/tweet-placeholder.png" to=""></p><p><strong>"Modern Family" star Ariel Winter pointed out a hard truth. </strong></p><p><img class="tweet-placeholder" data-content="No one was body shaming @justinbieber when he posted his nude guitar photo so why @KimKardashian? #herbodyherchoice #InternationalWomensDay— Ariel Winter (@arielwinter1) March 8, 2016" data-tweet="https://twitter.com/arielwinter1/status/707274430553063425" src="/assets/tweet-placeholder.png"><br></p><p><strong>And model Chrissy Teigen cracked a joke about the whole situation in support of her friend.</strong></p><p><img class="tweet-placeholder" data-content="@KimKardashian well iiiiiiiii just ordered thai food— christine teigen (@chrissyteigen) March 8, 2016" data-tweet="https://twitter.com/chrissyteigen/status/707093915170684928" src="/assets/tweet-placeholder.png"><span class="redactor-invisible-space"><br></span></p><p><span class="redactor-invisible-space"><strong>Actor (and all around amazing human) Rowan Blanchard also stood up for the reality star.</strong></span></p><p><span class="redactor-invisible-space"><strong> </strong></span>"Why are feminists mad at Kim K [for] consensually posting a pic of her own body," <a href="https://twitter.com/rowblanchard/status/707056717385740288?ref_src=twsrc%5Etfw" target="_blank">Blanchard tweeted</a>, noting that women should use the power of the selfie in whatever way they choose. "Nonconsensual nudes of women are leaked all the time by abusers and [you] are mad at a woman being proud of and happy with her own body?" </p><h2>Slut-shaming harms girls and women in many ways. And Kardashian deserves a thumbs up for getting it right this time around.</h2><p><strong>Slut-shaming hinders gender equality in many ways — even when it's subtle. </strong>It sets double standards between men and women when it comes to sexual liberation (because who wants to be <em>that girl,</em> who's known for sleeping with half the class?). It <a href="http://www.huffingtonpost.com/sabrina-nelson/rape-culture_b_3279668.html" target="_blank">contributes to rape culture</a> (because if a girl was <em>asking for it </em><span class="redactor-invisible-space">by the way she dresses, then it's sort of her fault, too, huh?). And it <a href="http://www.huffingtonpost.com/soraya-chemaly/are-you-a-slut-shamer-the_b_1093045.html" target="_blank">welcomes adolescence bullying</a> (because it's OK to judge the girl who wears too much makeup or wears the wrong clothes, right?).</span></p><p><strong>Kardashian is by no means the perfect feminist (and really, no one is), and she's definitely not always on the right side of the body-positivity train (her comments about her brother's weight gain, for example). But this time, she really put the patriarchy in its place.</strong></p><p><img type="lazy-image" data-runner-src="https://assets.rebelmouse.io/eyJhbGciOiJIUzI1NiIsInR5cCI6IkpXVCJ9.eyJpbWFnZSI6Imh0dHBzOi8vYXNzZXRzLnJibC5tcy8xOTUxNTQwNS9vcmlnaW4uZ2lmIiwiZXhwaXJlc19hdCI6MTYwNDI1NjQxOX0.4jWCztMmBrzQubuN82Nf5fm35R-0Jdl6_ZW2CvqFZNE/img.gif?width=980" id="508c2" class="rm-shortcode" data-rm-shortcode-id="4ba1e8630f716863f65193e5c633285f" data-rm-shortcode-name="rebelmouse-image"></p><p class="image-caption">GIF via "Keeping Up With the Kardashians."</p>