Most Shared
Gillian Anderson and Emilia Clarke are into it.
It's Bond. James Bond.
Beloved fictional British spy James Bond has been saving the world for more than half a century, and while there's been some change (he's been played by seven different actors over more than 20 films), at its core, the Bond character continues to resemble the spy originally crafted by novelist Ian Fleming.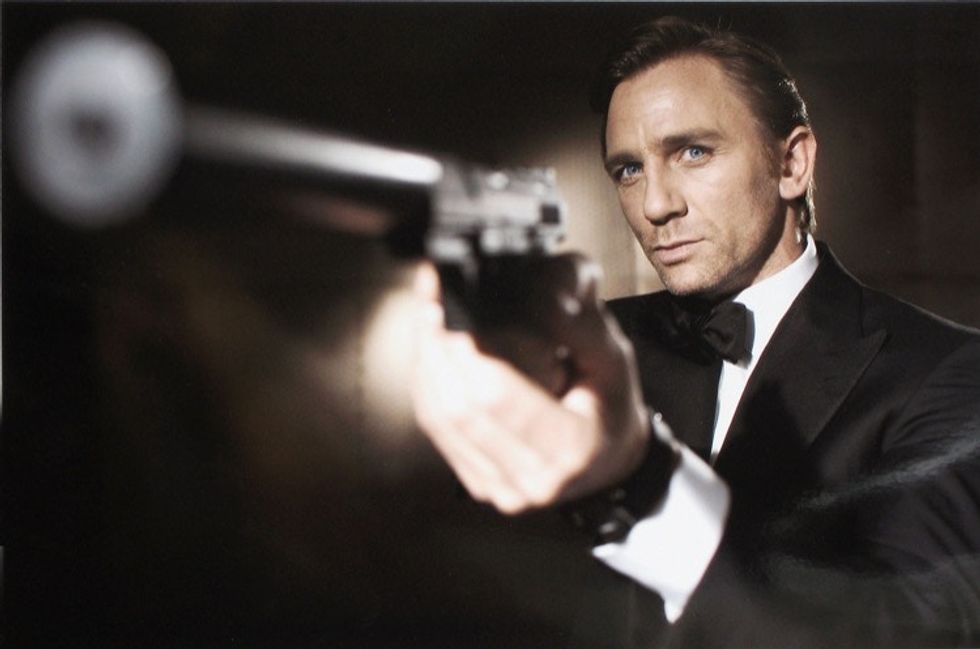 <p class="image-caption">Photo by Greg Williams/Eon Productions via Getty Images.<br></p><h2>Recently, there's been a push to cast a woman in the role of 007, and at least two actresses are totally on board with the idea.</h2><p>Gillian Anderson of "X-Files" fame and Emilia Clarke from "Game of Thrones" have both tossed their hats into the ring to replace Daniel Craig, the current Bond.</p><p>It started when <a href="http://chewiesgirlfriend.tumblr.com/post/144818694600/whats-the-best-rumour-youve-ever-heard-about" target="_blank">Anderson answered a question on Tumblr</a>: "What is the best rumor you've ever heard about yourself?" with "That I might be the next Bond." Since then, fans have been coming out of the woodwork to support the idea of Agent Scully stepping into the role.<br></p><p>Craig, who reprised the role for the fourth time in l "Spectre," <a href="http://www.bustle.com/articles/121832-could-there-be-a-female-james-bond-daniel-craig-thinks-so-but-his-spectre-castmates-arent" target="_blank">is totally cool with the concept of having a woman play the role, saying</a>, "I think it's a great idea. If it works it works. That's the great thing about film is it's all about imagination so of course it could happen. Not that's it a huge push, it's just that anything's possible."</p><p><img all="" anderson="" bond.="" but="" class="tweet-placeholder" data-content="It" data-tweet="https://twitter.com/GillianA/status/734145694055976960" don="" f8gc4zufgl="" for="" gillian="" i="" it="" jane="" know="" love="" made="" may="" pic.twitter.com="" poster="" s="" sorry="" src="/assets/tweet-placeholder.png" thanks="" the="" votes="" who=""><br></p><h2>Here's a look at 17 badass women in Hollywood who'd probably do a pretty awesome job as James — er, Jane Bond.</h2><h2>1. Gillian Anderson</h2><p>"The X-Files," "Hannibal," and "The Fall" feature the versatile actress playing complex (and badass) characters. Without a doubt, she'd be an awesome Bond.</p><p><img type="lazy-image" data-runner-src="https://assets.rebelmouse.io/eyJhbGciOiJIUzI1NiIsInR5cCI6IkpXVCJ9.eyJpbWFnZSI6Imh0dHBzOi8vYXNzZXRzLnJibC5tcy8xOTUxNzk0OS9vcmlnaW4uanBnIiwiZXhwaXJlc19hdCI6MTY0NTM4OTczMX0.3Wbi8o-LG7pCcsItD4zjoUR0fOmrC54v1_-XRz4DYjM/img.jpg?width=980" id="daf88" class="rm-shortcode" data-rm-shortcode-id="cb53e7fd974a4a8c29253dd2791e54d8" data-rm-shortcode-name="rebelmouse-image"></p><p class="image-caption">Photo by Ari Perilstein/Getty Images for The Weinstein Company.</p><h2>2. Emilia Clarke</h2><p>Not only does Clarke play Daenerys Targaryen on "Game of Thrones" (which, honestly, would have been enough reason to put her on the list), but she also flexed her action-star muscles a bit playing Sarah Connor in 2015's "Terminator Genisys."</p><p><img type="lazy-image" data-runner-src="https://assets.rebelmouse.io/eyJhbGciOiJIUzI1NiIsInR5cCI6IkpXVCJ9.eyJpbWFnZSI6Imh0dHBzOi8vYXNzZXRzLnJibC5tcy8xOTUxNzk1MC9vcmlnaW4uanBnIiwiZXhwaXJlc19hdCI6MTY0ODMwNzYzOX0.jhb0wMvkebriz1lOPEEDbgCNbm4xGM_-2kIlxfK5hJw/img.jpg?width=980" id="bb0e7" class="rm-shortcode" data-rm-shortcode-id="0d06aa99e2445451e24b085fef6d6953" data-rm-shortcode-name="rebelmouse-image"></p><p class="image-caption">Photo by Jason Merritt/Getty Images.</p><h2>3. Zoe Saldana</h2><p>She certainly held her own in "Avatar," "Star Trek," and "Guardians of the Galaxy." Who's to say she wouldn't make an awesome Bond?</p><p><img type="lazy-image" data-runner-src="https://assets.rebelmouse.io/eyJhbGciOiJIUzI1NiIsInR5cCI6IkpXVCJ9.eyJpbWFnZSI6Imh0dHBzOi8vYXNzZXRzLnJibC5tcy8xOTUxNzk1MS9vcmlnaW4uanBnIiwiZXhwaXJlc19hdCI6MTY2MzM4OTQwMH0.rN31HztjvED51m2rUogQegX_U1Iw05j7DuCw_s-6o1w/img.jpg?width=980" id="c69dc" class="rm-shortcode" data-rm-shortcode-id="cfbbcbe9e2da4a175e541462f5596bee" data-rm-shortcode-name="rebelmouse-image"></p><p class="image-caption">Photo by Stuart C. Wilson/Getty Images.</p><h2>4. Lucy Liu</h2><p>Currently starring as Dr. Joan Watson on "Elementary," Liu is the very model of how seamless a gender-swapped character can work into a storyline. Add in the fact that she's been in films like "Charlie's Angels" and "Kill Bill," and she'd totally do a great job as Bond.</p><p><img type="lazy-image" data-runner-src="https://assets.rebelmouse.io/eyJhbGciOiJIUzI1NiIsInR5cCI6IkpXVCJ9.eyJpbWFnZSI6Imh0dHBzOi8vYXNzZXRzLnJibC5tcy8xOTUxNzk1Mi9vcmlnaW4uanBnIiwiZXhwaXJlc19hdCI6MTYxNTM0ODUyMH0.oq2N6C18J6XFSADUHrVpz43YneAPke59hH9l1rxI3rY/img.jpg?width=980" id="b3677" class="rm-shortcode" data-rm-shortcode-id="9cb237288ffe080bd1c0b6063ae3e112" data-rm-shortcode-name="rebelmouse-image"></p><p class="image-caption">Photo by Ilya S. Savenok/Getty Images.</p><h2>5. Angelina Jolie</h2><p>Not only has she starred in action roles like "Mr. &amp; Mrs. Smith," "Salt," and "Lara Croft: Tomb Raider," but she's also a UN Special Envoy of the High Commissioner for Refugees. Action chops <em>and </em>diplomatic experience? Perfect.</p><p><img type="lazy-image" data-runner-src="https://assets.rebelmouse.io/eyJhbGciOiJIUzI1NiIsInR5cCI6IkpXVCJ9.eyJpbWFnZSI6Imh0dHBzOi8vYXNzZXRzLnJibC5tcy8xOTUxNzk1My9vcmlnaW4uanBnIiwiZXhwaXJlc19hdCI6MTYyNDQxNTMwM30.fXMwyLUY2haWs8trISGzCafdLGRRKjW-x59ikslHg3Y/img.jpg?width=980" id="badee" class="rm-shortcode" data-rm-shortcode-id="d37c4bf112d9d5d780e9ff5f789b4fd5" data-rm-shortcode-name="rebelmouse-image"></p><p class="image-caption">Photo by Jemal Countess/Getty Images.</p><h2>6. Serena Williams</h2><p>OK, so, Serena Williams isn't really known as an actress (though she did pick up a screen credit in Beyoncé's "Lemonade" video, so that should count as like half a dozen regular roles, right?), but admit it, you'd totally want to see a James Bond movie starring the tennis legend, right?</p><p><img type="lazy-image" data-runner-src="https://assets.rebelmouse.io/eyJhbGciOiJIUzI1NiIsInR5cCI6IkpXVCJ9.eyJpbWFnZSI6Imh0dHBzOi8vYXNzZXRzLnJibC5tcy8xOTUxNzk1NC9vcmlnaW4uanBnIiwiZXhwaXJlc19hdCI6MTYzNTY5NzA5Nn0.ScDVwdNMBMtCe00rZa0F2yr3Nznc97TaJ1rMABsexC0/img.jpg?width=980" id="68eee" class="rm-shortcode" data-rm-shortcode-id="4716fc1fa8738f6e703779197c3f4a88" data-rm-shortcode-name="rebelmouse-image"></p><p class="image-caption">Photo by Bradley Kanaris/Getty Images.</p><h2>7. Michelle Rodriguez</h2><p>Star of the "Fast &amp; Furious" franchise, Rodriguez has shown she can hold her own when it comes to anchoring an action sequence. She's been outspoken about her desire to see better roles for women in action movies for a while now. You can imagine what she'd be capable of with Bond's license to kill.</p><p><img type="lazy-image" data-runner-src="https://assets.rebelmouse.io/eyJhbGciOiJIUzI1NiIsInR5cCI6IkpXVCJ9.eyJpbWFnZSI6Imh0dHBzOi8vYXNzZXRzLnJibC5tcy8xOTUxNzk1NS9vcmlnaW4uanBnIiwiZXhwaXJlc19hdCI6MTYxMjY1OTExMX0.szIM-vdDeLNsQqvHsEEsdhdV2rumg1cxDPNLfjAl7UU/img.jpg?width=980" id="d63a0" class="rm-shortcode" data-rm-shortcode-id="c2073a41f3d1d67fc256e282a3bb59bc" data-rm-shortcode-name="rebelmouse-image"></p><p class="image-caption">Photo by Samir Hussein/Getty Images for Avakian.</p><h2>8. Robin Wright</h2><p>Robin Wright probably isn't the first name to come to mind when you think of a future James Bond, but her role as Claire Underwood on "House of Cards" makes her a force to be reckoned with.</p><p><img type="lazy-image" data-runner-src="https://assets.rebelmouse.io/eyJhbGciOiJIUzI1NiIsInR5cCI6IkpXVCJ9.eyJpbWFnZSI6Imh0dHBzOi8vYXNzZXRzLnJibC5tcy8xOTUxNzk1Ni9vcmlnaW4uanBnIiwiZXhwaXJlc19hdCI6MTYwMjk4NjgzOX0.u4Net7kyTwmbkoJ7xWaxNMsDUYifo3Pkf6iQ-PLuQ5U/img.jpg?width=980" id="18cdd" class="rm-shortcode" data-rm-shortcode-id="6a1961a1b0a1db1d486d4cbf84cf45eb" data-rm-shortcode-name="rebelmouse-image"></p><p class="image-caption">Photo by Kevin Winter/Getty Images.</p><h2>9. Kerry Washington</h2><p>James Bond is basically Olivia Pope — except for all the shooting and the ... OK, so, Bond and Pope don't have that much in common, but Kerry Washington can basically do anything, so I wouldn't count her out.</p><p><img type="lazy-image" data-runner-src="https://assets.rebelmouse.io/eyJhbGciOiJIUzI1NiIsInR5cCI6IkpXVCJ9.eyJpbWFnZSI6Imh0dHBzOi8vYXNzZXRzLnJibC5tcy8xOTUxNzk1Ny9vcmlnaW4uanBnIiwiZXhwaXJlc19hdCI6MTYzNzAxNDA3Mn0.aBZIJTbh9f8EfaH6UT0VpFMdie8g_lVAf2M_0VVzyUE/img.jpg?width=980" id="1b32a" class="rm-shortcode" data-rm-shortcode-id="90f4168c26499b79a99d71f8e263cb4c" data-rm-shortcode-name="rebelmouse-image"></p><p class="image-caption">Photo by Jason Kempin/Getty Images for the DAILY FRONT ROW.</p><h2>10. Ming-Na Wen</h2><p>You probably know Ming-Na Wen from her role as Melinda May on Marvel's "Agents of S.H.I.E.L.D." And if you do, you know that she's part of some of the most badass fight scenes to ever appear on TV and has <a class="hoverZoomLink" href="https://assets.rbl.ms/19517966/origin.gif" target="_blank">a killer high kick that you would not want to be on the receiving end of</a>.</p><p><img type="lazy-image" data-runner-src="https://assets.rebelmouse.io/eyJhbGciOiJIUzI1NiIsInR5cCI6IkpXVCJ9.eyJpbWFnZSI6Imh0dHBzOi8vYXNzZXRzLnJibC5tcy8xOTUxNzk1OC9vcmlnaW4uanBnIiwiZXhwaXJlc19hdCI6MTYxNDUwMjk4NX0.0i_qTP3nYmoMyrHZVd7_zm1DXJ1-dcv_1uvzU0IOQOc/img.jpg?width=980" id="ea5e2" class="rm-shortcode" data-rm-shortcode-id="384e62240d65dd5cd16ec9ccd7177347" data-rm-shortcode-name="rebelmouse-image"></p><p class="image-caption">Photo by Ethan Miller/Getty Images.</p><h2>11. Tatiana Maslany</h2><p>Tatiana Maslany is the star of "Orphan Black," where she plays a half a dozen or so characters, each more complex than the last. If you're looking for someone who can bring something new and fresh to a storied franchise like James Bond, Maslany's a solid choice.</p><p><img type="lazy-image" data-runner-src="https://assets.rebelmouse.io/eyJhbGciOiJIUzI1NiIsInR5cCI6IkpXVCJ9.eyJpbWFnZSI6Imh0dHBzOi8vYXNzZXRzLnJibC5tcy8xOTUxNzk1OS9vcmlnaW4uanBnIiwiZXhwaXJlc19hdCI6MTYyNDk5MjgwNn0.mucVXyEYOBWkSm_JlCaPup-wCrZgpiqUh9ErFNqOXh4/img.jpg?width=980" id="e6792" class="rm-shortcode" data-rm-shortcode-id="f35bccd3c8c17375fb44913dd03eaa14" data-rm-shortcode-name="rebelmouse-image"></p><p class="image-caption"> Photo by Gabriel Olsen/Getty Images for GLAAD.</p><h2>12. Rosario Dawson</h2><p>Yes, it's been more than a decade since Dawson was tearing things up in "Sin City," but that doesn't mean she's lost her edge. Popping up in Marvel properties like "Jessica Jones," "Daredevil," and the upcoming "Luke Cage" series, Dawson's still got it.</p><p><img type="lazy-image" data-runner-src="https://assets.rebelmouse.io/eyJhbGciOiJIUzI1NiIsInR5cCI6IkpXVCJ9.eyJpbWFnZSI6Imh0dHBzOi8vYXNzZXRzLnJibC5tcy8xOTUxNzk2MC9vcmlnaW4uanBnIiwiZXhwaXJlc19hdCI6MTY2MzM5MzQwMX0.icT04a3WluNSMVjRCCx_GWW3uBqkIip2zhFuvH-jG38/img.jpg?width=980" id="3082e" class="rm-shortcode" data-rm-shortcode-id="ecbd80ac8dedeb140bc30bee4628afed" data-rm-shortcode-name="rebelmouse-image"></p><p class="image-caption">Photo by Frazer Harrison/Getty Images.</p><h2>13. Charlize Theron</h2><p>It's Furiosa. Imperator Furiosa. Seriously, not only should Theron do as many action flicks as possible (please do another "Mad Max" — please), but she could 100% rock the role of James Bond, mixing sophistication with all-around badassery.</p><p><img type="lazy-image" data-runner-src="https://assets.rebelmouse.io/eyJhbGciOiJIUzI1NiIsInR5cCI6IkpXVCJ9.eyJpbWFnZSI6Imh0dHBzOi8vYXNzZXRzLnJibC5tcy8xOTUxNzk2MS9vcmlnaW4uanBnIiwiZXhwaXJlc19hdCI6MTY0ODgwOTQ5NH0.jdKnz51fQYRaiIa5izWNI73cjY8QUSdSpL6A7CwFTfA/img.jpg?width=980" id="5df3d" class="rm-shortcode" data-rm-shortcode-id="c8d7646d60f2547ffd2e69a7fdcd66ac" data-rm-shortcode-name="rebelmouse-image"></p><p class="image-caption">Photo by Andreas Rentz/Getty Images.</p><h2>14. Lynda Carter</h2><p>She doesn't act all that much anymore, but Lynda Carter (aka Wonder Woman) could make a monster comeback by picking up the role of MI6's finest.</p><p><img type="lazy-image" data-runner-src="https://assets.rebelmouse.io/eyJhbGciOiJIUzI1NiIsInR5cCI6IkpXVCJ9.eyJpbWFnZSI6Imh0dHBzOi8vYXNzZXRzLnJibC5tcy8xOTUxNzk2Mi9vcmlnaW4uanBnIiwiZXhwaXJlc19hdCI6MTYyODIyMjQzOH0.lla-SA3Fvs9XzVkiO-oSD6bCsvte85jYKkV2noOc62c/img.jpg?width=980" id="ce166" class="rm-shortcode" data-rm-shortcode-id="1312d728ad13f816db84426ec4b1daa3" data-rm-shortcode-name="rebelmouse-image"></p><p class="image-caption">Photo by Rachel Murray/Getty Images for Alliance for Women in Media.</p><h2>15. Beyoncé</h2><p>Let's forget that Queen Bey was in that 2002 Austin Powers movie. Let's just forget that. OK? That was forever ago, before she harnessed the superpower that is being Beyoncé. You saw her kicking ass in the "Lemonade" video. She's a natural for this role.</p><p><img type="lazy-image" data-runner-src="https://assets.rebelmouse.io/eyJhbGciOiJIUzI1NiIsInR5cCI6IkpXVCJ9.eyJpbWFnZSI6Imh0dHBzOi8vYXNzZXRzLnJibC5tcy8xOTUxNzk2My9vcmlnaW4uanBnIiwiZXhwaXJlc19hdCI6MTYyNzc3OTk3N30.ISeXuxNhfGPi402AEenkCmUNjYN_yVbqd1DFZta_vyU/img.jpg?width=980" id="10070" class="rm-shortcode" data-rm-shortcode-id="a0583f6a97bbb058b2ca2dd26f8d246c" data-rm-shortcode-name="rebelmouse-image"></p><p class="image-caption">Photo by Buda Mendes/Getty Images.</p><h2>16. Jessica Alba</h2><p>With action and adventure credits that include "Dark Angel," "Sin City," and "Fantastic Four," Jessica Alba has a resume that'd make just about any casting director drool. Now imagine her as James Bond.</p><p><img type="lazy-image" data-runner-src="https://assets.rebelmouse.io/eyJhbGciOiJIUzI1NiIsInR5cCI6IkpXVCJ9.eyJpbWFnZSI6Imh0dHBzOi8vYXNzZXRzLnJibC5tcy8xOTUxNzk2NC9vcmlnaW4uanBnIiwiZXhwaXJlc19hdCI6MTYxNzUwMjcyNn0.wZIyLXsE7UihU-p3a5mbifNngmw9ViYRyFuoMG03HRk/img.jpg?width=980" id="e28ff" class="rm-shortcode" data-rm-shortcode-id="4e70e0d20a347463a8bf6f43521bf183" data-rm-shortcode-name="rebelmouse-image"></p><p class="image-caption">Photo by Kevin Winter/Getty Images.</p><h2>17. Lucy Lawless</h2><p>If for no other reason than the fact that she played "Xena: Warrior Princess," Lucy Lawless would be warmly welcomed back into action roles. Lawless. Lucy Lawless.</p><p><img type="lazy-image" data-runner-src="https://assets.rebelmouse.io/eyJhbGciOiJIUzI1NiIsInR5cCI6IkpXVCJ9.eyJpbWFnZSI6Imh0dHBzOi8vYXNzZXRzLnJibC5tcy8xOTUxNzk2NS9vcmlnaW4uanBnIiwiZXhwaXJlc19hdCI6MTYzMTkxNjM5M30.ZwF2RMIP91xSrLjg8XuwDpvjcOi9gC8xadSx7Qjh5K4/img.jpg?width=980" id="c55ac" class="rm-shortcode" data-rm-shortcode-id="5ce5ca9723f953243de5afc5a1e8c34f" data-rm-shortcode-name="rebelmouse-image"></p><p class="image-caption">Photo by Vivien Killilea/Getty Images for SiriusXM.</p><h2>Will the next Bond be a woman from this list? Probably not. Even so, it's fun to think about.</h2><p>And beyond that, it's great that this is even an idea that's being entertained outside the realm of fan fiction. Are there more pressing gender-related issues to worry about in Hollywood? Sure. <a href="http://www.upworthy.com/how-bad-is-hollywood-diversity-we-cropped-celebrity-photos-to-demonstrate" target="_blank">Wage inequality and representation</a> both in front of and behind the cameras could use some major work. Does that make dreaming up a gender-swapped James Bond any less entertaining? Nah.</p><p><strong>May the next James Bond — whoever they may be — lead the franchise in exciting new directions.</strong></p>