Most Shared
They called on athletes to use their voices to bring attention to violence.
Professional athletes hold a unique position within our culture.
Their job, in its most basic sense, is to be really, really good at a game. For this, top players make tens if not hundreds of millions of dollars. Sounds pretty good, right? They're also idolized by men, women, and children around the world, giving them another form of currency at their disposal: influence.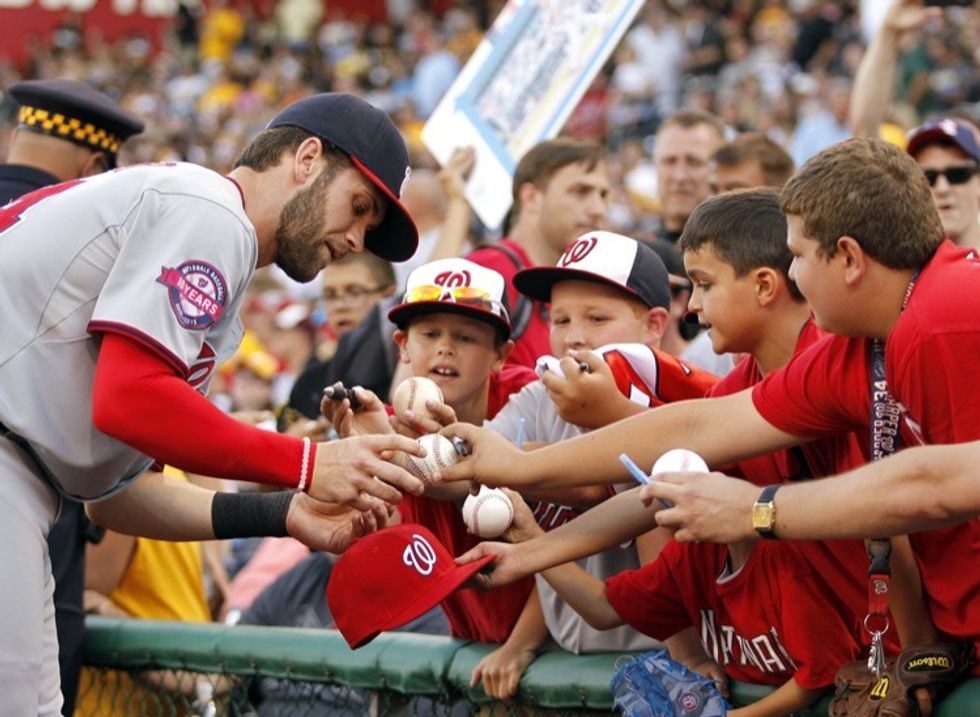 <p class="image-caption">Fans swarm Washington Nationals outfielder Bryce Harper for autographs before a game against the Pittsburgh Pirates on July 24, 2015. Photo by Justin K. Aller/Getty Images.</p><h2>For a long time, athletes were loath to use that influence when it came to anything even remotely political for fear of losing endorsement deals.</h2><p>In the early '90s, the Democratic Party asked NBA superstar Michael Jordan to to support former Charlotte, North Carolina, Mayor Harvey Gantt in his bid to unseat Sen. Jesse Helms. At the time, Helms was one of the loudest voices in opposition to the proposal of making Dr. Martin Luther King Jr.'s birthday a national holiday and had a knack for <a href="http://articles.latimes.com/1993-08-06/news/mn-20952_1_carol-moseley-braun" target="_blank">antagonizing black members of Congress by singing "Dixie,"</a> a song about longing for the days of slavery, in elevators.</p><p>Sounds like a no-brainer, right? Wrong. Jordan, who attended the University of North Carolina, decided not to show support behind Gantt. His reason? "<a href="http://www.forbes.com/sites/kurtbadenhausen/2011/09/22/the-business-of-michael-jordan-is-booming/#7ad806f83955" target="_blank">Republicans buy shoes, too.</a>"</p><p><img type="lazy-image" data-runner-src="https://assets.rebelmouse.io/eyJhbGciOiJIUzI1NiIsInR5cCI6IkpXVCJ9.eyJpbWFnZSI6Imh0dHBzOi8vYXNzZXRzLnJibC5tcy8xOTQ5Njc2OS9vcmlnaW4uanBnIiwiZXhwaXJlc19hdCI6MTY1MTQ1MTc4OH0.ATy-qHVyhm7vTp9BNmfnFDDf8nIhgwhFNuj8x-RAtOc/img.jpg?width=980" id="0722f" class="rm-shortcode" data-rm-shortcode-id="445c5218cd7c38e7489e870eb53f18f7" data-rm-shortcode-name="rebelmouse-image"></p><p class="image-caption">Jordan wears a pair of his Nike Air Jordan sneakers before a 1995 game against the Orlando Magic. Photo by Allsport USA/Allsport.</p><p>This isn't to say all athletes are apolitical in their public appearance. One of the most famous athletes of all time, Muhammad Ali, bucked that trend. For example, Ali protested the Vietnam War by refusing to join after being drafted.</p><h2>But with an increased focus on police brutality, some stars are becoming more willing to use their social currency to raise awareness.</h2><p>After the death of Eric Garner, a black man who died in a chokehold performed by a New York City police officer, a number of NBA players wore shirts reading "I Can't Breathe," which were Garner's final words.</p><p><img type="lazy-image" data-runner-src="https://assets.rebelmouse.io/eyJhbGciOiJIUzI1NiIsInR5cCI6IkpXVCJ9.eyJpbWFnZSI6Imh0dHBzOi8vYXNzZXRzLnJibC5tcy8xOTQ5Njc3MC9vcmlnaW4uanBnIiwiZXhwaXJlc19hdCI6MTY1MDQzNDQ1Nn0.mLa4HQuf_fYJh5c-s2CK8SkUUIozI97eXb2dpKv6JyA/img.jpg?width=980" id="c5de4" class="rm-shortcode" data-rm-shortcode-id="bde2f7c2733d064663ff1c71cde2ba01" data-rm-shortcode-name="rebelmouse-image"></p><p class="image-caption">LeBron James of the Cleveland Cavaliers wears an "I Can't Breathe" shirt during warmups before his game against the Brooklyn Nets on Dec. 8, 2014. Photo by Al Bello/Getty Images.<br></p><p>Following the shooting of Michael Brown in nearby Ferguson, Missouri, St. Louis Rams stars Tavon Austin, Jared Cook, and Chris Givens entered their Nov. 30, 2014, game against the Oakland Raiders doing a "hands up, don't shoot" pose.</p><p><span></span></p><p><img type="lazy-image" data-runner-src="https://assets.rebelmouse.io/eyJhbGciOiJIUzI1NiIsInR5cCI6IkpXVCJ9.eyJpbWFnZSI6Imh0dHBzOi8vYXNzZXRzLnJibC5tcy8xOTQ5Njc3MS9vcmlnaW4uanBnIiwiZXhwaXJlc19hdCI6MTY1MDYwNzYwN30.PNdoOqAFeNwUEthTDdYbBXFitrUmwW3WRsFA8hpEM9E/img.jpg?width=980" id="f7647" class="rm-shortcode" data-rm-shortcode-id="f5434a5e81958b10e0fde5b6e3ab97bb" data-rm-shortcode-name="rebelmouse-image"></p><p class="image-caption">Photo by Dilip Vishwanat/Getty Images.<br></p><p>The WNBA's Minnesota Lynx donned practice shirts honoring the lives of Alton Sterling, Philando Castile, and the five police officers killed in Dallas.<br></p><p><img chiney="" class="tweet-placeholder" data-content="We" data-tweet="https://twitter.com/Chiney321/status/751930774585245701" gypnyategs="" july="" ogwumike="" pic.twitter.com="" re="" src="/assets/tweet-placeholder.png" with="" you=""><br></p><h2>On July 13, 2016, four of the NBA's top players — LeBron James, Dwyane Wade, Carmelo Anthony, and Chris Paul — opened the annual ESPYs award show by calling on their fellow athletes to take action.</h2><p>"The events of the past week have put a spotlight on the injustice, distrust, and anger that plague so many of us," Anthony said in reference to the killings of Sterling, Castile, and the Dallas police officers. "The problems are not new, the violence is not new, and the racial divide definitely is not new. But the urgency to create change is at an all-time high."<br></p><p>"Enough is enough," Wade added. "Now, as athletes, it is on us to challenge each other to do even more than we already do in our own communities. And the conversation cannot — it cannot — stop as our schedules get busy again. It won't always be convenient. It won't. It won't always be comfortable, but it is necessary."<span class="redactor-invisible-space"></span></p><p><img type="lazy-image" data-runner-src="https://assets.rebelmouse.io/eyJhbGciOiJIUzI1NiIsInR5cCI6IkpXVCJ9.eyJpbWFnZSI6Imh0dHBzOi8vYXNzZXRzLnJibC5tcy8xOTQ5Njc3Mi9vcmlnaW4uanBnIiwiZXhwaXJlc19hdCI6MTYzNDA1MjYxNX0.y3vt25j7Zqe1Hk15mE27J_T9NkHr0OY8v-BZ91jOgHo/img.jpg?width=980" id="c6f4c" class="rm-shortcode" data-rm-shortcode-id="4e2913146f887ef09f6604bad0a781fe" data-rm-shortcode-name="rebelmouse-image"></p><p class="image-caption">NBA players (left to right) Carmelo Anthony, Chris Paul, Dwyane Wade, and LeBron James speak during the 2016 ESPYs. Photo by Kevin Winter/Getty Images.</p><p>That same day, Anthony penned <a href="https://www.theguardian.com/sport/2016/jul/13/carmelo-anthony-column-athletes-justice-police-violence" target="_blank">an opinion piece at The Guardian</a> titled "We athletes can no longer remain on the sidelines in the struggle for justice." </p><p>Why is it important for high-profile athletes to take up the cause? Because they have the power to keep the conversation going.</p><p>"What we can do is start [to] bring a continuous awareness and keep this conversation going," Anthony writes. "We can't keep riding on this merry-go-round where tragedy happens, it's all over TV and social media, everybody talks about it, then in three and four days it's over with."</p><h2>As for the rest of us — those of us who aren't professional athletes — we can help, too.</h2><p>While it certainly helps to have millions of adoring fans hanging on your every word, most of us don't have that — and that's OK. What we <em>can</em> do is just as important. We, too, can refuse to let these instances of tragedy be forgotten. We, too, can use social media to keep this conversation front-of-mind among our friends and family. We, too, can fight for a world where black men aren't gunned down by police officers and police officers aren't gunned down by a sniper. The world, as it is, is only temporary. It's what we do next that really matters.</p>