More
'We stand together.'
On Saturday, Jan. 21, 2017, more than 2 million people all over the world marched for gender equality rights. Many celebrities were right there with them.
After all, female celebrities — no matter how famous they are — will not escape the gender injustices that are likely to arise in our new administration. So they took their place in the crowds alongside fellow activists, loudly echoing their sentiments every step of the way, as per the Women's March mission:
"We stand together in solidarity with our partners and children for the protection of our rights, our safety, our health, and our families - recognizing that our vibrant and diverse communities are the strength of our country."
Some also used their celebrity status to push the message out even further by giving bold, impassioned speeches in front of the masses.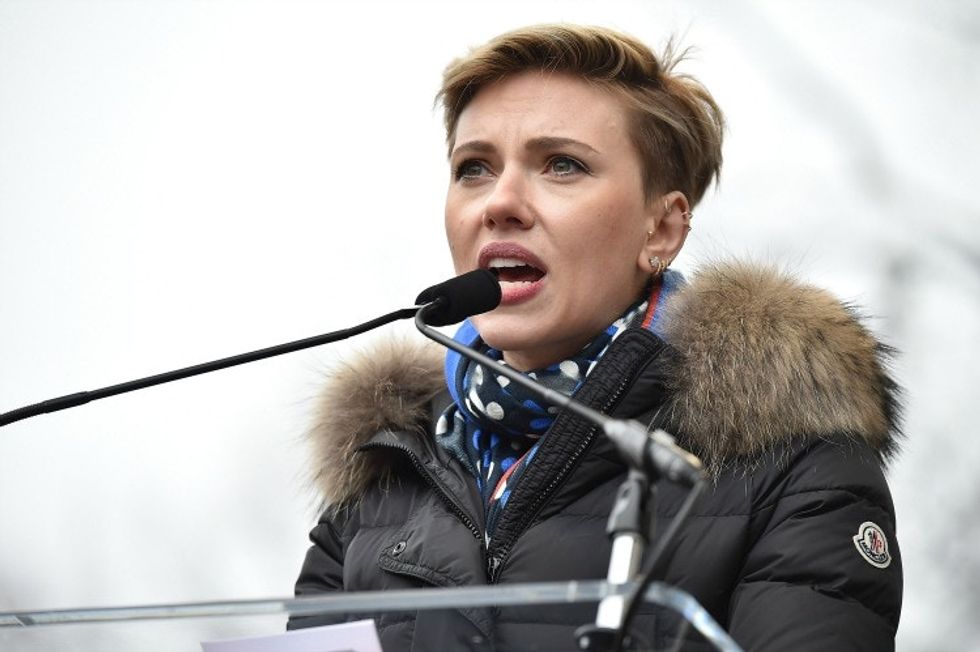 </div></div></div><p>But whether they were in front of a microphone, holding a sign, or sporting a pink pussy hat, their presence among the masses was inspiring. So much of the march was about inclusivity and sharing that purpose with like-minded celebrities reminded people that no one is above that concept. </p><h2>Here are 27 activist celebrities who marched for the cause.</h2><h2>1. Ashley Judd gave a heart-stopping rendition of Nina Donovan's "Nasty Woman" poem.</h2><h2>2. Elizabeth Gilbert brought an appropriately revised copy of her book, "Eat, Pray, Love."</h2><div id="36342" class="rm-shortcode" data-rm-shortcode-id="CLMOBB1559349567"><blockquote class="twitter-tweet twitter-custom-tweet" data-twitter-tweet-id="822794820385198080" data-partner="rebelmouse"><div style="margin:1em 0">On my way to Washington! (Thank you, @ScottRogowsky, for updating my book cover to reflect the spirit of the times!… https://t.co/2O5JgA8ZcF</div> — Elizabeth Gilbert (@Elizabeth Gilbert)<a href="https://twitter.com/GilbertLiz/statuses/822794820385198080">1485004546.0</a></blockquote></div><h2>3. Ariana Grande marched with her female role model — her grandmother.</h2><div><div data-card="instagram" data-reactroot=""><div><blockquote class="instagram-media" data-instgrm-captioned="" data-instgrm-version="7" style=" background:#FFF; border:0; border-radius:3px; box-shadow:0 0 1px 0 rgba(0,0,0,0.5),0 1px 10px 0 rgba(0,0,0,0.15); margin: 1px; max-width:658px; padding:0; width:99.375%; width:-webkit-calc(100% - 2px); width:calc(100% - 2px);"><div style="padding:8px;"> <div style=" background:#F8F8F8; line-height:0; margin-top:40px; padding:50.0% 0; text-align:center; width:100%;"> </div> <p style=" margin:8px 0 0 0; padding:0 4px;"> <a href="https://www.instagram.com/p/BPiNMRKFhOI/" style=" color:#000; font-family:Arial,sans-serif; font-size:14px; font-style:normal; font-weight:normal; line-height:17px; text-decoration:none; word-wrap:break-word;" target="_blank">everything #womensmarch #myrock #queeeent</a></p> <p style=" color:#c9c8cd; font-family:Arial,sans-serif; font-size:14px; line-height:17px; margin-bottom:0; margin-top:8px; overflow:hidden; padding:8px 0 7px; text-align:center; text-overflow:ellipsis; white-space:nowrap;">A video posted by Ariana Grande (@arianagrande) on <time datetime="2017-01-21T17:16:36+00:00" style=" font-family:Arial,sans-serif; font-size:14px; line-height:17px;">Jan 21, 2017 at 9:16am PST</time></p></div></blockquote></div></div></div><h2>4. Connie Britton rocked a Planned Parenthood poster in Park City, Utah.</h2><div id="51407" class="rm-shortcode" data-rm-shortcode-id="KW5BMS1559349567"><blockquote class="twitter-tweet twitter-custom-tweet" data-twitter-tweet-id="822905586987782144" data-partner="rebelmouse"><div style="margin:1em 0">#WomensMarch #Sundance Connie Britton❤️💪 https://t.co/fJwPlPnJiM</div> — Summer (@Summer)<a href="https://twitter.com/DeynaEternity/statuses/822905586987782144">1485030955.0</a></blockquote></div><h2>5. Katy Perry made a new feminist friend at the Los Angeles march. </h2><div><div data-card="instagram" data-reactroot=""><div><blockquote class="instagram-media" data-instgrm-captioned="" data-instgrm-version="7" style=" background:#FFF; border:0; border-radius:3px; box-shadow:0 0 1px 0 rgba(0,0,0,0.5),0 1px 10px 0 rgba(0,0,0,0.15); margin: 1px; max-width:658px; padding:0; width:99.375%; width:-webkit-calc(100% - 2px); width:calc(100% - 2px);"><div style="padding:8px;"> <div style=" background:#F8F8F8; line-height:0; margin-top:40px; padding:50.0% 0; text-align:center; width:100%;"> </div> <p style=" margin:8px 0 0 0; padding:0 4px;"> <a href="https://www.instagram.com/p/BPjNY3BAXSs/" style=" color:#000; font-family:Arial,sans-serif; font-size:14px; font-style:normal; font-weight:normal; line-height:17px; text-decoration:none; word-wrap:break-word;" target="_blank">Today a feminist got her wings. Thank you @gloriasteinem ❤👼🏼</a></p> <p style=" color:#c9c8cd; font-family:Arial,sans-serif; font-size:14px; line-height:17px; margin-bottom:0; margin-top:8px; overflow:hidden; padding:8px 0 7px; text-align:center; text-overflow:ellipsis; white-space:nowrap;">A photo posted by KATY PERRY (@katyperry) on <time datetime="2017-01-22T02:37:34+00:00" style=" font-family:Arial,sans-serif; font-size:14px; line-height:17px;">Jan 21, 2017 at 6:37pm PST</time></p></div></blockquote></div></div></div><h2>6. Jessica Chastain casually handed out love buttons at the march in Washington, D.C. NBD. </h2><div><div class="push-wrapper--mobile" data-card="image" data-reactroot=""><img type="lazy-image" data-runner-src="https://assets.rebelmouse.io/eyJhbGciOiJIUzI1NiIsInR5cCI6IkpXVCJ9.eyJpbWFnZSI6Imh0dHBzOi8vYXNzZXRzLnJibC5tcy8xOTUyMTQxNy9vcmlnaW4uanBnIiwiZXhwaXJlc19hdCI6MTYwMzMwODUzM30.Cozl0FyK63KWxyWa5wjf5VN3uDvnU16ksYLufn1mtvQ/img.jpg?width=980" id="759af" class="rm-shortcode" data-rm-shortcode-id="9175ba3fe009cbeaddaec0375a497d42" data-rm-shortcode-name="rebelmouse-image"><div class="image-caption"><p>Photo by Theo Wargo/Getty Images.</p></div></div></div><h2>7. Drew Barrymore's daughter Frankie's sign was honest and on point.</h2><div><div data-card="instagram" data-reactroot=""><div><blockquote class="instagram-media" data-instgrm-captioned="" data-instgrm-version="7" style=" background:#FFF; border:0; border-radius:3px; box-shadow:0 0 1px 0 rgba(0,0,0,0.5),0 1px 10px 0 rgba(0,0,0,0.15); margin: 1px; max-width:658px; padding:0; width:99.375%; width:-webkit-calc(100% - 2px); width:calc(100% - 2px);"><div style="padding:8px;"> <div style=" background:#F8F8F8; line-height:0; margin-top:40px; padding:62.4537037037037% 0; text-align:center; width:100%;"> </div> <p style=" margin:8px 0 0 0; padding:0 4px;"> <a href="https://www.instagram.com/p/BPjxjR7D0cl/" style=" color:#000; font-family:Arial,sans-serif; font-size:14px; font-style:normal; font-weight:normal; line-height:17px; text-decoration:none; word-wrap:break-word;" target="_blank">Proud of my daughter and her dad.</a></p> <p style=" color:#c9c8cd; font-family:Arial,sans-serif; font-size:14px; line-height:17px; margin-bottom:0; margin-top:8px; overflow:hidden; padding:8px 0 7px; text-align:center; text-overflow:ellipsis; white-space:nowrap;">A photo posted by Drew Barrymore (@drewbarrymore) on <time datetime="2017-01-22T07:53:34+00:00" style=" font-family:Arial,sans-serif; font-size:14px; line-height:17px;">Jan 21, 2017 at 11:53pm PST</time></p></div></blockquote></div></div></div><h2>8. If anyone messes with Melissa Benoist (aka Supergirl) and her vagina, they'll be very, very sorry.</h2><h2>9. I'd say Brie Larson's fans appreciated her presence among them.</h2><div id="c2363" class="rm-shortcode" data-rm-shortcode-id="6GIIB81559349567"><blockquote class="twitter-tweet twitter-custom-tweet" data-twitter-tweet-id="822920776022192128" data-partner="rebelmouse"><div style="margin:1em 0">I want it to be known that I'd die for Brie Larson https://t.co/wkXTNiyrBp</div> — audri of house stark (@audri of house stark)<a href="https://twitter.com/jakesgylenhaal/statuses/822920776022192128">1485034576.0</a></blockquote></div><h2>10. America Ferrera's speech at the March on Washington kicked off the day. Watch it <a href="http://www.upworthy.com/america-ferreras-speech-at-the-womens-march-sends-a-powerful-message-against-hate?c=hpstream">here</a>.</h2><div><div class="push-wrapper--mobile" data-card="image" data-reactroot=""><img type="lazy-image" data-runner-src="https://assets.rebelmouse.io/eyJhbGciOiJIUzI1NiIsInR5cCI6IkpXVCJ9.eyJpbWFnZSI6Imh0dHBzOi8vYXNzZXRzLnJibC5tcy8xOTUyMTQxOC9vcmlnaW4uanBnIiwiZXhwaXJlc19hdCI6MTYxMzY2NjQzNn0.d5g2tUky-C75wcxiluRAkTut4HrA9RduJhaDnqr-9GM/img.jpg?width=980" id="10fab" class="rm-shortcode" data-rm-shortcode-id="827ff91a0d5571f86ad4660d65bc0aac" data-rm-shortcode-name="rebelmouse-image"><div class="image-caption"><p>Photo by Theo Wargo/Getty Images.</p></div></div></div><h2>11. Ian McKellen marched in London with a poster of Patrick Stewart as Captain Picard. Needless to say, people couldn't get enough of him.</h2><h2>12. Scarlett Johansson's speech on how Planned Parenthood helped during her teen years brought the house down.</h2><div><div data-card="youtube" data-reactroot=""><div><span style="display:block;position:relative;padding-top:56.25%;" class="rm-shortcode" data-rm-shortcode-id="4075f30a6b0b7bb9b023d455b025a72d"><iframe type="lazy-iframe" data-runner-src="https://www.youtube.com/embed/-6ofCjjUz-Q?rel=0" width="100%" height="auto" frameborder="0" scrolling="no" style="position:absolute;top:0;left:0;width:100%;height:100%;"></iframe></span></div></div></div><h2>13. Gillian Anderson sported a "<a href="http://www.upworthy.com/we-the-people-updates-shepard-faireys-2008-hope-poster-for-the-trump-years?c=apstream">We the People</a>" poster designed by Shepard Fairey.</h2><div id="7a734" class="rm-shortcode" data-rm-shortcode-id="M69TSL1559349567"><blockquote class="twitter-tweet twitter-custom-tweet" data-twitter-tweet-id="822818439974637568" data-partner="rebelmouse"><div style="margin:1em 0">Thank you @OBEYGIANT for the posters. Thank you Piper for the signs. Proud to be one of many today @womensmarchlon.… https://t.co/DghSYiLsDE</div> — Gillian Anderson (@Gillian Anderson)<a href="https://twitter.com/GillianA/statuses/822818439974637568">1485010177.0</a></blockquote></div><h2>14. Mandy Moore paired up with the inimitable Jane Fonda.</h2><div id="adfbd" class="rm-shortcode" data-rm-shortcode-id="FP8EF51559349568"><blockquote class="twitter-tweet twitter-custom-tweet" data-twitter-tweet-id="822891044953956352" data-partner="rebelmouse"><div style="margin:1em 0">It's not a #WomensMarch without @Janefonda (and @rp1313 and #katherineschwarzenegger) . What a day. One for the boo… https://t.co/G4zzBJwzhY</div> — Mandy Moore (@Mandy Moore)<a href="https://twitter.com/TheMandyMoore/statuses/822891044953956352">1485027488.0</a></blockquote></div><h2>15. "Hidden Figures" actress Janelle Monae's speech says it all.</h2><div id="5a940" class="rm-shortcode" data-rm-shortcode-id="AQGDXN1559349568"><blockquote class="twitter-tweet twitter-custom-tweet" data-twitter-tweet-id="822883618133450752" data-partner="rebelmouse"><div style="margin:1em 0">Janelle Monae at #WomensMarch: "Women will be hidden no more. We will not remain hidden figures. We have names." https://t.co/Sx1NDU83fE</div> — NBC News (@NBC News)<a href="https://twitter.com/NBCNews/statuses/822883618133450752">1485025717.0</a></blockquote></div><h2>16. Maggie Gyllenhaal and her brother Jake did the Women's March on Washington sibling-style. </h2><div id="fd7f0" class="rm-shortcode" data-rm-shortcode-id="G5N6V61559349568"><blockquote class="twitter-tweet twitter-custom-tweet" data-twitter-tweet-id="822944440528596992" data-partner="rebelmouse"><div style="margin:1em 0">Me and my bro #WomensMarchOnWashington https://t.co/4y1uJ9p1YR</div> — Maggie Gyllenhaal (@Maggie Gyllenhaal)<a href="https://twitter.com/mgyllenhaal/statuses/822944440528596992">1485040218.0</a></blockquote></div><h2>17. Amber Tamblyn and Amy Schumer mutually supported women's rights (and NASA).</h2><div id="12d10" class="rm-shortcode" data-rm-shortcode-id="AOKTN01559349568"><blockquote class="twitter-tweet twitter-custom-tweet" data-twitter-tweet-id="822860141930442752" data-partner="rebelmouse"><div style="margin:1em 0">NASA's finest @amyschumer #womensmarch https://t.co/YWowbbKsDr</div> — Amber Tamblyn (@Amber Tamblyn)<a href="https://twitter.com/ambertamblyn/statuses/822860141930442752">1485020120.0</a></blockquote></div><h2>18. Sometimes there's an actor who was in a movie your protest poster is quoted from, and everything's suddenly right with the world. </h2><div id="274ae" class="rm-shortcode" data-rm-shortcode-id="F2UO0Q1559349568"><blockquote class="twitter-tweet twitter-custom-tweet" data-twitter-tweet-id="823240746358566912" data-partner="rebelmouse"><div style="margin:1em 0">Steve Buscemi poses with a man who turned his dismissal from The Big Lebowski into an effective #WomensMarch protes… https://t.co/LvsE21CQ2l</div> — Anthony Breznican (@Anthony Breznican)<a href="https://twitter.com/Breznican/statuses/823240746358566912">1485110863.0</a></blockquote></div><h2>19. A highlight from one epic speech by Gloria Steinem.</h2><div id="e31bb" class="rm-shortcode" data-rm-shortcode-id="TAACOB1559349568"><blockquote class="twitter-tweet twitter-custom-tweet" data-twitter-tweet-id="822833118025396226" data-partner="rebelmouse"><div style="margin:1em 0">Gloria Steinem on Trump at #WomensMarch: "A Twitter finger must not become a trigger finger." https://t.co/fkZFb4kGaG</div> — NBC News (@NBC News)<a href="https://twitter.com/NBCNews/statuses/822833118025396226">1485013677.0</a></blockquote></div><h2>20. Chelsea Handler, together with Charlize Theron and Mary McCormack, were "loud and proud" at Sundance in Park City, Utah.</h2><div id="68cf3" class="rm-shortcode" data-rm-shortcode-id="NKB9EV1559349568"><blockquote class="twitter-tweet twitter-custom-tweet" data-twitter-tweet-id="822635006812127233" data-partner="rebelmouse"><div style="margin:1em 0">#MarchOnMain #WomensMarch #WHYIMARCH @marycmccormack @CharlizeAfrica https://t.co/EVwqyAvJZ6</div> — Chelsea Handler (@Chelsea Handler)<a href="https://twitter.com/chelseahandler/statuses/822635006812127233">1484966444.0</a></blockquote></div><h2>21. Nick Offerman wore a pussy hat with pride (as well as some snow).</h2><div id="6a086" class="rm-shortcode" data-rm-shortcode-id="6707LC1559349568"><blockquote class="twitter-tweet twitter-custom-tweet" data-twitter-tweet-id="822862378903535617" data-partner="rebelmouse"><div style="margin:1em 0">I'm a nasty girl #WomensMarch https://t.co/GjFriucGUY</div> — Nick Offerman (@Nick Offerman)<a href="https://twitter.com/Nick_Offerman/statuses/822862378903535617">1485020653.0</a></blockquote></div><h2>22. "Orange Is the New Black's" Jackie Cruz showed off major sign skills.</h2><div><div data-card="instagram" data-reactroot=""><div><blockquote class="instagram-media" data-instgrm-captioned="" data-instgrm-version="7" style=" background:#FFF; border:0; border-radius:3px; box-shadow:0 0 1px 0 rgba(0,0,0,0.5),0 1px 10px 0 rgba(0,0,0,0.15); margin: 1px; max-width:658px; padding:0; width:99.375%; width:-webkit-calc(100% - 2px); width:calc(100% - 2px);"><div style="padding:8px;"> <div style=" background:#F8F8F8; line-height:0; margin-top:40px; padding:37.5% 0; text-align:center; width:100%;"> </div> <p style=" margin:8px 0 0 0; padding:0 4px;"> <a href="https://www.instagram.com/p/BPh2Ib2BRY4/" style=" color:#000; font-family:Arial,sans-serif; font-size:14px; font-style:normal; font-weight:normal; line-height:17px; text-decoration:none; word-wrap:break-word;" target="_blank">The rise of the Woman= The rise of the Nation 🇺🇸 @womensmarch #womensmarchonwashington</a></p> <p style=" color:#c9c8cd; font-family:Arial,sans-serif; font-size:14px; line-height:17px; margin-bottom:0; margin-top:8px; overflow:hidden; padding:8px 0 7px; text-align:center; text-overflow:ellipsis; white-space:nowrap;">A photo posted by Jackie Cruz (@msjackiecruz) on <time datetime="2017-01-21T13:55:06+00:00" style=" font-family:Arial,sans-serif; font-size:14px; line-height:17px;">Jan 21, 2017 at 5:55am PST</time></p></div></blockquote></div></div></div><h2>23. And Amy Poehler would not be Amy Poehler without creating a hilariously awkward situation.</h2><div id="e8102" class="rm-shortcode" data-rm-shortcode-id="MRS31S1559349568"><blockquote class="twitter-tweet twitter-custom-tweet" data-twitter-tweet-id="822887619633836036" data-partner="rebelmouse"><div style="margin:1em 0">Guys help my friend find her mom! She's a nice lady in a pink hat, should be super easy #FindEileenPoehler… https://t.co/3iHkCGhyRm</div> — Amber Tamblyn (@Amber Tamblyn)<a href="https://twitter.com/ambertamblyn/statuses/822887619633836036">1485026671.0</a></blockquote></div><h2>24. Comedian Jenny Slate carried a sign for someone who couldn't make it to the march.</h2><div id="7798c" class="rm-shortcode" data-rm-shortcode-id="8UW08V1559349569"><blockquote class="twitter-tweet twitter-custom-tweet" data-twitter-tweet-id="822887713808547840" data-partner="rebelmouse"><div style="margin:1em 0">I went to do an early AM interview at NPR &amp; a woman made this &amp; asked me to carry it for her &amp; I said YES https://t.co/wesrqbaB5I</div> — jenny slate (@jenny slate)<a href="https://twitter.com/jennyslate/statuses/822887713808547840">1485026694.0</a></blockquote></div><h2>25. Alicia Keys took sisterhood selfies.</h2><div id="f74d5" class="rm-shortcode" data-rm-shortcode-id="BSX39R1559349569"><blockquote class="twitter-tweet twitter-custom-tweet" data-twitter-tweet-id="822937650453770242" data-partner="rebelmouse"><div style="margin:1em 0">Sisterhood 🌟🌟 #WomensMarch #WhyIMarch #WomensRightsAreHumanRights #WeAreHere https://t.co/AGs1Esay2m</div> — Alicia Keys (@Alicia Keys)<a href="https://twitter.com/aliciakeys/statuses/822937650453770242">1485038599.0</a></blockquote></div><h2>26. Zendaya was just one more in the over 500,000 person crowd in Washington, D.C.</h2><div id="34efa" class="rm-shortcode" data-rm-shortcode-id="VO6UZ51559349569"><blockquote class="twitter-tweet twitter-custom-tweet" data-twitter-tweet-id="822822443630858242" data-partner="rebelmouse"><div style="margin:1em 0">Couldn't be more proud....I am here, we are here!!! #WomensMarch https://t.co/HibJJlcTTC</div> — Zendaya (@Zendaya)<a href="https://twitter.com/Zendaya/statuses/822822443630858242">1485011132.0</a></blockquote></div><h2>27. And, finally, the feminist who started #HeForShe did her part for gender equality while hanging with her mom, taking photos of kids, and laughing with strangers who are now friends.</h2><div id="662ac" class="rm-shortcode" data-rm-shortcode-id="J4JXXR1559349569"><blockquote class="twitter-tweet twitter-custom-tweet" data-twitter-tweet-id="823219563567398912" data-partner="rebelmouse"><div style="margin:1em 0">#WomensMarch https://t.co/dYZPxJ13FI</div> — Emma Watson (@Emma Watson)<a href="https://twitter.com/EmmaWatson/statuses/823219563567398912">1485105813.0</a></blockquote></div><h2>Seeing the icons we look up to marching for what's right is one heck of a reminder that we're far from alone in this fight.</h2><p>Their presence at these protests makes a difference on many levels, but perhaps the most significant is showing we are all unified under one purpose. And we are going to keep defending each other and every group  marginalized under Trump's administration. </p><p>Over the next four years, we will be up against a government that may try to strip us of our human rights at every turn. The more powerful, publicly known voices who stand with us and amplify our frustrations, the harder it will be for them to be ignored. </p>