Innovation
Somebody created a Roomba for dog poop and the world will never be the same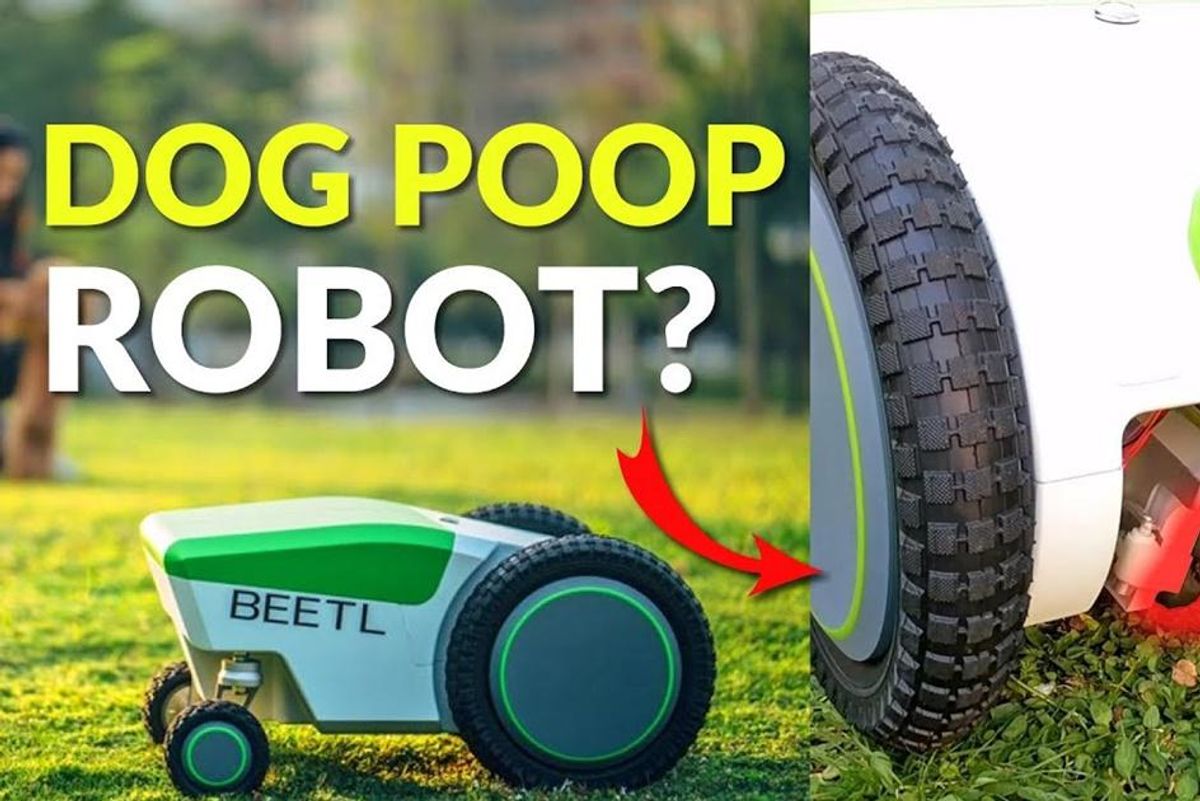 via OddityMall / YouTube
Seventeen years ago, Ben Stiller and Jack Black teamed up in a forgettable comedy called "Envy" about two guys who are best friends, neighbors, and co-workers at 3M. However, their relationship sours when Black's character becomes wildly successful after inventing the Vapoorizer.

The Vapoorizer is a powerful spray that makes dog poop mysteriously vanish. Although the invention seemed pretty unlikely at the time it made countless dog owners fantasize about a magical day when they're liberated from having to pick up after their pets.
---
Excited to try #RocketBook but why does it remind me of the #VaPooRizer? https://t.co/8Bp4LBjLYU

— Jason Judge (@Jason Judge) 1426279252.0
It's been 17 years since the release of "Envy" and nobody has figured out how to vaporize doggie doo-doo quite yet. But a new invention called the Beetl may be even better because it hunts down the dog poo for you.

The Beetl is an autonomous robot that cruises your lawn, locates dog poop, and then picks it up with a claw. It's equipped with computer vision and a front camera that helps it navigate lawns and locate piles of poop.
via Beetl Robotics
"There are over 35 million households in the US with dogs and backyards," the robot's creator, Beetl Robotics, says on its website. "Nobody likes picking up poop, so we built a computer vision-enabled robot to address the needs of dog owners everywhere."

Think of it as a Roomba that instead of sucking up dirt in your house, picks up poop outside.
Just like a Roomba, you can program the Beetl to roam within preset boundaries so it stays in your yard or avoids going into the street.
An Autonomous Dog Poop Robotwww.youtube.com
After the Beetl finds a pile of poop it picks it up and places it in a container you can throw out when full. The Beetl runs on a battery and will charge itself when it's about to run out of power.

Beetl Robotics says it's "probably the smartest pooper scooper ever" and that it "relentlessly" hunts and disposes of dog poop. The Beetl also connects to the cloud to learn new ways of detecting dog poop as the technology improves.
Imagine how great it would be if the Beetl eventually developed a sense of smell? Then, it wouldn't even need a camera.
The company hopes to take the design one step further by creating a Beetl that can mow your lawn as well. This version would be equipped with a sickle-bar grass shear that cuts grass with a mechanism similar to a shaver.
Now, all of this probably sounds great to you, but there's one catch, Beetl Robotics hasn't set a date for the product to come to market so you'll have to wait a little while longer before your poop-free days are over.
But for now, take solace in the fact that one day you will be able to walk across your lawn with confidence, knowing you can do so without stepping in doggie doo.