Photo courtesy of Capital One
True
Growing up in Virginia, Dominique Meeks Gombe idolized her family physician — a young Black woman who inspired Meeks Gombe to pursue her passion for chemistry.
While Meeks Gombe began her career working in an environmental chemistry lab, after observing multiple inefficient processes in and around the lab, she took the initiative to teach herself to code in order to automate and streamline those issues.
That sparked her love for coding and imminent career shift. Now a software engineer at Capital One, Meeks Gombe wants to be a similar role model to her childhood mentor and encourage girls to pursue any career they desire.
"I'm so passionate about technology because that's where the world is going," Meeks Gombe said. "All of today's problems will be solved using technology. So it's very important for me, as a Black woman, to be at the proverbial table with my unique perspective."
Since 2019, she and her fellow Capital One associates have partnered with the Capital One Coders program and Girls For A Change to teach coding fundamentals to middle school girls.
The nonprofit's mission is aimed at empowering Black girls in Central Virginia. The organization focuses on designing, leading, funding and implementing social change projects that tackle issues girls face in their own neighborhoods.
Girls For a Change is one of many local nonprofits that receive support from the Capital One Impact Initiative, which strives to close gaps in equity while helping people gain better access to economic and social opportunities. The initial $200 million, five-year national commitment aims to support growth in underserved communities as well as advance socioeconomic mobility.
Through the Capital One Coders program, girls can gain early access to computer science education which can directly inspire their confidence levels and interest in computer science.
In fact, a report from Code.org says that Black and Hispanic students who take computer science classes before college are seven times more likely to major in computer science.
When the COVID-19 pandemic hit, Meeks Gombe helped to develop a virtual curriculum that included breakout rooms with custom games and quizzes. In her role as a lead teacher for Girls For A Change, Meeks Gombe's visibility as a Black technologist and leader is helping to create a lasting impact on her students.
"Just having girls see the variety of career opportunities led by people who look like them opens up that possibility. There's a connection made when girls see me in a role that they don't usually associate themselves with. I can't reach every girl, but I want them to know that they can do this," Meeks Gombe said.

Capital One Vice President of HR Technology, Maureen Jules-Perez echoed Meeks Gombe's perspective. For Jules-Perez, who served on the organization's board for a few years before becoming the new Board Chair of Girl's For a Change this year, the mission of the nonprofit parallels her motto of "Tech For Good" which uses tech to improve social, environmental, and economic outcomes. The organization's long-term programs give girls the option to see themselves as artists, entrepreneurs and technologists, among other career opportunities.

"I came from a similar background so I feel like I'm one of those girls," said Jules-Perez. "I know what it's like to have someone champion you, but also the opposite feeling of knowing someone who doesn't think you're worthy. I'm haunted by the thought that there's a Black girl or a person of color who doesn't feel seen or doesn't think the world wants them. Girls For A Change prepares Black girls for the world."
Beyond helping girls see their potential as future technologists, Girls For A Change's CEO Angela Patton is working hard on her action-oriented vision to help realize the unmet needs of all girls in Central Virginia.
Her focus is particularly on what she calls "at-promise" youth who have natural gifts and innate potential where their circumstances don't define their identities. For more than a decade, Patton has supported at-promise girls with incarcerated fathers through Dance With Dad, a rehabilitation program founded by a group of young girls who wanted to invite their jailed fathers into their lives on their own terms and define their futures. The girls, Patton explained, wrote to a police sheriff to allow them to hold a dance with their fathers in jail. More than a decade since the program began, not one of the fathers had been reincarcerated again.
"We're teaching girls to elevate their voices," said Patton. "We want them to experience the moment where they feel ownership and empowerment so that they can change their own lives."
Girls For A Change has partnered with Capital One since 2017 to connect girls with career and life opportunities for which they otherwise may not have access or insight.
Since the partnership began, Capital One has supported 15 different programs with Girls for A Change. Seven of these programs were Capital One Coders camps and nearly 80 Capital One Tech associates have supported Girls For A Change girls over the last few years through those programs.
"For some of the girls aging out of the Girls For A Change program, they had a chance to do mock interviews with Capital One associates and get feedback for entry-level positions," said Patton. "I love that I have resources to point my girls to so that they can have a chance at better outcomes."
All together, now: who runs the world?
GIRLS.
This article originally appeared on 06.16.15

A lot of parents are tired of being told how technology is screwing up their kids.
Moms and dads of the digital age are well aware of the growing competition for their children's attention, and they're bombarded at each turn of the page or click of the mouse with both cutting-edge ideas and newfound worries for raising great kids.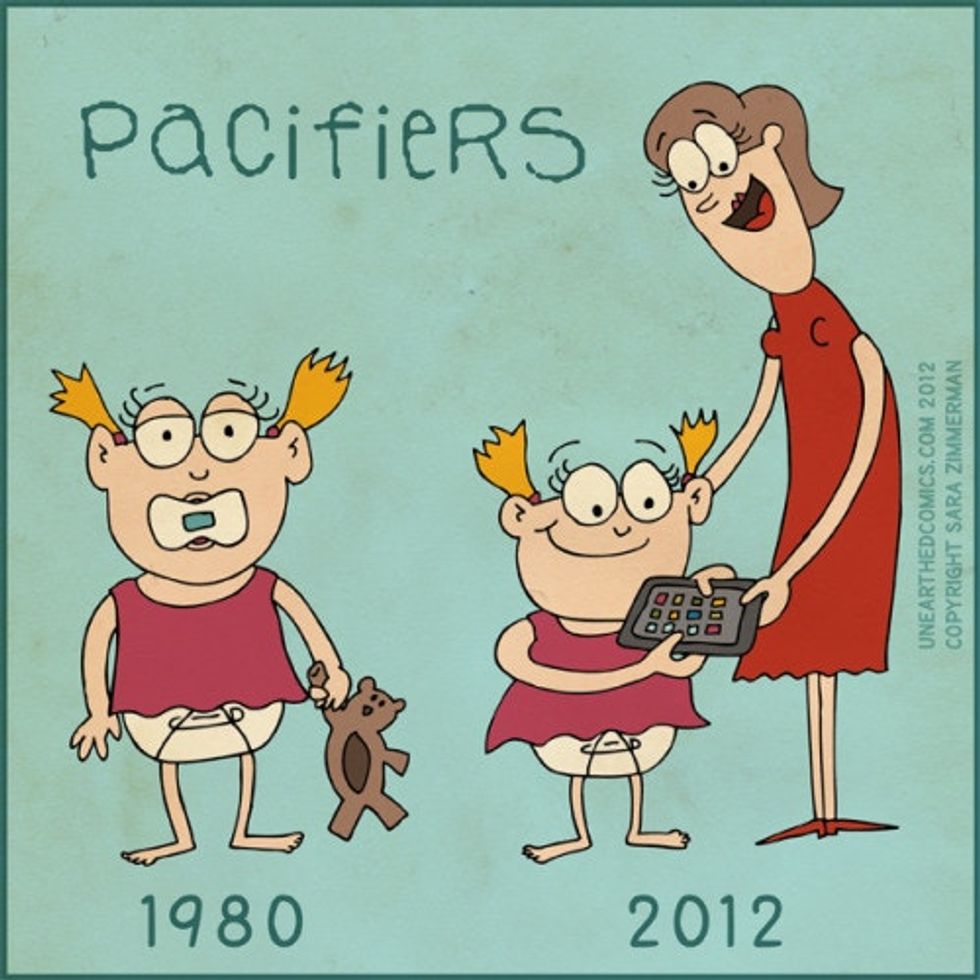 But beneath the madness of modernity, the basics of raising a moral child haven't really changed.

Parents want their kids to achieve their goals and find happiness, but Harvard researchers believe that doesn't have to come at the expense of kindness and empathy. They say a few tried-and-true strategies remain the best ways to mold your kids into the morally upstanding and goals-oriented humans you want them to be. Here are six practical tips:
1) Hang out with your kids.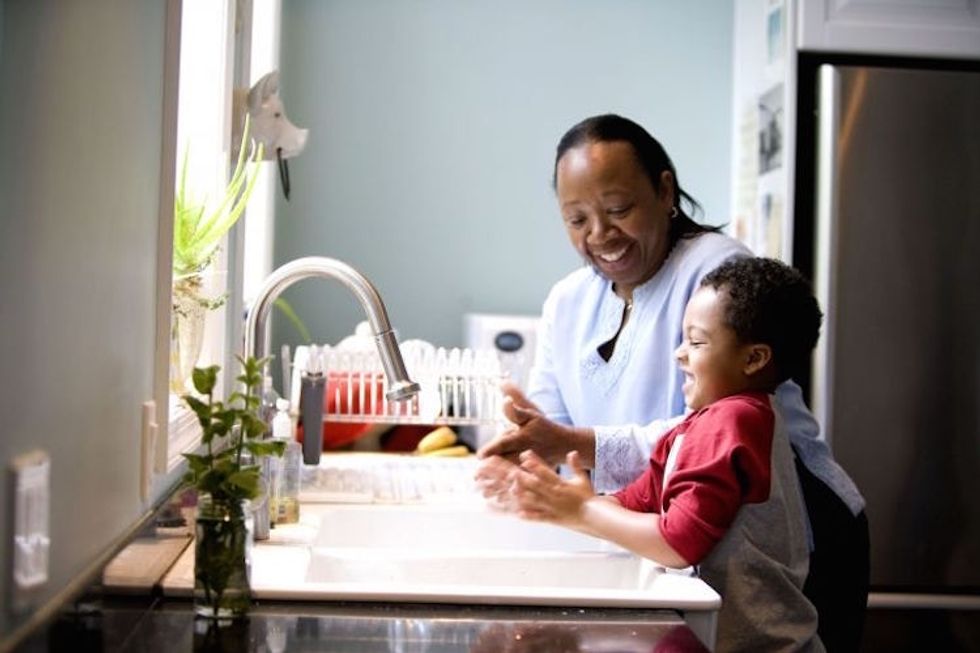 This is, like, the foundation of it all. Spend regular time with your kids, ask them open-ended questions about themselves, about the world and how they see it, and actively listen to their responses. Not only will you learn all sorts of things that make your child unique, you'll also be demonstrating to them how to show care and concern for another person.
2) If it matters, say it out loud.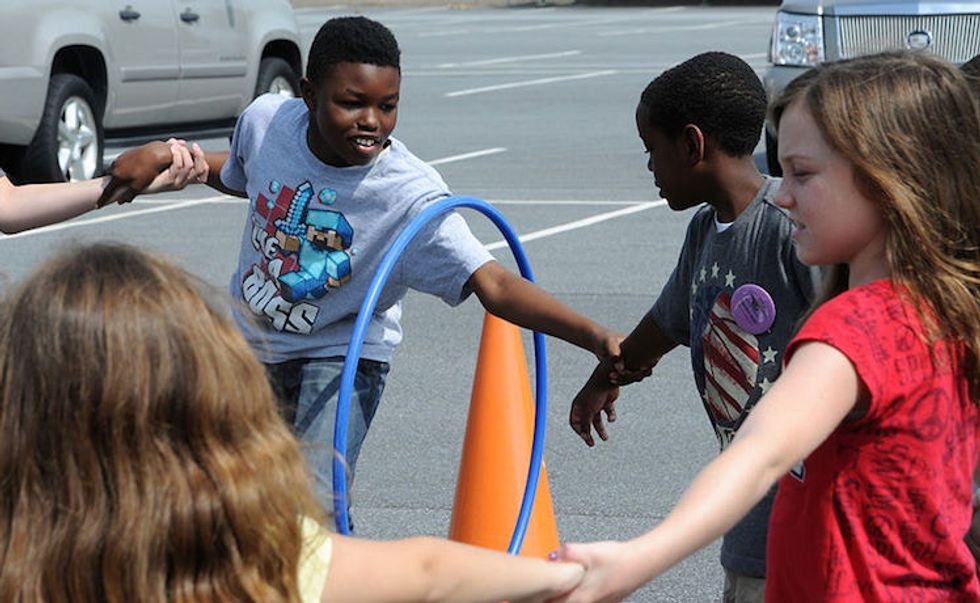 According to the researchers, "Even though most parents and caretakers say that their children being caring is a top priority, often children aren't hearing that message." So be sure to say it with them. And so they know it's something they need to keep up with, check in with teachers, coaches, and others who work with your kids on how they're doing with teamwork, collaboration, and being a generally nice person.
3) Show your child how to "work it out."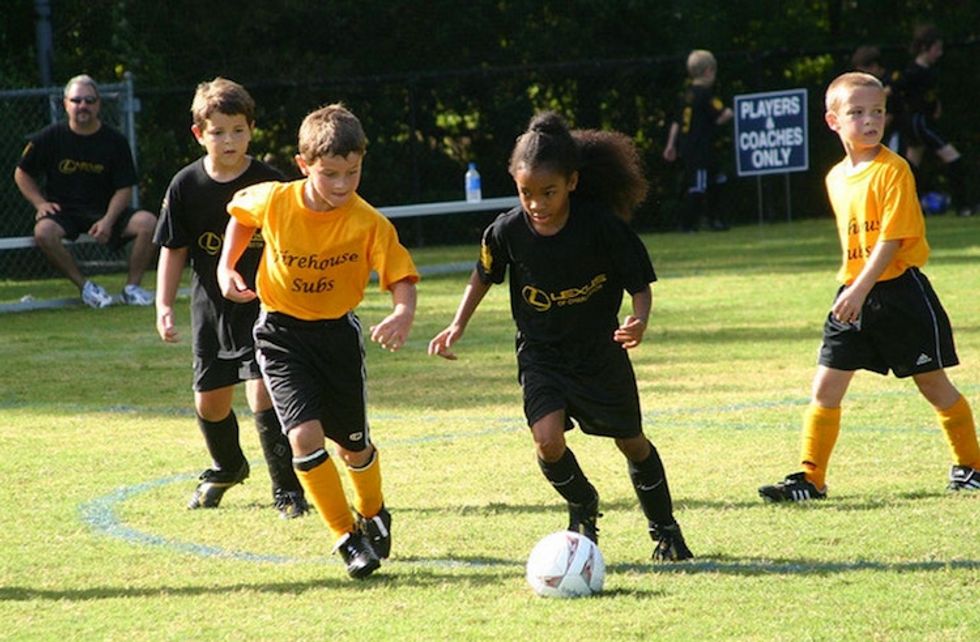 Walk them through decision-making processes that take into consideration people who could be affected. For example, if your child wants to quit a sport or other activity, encourage them to identify the source of the problem and consider their commitment to the team. Then help them figure out if quitting does, in fact, fix the problem.
4) Make helpfulness and gratitude routine.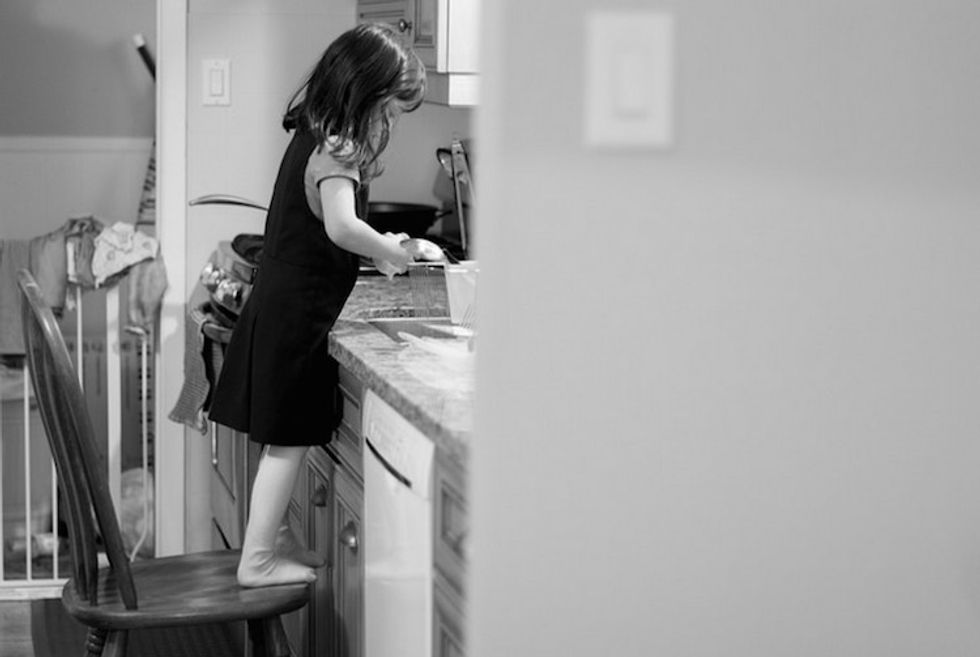 The researchers write, "Studies show that people who engage in the habit of expressing gratitude are more likely to be helpful, generous, compassionate, and forgiving — and they're also more likely to be happy and healthy." So it's good for parents to hold the line on chores, asking kids to help their siblings, and giving thanks throughout the day. And when it comes to rewarding "good" behavior, the researchers recommend that parents "only praise uncommon acts of kindness."
5) Check your child's destructive emotions.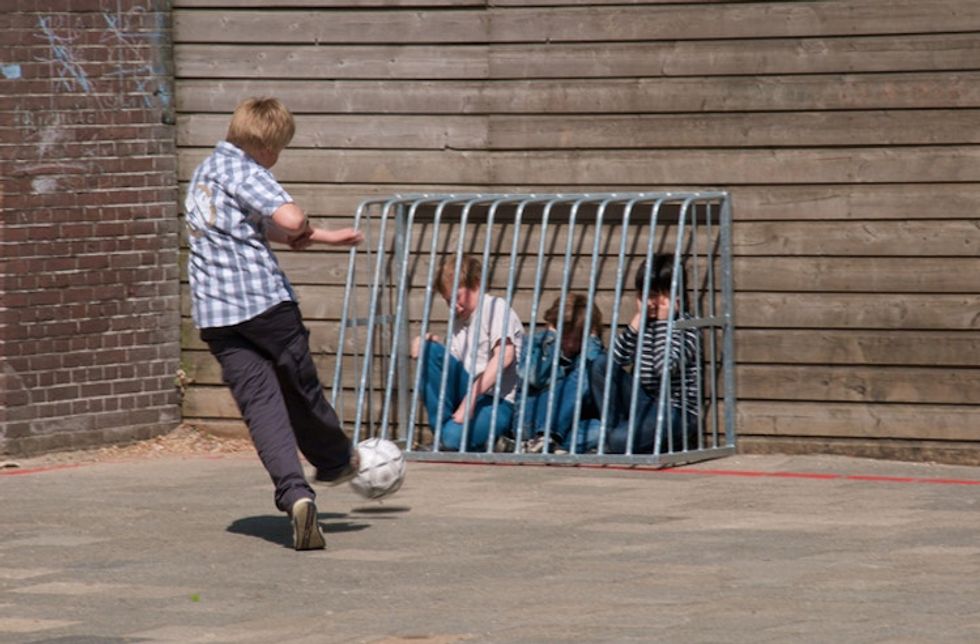 "The ability to care for others is overwhelmed by anger, shame, envy, or other negative feelings," say the researchers. Helping kids name and process those emotions, then guiding them toward safe conflict resolution, will go a long way toward keeping them focused on being a caring individual. It's also important to set clear and reasonable boundaries that they'll understand are out of love and concern for their safety.

6) Show your kids the bigger picture.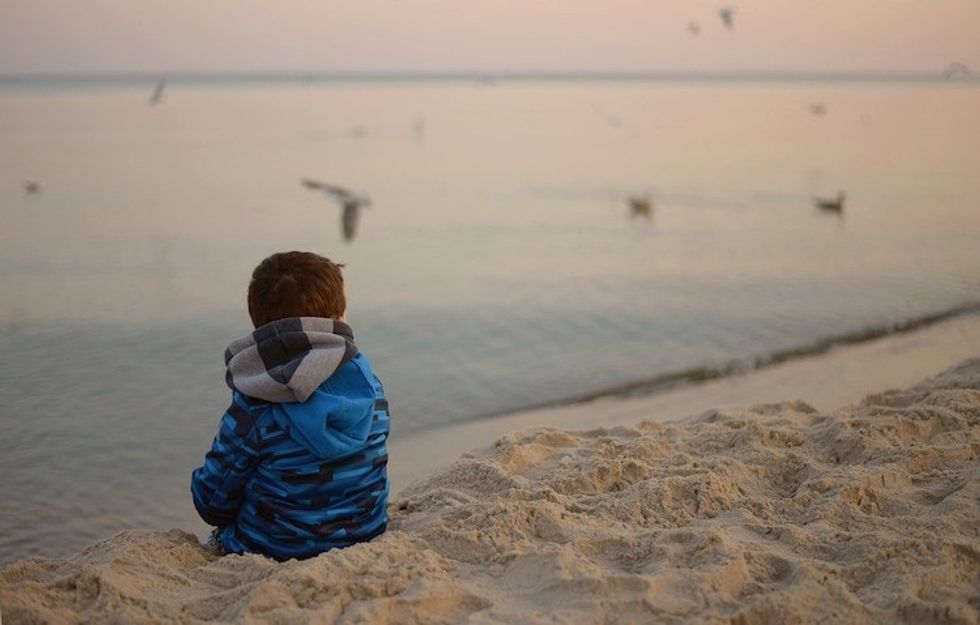 "Almost all children empathize with and care about a small circle of families and friends," say the researchers. The trick is getting them to care about people who are socially, culturally, and even geographically outside their circles. You can do this by coaching them to be good listeners, by encouraging them to put themselves in other people's shoes, and by practicing empathy using teachable moments in news and entertainment.
The study concludes with a short pep talk for all the parents out there:
"Raising a caring, respectful, ethical child is and always has been hard work. But it's something all of us can do. And no work is more important or ultimately more rewarding."
Watch the Washington Post's wrap-up of the study below:
Get stories worth sharing delivered to your inbox