Most Shared
'I've taken care of him. He's taken care of me. It's a bond you can't break.'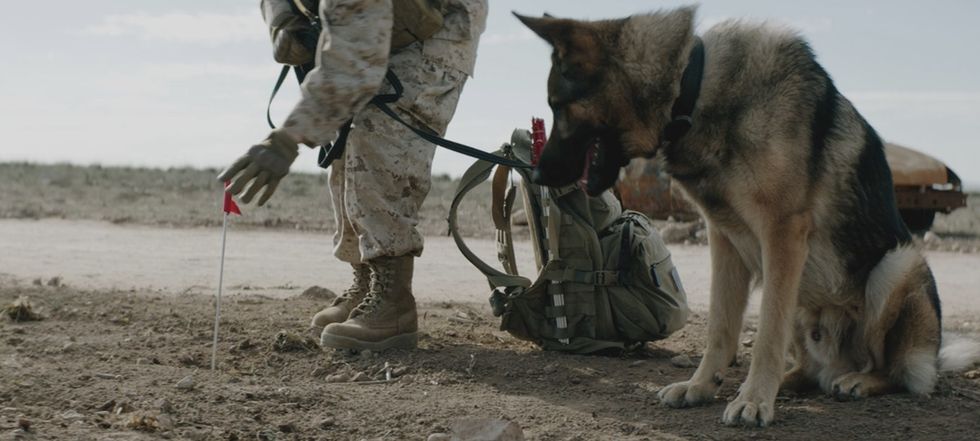 True
Megan Leavey
When Megan Leavey first met Sgt. Rex — a bomb-detecting German shepherd — they got off to a rocky start.
But through training, the pair worked long and hard to gain each others' trust — a trust that would be tested in over 100 missions after they deployed together as a bomb-detection team in Iraq.
Over the course of two six-month tours, Rex and Megan worked together to find undetonated explosives, saving each other and their team from danger. In 2006, they were working a routine sweep when an enemy detonated a roadside bomb, injuring Rex and nearly killing Megan in the explosion.
---
From the time they were first paired up, Megan and Rex were inseparable — that is, until Megan was discharged and Rex was not.
While Megan's service commitment ended in 2008, Rex was ready for another deployment. Megan returned home, and he went back to Iraq.
The pair's journey — and Megan's public campaign to petition the Marines to let her adopt Rex — are the subject of a moving new film called "Megan Leavey," starring Kate Mara:
After hundreds of missions and two tours in Iraq, Megan Leavey and her bomb-sniffing dog Rex formed a lifelong bond. This is their story.

Posted by Upworthy Video on Wednesday, May 31, 2017
This movie goes beyond Megan's life with Rex; it's also a glimpse into the incredible world of war dogs who have been supporting militaries around the globe for hundreds of years.
Humans have been bringing dogs alongside them into wars basically since the beginning of time. From the armored attack dogs of the ancient world to the trackers and bomb-sniffers of the modern military, dogs have been saving human lives for centuries.
"They aren't pets. They're warriors," Megan's gunnery sergeant (played by Common) tells her in the trailer. And though many war dogs eventually find civilian homes, their time in the service brands them unquestionably as heroes.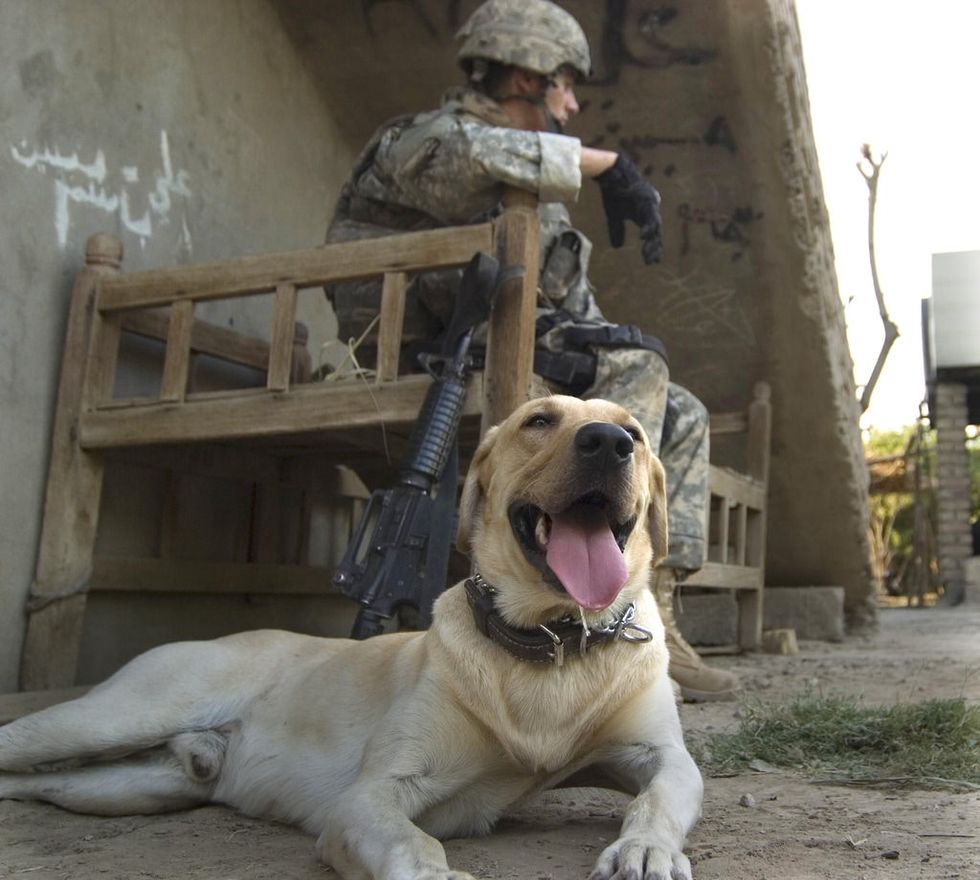 U.S. Army Sgt. Ingram gives Staff Sgt. Cinte a drink. Photo by Pfc. Julian Turner/U.S. Army.
Despite their service, the respect and appreciation we have for war dogs for many years wasn't backed up by the necessary legislation.
Technically, military dogs are categorized as equipment. For a long time, when a dog became unable to continue service due to injury or age, they were considered "surplus." Sadly, military dogs were put down or left behind instead of being retired with honor like the warriors they were. It wasn't until 2000 that Robby's Law was passed and military working dogs were allowed to be adopted at the end of their service.
For Rex and Megan, the laws on the books weren't enough to reunite them.
Though Robby's Law made it possible for military dogs to be sent home and put up for adoption, the professionals at Camp Pendleton kennel in California doubted Rex's ability to acclimate to civilian life.
Megan knew she could provide her former partner a happy retirement, so she began a public crusade to persuade the Marines to let her adopt Rex.
Even U.S. Sen. Chuck Schumer got involved, reaching out to the military on her behalf and launching a petition for people who "agree that these two American heroes should be reunited with all due speed."
Megan was finally able to take Rex home in March 2012, and he lived happily with his partner before passing away peacefully.
Their fight was also a contributing force to the movement that ultimately resulted in a law passed in 2015 that allows all military dogs to retire in the United States and gives their former handlers the first chance to adopt them.
"Rex got to swim in a pool and play with my other dogs. He got to roam the yard & bark at deer, play with as many toys as he wanted all day everyday, sleep in a cozy bed next to me every night, chase and eventually make friends with my 2 cats, enjoy & play in his first snowfall … and so much other great stuff that he would have never had the chance to do if he was never retired."
Rex's final days were a fitting end to a life of service to the military, the country, and his partner.