Democracy
The first Republican in Congress has signed on to an assault weapons ban
We can do this. Don't give up hope.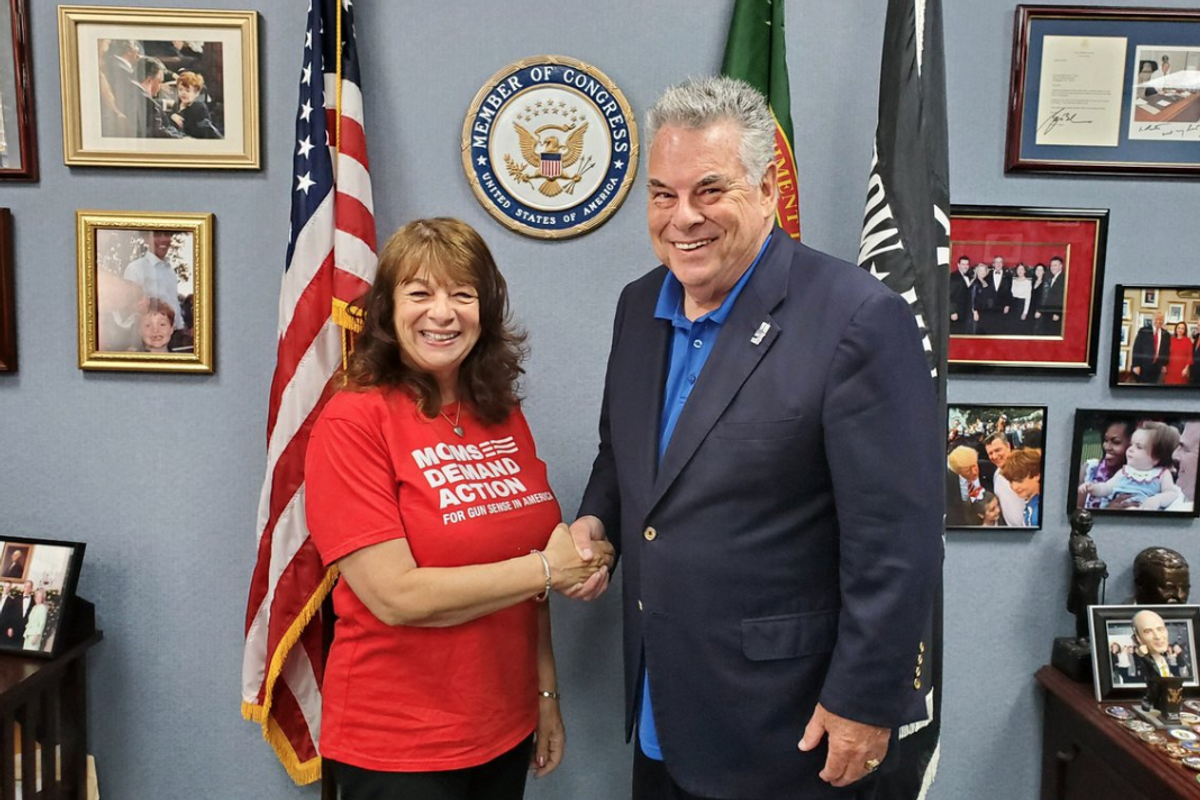 Rep. Peter King (R-NY) is a name you should remember. If you don't follow politics closely, remember his name because he's the first Republican in Congress to openly join the call for a renewed federal ban on assault weapons.

If you're a Democrat or a diehard progressive partisan, remember his name because it's proof that as a nation we can put principles before party and walk across the political aisle to get things done.
If you're a Republican, remember his name as evidence that real leadership in politics sometimes means risking your reputation to do what is right even when most of your colleagues disagree or lack the political courage to go first.
But let's allow Rep. King to explain himself in his own words:
---
"They are weapons of mass slaughter," he explained on Monday. "I don't see any need for them in everyday society."
And that just about sums it up. You can believe in the Second Amendment as an unbreakable protection of the individual right to bear arms and still recognize the limits for a functioning, decent society.
201 Democrats have already signed on to the 2019 bill that would renew a federal assault weapons ban that was signed into law by Bill Clinton in 1994 and stood in place until George W. Bush allowed it to expire under his presidency.
In the U.S. Senate, 30 Democratic Senators have signed onto a similar bill sponsored by Sen. Dianne Feinstein (D-CA).
King is from a so-called swing district in New York, meaning it's not unusual for him to take moderate stances. He's also the co-sponsor of a bill in the House that would expand federal background checks for potential new gun owners.
Terrific meeting in District Office with Diane Costello gun safety advocate from @MomsDemand. Discussed need for co… https://t.co/dOhZ1iKV8q

— Pete King (@Pete King) 1565712455
But in today's era of heightened focus on mass shootings, King's decision to support an assault weapons ban doesn't make him a partisan extremist, it makes him a sensible moderate backing simple legislation that a majority of Americans support. And in today's climate that small act of common sense and courage is an act of "extremism" in the best possible sense.
King knows what that means. It could save lives. It could transform our national diglogue about guns. But it's a long, hard road to walk. Still, if his small act gets the ball rolling, it will mark a turning point for the better in the political history of modern America. And for that reason alone, we should remember Rep. Peter King's name today.