All images provided by Bombas
True
We all know that small acts of kindness can turn into something big, but does that apply to something as small as a pair of socks?
Yes, it turns out. More than you might think.
A fresh pair of socks is a simple comfort easily taken for granted for most, but for individuals experiencing homelessness—they are a rare commodity. Currently, more than 500,000 people in the U.S. are experiencing homelessness on any given night. Being unstably housed—whether that's couch surfing, living on the streets, or somewhere in between—often means rarely taking your shoes off, walking for most if not all of the day, and having little access to laundry facilities. And since shelters are not able to provide pre-worn socks due to hygienic reasons, that very basic need is still not met, even if some help is provided. That's why socks are the #1 most requested clothing item in shelters.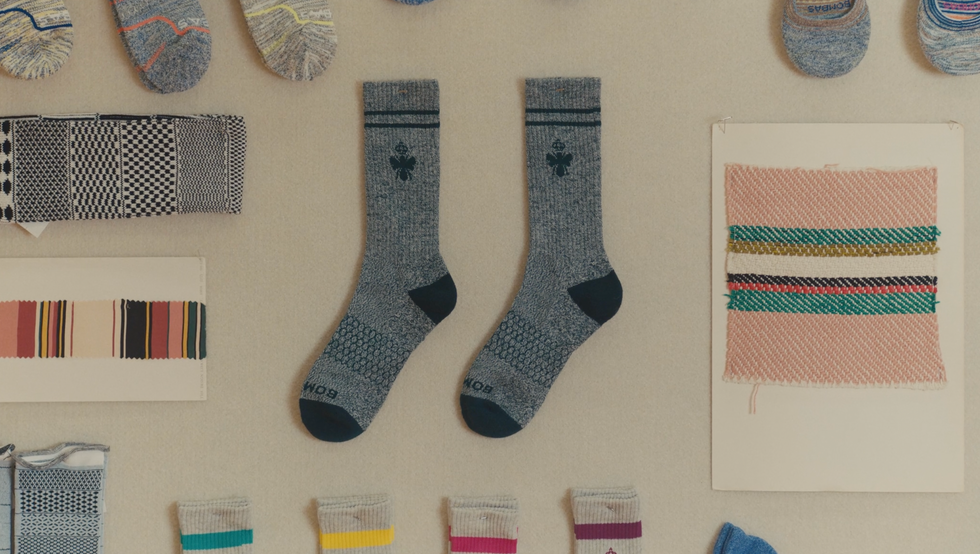 Socks are a simple comfort not everyone has access to
When the founders of Bombas, Dave Heath and Randy Goldberg, discovered this problem, they decided to be part of the solution. Using a One Purchased = One Donated business model, Bombas helps provide not only durable, high-quality socks, but also t-shirts and underwear (the top three most requested clothing items in shelters) to those in need nationwide. These meticulously designed donation products include added features intended to offer comfort, quality, and dignity to those experiencing homelessness.
Over the years, Bombas' mission has grown into an enormous movement, with more than 75 million items donated to date and a focus on providing support and visibility to the organizations and people that empower these donations. These are the incredible individuals who are doing the hard work to support those experiencing —or at risk of—homelessness in their communities every day.
Folks like Shirley Raines, creator of Beauty 2 The Streetz. Every Saturday, Raines and her team help those experiencing homelessness on Skid Row in Los Angeles "feel human" with free makeovers, haircuts, food, gift bags and (thanks to Bombas) fresh socks. 500 pairs, every week.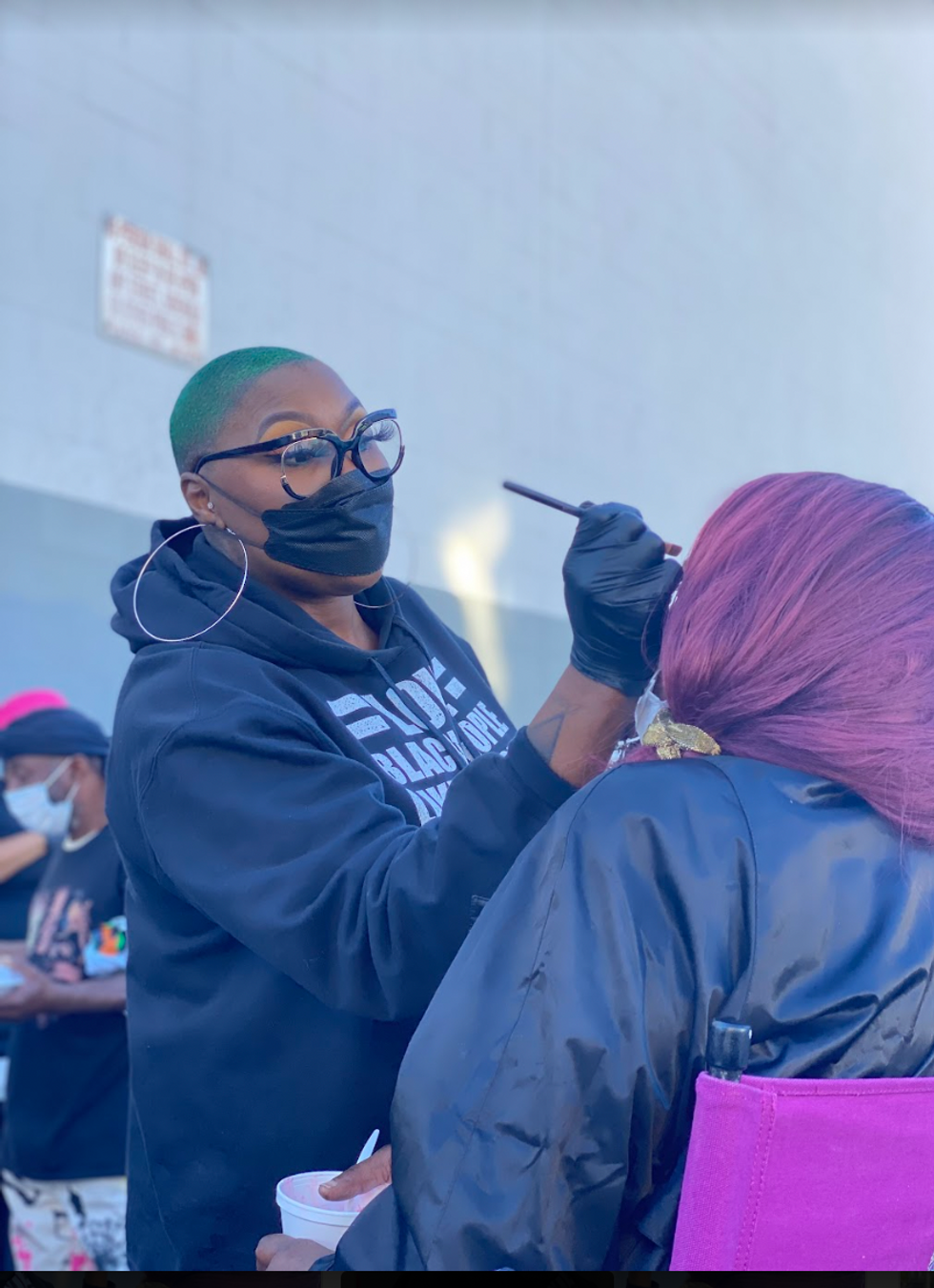 Raines is out there helping people feel their beautiful best
Or Director of Step Forward David Pinson in Cincinnati, Ohio, who offers Bombas donations to those trying to recover from addiction. Launched in 2009, the Step Forward program encourages participation in community walking/running events in order to build confidence and discipline—two major keys to successful rehabilitation. For each marathon, runners are outfitted with special shirts, shoes—and yes, socks—to help make their goals more achievable.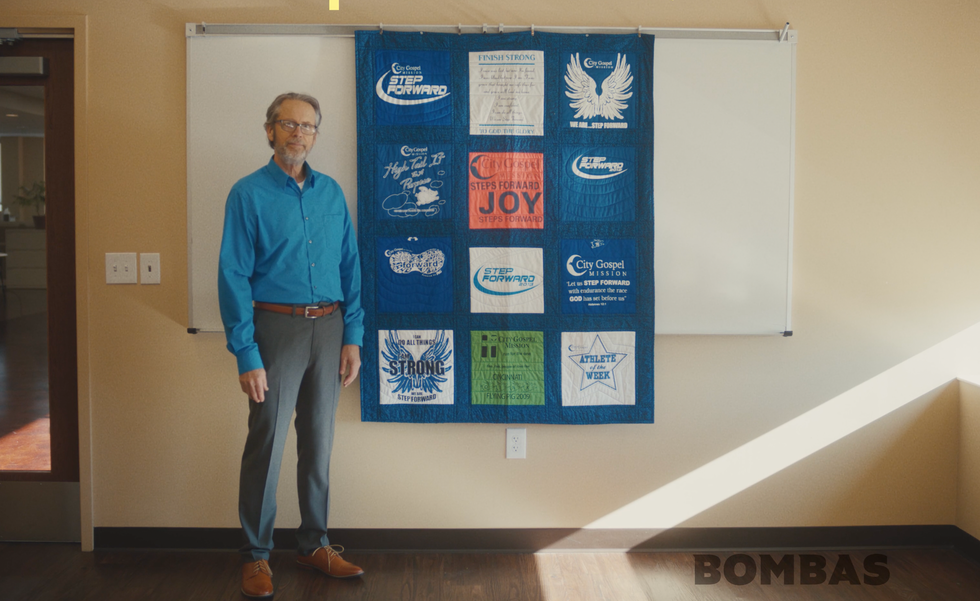 Running helps instill a sense of confidence and discipline—two key components of successful recovery
Help even reaches the Front Street Clinic of Juneau, Alaska, where Casey Ploof, APRN, and David Norris, RN give out free healthcare to those experiencing homelessness. Because it rains nearly 200 days a year there, it can be very common for people to get trench foot—a very serious condition that, when left untreated, can require amputation. Casey and Dave can help treat trench foot, but without fresh, clean socks, the condition returns. Luckily, their supply is abundant thanks to Bombas. As Casey shared, "people will walk across town and then walk from the valley just to come here to get more socks."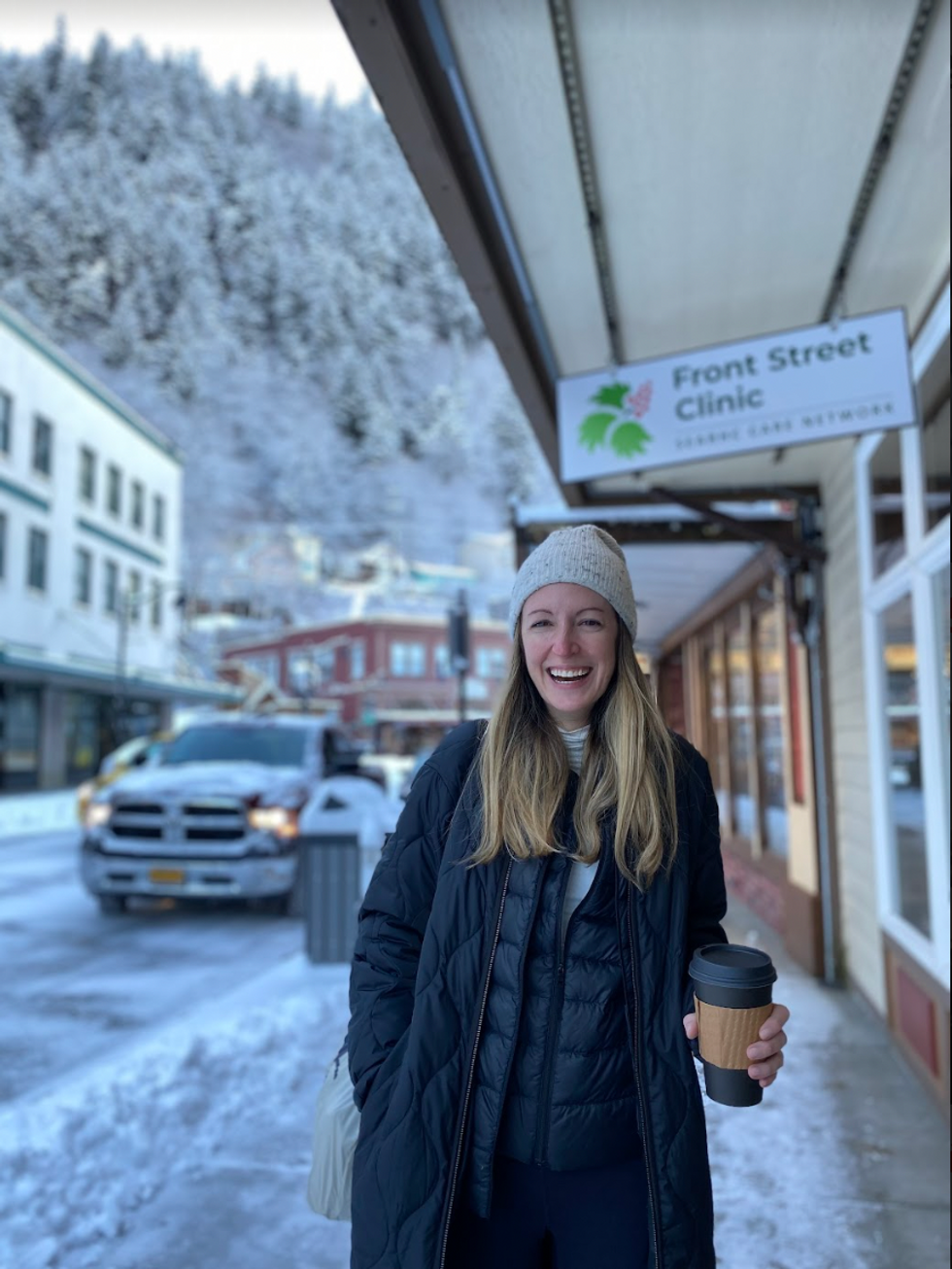 Welcome to wild, beautiful and wet Alaska!
The Bombas Impact Report provides details on Bombas's mission and is full of similar inspiring stories that show how the biggest acts of kindness can come from even the smallest packages. Since its inception in 2013, the company has built a network of over 3,500 Giving Partners in all 50 states, including shelters, nonprofits and community organizations dedicated to supporting our neighbors who are experiencing- or at risk- of homelessness.
Their success has proven that, yes, a simple pair of socks can be a helping hand, an important conversation starter and a link to humanity.
You can also be a part of the solution. Learn more and find the complete Bombas Impact Report by clicking here.
via UNSW
This article originally appeared on 07.10.21

Dr. Daniel Mansfield and his team at the University of New South Wales in Australia have just made an incredible discovery. While studying a 3,700-year-old tablet from the ancient civilization of Babylon, they found evidence that the Babylonians were doing something astounding: trigonometry!
Most historians have credited the Greeks with creating the study of triangles' sides and angles, but this tablet presents indisputable evidence that the Babylonians were using the technique 1,500 years before the Greeks ever were.
Mansfield and his team are, understandably, incredibly proud. What they discovered is that the tablet is actually an ancient trigonometry table.
\u201cAussie mathematician cracks code of famous 3,700-year-old Babylonian clay tablet https://t.co/f7h6oIfBDr\u201d

— China Xinhua News (@China Xinhua News) 1503639811
Mansfield said:
"The huge mystery, until now, was its purpose – why the ancient scribes carried out the complex task of generating and sorting the numbers on the tablet. Our research reveals that Plimpton 322 describes the shapes of right-angle triangles using a novel kind of trigonometry based on ratios, not angles and circles. It is a fascinating mathematical work that demonstrates undoubted genius."
"The tablet not only contains the world's oldest trigonometric table; it is also the only completely accurate trigonometric table, because of the very different Babylonian approach to arithmetic and geometry. This means it has great relevance for our modern world. Babylonian mathematics may have been out of fashion for more than 3,000 years, but it has possible practical applications in surveying, computer graphics and education. This is a rare example of the ancient world teaching us something new."
The tablet predates Greek astronomer Hipparchus, who has long been regarded as the father of trigonometry. Mansfield's colleague, Norman Widberger, added:
"Plimpton 322 predates Hipparchus by more than 1,000 years. It opens up new possibilities not just for modern mathematics research, but also for mathematics education. With Plimpton 322 we see a simpler, more accurate trigonometry that has clear advantages over our own."
"A treasure trove of Babylonian tablets exists, but only a fraction of them have been studied yet. The mathematical world is only waking up to the fact that this ancient but very sophisticated mathematical culture has much to teach us."
People were understandably excited by the news.
\u201cA 3,700 year olf Babylonian tablet revealed as the world's first trigonometry table https://t.co/AQlpsndM92\u201d

— The Conversation (@The Conversation) 1503613440
Some mathematicians actually think studying the Babylonians back then could help us improve the way we do trigonometry today.
Babylonian tablet Plimpton 322 will make studying maths easier, mathematician says http://ab.co/2vuEzuL\u00a0 | @abcnewspic.twitter.com/U10wQ7ZA42

— ABC Australia (@ABC Australia) 1503644411
"With Plimpton 322 we see a simpler, more accurate trig. (with) clear advantages over our own."\n@n_wildberger: https://www.theguardian.com/science/2017/aug/24/mathematical-secrets-of-ancient-tablet-unlocked-after-nearly-a-century-of-study\u00a0\u2026\n#TOK

— Roo Stenning (@Roo Stenning) 1503658186
Of course, there were the haters...
Find someone who loves you as much as this guy dislikes a hypothesis about Babylonian math: http://www.sciencemag.org/news/2017/08/ancient-babylonian-tablet-may-contain-first-evidence-trigonometry\u00a0\u2026pic.twitter.com/c5yO8LmjhE

— Miles Brundage (@Miles Brundage) 1503605001
But all in all, Twitter users were pretty impressed with the Babylonians' skills.
And we're over here trying to figure out how to do trig with our TI-83s... man I love it when the ancients show what real intelligence is.

— Kenny Hayse (@Kenny Hayse) 1503633184
Congratulations to Dr. Mansfield and his team on their incredible discovery... and for making trigonometry exciting!
This article originally appeared on 09.08.16
92-year-old Norma had a strange and heartbreaking routine.
Every night around 5:30 p.m., she stood up and told the staff at her Ohio nursing home that she needed to leave. When they asked why, she said she needed to go home to take care of her mother. Her mom, of course, had long since passed away.
Behavior like Norma's is quite common for older folks suffering from Alzheimer's or other forms of dementia. Walter, another man in the same assisted living facility, demanded breakfast from the staff every night around 7:30.
Jean Makesh, CEO of Lantern assisted living facilities, says he meets folks with stories like these every day. It's their stories that inspired him to make some changes at Lantern.
"I thought I knew a lot about elderly care. The more and more time I was spending with my clients, that's when I realized, 'Oh my god, I have no clue.'"
Confusion is common in Alzheimer's patients, but Makesh knew there had to be some way to minimize these conflicts.
A big believer in the idea that our environment has an enormous effect on us, he started thinking big — and way outside the box.
"What if we design an environment that looks like outside?" he said. "What if I can have a sunrise and sunset inside the building? What if I'm able to have the moon and stars come out? What if I build a unit that takes residents back to the '30s and '40s?"
And that was just the beginning. He also researched sound therapy. And aromatherapy. And carpet that looked like grass. No idea was off-limits.
What he came up with was a truly unique memory-care facility. And after testing the concept in Lantern's Madison, Ohio, facility, Makesh is opening two new locations this year.
Instead of rooms or units, each resident gets a "home" on a quiet little indoor street reminiscent of the neighborhoods many of them grew up in.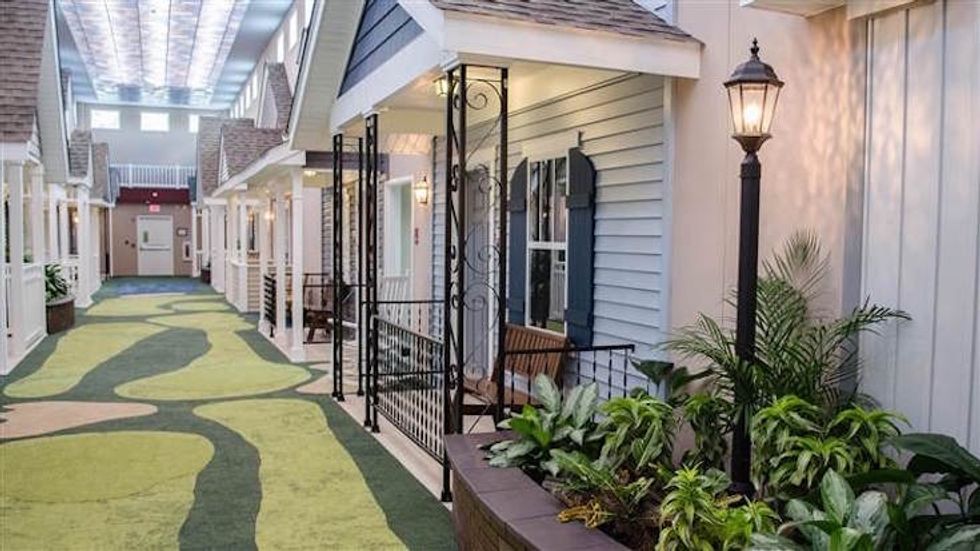 All photos courtesy of Lantern
Instead of a boring panel ceiling, residents look up and see a digital sky, which grows dimmer late in the day to help keep their biological clocks in tune.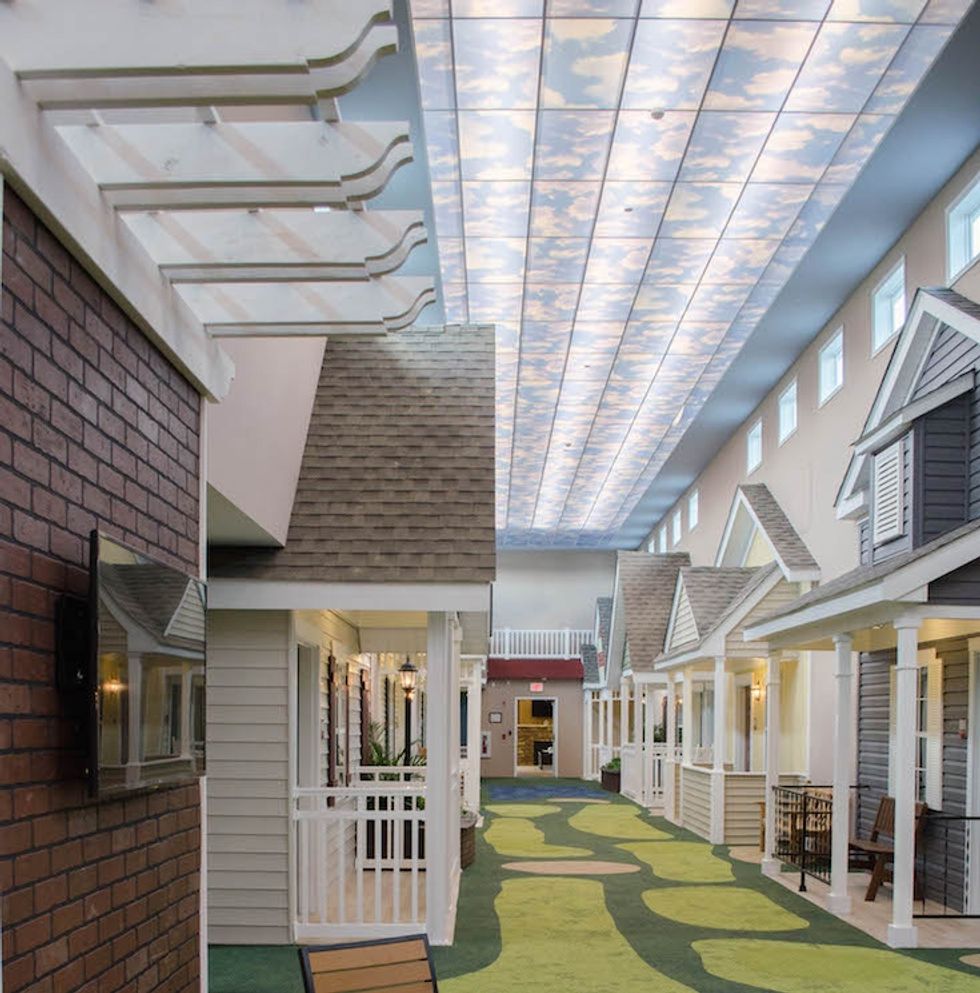 Throughout the day, nature sounds and fresh aromas like peppermint or citrus are piped in.
Some studies have shown that this kind of aromatherapy may indeed have some merits for improving cognitive functioning in Alzheimer's patients.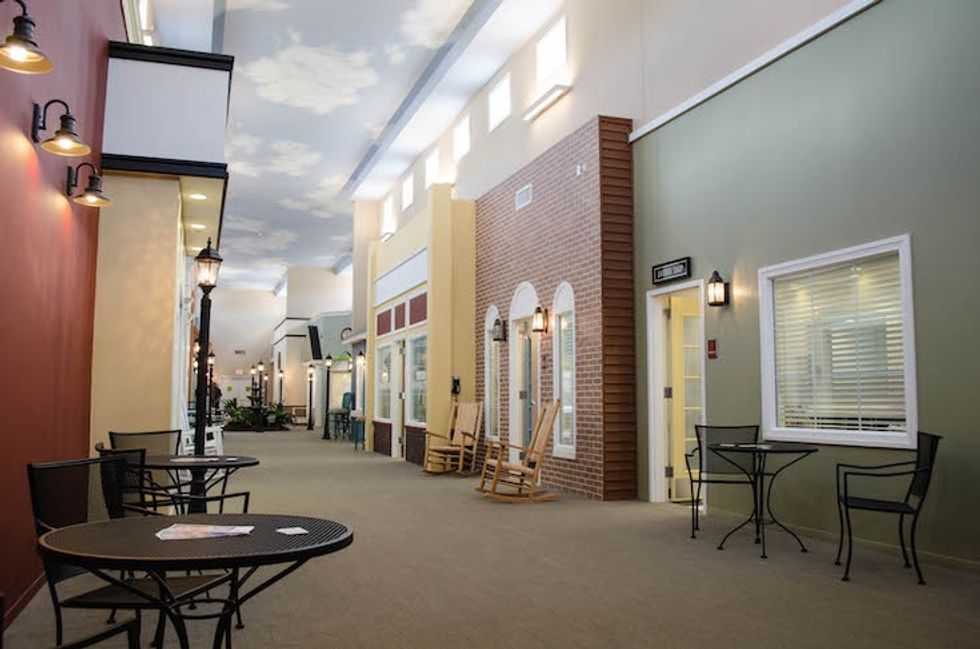 There's even a little "main street" where residents can gather.
For Makesh, this isn't just about making patients comfortable, though. He wants to change how we think about the endgame of severe dementia.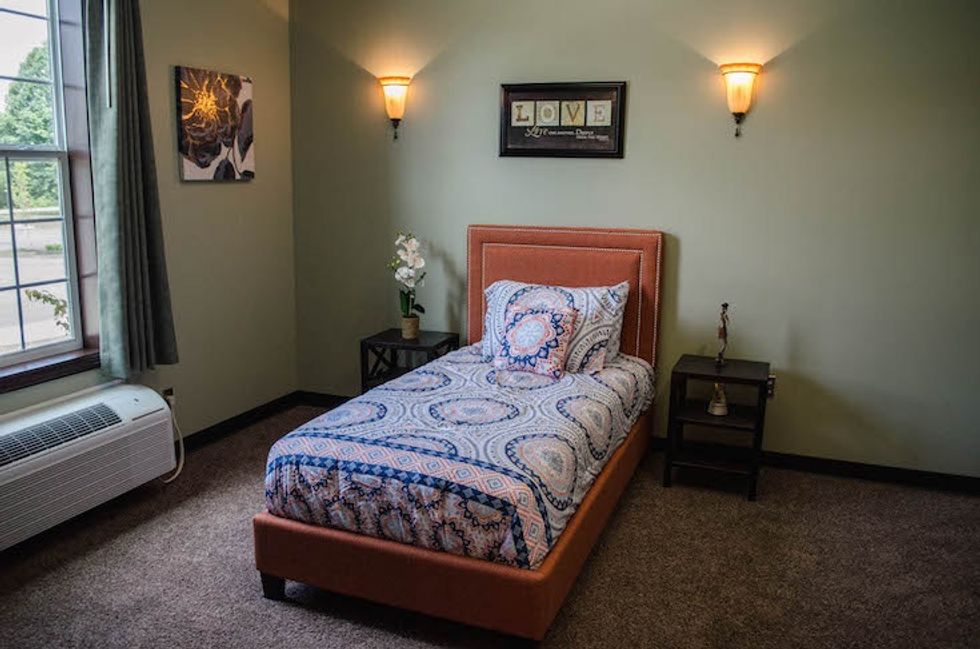 The insides of the rooms aren't too shabby, either.
Makesh said one of the frustrating shortcomings of most nursing facilities is that they create conflicts with unnatural environments and schedules, and they try to solve them by throwing antipsychotic and anti-anxiety medications at patients. In other words, when someone has severe dementia, we often give up on them. From there, they stop getting the engagement their brain needs to thrive.
Of course, we're a long way from a cure for Alzheimer's.
But Makesh's project shows that when we think strategically about altering the environment and focus on helping people relearn essential self-care and hygiene skills, the near-impossible becomes possible.
"In five years, we're going to [be able to] rehabilitate our clients where they can live independently in our environment," he said. "In 10 years, we're going to be able to send them back home."
He knows it's a lofty goal. And whether he'll meet it remains to be seen. But in the meantime, he's proud to own one of the few places that offers something pretty rare in cases of severe dementia: hope.
Get stories worth sharing delivered to your inbox
Get stories worth sharing delivered to your inbox