All images provided by Prudential Emerging Visionaries
True
A changemaker is anyone who takes creative action to solve an ongoing problem—be it in one's own community or throughout the world.
And when it comes to creating positive change, enthusiasm and a fresh perspective can hold just as much power as years of experience. That's why, every year, Prudential Emerging Visionaries celebrates young people for their innovative solutions to financial and societal challenges in their communities.
This national program awards 25 young leaders (ages 14-18) up to $15,000 to devote to their passion projects. Additionally, winners receive a trip to Prudential's headquarters in Newark, New Jersey, where they receive coaching, skills development, and networking opportunities with mentors to help take their innovative solutions to the next level.
For 18-year-old Sydnie Collins, one of the 2023 winners, this meant being able to take her podcast, "Perfect Timing," to the next level.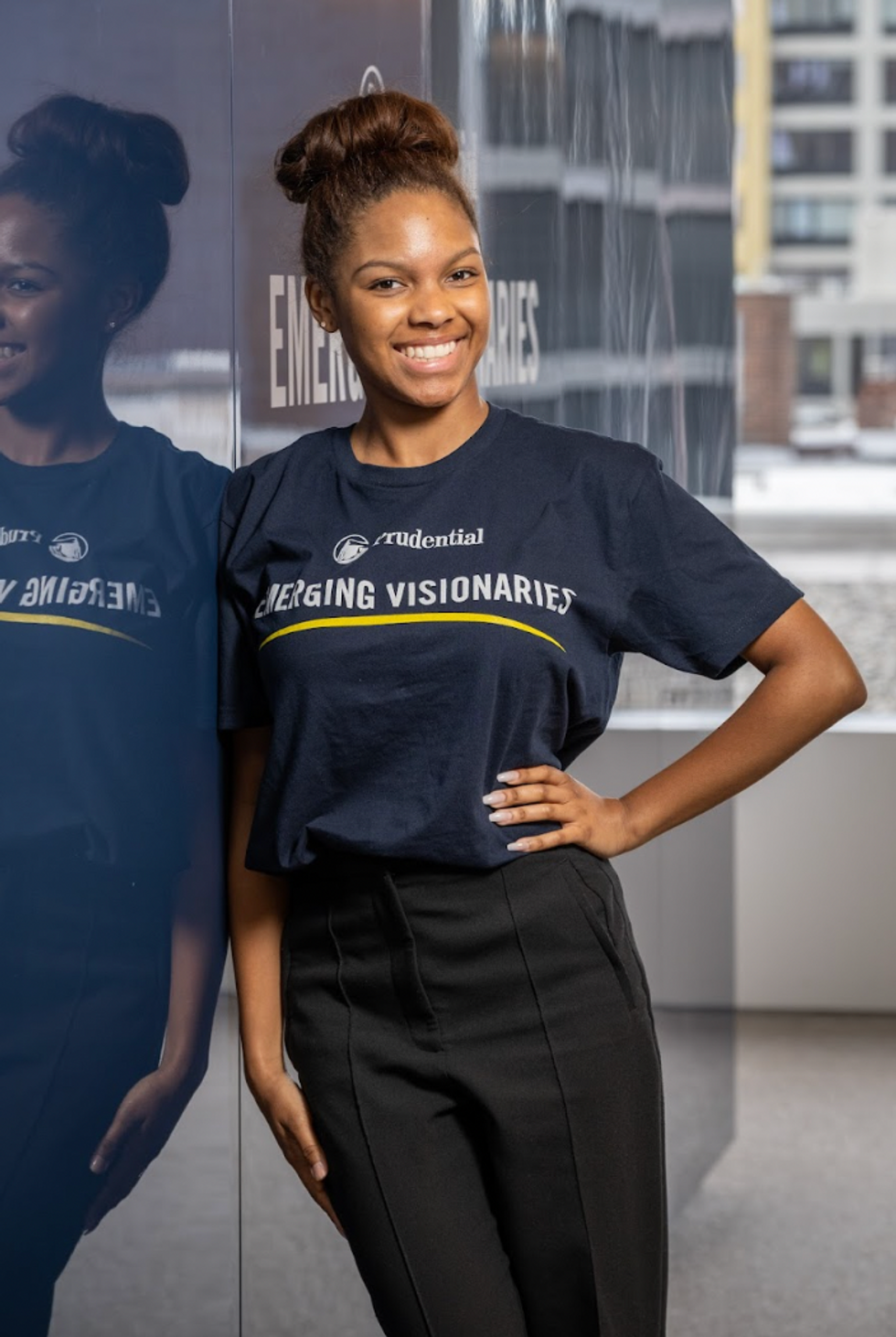 Since 2020, the Maryland-based teen has provided a safe platform that promotes youth positivity by giving young people the space to celebrate their achievements and combat mental health stigmas. The idea came during the height of Covid-19, when Collins recalled social media "becoming a dark space flooded with news," which greatly affected her own anxiety and depression.
Knowing that she couldn't be the only one feeling this way, "Perfect Timing" seemed like a valuable way to give back to her community. Over the course of 109 episodes, Collins has interviewed a wide range of guests—from other young influencers to celebrities, from innovators to nonprofit leaders—all to remind Gen Z that "their dreams are tangible."
That mission statement has since evolved beyond creating inspiring content and has expanded to hosting events and speaking publicly at summits and workshops. One of Collins' favorite moments so far has been raising $7,000 to take 200 underserved girls to see "The Little Mermaid" on its opening weekend, to "let them know they are enough" and that there's an "older sister" in their corner.
Of course, as with most new projects, funding for "Perfect Timing" has come entirely out of Collins' pocket. Thankfully, the funding she earned from being selected as a Prudential Emerging Visionary is going toward upgraded recording equipment, the support of expert producers, and skill-building classes to help her become a better host and public speaker. She'll even be able to lease an office space that allows for a live audience.
Plus, after meeting with the 24 other Prudential Emerging Visionaries and her Prudential employee coach, who is helping her develop specific action steps to connect with her target audience, Collins has more confidence in a "grander path" for her work.
"I learned that my network could extend to multiple spaces beyond my realm of podcasting and journalism when industry leaders are willing to share their expertise, time, and financial support," she told Upworthy. "It only takes one person to change, and two people to expand that change."
Prudential Emerging Visionaries is currently seeking applicants for 2024. Winners may receive up to $15,000 in awards and an all-expenses-paid trip to Prudential's headquarters with a parent or guardian, as well as ongoing coaching and skills development to grow their projects.
If you or someone you know between the ages of 14 -18 not only displays a bold vision for the future but is taking action to bring that vision to life, click
here
to learn more. Applications are due by Nov. 2, 2023.
Health
"Our moral compass is skewed if we think things like this are acceptable."
Photo courtesy of CC BY-ND, Immo Klink and Marco Godoy
These are called "anti-homeless spikes." They're about as friendly as they sound.
As you may have guessed, they're intended to deter people who are homeless from sitting or sleeping on that concrete step. And yeah, they're pretty awful.
The spikes are a prime example of how cities design spaces to keep homeless people away.
Not all concrete steps have spikes on them, but outdoor seating in cities like Montreal and Tokyo have been sneakily designed to prevent people from resting too comfortably for too long.
This guy sawing through a bench was part of a 2006 protest in Toulouse, France, where public seating intentionally included armrests to prevent people from lying down.
Of course, these designs do nothing to fight the cause or problem of homelessness. They're just a way of saying to homeless people, "Go somewhere else. We don't want to look at you,"basically.
One particular set of spikes was outside a former night club in London. And a local group got sick of staring at them.
Leah Borromeo is part of the art collective "Space, Not Spikes" — a group that's fed up with what she describes as "hostile architecture."
"Spikes do nothing more than shoo the realities of poverty and inequality away from your backyard — so you don't have to see it or confront what you can do to make things more equal," Borromeo told Upworthy. "And that is really selfish."

"Our moral compass is skewed if we think things like this are acceptable."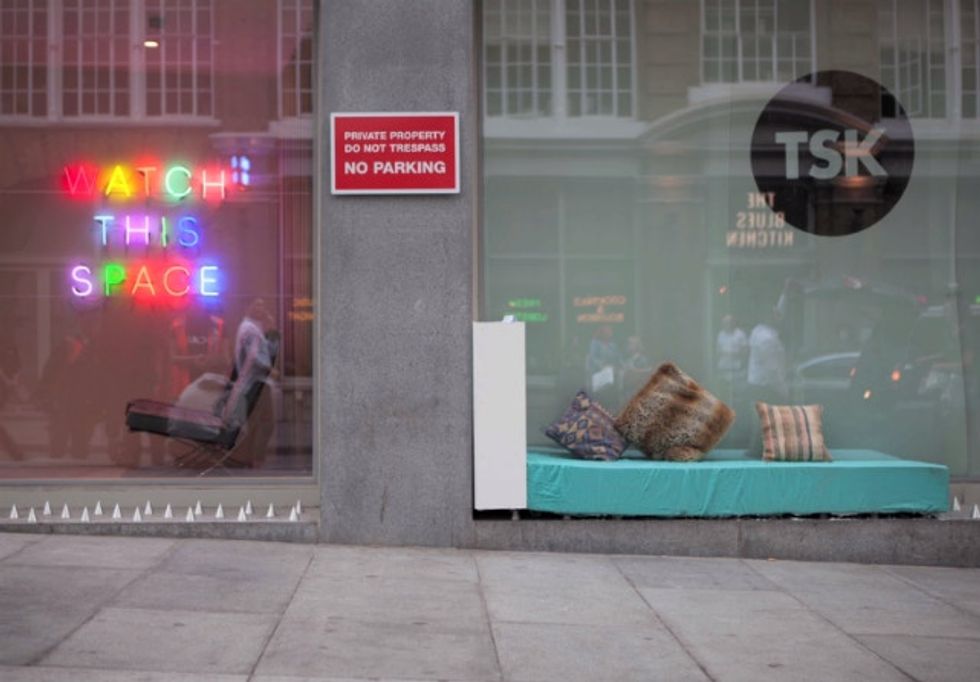 A bed covers up spikes on the concrete.
The move by Space, Not Spikes has caused quite a stir in London and around the world. The simple but impactful idea even garnered support from music artist Ellie Goulding.
"That was amazing, wasn't it?" Borromeo said of Goulding's shout-out on Instagram.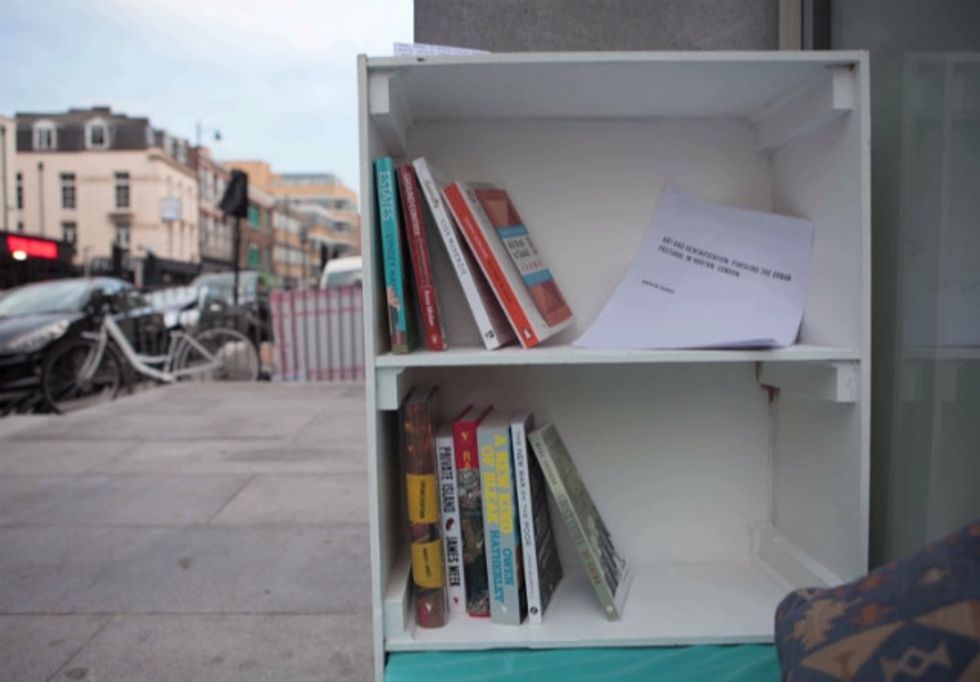 Artist's puppy books and home comforts.
"[The project has] definitely touched a nerve and I think it is because, as a whole, humans will still look out for each other," Borromeo told Upworthy. "Capitalism and greed conditions us to look out for ourselves and negate the welfare of others, but ultimately, I think we're actually really kind."

"We need to call out injustice and hypocrisy when we see it."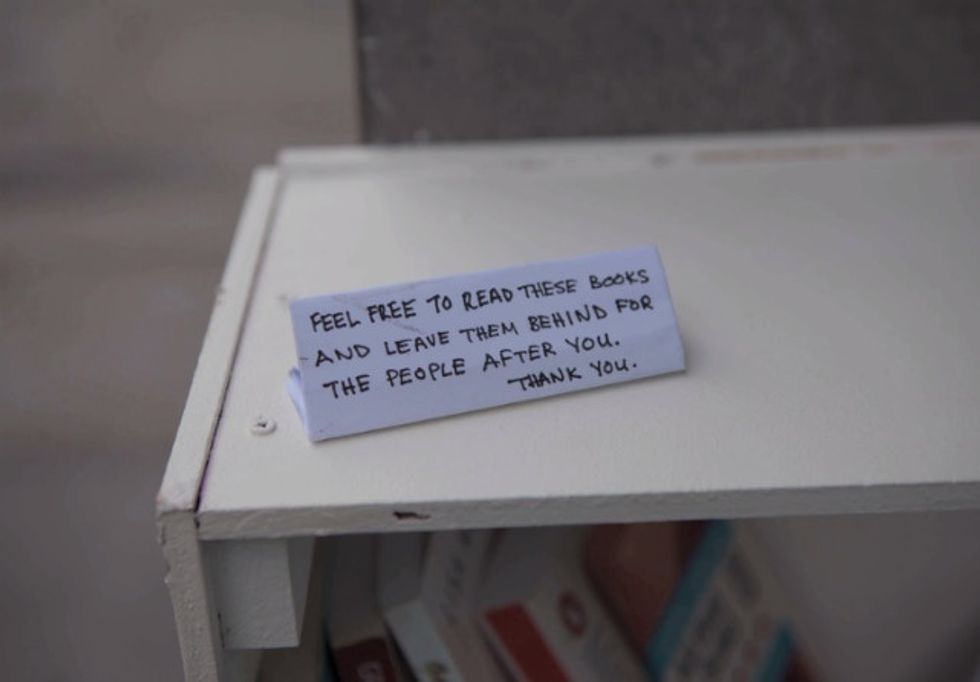 A message to offer support in contrast with current anti-homeless laws.
These spikes may be in London, but the U.S. definitely has its fair share of anti-homeless sentiment, too.

Spikes are pretty obvious — they're a visual reminder of a problem many cities are trying to ignore. But what we can't see on the street is the rise of anti-homeless laws that have cropped up from sea to shining sea.
Legislation that targets homeless people — like bans on panhandling and prohibiting people from sleeping in cars — has increased significantly in recent years.
For instance, a report by the National Law Center on Homelessness & Poverty that analyzed 187 American cities found that there's been a 43% hike in citywide bans on sitting or lying down in certain spaces since 2011.
Thankfully, groups like "Space, Not Spikes" are out there changing hearts and minds. But they need our help.
The group created a video to complement its work and Borromeo's hoping its positive underlying message will motivate people to do better.
"[The world] won't always be happy-clappy because positive social change needs constructive conflict and debate," she explained. "But we need to call out injustice and hypocrisy when we see it."
Check out their video below:
This article originally appeared on 07.24.15
Health
Courage and body positivity. This is me.
Image from YouTube video.
Matt Diaz has worked extremely hard to lose 270 pounds over the past six years.
But his proudest moment came in March 2015 when he decided to film himself with his shirt off to prove an important point about body positivity and self-love.
Matt had lap-band surgery in 2009 at age 16.
Through the course of his weight-loss journey, Matt became passionate about promoting body positivity for people of all shapes and sizes.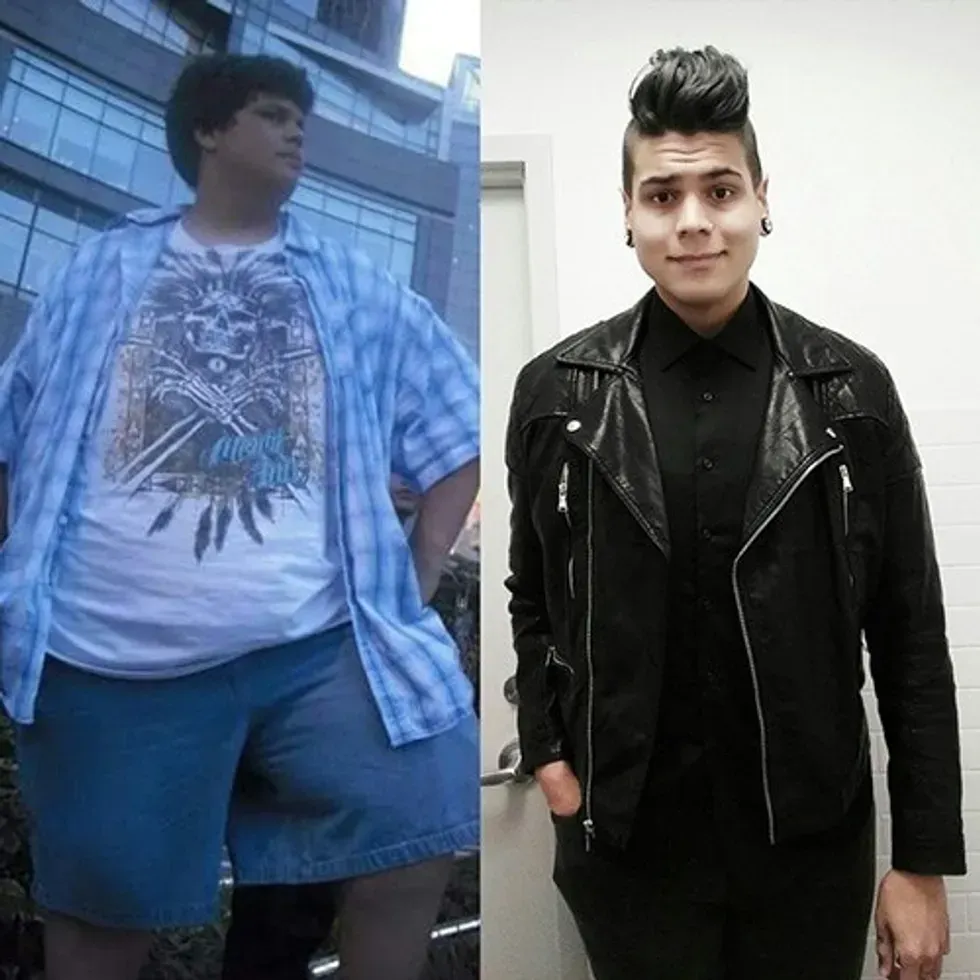 Here's Matt at 16 years old and 497 pounds versus recently after his surgery — at 22 years old and 220 pounds.
Images via Matt Diaz, used with permission.
To stay motivated, he started sharing his journey on social media, posting before-and-after photos, answering questions and giving support to followers, and even sharing his meals and favorite workouts. Six years later, Matt is down over 270 pounds and is a very active voice in the online body-positivity movement.
But in all his years of sharing his story, the one thing he's never done is showed what his body looks like after 200+ pounds of weight loss. So he uploaded the video above to show his followers his true self.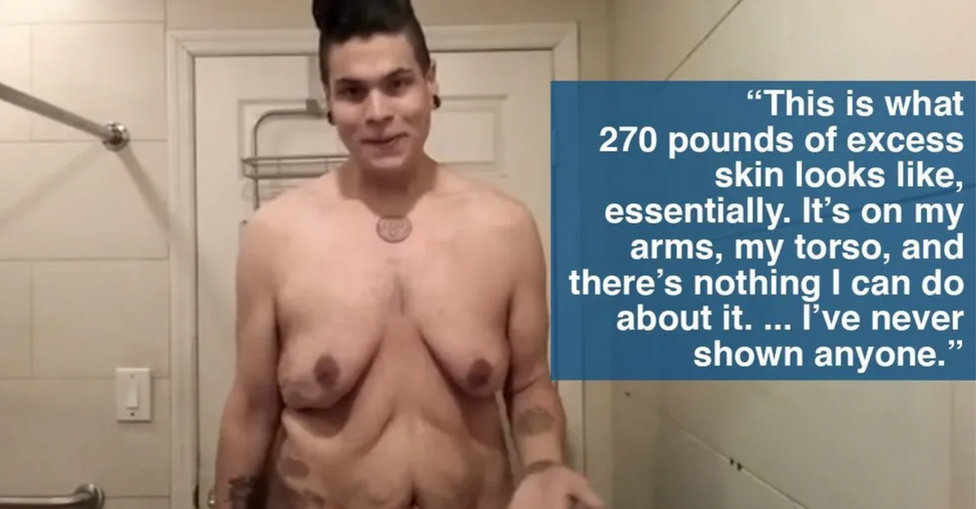 Sharing what happens with extreme weight loss.
Images via Matt Diaz, used with permission.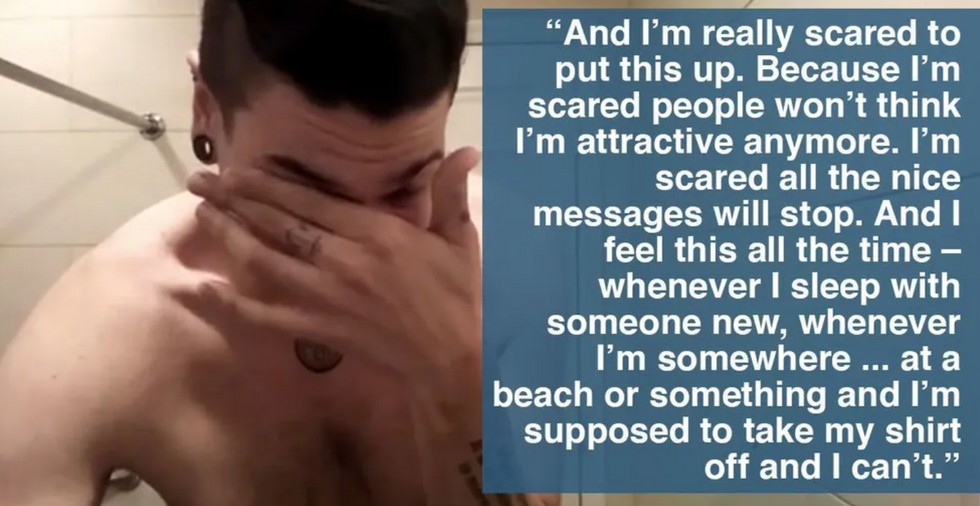 Working through fear...
Images via Matt Diaz, used with permission.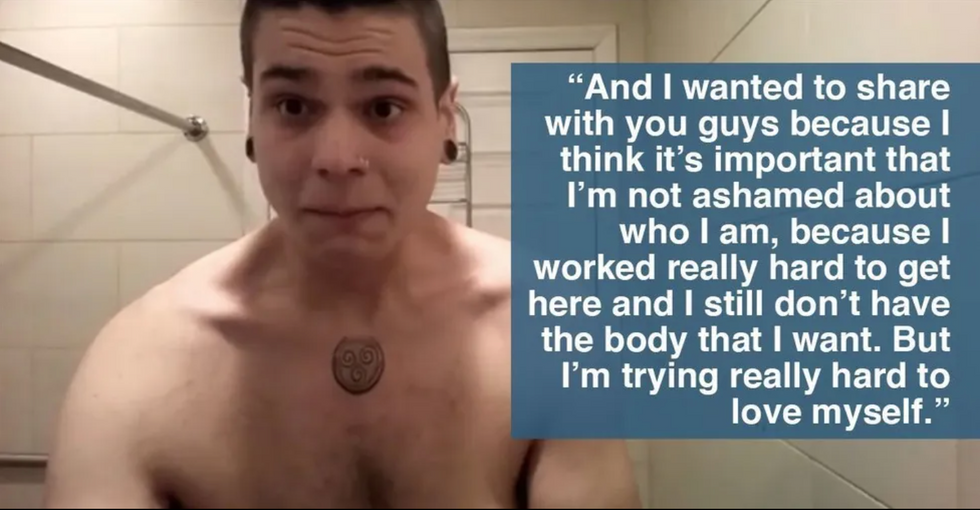 Loving myself.
Images via Matt Diaz, used with permission.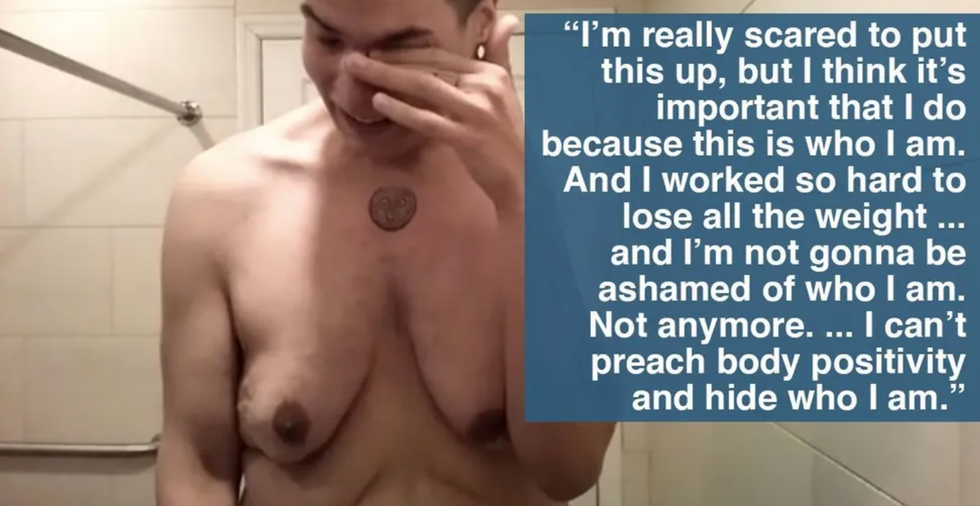 Scary and important.
Images via Matt Diaz, used with permission.
Shortly after he posted the video online, originally to Tumblr, it quickly went viral and garnered thousands of shares and comments from people around the web. I was one of the thousands touched by the video, so I reached out to Matt to find out more about what motivated him and what he hopes others can take away from his story. Here's what he had to say:
Why was it so important for you to post this video?
"I'm a really big advocate for self-love and body positivity. I think it's important that we learn to love the bodies we're in, even if we don't necessarily like every little thing about them. However, in the time I'd been writing and talking about it, I'd never actually shown my excess skin to anyone. It felt dishonest somehow, to others and to myself. I couldn't tell others that I wanted them to love themselves and keep myself hidden away and ashamed of my skin."
"I know what it feels like to hate your body, and to be depressed about it, and I never want anyone to feel that way again. So, if making myself vulnerable can help one person, why not?"
— Matt Diaz
What's the response been like? Anything particularly unexpected?
"I think that putting any opinion on the Internet will garner a certain amount of negativity and cynicism, but I haven't seen anything like that at all. I've read every comment and message since the video has gone up, literally thousands, and they're all so thoughtful.
A really surprising side-effect were the number of transgender people who've thanked me saying that they understood my struggle, even though their body-related insecurity grew from different roots. I'd never even begun to [think] of what that must be like, and the fact that my message could help even though my problems began somewhere else is really incredible."
What advice or words of encouragement do you have for someone who's struggling to love their body?
"I know it's difficult, especially when you're starting out. I want you to remember that you are not the problem, certain aspects of society are the problem. You'll constantly be told that you're too heavy or too tall to be attractive, or you're not masculine or feminine enough, or that your skin isn't the right tone or your hair isn't the right color, and these people are always always always wrong.
Luckily, we're slowly starting to see these ideas get phased out by modernity. Plus-sized, un-retouched models are getting more attention in major brands, more attention is being put on the alternative scene for high fashion, it's becoming clear that these negative ideas are not going to last, though it's going to take a while."
"Understand that to love yourself is to contest the negative things that were put into your head. Every smile, tattoo, bathing suit, and crop top is a small revolution. Tell yourself you're beautiful every day, and I promise you will be."
— Matt Diaz
Watch video below:
Matt's story is a personal one, but it's one we can all learn from.
I think the most important thing to take away here is that self-love takes time and is different for everyone no matter what they look like. It's also worth noting that for Matt, losing weight was an important part of his journey, but that might not be the case for everyone. Even so, our society has such incredibly high and unrealistic body standards that even many of those who do work to lose weight end up feeling uncomfortable or being shamed for not having "perfect bodies" once they've lost weight.
There's no such thing as a "perfect body" because everyone is different, which is what makes us beautiful and great! I'm glad there are people like Matt in the world who are not only willing to share their stories but also to inspire others by showing that body confidence comes in all shapes and sizes, and that everyone deserves to feel good about who they are. Here's hoping Matt's inspiring words can help others begin to love and accept themselves, no matter where they're at in their journey.
This story originally appeared on 03.18.15.
Pop Culture
The look on her face when she sees the manual window.
Get stories worth sharing delivered to your inbox
Joy
The mom was franticly screaming for help before the worker ran over and pulled the girl out of the car.
Family
Invigorate your journey to optimal health with these wellness-enhancing colostrum supplements.
Editor's Note: Upworthy earns a percentage of revenue from items purchased on this list.

In the quest for optimal canine well-being, selecting the right nourishment is paramount. With the pet food market expanding rapidly, it's crucial to make informed choices. Astonishingly, around 56% of dogs in the United States are overweight or obese, underscoring the significance of a wholesome diet. Furthermore, considering that pet owners spend approximately $31 billion on dog food annually, the stakes are high for both our four-legged companions' health and our wallets. In this article, we unveil a comprehensive guide to the 15 healthiest dog foods, equipping you with the knowledge to prioritize your dog's vitality and longevity.
15 healthies dog foods
In crafting a roadmap to canine vitality, it's evident that the choices we make regarding our pets' diets reverberate profoundly. As the demand for healthier options grows, it's heartening to note that organic dog food sales have surged by 39% in the past year alone, reflecting a shift towards more mindful nutrition. Conversely, the prevalence of food allergies in dogs has risen by approximately 30% over the last decade, signifying the urgency of well-informed dietary decisions. Nourishing our beloved companions with the 15 healthiest dog foods not only safeguards their well-being but also contributes to a paradigm where quality nutrition reigns supreme, ultimately paving the way for happier, healthier tails that wag with exuberance.
Pop Culture
The slower tempo and simple instrumentation creates a sadder, more haunting version of the 80s monster hit.
Get stories worth sharing delivered to your inbox