Joy
Mom wanted her son to see toys that looked like him. Fisher-Price delivered.
"If you ever decided to design a Little Person with brown skin and red hair, please let us know."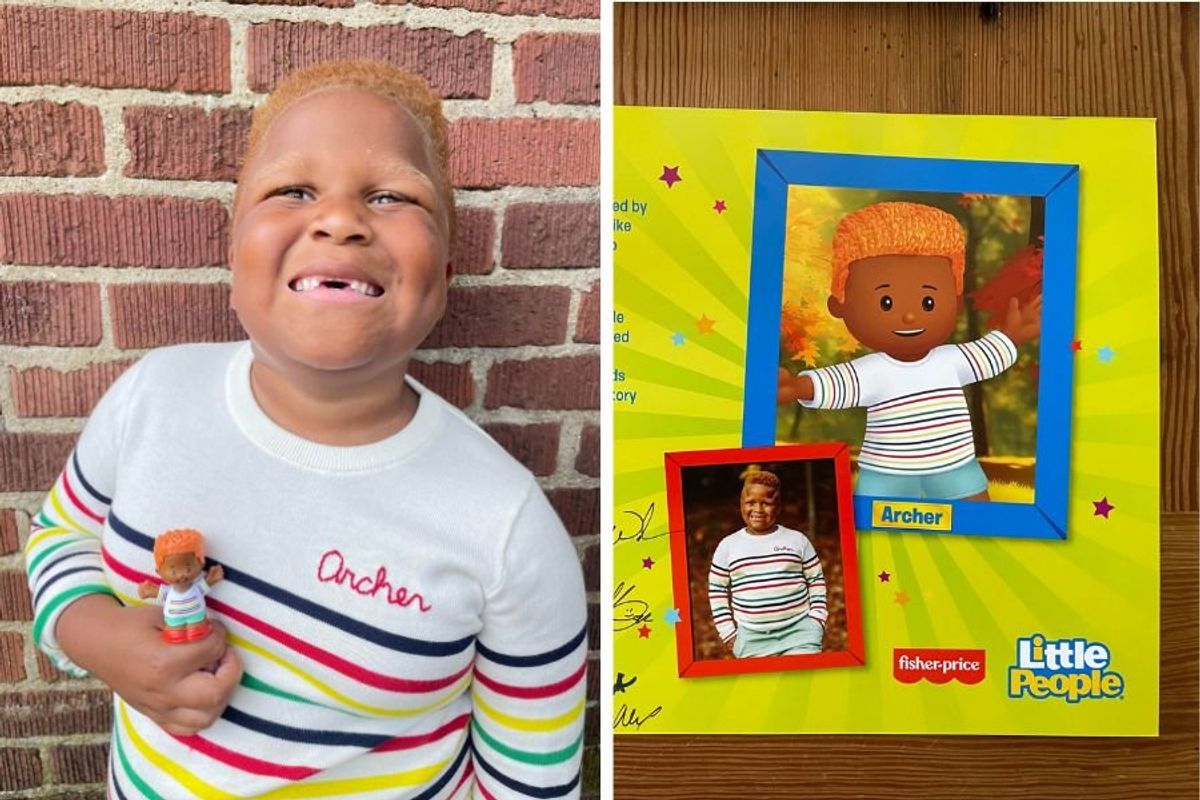 Courtesy of Niki Coffman
When kids look around at television shows or toys on the shelves, they instinctively look to see if there's someone that looks like them. It's a natural desire to want to see yourself represented in different areas of life, and for kids, play is life. Mom Niki Coffman knew that, so she decided to go out on a limb and write to Fisher-Price to gently hint at a favor.
Coffman has a 5-year-old son named Archer, whom she adopted as an infant. The mom explained to Today.com that her family is white and her son goes to a predominantly white school, so there was very little representation of Black people, let alone Black people with red hair, like Archer.
"The thing is, if you feel like, 'you should just be grateful to have a toy,' it's probably because your toys did look like you. It's probably because my princesses did look like me, and once you know someone it matters to who doesn't have that, how could it not matter to you?" Coffman told Upworthy. "Archer identifies with all the toys with brown skin, but to have something that looks like him so that he sees himself in the world, it's not just about a toy. It's really about the rest of the world seeing you, too."
So Coffman went on a mission to make sure her son felt represented in the world around him, even going as far as asking for donations of diverse books and dolls to be sent to the school.
---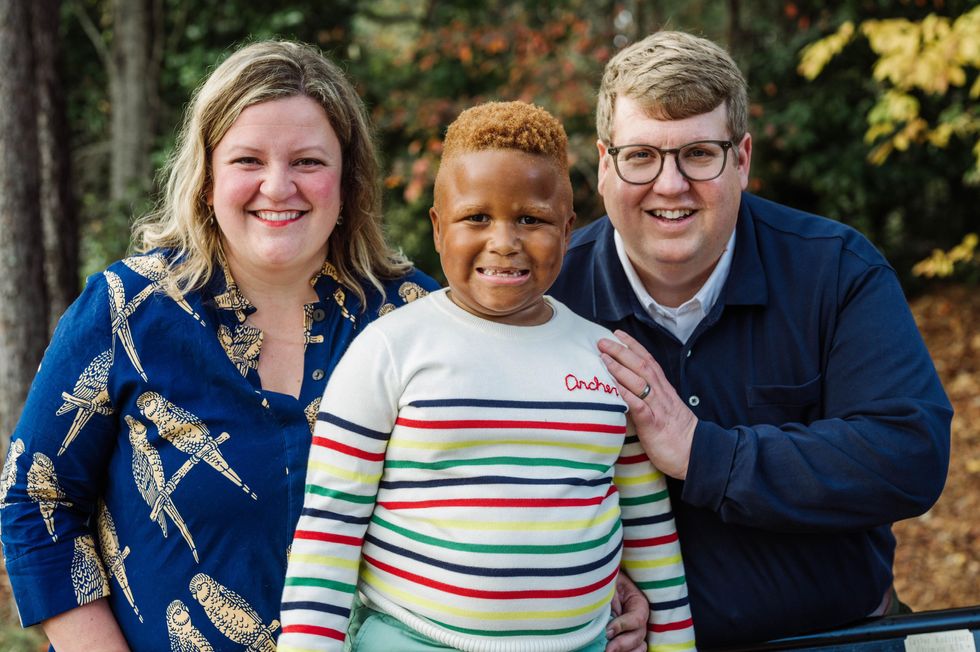 The Coffman Family
Courtesy of Niki Coffman
Coffman explained to Upworthy that they knew going into the adoption that they would have to do everything they could to make sure Archer felt represented in a white household. They stay in close contact with Archer's first mom and his younger sister, and Coffman emphasizes that while the pre-schooler is living with her, she doesn't think "its better than if he got to be with her [his first mom]."
The family has hard conversations about how unfair it is for Archer not to have been able to live with his first mom. But, Coffman doesn't shy away from acknowledging his emotions and tackling the disparity of diversity in her community for her son. In fact, the mom told Upworthy that she first began writing letters to companies when Archer was just a year old, and while most don't respond at all, some have told her they're going to work to do better.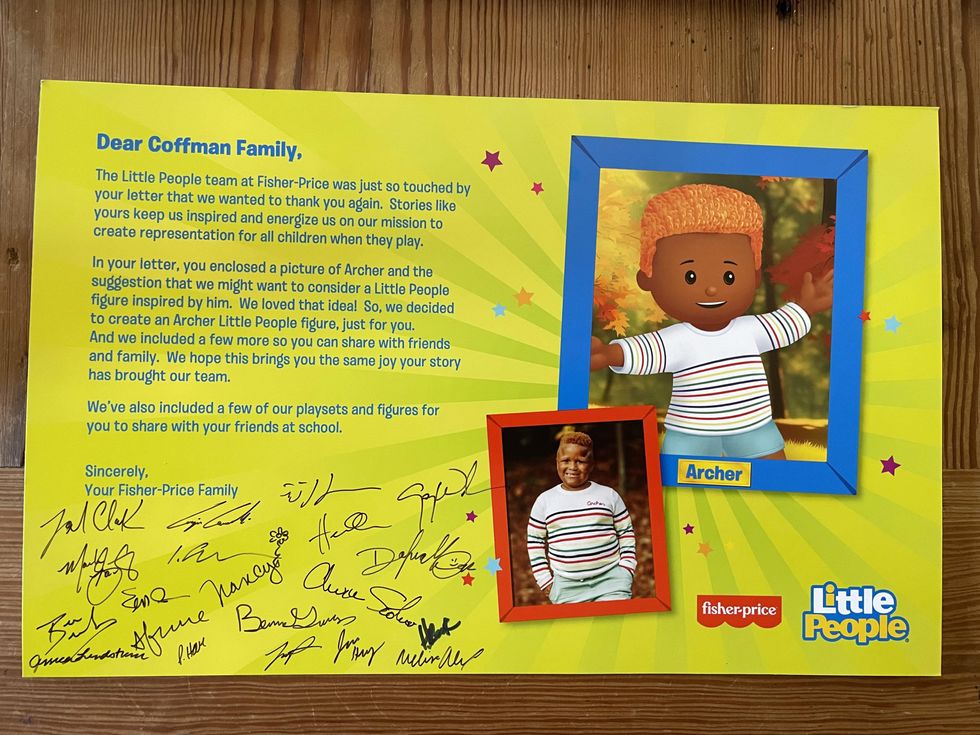 Framable letter from Fisher-Price
Courtesy of Niki Coffman
But after seeing how inclusive Fisher-Price Little People are, Coffman decided to write the company a thank you letter. She explained the family's predicament and her love for how diverse the Little People collection was.
"It hasn't always been the easiest thing to find toys & books that reflect the incredible diversity of the world we live in," Coffman wrote. "But man, oh, man do your current Little People offerings deliver on that diversity. We were so thrilled to find Black firefighters and doctors, girls with braids & and teacher with locs."
The mom continued her letter by explaining how important it was for non-white kids to see themselves represented. As her praise of the company's diverse dolls continued, she threw in a tiny request.
"'If you ever decided to design a Little Person with brown skin and red hair, please let us know,'" Coffman told Today.com about her P.S. at the end of her letter.
To the mom's surprise, she received a reply from Gary Weber, the Vice President of Design at Fisher-Price. He told Coffman that he shared the story with everyone that works on Little People.
"You and Archer have inspired us! We know that when kids play with Little People they are playing out scenarios they see in the world around them, and feeling like they are a part of that world is critical," Weber wrote.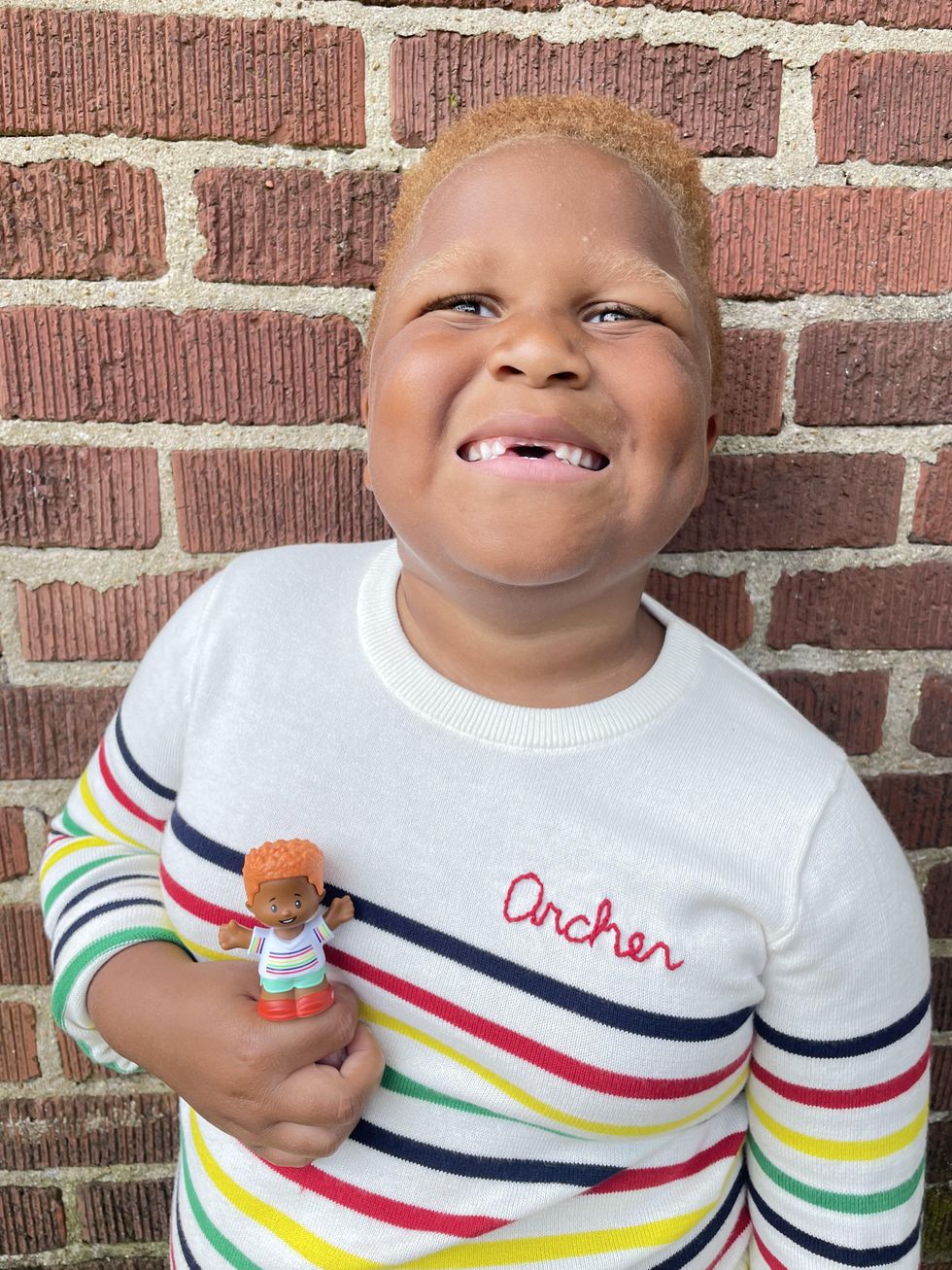 Archer holding Little People "Archer"
Courtesy of Niki Coffman
The VP ended the letter by asking for the family's address, and shortly thereafter, a surprise for Archer arrived on their doorstep. Little People that looked just like the red-headed 5-year-old wearing a perfect replica of one of Archer's outfits. The gift even came with a colorful letter with a picture of the boy inside that was signed by the entire Little People team.
"I immediately burst into tears," Coffman told Upworthy. "He has shown every single person we know. He carries it in his pocket, his little person, so he can show everyone that it looks just like him."
"By having a toy that looked like him, he was really seen and that's what was so moving about this gesture from Fisher-Price is that they really saw him," she continued.
"There's truly so much goodness in the world, and Gary, Dafna, and their entire team are that goodness personified," the mom wrote on Facebook.
Maybe one day those dolls will make their way into stores so other kids can have their very own Archer figurine.