Culture
Lila Moss praised for walking the Milan runway with her insulin pump visible on her thigh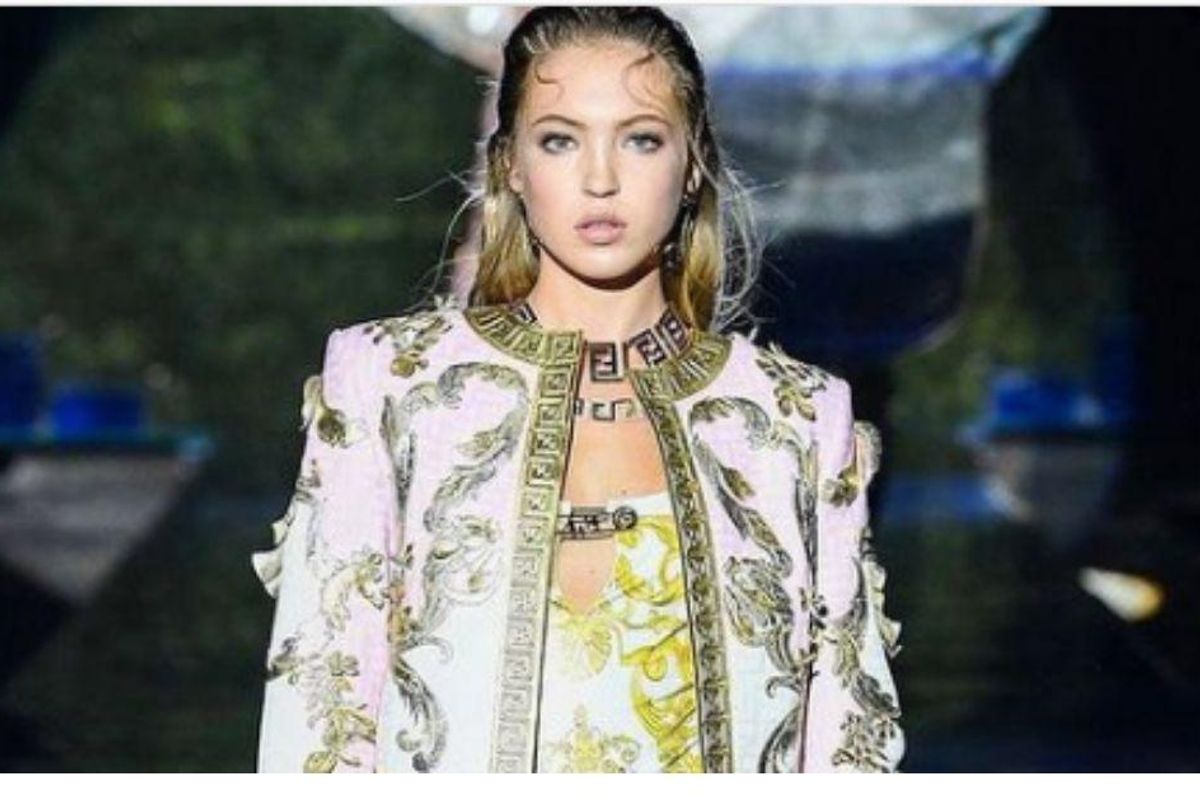 Kids with diabetes often deal with their disease behind the scenes, discreetly checking their blood sugar and giving themselves insulin so as not to draw unwanted attention to themselves.
Lila Moss is going in another direction, one that brings diabetes into the spotlight—literally. While walking the runway at Fendi and Versace's show during Milan Fashion Week, Moss—the 19-year-old daughter of British supermodel Kate Moss—wore a legless bodysuit that allowed her insulin pump attached to her upper thigh to show fully.
The pump allows Moss, who has type 1 diabetes, to give herself life-saving insulin without having to puncture her skin with a needle each time. Such pumps have been a welcome development for people with diabetes, who normally have to inject themselves with insulin several times a day.
---
Though she didn't mention the pump (which is also called a "pod") in her Instagram caption, Moss' photo prompted a flood of positive responses from people in the diabetes community. Such high-profile representation is rare, as is such an unapologetic visual of what living with diabetes looks like.
"Thank you for wearing your insulin pump so proudly 💙💪🏻," wrote one commenter.
"T1D🙌 love your pod and the example you lead! 💙" wrote another.
"As a fellow T1 diabetic (and ex model), THANK YOU for wearing your device on the freaking runway! You are a queen and I want these pics everywhere cos the more we share of T1 diabetes the better 🙌," wrote a third.
Over and over, commenters shared their gratitude and joy at seeing Moss wear her insulin pump so proudly:
"Thank you for not hiding your diabetes!! You are gorgeous!! :)"
"Absolutely love that you don't hide your pod, you're an inspiration to so many living with T1 diabetes ❤️."
"You are truly so inspiring thanks for showing the world you can do anything and more even when you have type 1 diabetes. (from a mother with a son with the same Illness)."
"Few things make me want to cry but wearing the pod so proudly on your leg👏-I love it! I wear mine proudly on my arm."
"I think not many people know that I have diabetes," Moss told The Kit last August. "It's not visible from the outside, so no one would really know just by looking at you. I have type 1."
According to the Mayo Clinic, type 1 diabetes is a chronic condition in which the pancreas produces little or no insulin, a hormone that allows our bodies to process sugar. The cause is unknown, but genetics and some viruses may contribute to the disease, which usually appears in childhood or adolescence. No one has found a cure yet, so people with type 1 diabetes control the disease through blood sugar monitoring and insulin injections.
Type 1 diabetes is a difficult disease, especially for kids, as it requires constant diligence. It's also a disease that can be hard for others to understand or relate to. Seeing someone like Lila Moss embracing her pump and not shying away from letting the world know about it is undoubtedly inspiring for other young people with type 1 diabetes. It's especially impressive that she made such a strong statement on the catwalk at one of the world's most prestigious fashion shows, where bodies and beauty are showcased and celebrated.
Diabetes doesn't make anyone any less beautiful or less able to do their job. That message came through loud and clear, without Lila Moss having to say a word.