More
Leaked footage shows Tucker Carlson's epic meltdown after being schooled by Dutch historian.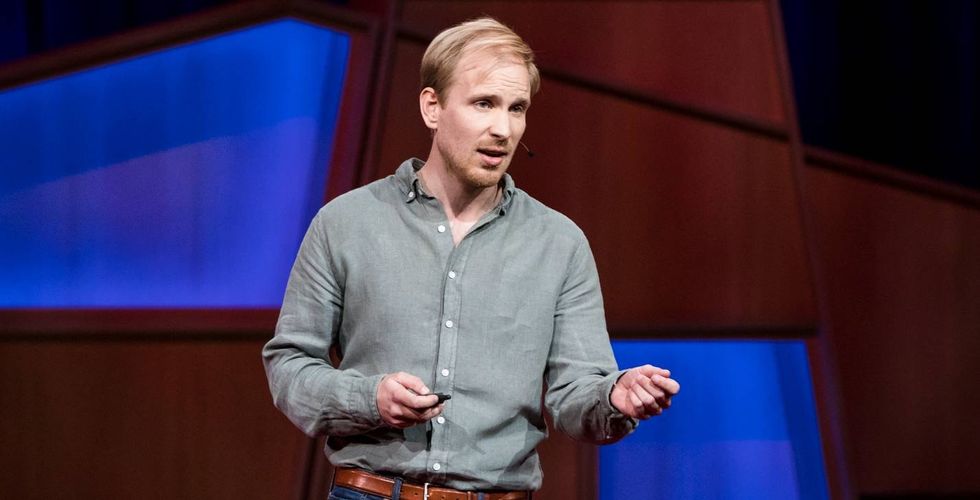 During a private panel in front of some of the world's wealthiest people, he chastised them for not addressing the elephant in the room: taxes.
"I mean 1500 private jets have flown in here to hear Sir David Attenborough speak about how we're wrecking the planet," Bregman said. "I hear people talking the language of participation and justice and equality and transparency."
---
"But then almost no one raises the real issue of tax avoidance," he said to a shocked room. "And of the rich just not paying their fair share. It feels like I'm at a firefighters conference and no one is allowed to speak about water."
Now, Bregman is back in the news for boldly exposing Fox News host Tucker Carlson right to his face. The segment got so ugly, Fox News decided not to air it.
Good morning @TuckerCarlson, why didn't you air the interview with me last night? Couldn't handle the criticism? I… https://t.co/JfFEf1UQrv

— Rutger Bregman (@Rutger Bregman) 1549976003.0
Fox News senior executive producer Justin Wells blamed Bregman, saying he "turned an opportunity to have a substantive, informative discussion into an obviously calculated personal insult campaign. We were disappointed in the segment and respect our audience's time too much to consider airing it."
Carlson has recently rebranded himself as a Trump-era populist who's critical of the shadowy "elites" who've sold out the little guy.
In the beginning of the interview, Carlson is giddy over how Bregman called out the world's elites for taking private jets to talk about climate change. A charge the right has often lobbed at wealthy environmentalists such as former Vice-President and climate activist Al Gore.
"That's one of the great moments — maybe the great moment in Davos history," Carlson said. "If I was wearing a hat, I would take it off to you," Carlson said.
But Bregman quickly steered the conversation into tax avoidance, the big issue he hit on at Davos. "I think the issue really is one of corruption and of people being bribed and not talking about the real issues. What the Murdochs really want you to do to is scapegoat immigrants instead of talking about tax avoidance," he said.
Bregman was referencing Rupert Murdoch, the billionaire Australian media mogul and owner of Fox News' parent company, who has used his vast media empire to promote right-wing propaganda.
He also noted that Carlson has been a senior fellow at the Cato Institute, a think tank funded by billionaire Republican donors the Koch Brothers.
BREGMAN: You're a millionaire funded by billionaires. That's what you are. I'm glad you finally now jumped the bandwagon of people like Bernie Sanders and AOC, but you're not part of the solution, Mr. Carlson. You're part of the problem, actually.
CARLSON: But AOC — but could I just say, and …
BREGMAN: It's true, right? That all the anchors on Fox …
CARLSON: You would have to be a moron …
BREGMAN: … they're all millionaires! How is this possible? Well, it's very easy, you're just not talking about certain things.
CARLSON: Fox doesn't even play where you are!
BREGMAN: "It doesn't play where you are"? Well, have you heard of the internet? I can watch things, whatever I want, you know.
CARLSON: You haven't even seen Fox before!
BREGMAN: I have, actually. I can't say I'm a great fan of your show, but I do my homework when you invite me on your show. So you're probably not going to air this.
CARLSON: I doubt it.
BREGMAN: But I went to Davos to speak truth to power, and I'm doing exactly the same thing right now. You may not like it but you're a millionaire funded by billionaires, and that's the reason why you're not talking about these issues.
CARLSON: But I am talking about these issues.
BREGMAN: But only now, come on, you jumped the bandwagon. You're like, "Oh, I'm against the globalist elite, blah blah blah." It's not very convincing, to be honest.
CARLSON: I want to say to you — why don't you go fuck yourself, you tiny brain — and I hope this gets picked up because you're a moron, I tried to give you a hearing but you were too fucking annoying …
BREGMAN: You can't handle the criticism, can you?