More
Keanu Reeves went peak Keanu when he and fellow air passengers got stranded in Bakersfield.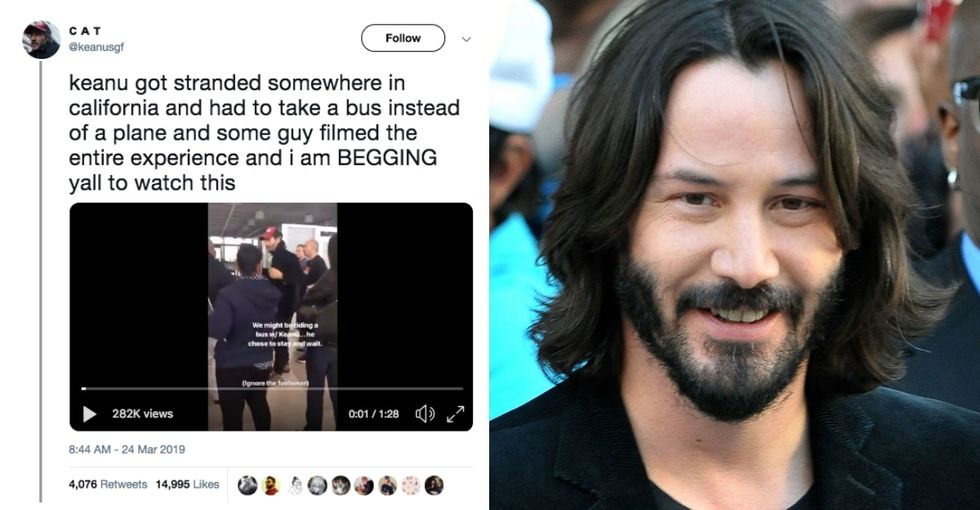 Keanu Reeves has made a name for himself as a man of the people because of incidents like this.
Imagine you're flying along on a short flight from San Francisco to Los Angeles when your plane has to make an emergency landing—in Bakersfield.
Bakersfield, for the uninitiated, is basically the armpit of California. (My family is from there, so I'm allowed to say that.) If you're going to get stranded someplace in The Golden State, Bakersfield is not where you want to be. Clearly, this is not your day.
---
But now imagine that famous actor/dreamboat/genuine good guy Keanu Reeves just happened to be on that flight with you. Imagine he's there in the Bakersfield airport, chatting with you and the other passengers and taking charge of helping everyone figure out how to get the 100 miles to L.A.
Not so sucky of a day now, is it?
Why can't all famous folks be as Keanu Reevesy as Keanu Reeves?
Some passengers who were aboard the United flight that was diverted to Bakersfield shared videos of Reeves talking about their options for taking a bus to L.A. Cartoonist Brian Rea shared some video on his Instagram, while others shared clips on Twitter.
Apparently, these passengers were treated to a surreal sort of Bill & Ted's Excellent Adventure-meets-Speed scenario. In one clip, Reeves helped everyone figure out the bus and baggage situation. In another clip, he can be seen in a vehicle reading out facts about Bakersfield to fellow passengers.
"It's population is around three hundred and eighty thousand," Reeves says in the video, "making it the ninth most populous city in California, and the fifty-second most populous city in the nation."
He also played some "Bakersfield sound" country music on his phone for the other passengers on the mini-bus. Sounds about right. (Buck Owens and Merle Haggard hail from Bakersfield. Look at how cultured Keanu Reeves is.)
All of this is just par for the course for Reeves, who gives away money like water and rides the subway in New York.
After The Matrix made the Hollywood star more than $114 million, he reportedly turned around and gave $80 million of it to the costume designers and special effects crew who helped create the film. That's just the kind of guy he is.
He's also been spotted on the New York subway, and was once surreptitiously recorded giving up his seat for a stranger. Seriously. How can anyone not love him?
Keep on being Keanu Reeves, Keanu Reeves. If I had to make an emergency landing in Bakersfield, you're definitely the celebrity I'd choose to be stuck with.