popular
A plus-sized fashion blogger was shamed for dressing like Meghan Markle. Her response was perfect.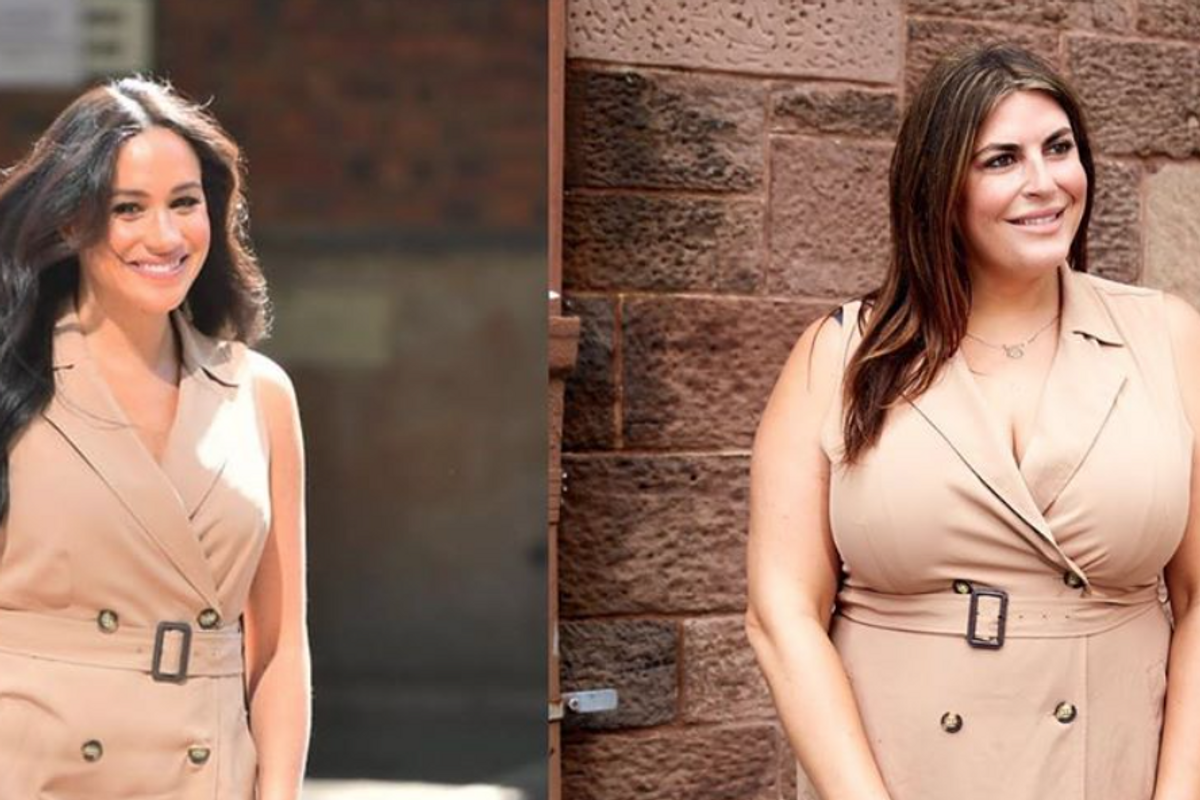 Instagram / Katie Sturino
Plus-size women are in the majority. In America, 68% of women wear a size 14 or higher. Yet many plus-sized are ignored by the fashion industry. Plus-sized clothing is a $21 billion industry, however only one-fifth of clothing sales are plus-sized. On top of that, plus-sized women are often body shamed, further reinforcing that bigger body types are not mainstream despite the fact that it is common.
Plus-size fashion blogger Katie Sturino recently called out her body shamers. Sturino runs the blog, The 12ish Style, showing that plus-sized fashion isn't – and shouldn't be – limited to clothes that hide the body.
---
Sturino's "Super Size The Look" series re-creates celebrity looks for plus-sized women. As Sturino wrote on Instagram, her series "is never about who wore it better...it's about empowering women of all sizes to wear what inspires them."
She's super sized the looks of the likes of Princess Di, Katie Holmes, and Kate Middleton.
Sturino recently re-created a few looks from Meghan Markle's South African Tour. She looked stunning, proving you don't have to actually be a Royal to pull off timeless elegance.
Haters took time out of their day to leave mean comments on Sturino's posts, many of which shouldn't even be repeated. However, Sturino did repeat them for educational purposes.

Sturino reposted the comments to show her followers what plus-sized women (i.e. average) have to deal with.
"[E]very time I think we have made so much progress about our bodies and the way we talk about women, something pops up to remind me our work is not done!!!" Sturino wrote in the caption of her post.
It is astounding that people are still trashing women's bodies. Sturino has more in common with Meghan Markle than just their matching outfits. They also both have to deal with insults about their appearance on the regs. "[T]he comments are brutal...they do not hurt my feelings, but they are scary! It's scary that a woman who is almost the average size in this country would be regarded with such shock! Also, they don't stop at my body, they are equal opportunity women haters who take shots at MM as well! Can't be thin. Can't be fat. Maybe STFU ABOUT WOMENS BODIES!!!!!" she continued.
Sturino also included an encouraging message in her post. "All this to say, please keep spreading positivity. Please keep shining bright. Please don't engage with the crazies in the comments. PLEASE DO LOOK AT YOURSELF IN THE MIRROR AND TELL HER THAT YOU LOVE HER!!!!!! (I just did)"
When it comes to high fashion, plus-sized women are vastly ignored. Plus-sized clothing represents only 0.1% of the luxury fashion market. So, kudos to Sturino for proving that chic clothes can be accessible to the average woman – no matter what anyone says.