Nature
Jason Momoa joined the protest of building a giant telescope on a sacred Hawaiian mountain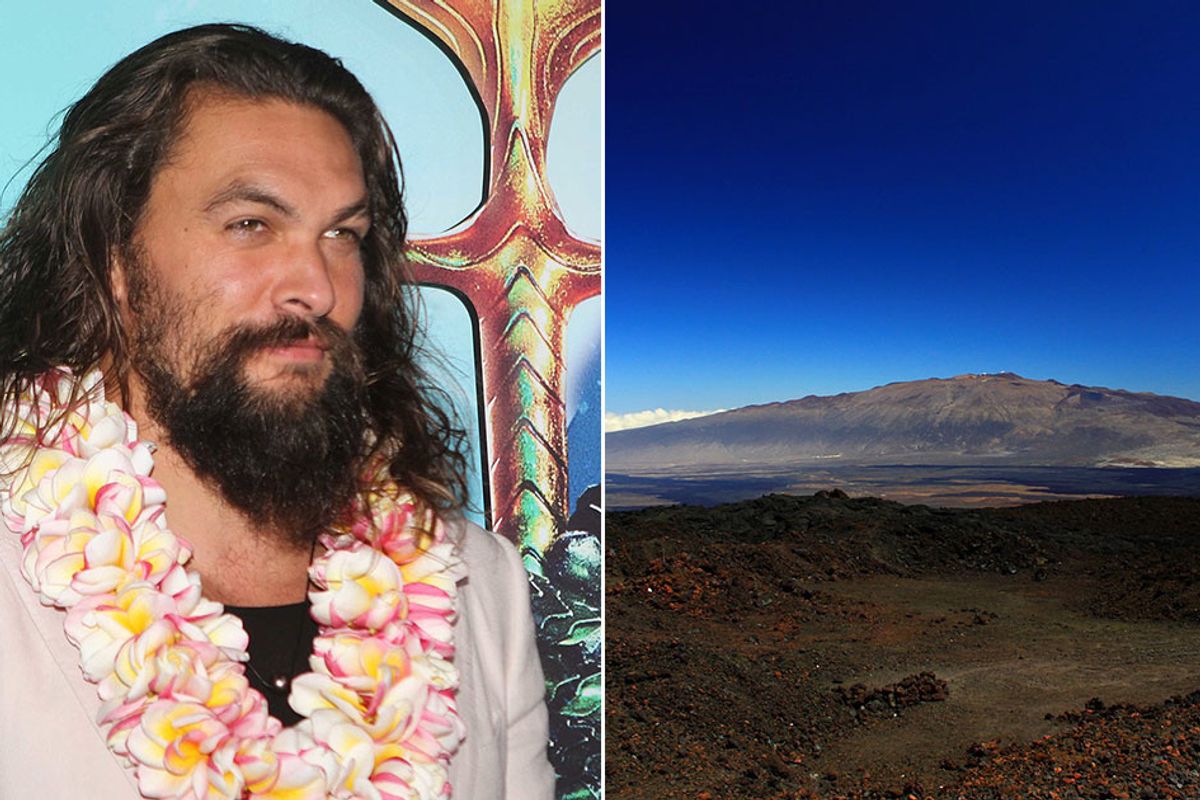 Wikipedia
Native Hawaiians are protesting the construction of a $1.6 billion telescope on Mauna Kea, Hawaii's tallest mountain. For 17 straight days, the protesters have successfully blocked the roads leading up to the location as an attempt to halt construction of the Thirty Meter Telescope (TMT) project. Now, "Aquaman" star and Hawaii-born Jason Momoa has joined the fight, using his star power to raise awareness for the issue.

He doesn't just play a superhero in the movies, he's also one in real life. Momoa's efforts are working because the issue has gained national attention. Sporting a green leaf lei around his neck and crown on his head,he appeared in front of the protesters to present a ho'okupu (a "formal offering wrapped in ti leaf") and told them, "We are not going anywhere," according to the Honolulu Star-Advertiser.
---
Momoa has been vocal about his opposition to the telescope since 2015. "I'm so very honored to be here ... to bring my children and all my ohana here. There's one thing that's not going to happen. That telescope's not being built here," he said.
Momoa isn't the only A-lister lending his clout to the fight. Dwayne "The Rock" Johnson spoke out in favor of the protests on "The Tonight Show with Jimmy Fallon," and visited the protest site in Hawaii. Johnson is part Samoan and went to high school in Maui. "This mountain is their church. It would be like building on this church," Johnson explained. "This is so much bigger than a telescope being built. This is humanity. This is human beings who are hurting."
Bruno Mars, who was born in Hawaii, supports the fight as well and posted a photo of the protesters on Instagram."I love you Hawaii, and I'm with you," he wrote.
Despite having no ties to the island, Leonardo DiCaprio is also lending his voice to support the protesters, expressing on Instagram his concerns the native people are being dismissed.
Mauna Kea offers the best conditions for astronomy in the Northern Hemisphere, and a telescope would further scientific research in addition to creating jobs in the area. But as good as the location is, it's also problematic. The land is considered sacred, and the protesters don't want to see it desecrated. They're not anti-science, they're just anti-desecration of a sacred land.

The telescope construction deadline was recently extended until September 2021 by Governor Dave Ige, but there's still more work for the protesters to do. Fortunately, they have Aquaman on their side.