Democracy
It is possible to be morally pro-life and politically pro-choice at the same time.
Abortion remains an incredibly polarizing issue.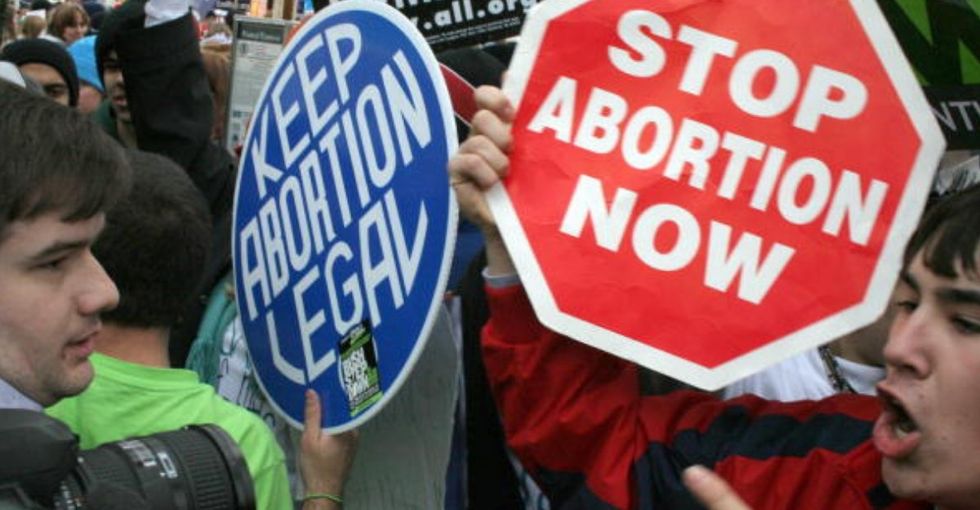 The legality of abortion is one of the most polarized debates in America—but it doesn't have to be.

People have big feelings about abortion, which is understandable. On one hand, you have people who feel that abortion is a fundamental women's rights issue, that our bodily autonomy is not something you can legislate, and that those who oppose abortion rights are trying to control women through oppressive legislation. On the other, you have folks who believe that a fetus is a human individual first and foremost, that no one has the right to terminate a human life, and that those who support abortion rights are heartless murderers.
Then there are those of us in the messy middle. Those who believe that life begins at conception, that abortion isn't something we'd choose—and we'd hope others wouldn't choose—under most circumstances, yet who choose to vote to keep abortion legal.
---
It is entirely possible to be morally anti-abortion and politically pro-choice without feeling conflicted about it. Here's why.


There's far too much gray area to legislate.
No matter what you believe, when exactly life begins and when "a clump of cells" should be considered an individual, autonomous human being is a debatable question.
I personally believe life begins at conception, but that's my religious belief about when the soul becomes associated with the body, not a scientific fact. As Arthur Caplan, award-winning professor of bioethics at New York University, told Slate, "Many scientists would say they don't know when life begins. There are a series of landmark moments. The first is conception, the second is the development of the spine, the third the development of the brain, consciousness, and so on."
But let's say, for the sake of argument, that a human life unquestionably begins at conception. Even with that point of view, there are too many issues that make a black-and-white approach to abortion too problematic to ban it.
Abortion bans hurt some mothers who desperately want their babies to live, and I'm not okay with that.
One reason I don't support banning abortion is because I've seen too many families deeply harmed by restrictive abortion laws.
I've heard too many stories of families who desperately wanted a baby, who ended up having to make the rock-and-a-hard-place choice to abort because the alternative would have been a short, pain-filled life for their child.
I've heard too many stories of mothers having to endure long, drawn out, potentially dangerous miscarriages and being forced to carry a dead baby inside of them because abortion restrictions gave them no other choice.
I've heard too many stories of abortion laws doing real harm to mothers and babies, and too many stories of families who were staunchly anti-abortion until they found themselves in circumstances they never could have imagined, to believe that abortion is always wrong and should be banned at any particular stage.
I am not willing to serve as judge and jury on a woman's medical decisions, and I don't think the government should either.
Most people's anti-abortion views—mine included—are based on their religious beliefs, and I don't believe that anyone's religion should be the basis for the laws in our country. (For the record, any Christian who wants biblical teachings to influence U.S. law, yet cries "Shariah is coming!" when they see a Muslim legislator, is a hypocrite.)
I also don't want politicians sticking their noses into my very personal medical choices. There are just too many circumstances (seriously, please read the stories linked in the previous section) that make abortion a choice I hope I'd never have to make, but wouldn't want banned. I don't understand why the same people who decry government overreach think the government should be involved in these extremely personal medical decisions.
And yes, ultimately, abortion is a personal medical decision. Even if I believe that a fetus is a human being at every stage, that human being's creation is inextricably linked to and dependent upon its mother's body. And while I don't think that means women should abort inconvenient pregnancies, I also acknowledge that trying to force a woman to grow and deliver a baby that she may not have chosen to conceive isn't something the government should be in the business of doing.
As a person of faith, my role is not to judge or vilify, but to love and support women who are facing difficult choices. The rest of it—the hard questions, the unclear rights and wrongs, the spiritual lives of those babies,—I comfortably leave in God's hands.
Most importantly, if the goal is to prevent abortion, research shows that outlawing it isn't the way to go.
The biggest reason I vote the way I do is because based on my research pro-choice platforms provide the best chance of reducing abortion rates.
Abortion rates fell by 24% in the past decade and are at their lowest levels in 40 years in America. Abortion has been legal during that time, so clearly, keeping abortion legal and available has not resulted in increased abortion rates. Switzerland has one of the lowest abortion rates on earth and their rate has been falling since 2002, when abortion became largely unrestricted.
Outlawing abortion doesn't stop it, it just pushes it underground and makes it more dangerous. And if a woman dies in a botched abortion, so does her baby. Banning abortion is a recipe for more lives being lost, not fewer.
At this point, the only things consistently proven to reduce abortion rates are comprehensive sex education and easy, affordable access to birth control. If we want to reduce abortions, that's where we should be putting our energy. The problem is, anti-abortion activists also tend to be the same people pushing for abstinence-only education and making birth control harder to obtain. But those goals can't co-exist in the real world.
Our laws should be based on reality and on the best data we have available. Since comprehensive sex education and easy, affordable access to birth control—the most proven methods of reducing abortion rates—are the domain of the pro-choice crowd, that's where I place my vote, and why I do so with a clear conscience.
This article originally appeared on 01.22.19