True
If you've ever donated to a cause but worried that your contribution wasn't really enough to drive real change, you're not alone. As one person, it can be tough to feel like you're making a real difference, especially if you don't have a lot to donate or if times are tough (aka there's a worldwide pandemic going on.)
That's why, for years, the idea of philanthropy felt a little bit like a rich person's thing: if you had millions, you could donate and make change. The rest of us were just tossing pennies into a cup without really doing much.
But that's a problem: the priorities of a wealthy few don't represent the priorities of many, which means that good causes are often left underfunded, leading to a lack of meaningful action.
The thing is: it doesn't have to be like this. We can all make a difference, especially if we pool our money together.
Enter: Giving Circles. These are when groups of people with shared values come together to drive change. They do it by pooling their time and money together, then deciding as a circle where it should go. That way, they can cause a real targeted change in one place quickly in a very people-powered way by giving what they can, whether that's volunteer hours, money, or a mix of both. Best of all, Giving Circles are a social experience — you get to work together as a community to make sure you do the most good you can.
In other words, giving circles are a way to democratize philanthropy, making it more accessible regardless of your age, income, gender, or race.

That's why this year, The Elevate Prize, a nonprofit founded in 2019, is launching a new pop-up "Giving Circle" program so that problem solvers, budding philanthropists, and anyone that wants to do good can come together and drive real impact at a large scale. And you can do it all in just 90 minutes.
All you have to do is join one of the Elevate Giving Circles online. Learn about organizations doing good for the world, then pool your money together, and as a group, direct it where you think that donation could make the most difference.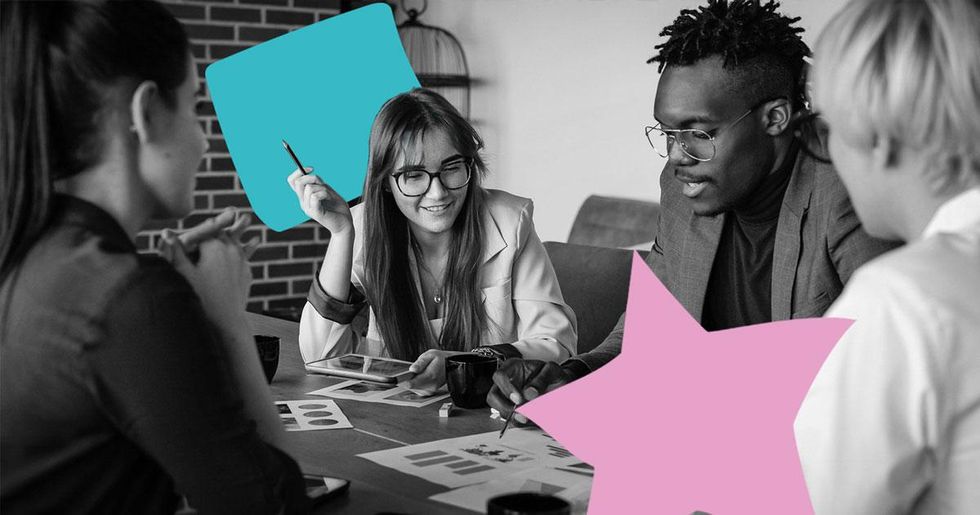 But that's not all: every single donation made is matched by the Elevate Prize Foundation — basically guaranteeing that you double your impact for good. The theme for the first cycle is education, and Elevate Giving will match up to $75,000 in total donations for each cycle.

Ready to get involved? Elevate Giving experiences start June 26th, so sign up now for your spot to make a difference. There's no minimum fee to join either — so get involved no matter what you have to give. Now that's philanthropy for all.
via Fresh Cravings
Upworthy is proud to have Fresh Cravings as a partner in its goal to share the best of humanity.

Tim Rose lost his son Korey to bone cancer at the age of 18. "He was one of those kids that you look at and just go 'that kid really doesn't have a care at all,'" Tim says. "He was never moody. He was always there to make a joke."
To continue spreading his son's joy, Tom created Camp Korey. It's a camp for children and families living with serious medical conditions that aims to inspire joy, adventure, and resilience.
Salsabrate The Good: Episode 14, Camp Korey www.youtube.com
Emma Benoit attempted suicide at the age of 16 and although she survived, was left paralyzed. "I had no self-esteem, no identity," she says. "I didn't know who I was. I didn't know who I wanted to be. I see that with a lot of youth and I know that they're lost right now."
Today, she is courageously helping others struggling with similar emotional challenges by sharing her story in a documentary called "My Ascension."
Salsabrate The Good: Episode 7, My Ascension www.youtube.com
Stephani Germanotta endured tremendous trauma as a teenager and had to go through the experience completely alone. "I was raped repeatedly when I was 19 years old, and I also developed PTSD as a result of being raped and also not processing that trauma. I did not have anyone help me, I did not have a therapist, I did not have a psychiatrist, I did not have a doctor help me through it," she said according to Teen Vogue.
After becoming an international superstar as Lady Gaga, Germanotta has used her fame to promote youth mental health by creating the Born This Way Foundation.
Salsabrate The Good: Episode 12, Born This Way Foundation www.youtube.com
These three people who've endured hardships and used them to empower others also have another thing in common. They're recipients of a $5,000 donation through Fresh Cravings' Salsabrate The Good giveback campaign.

Fresh Cravings, a family-owned brand known for produce-aisle chilled salsas and dips, has committed to donating a total of $250,000 among 50 nonprofit organizations, supporting an array of causes. Every week, Fresh Cravings is donating to a new nonprofit and sharing its story.
So far, the brand has highlighted 10 nonprofits nationwide, spanning from California to New York with wide-ranging philanthropic missions, from food insecurity to literacy, suicide prevention to environmentalism, and more. The company places a special priority on youth social entrepreneurs.
"As a small family-owned business, kindness, and community are at our core. This is why we reallocated a large portion of our marketing budget, $250,000, and put it toward a more meaningful platform. Ultimately, we want to celebrate the best of who we are as humans," Jay Whitney, FoodStory Brands chief marketing officer, said in a press release.

Fresh Cravings is looking to Salsabrate 40 more nonprofits and if you know one that deserves consideration, nominate them at the campaign's website.
Being a conscious consumer means not only supporting companies whose products you enjoy but those who give back to the communities that have made them successful. Purchasing Fresh Cravings salsa means you're giving your family a healthy way to snack while also supporting those who help make our communities great.
Learn more about how Fresh Cravings supports heroes in communities across the country on its website.
Get stories worth sharing delivered to your inbox