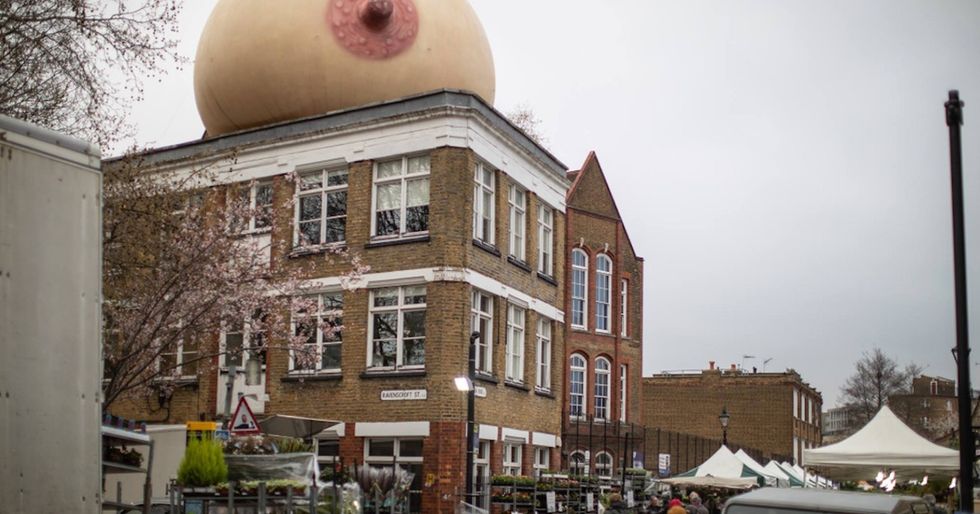 One of the easiest ways to remove the stigma surrounding social taboos is through visibility.
American's opinions of gay people changed rapidly after celebrities started coming out of the closet and TV shows and movies started began featuring more gay characters.
Elvie, the inventor of the world's first silent, wearable breast pump, is hoping that by making breasts more visible, it can help end the stigma surrounding breastfeeding and pumping in public.
---
To do so, Elvie placed five gargantuan breasts of all shapes, sizes, and colors around London on Mother's Day, March 31, and encouraged people to post photos of them on social media under #FreeTheFeed.
[facebook https://www.facebook.com/plugins/post.php?href=https%3A%2F%2Fwww.facebook.com%2Fhelloelvie%2Fposts%2F2188479421199851&width=500 expand=1]
"It's an invitation to everyone to stand with all those women that have felt shamed or confined when breastfeeding or pumping," Tania Boler, CEO of Elvie, told the Shropshire Star of the initiative. "We know the giant boobs will raise a few eyebrows, but we want to make sure no one overlooks the way this stigma has been used to repress women."
Studies show that England has a long way to go to reduce the social stigma surrounding breastfeeding.
According to The Guardian, 60% of English women feel embarrassed about breastfeeding in public. While 20% believe that others don't want to see them breastfeeding, and 10% who chose not to nurse their babies were "influenced by the worry of doing so outside the home."
"Every woman has the right to decide how and where they feed their children without feeling guilty or embarrassed about their parenting choices," Elvie said in a statement. "We want to empower women to feel safe and comfortable breastfeeding or pumping in public and encourage the British public to support them breastfeeding in public."