popular
Gwyneth Paltrow had no idea she was in Spiderman: Homecoming.
Let's never forget this clip.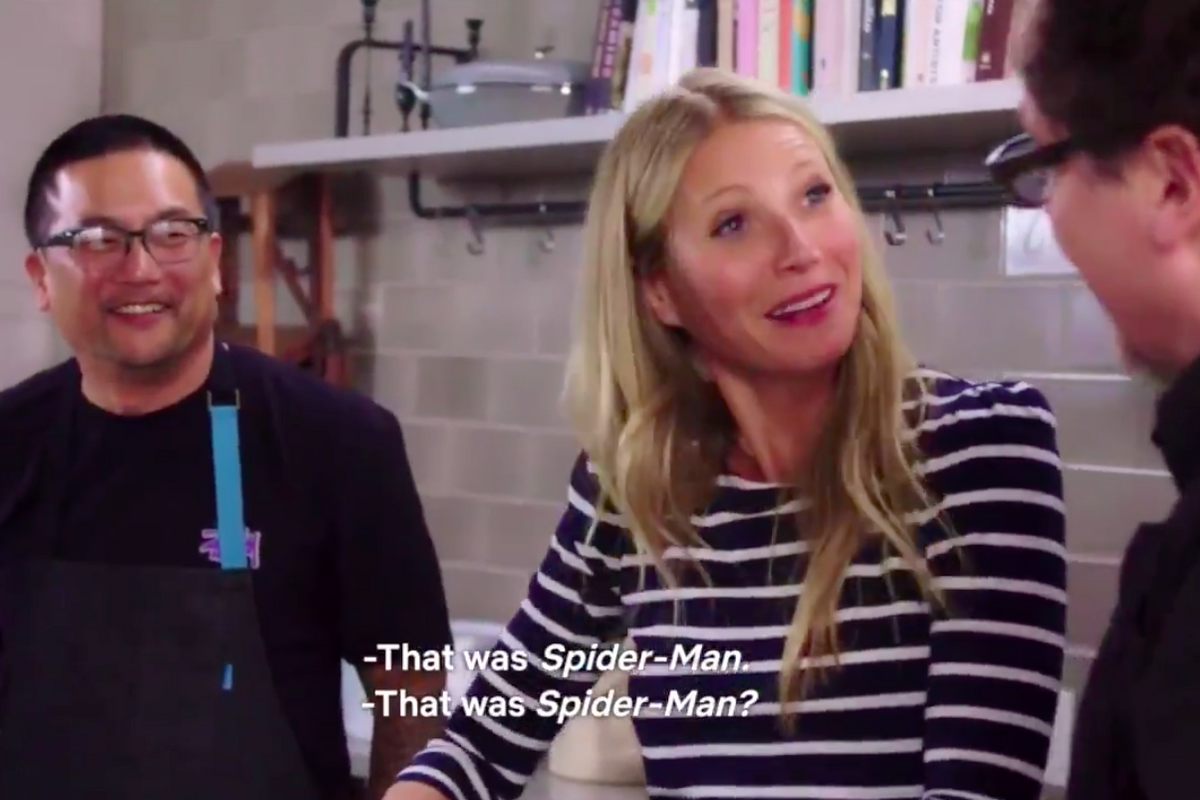 Quick question for you on this very good summer Friday: Did you know that Jon Favreau had a cooking show?
No? Neither did I.
You know who else had no idea? The internet's weirdest new age aunt, Gwyneth Paltrow. AND SHE WAS ON THE DAMN THING.
Paltrow took a break from encouraging women to stick jade eggs into their vaginas to appear on Favreau and celebrity chef Roy Choi's new Netflix series — The Chef Show — and things got a little weird as soon as she stepped onto the set, picked up a tool that appears to be related to the grater family, and bravely asked: "What is this TV show for?"
Whenever I turn on The Masked Singer: https://t.co/04MU1J1nw9

— R. Eric Thomas (@R. Eric Thomas) 1559924519.0
As R. Eric Thomas points out over at Elle, this is the exact kind of energy we need to be bringing into our lives whenever our friends ask us to be part of their Insta stories. But it's also only the beginning. I know we're always out here bagging on Gwyneth Paltrow for giving questionable health advice (NEVER EVER FOLLOW IT), but when she reveals she has no idea that she ever appeared in a Spider-Man film? That's some "chef's kiss perfection right there."
Won't you watch the clip with me? (You'll need to catch up, though. I've seen it at least 45 times since it dropped this morning.)
Gwyneth Paltrow genuinely did not know she was in "Spider-Man: Homecoming" so this adorable interaction from "The C… https://t.co/G8hx5wUrNJ

— Jarett Wieselman (@Jarett Wieselman) 1559921093.0
I don't know if I will ever get over the facts that:
1: Gwyneth Paltrow just shows up to film movies, says her lines, collects the checks, and then just forgets it all because she's got more important things to worry about.
and
2: That someone can literally be giving Gwyneth Paltrow true facts about things that happened and she's so off in her own world of wellness stickers and macrobiotic gruel that she'll just say "no," politely and then try to get you to move on. It's something I'm going to try the next time someone confronts me with something small and unimportant that I just don't feel like dealing with.
Let's never forget this clip — especially when the weekend's over and Paltrow's back to telling us to eat bees to live forever.