More
George Clooney made a hilarious PSA about anti-science dumb-#$%^;*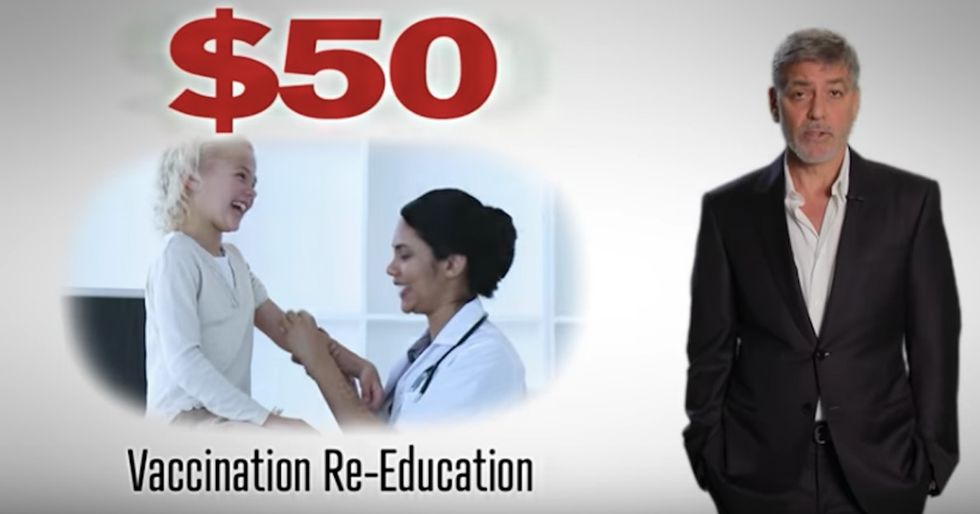 Hello, friend! Are you ready for your weekly reminder that the world is going up in flames? Well, I'm sorry to be the one to break the news to you (again), but aren't you glad that at least you're hearing it from someone who already considers you a pal/confidante?
The UN has reported that we are in the middle of the fastest extinction cycle this big ol' rock we call home has ever seen. Animals are disappearing at alarming rate, in fact, there are hundreds upon hundreds of animals that we won't ever get to see again. "You mean like from the dinosaur era?" you ask. No, like from 1500 on. Things are grim.
---
But there's something that might make life a little easier during these trying times — late-night videos clips like the one below. At least they give us a little bit of a chuckle as we continue reeling from one disaster to the next.
George Clooney is here to let you know that ignorance can no longer be tolerated. But of course, he doesn't use the word ignorance. Here, why don't you just watch for yourself?
You seething like I'm seething about the fact that our president thinks that windmills cause cancer via noise? Well then it's time to take heed from this comedic message and do something about it. That means we should all be getting out there, protesting, advocating and educating.
It may feel a bit unnecessary to have to remind people that dinosaurs existed and vaccines are good, but if we don't, who knows where humanity will end up? (Spoiler alert: probably extinct.)