Family
Five-year-old with autism speaks for the first time and his sense of pride is awe-inspiring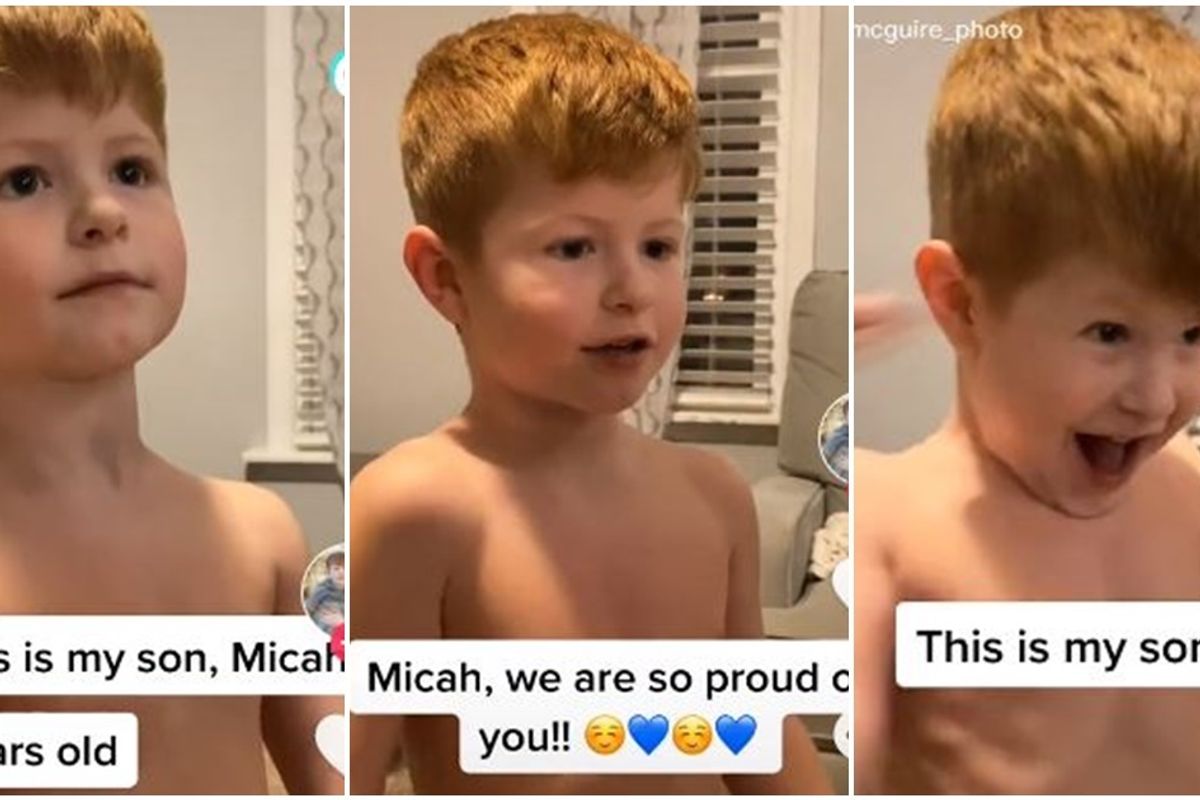 via Haley McGuire / TikTok
About a quarter of people with autism spectrum disorder (ASD) are nonverbal, and while that number seems high, there's been sharp decline from a generation ago when the number was closer to half.

This positive shift is due to an increase in studies on ASD which have resulted in more effective therapeutic strategies.
Children with ASD are often nonverbal, but many go onto acquire language skills. Up to 70% of nonverbal children become fluent speakers or can use simple phrases.
---
Having a child that is nonverbal or speech-delayed is terribly frustrating because you want them to be able to clearly communicate how they're feeling emotionally and physically.
It's also very hard to see them interact with other children without being able to express their full selves like everyone else.
So when a child with autism spectrum disorder makes their first language breakthrough it's a monumental moment for themselves and those close to them.
Photographer Haley McGuire shared her son Micah's wonderful achievement on TikTok and the inspiring video has been favorited over 730,000 times.
The first video she shared was of Micah repeating the names of his family members as they cheer in the background. Every time Micah gets a name right, he leaps in excitement and beams with pure pride.
Since the video was first recorded, Micah has shown no signs of slowing his progress.

"It's been a day and a half now, and everything we ask him to say, he's copying," McGuire told Newsweek.
"He's not going out of his way to say anything on his own, but he's literally copying everything we say, which is crazy because he wasn't talking at all," McGuire continued. "Every now and then, he'd blurt out a word. But when I say 'wasn't talking,' he would go weeks without saying anything. This is crazy. He's been doing great."
The video of Micah repeating the names of his family members was followed up by a new recording where he says his name for the first time that's received over 2 million favorites.
McGuire says Micah is a very loving child and it's easy to see on the videos.

"Micah has always been a really sweet, tender-hearted, quiet kid," she said. "Obviously, he doesn't talk, but he kind of keeps to himself. He's always been extremely loving. I know that that's not necessarily normal for kids with autism. They like to not be touched and they like to be alone. But he's very affectionate and loving. It's been easy for us to be so happy and encouraging with him."
The videos have warmed a lot of people's hearts online and have been source of inspiration for the McGuire family. But, maybe the best part about the videos is they also give hope to families of children with an autism spectrum disorder, especially those who long for the day they can hear their child first speak.