More
ER doctor shares why social media is a powerful tool in helping him cope with death.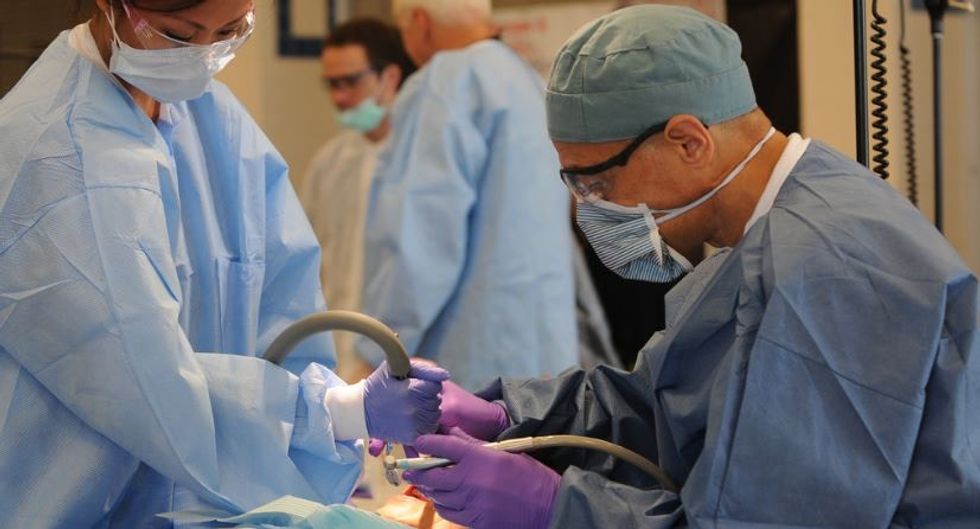 via Texas Military Department / Flickr
Telling someone their child has just died has to be one of the most difficult things a human can do. For an emergency room physician, it's part of their day-to-day lives. Every day there's a chance they'll deliver horrifying news that will forever change someone's life.
It's not a responsibility to be taken lightly. But it's understandable that an emergency room physician would become calloused after years of delivering tragic news.
The physician may also be enraged after seeing another lifeless body of a young person who died due to drugs or carelessness.
---
That's why a LInkedIn blog post by Dr. Louis M. Profeta, an emergency room physician practicing in Indianapolis, is so powerful.
In the post, he reveals how he comes to understand the individual importance of every life he loses on the operating table. A life of someone he never knew that was most likely delivered to him bloody, unconscious, and on a stretcher.
He looks at their Facebook profile.
You see, I'm about to change their lives — your mom and dad, that is. In about five minutes, they will never be the same, they will never be happy again. Right now, to be honest, you're just a nameless dead body that feels like a wet bag of newspapers that we have been pounding on, sticking IV lines and tubes and needles in, trying desperately to save you. There's no motion, no life, nothing to tell me you once had dreams or aspirations. I owe it to them to learn just a bit about you before I go in.
His post also serves as a warning to young people who think they're invincible to the dangers posed by drugs or texting while driving.
Maybe you were texting instead of watching the road, or you were drunk when you should have Ubered. Perhaps you snorted heroin or Xanax for the first time or a line of coke, tried meth or popped a Vicodin at the campus party and did a couple shots. Maybe you just rode your bike without a helmet or didn't heed your parents' warning when they asked you not to hang out with that "friend," or to be more cautious when coming to a four-way stop. Maybe you just gave up.
He then paints a disturbing picture he's seen far too many times.
You're kind of lucky that you don't have to see it. Dad screaming your name over and over, mom pulling her hair out, curled up on the floor with her hand over her head as if she's trying to protect herself from unseen blows.
By checking their Facebook page, it also helps quell his anger over a life lost far too early.
I check your Facebook page before I tell them you're dead because it reminds me that I am talking about a person, someone they love—it quiets the voice in my head that is screaming at you right now shouting: "You mother fucker, how could you do this to them, to people you are supposed to love!"
You can read the entire post on Dr. Profeta's LinkedIn blog.