More
Comments on the internet are usually horrible. But these will make you love humans again.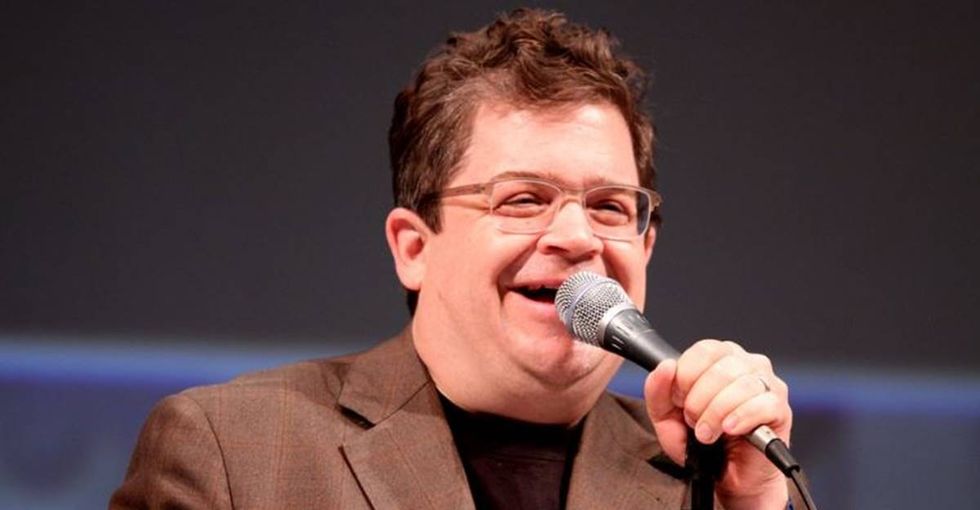 Actor-comedian Patton Oswalt ("Ratatouille," "Young Adult") pulled off a marvelous act of human kindness on Thursday by asking his 4.46 million Twitter followers to help out a troll.
It all started when Oswalt tweeted an angry response to President Trump's call to build a wall on the U.S.-Mexico border.
You like pomes? I like pomes too! Here's a pome I wroted: ROSES ARE RED TOMMY SHAW WAS IN STYX YOU'RE GOING TO RESI… https://t.co/CkJLfYB3UV

— Patton Oswalt (@Patton Oswalt) 1548261764.0
Twitter user Michael Beatty, a Vietnam veteran, angrily responded to Oswalt saying, "I just realized why I was so happy you died in Blade Trinity!" and "And you shoot basketball [like] the sawed off little man you are."
---
Oswalt was curious about Beatty, so he scrolled through his Twitter timeline and found a link to a GoFundMe page that had been created to help him pay his medical bills.
Beatty's GoFundMe page described his recent two-week hospitalization for sepsis, a potentially fatal blood infection, and struggles with diabetes.
When Oswalt saw the link, he shared it with his followers and encouraged people to donate to this man who'd had nothing but nasty things to say to him.
Aw, man. This dude just attacked me on Twitter and I joked back but then I looked at his timeline and he's in a LOT… https://t.co/FzyA6732eD

— Patton Oswalt (@Patton Oswalt) 1548353035.0
In just two days, the GoFundMe has raised over $35,000.
The comments on the GoFundme page are almost as heart-warming as the donors' generosity. Countless people thanked Beatty for his service, while others took the opportunity to affirm the idea that Americans should help each other regardless of party.
Many also noted that Beatty's struggles are perfect example of why Americans need a healthcare system that doesn't force people resort to a GoFundme campaign to pay their bills.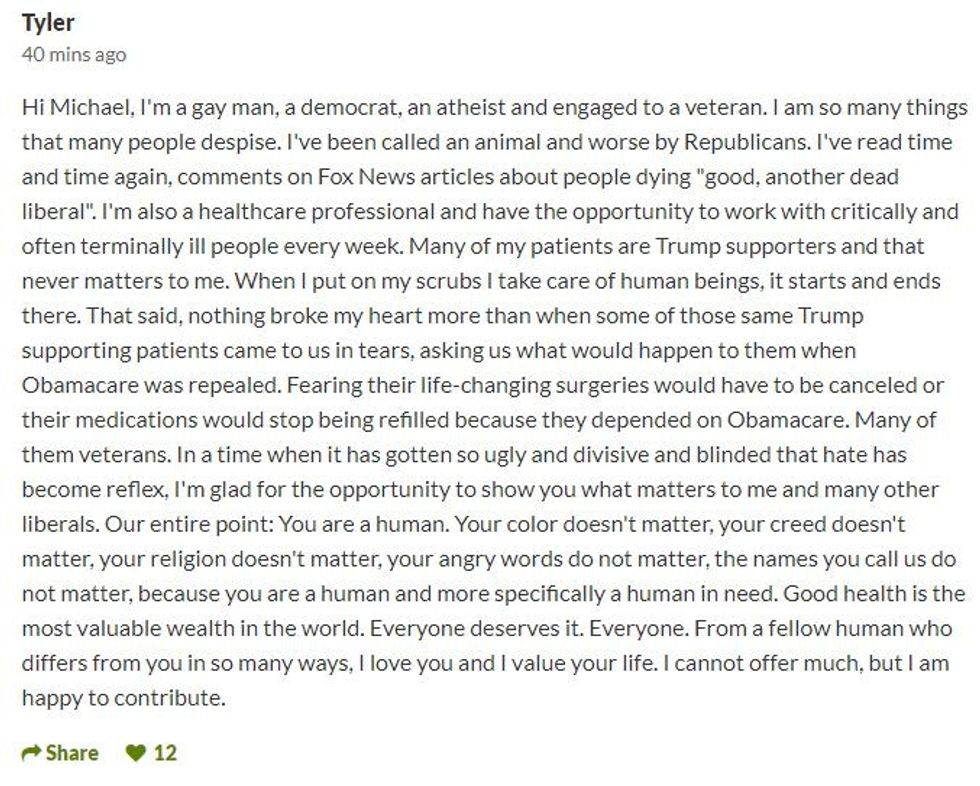 via GoFundMe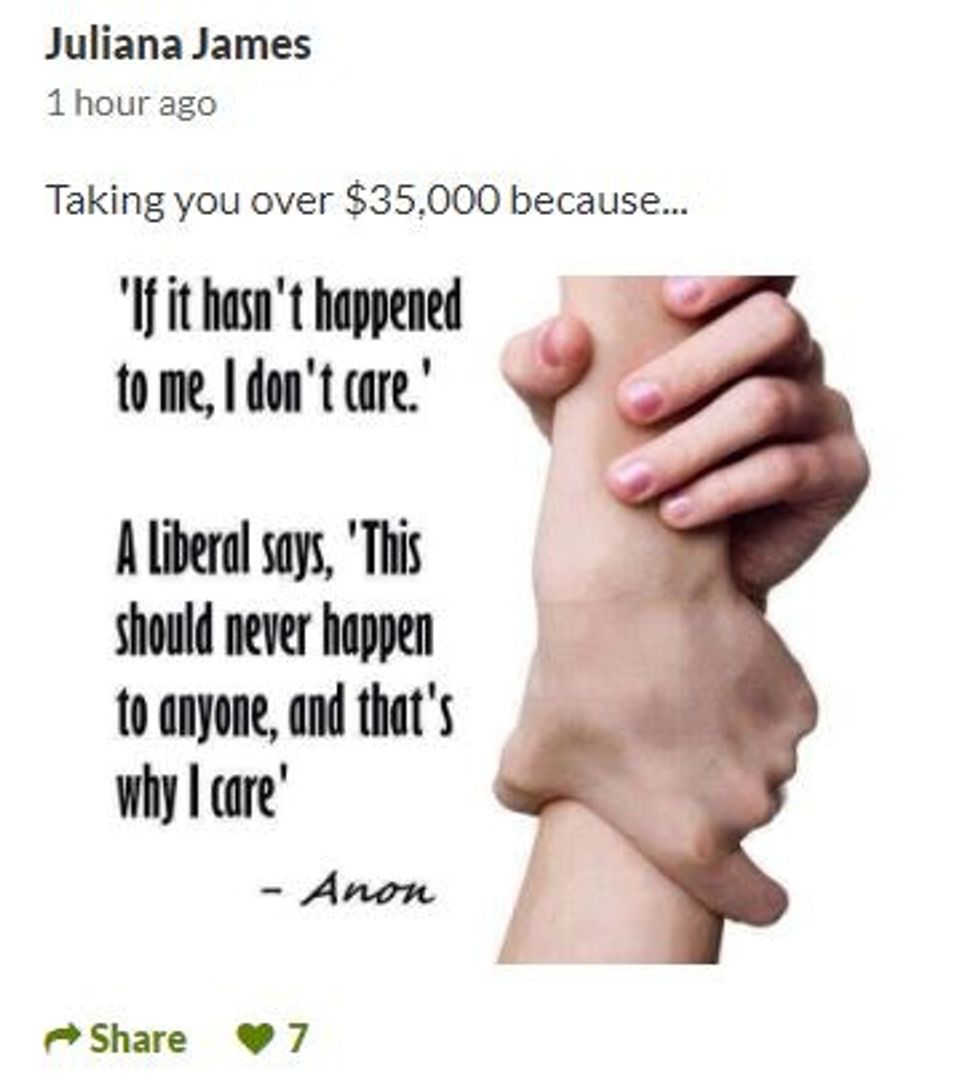 via GoFundMe

via GoFundMe

via GoFundMe

via GoFundMe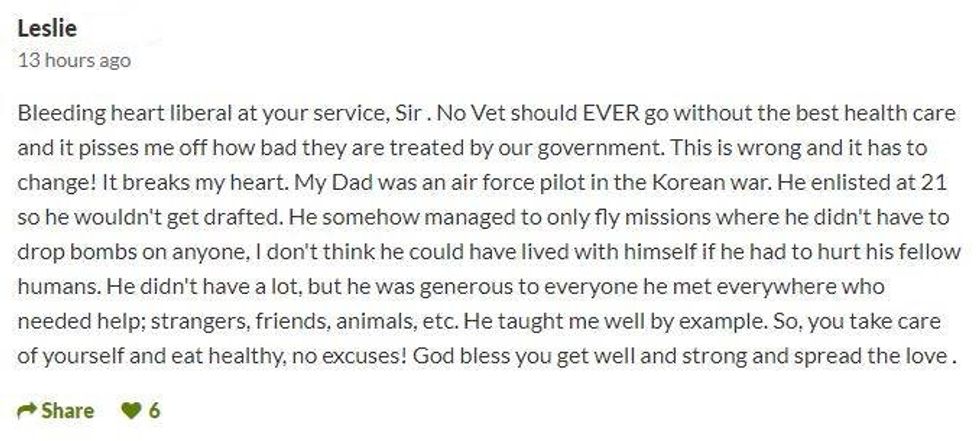 via GoFundMe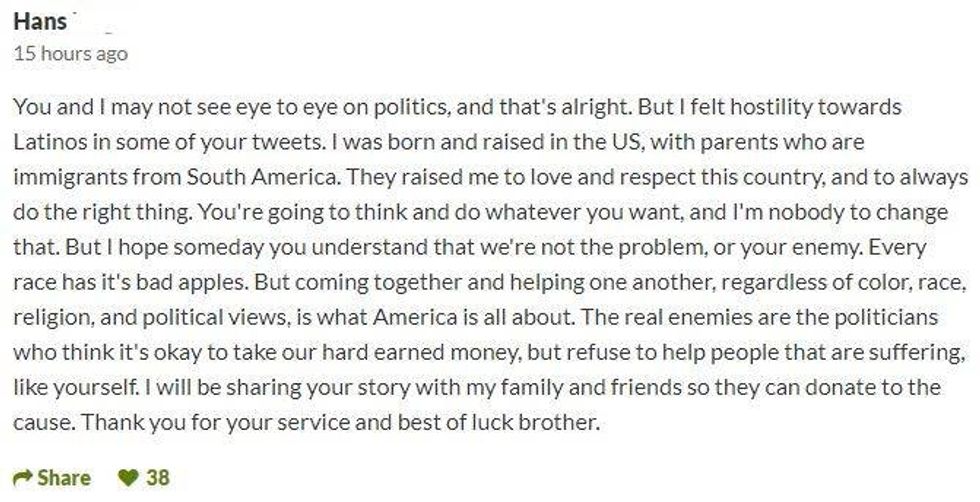 via GoFundMe

via GoFundMe

via GoFundMe

via GoFundMe

via GoFundMe

via GoFundMe

via GoFundMe


via GoFundMe

via GoFundMe

via GoFundMe