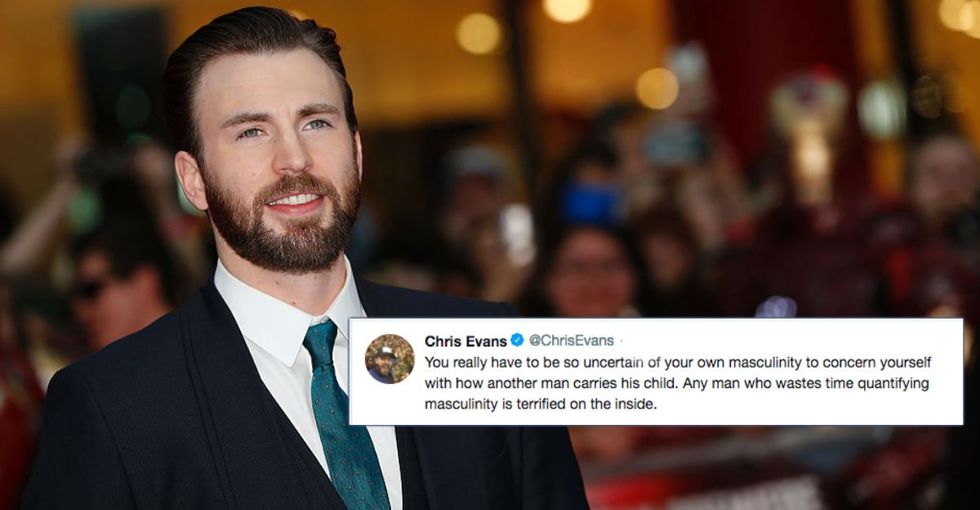 There's almost nothing cooler than a man who knows how to be a good, loving father.
Most people get this. The kind of men who are most appealing to others are the providers, those secure enough in their own skin to be of service to others.
Unless you're Piers Morgan. Than you desperately try to flip your own insecurities into an attack on men who nurture their own young offspring.
---
In a viral tweet that was received in exactly the opposite way Morgan intended, the TV host attacked James Bond star Daniel Craig for a paparazzi photo showing the actor carrying his young young in a papoose.
"Oh 007 … not you as well?!!!" Morgan wrote in his post, adding the hashtags #paposse and #emasculatedBond
Oh 007.. not you as well?!!! #papoose #emasculatedBond https://t.co/cqWiCRCFt3

— Piers Morgan (@Piers Morgan)1539581503.0
Morgan clearly was trying to stir up attention and he succeeded. Just not in the way he'd hoped. A wave of criticism flowed in, with people calling him out for the foolish act of calling out a father for literally doing his job.
And not that 007 needed anyone looking out for him but that didn't stop Captain America himself Chris Evans from weighing in with some wise words:
You really have to be so uncertain of your own masculinity to concern yourself with how another man carries his chi… https://t.co/MggU8bBd3s

— Chris Evans (@Chris Evans)1539654026.0
"You really have to be so uncertain of your own masculinity to concern yourself with how another man carries his child. Any man who wastes time quantifying masculinity is terrified on the inside."
Thank you for your service, Cap.
And the face of Steve Rogers was not alone. Men and women all around the world of ever shape, size and color weighed for a bit of delightful mansplainin' to show Morgan what it means to be a real man, as opposed to one who just talks tough about masculinity:
@piersmorgan All the Bonds do it. https://t.co/4cO2TGBFoB

— Josh Rosenau (@Josh Rosenau)1539639220.0
No woman has an issue with a man carrying a baby in a papoose. This is YOUR issue. https://t.co/bAaItvVizP

— Susanna Reid (@Susanna Reid)1539634475.0
Those of us lucky enough to have children may want to share the job of carrying them - especially after our partner… https://t.co/Tj7AYlr4V3

— Samuel West (@Samuel West)1539672507.0
@piersmorgan I need to get in on this too. https://t.co/wL73Qhaj37

— Chris Espinosa (@Chris Espinosa)1539665897.0
Morgan, who has fathered four children of his own, tried to qualify his remarks.
Yes Henry, once again you are. There's nothing wrong in carrying or caring for your child. I did it with all four o… https://t.co/Tqxd90bHp3

— Piers Morgan (@Piers Morgan)1539682028.0
But for most people, it was too late for the controversial TV host to circle back on his remarks. Maybe next time, Morgan can punch upward at the men who deserve to be called out for failing in their masculinity: those who abandon or abuse their children, those who pass along toxic beliefs and norms and so on. But that's the job of an adult, not the TV personality equivalent of someone who probably needs a little more quiet time in their own private papoose.