Culture
The Internet can't decide if Beyoncé was photoshopped into this Lion King cast photo. John Oliver is here to help crack the case.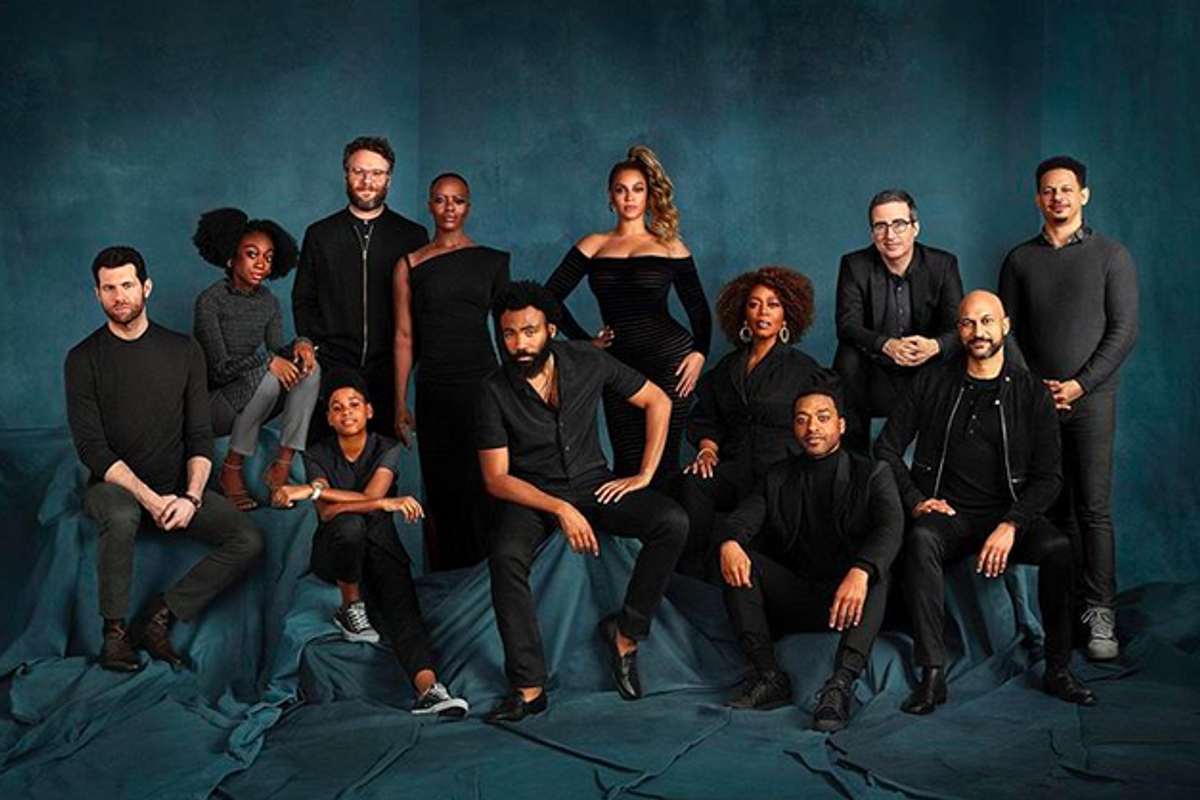 There are many great conspiracy theories floating around. Was the moon landing faked? Is the government hiding aliens at Area 51? Was Beyoncé photoshopped into the group photo of the live action Lion King cast? We might never know the answers to the first two, but we can finally put the last one to rest.
In the photo, we can clearly see Beyoncé posing fiercly, hand on one hip in a half-Wonder Woman. She stands between fellow cast members, Donald Glover, Seth Rogen, Billy Eichner, Chiwetel Ejiofor, John Oliver, Alfre Woodard, Eric André, Florence Kasumba, Keegan-Michael Key, JD McCrary, and Shahadi Wright Joseph. But is Disney making us see what they want us to see and not what actually happened?
---
John Oliver, who voices Zazu, confirmed that the rumors were true on The Late Show with Stephen Colbert. Beyoncé, who voiced Nala, was digitally added to the photo because she was too busy to attend the real-life photoshoot.
"There's a lot of speculation here that everybody else in this photo is actually there, except not Beyoncé. People are speculating she was photoshopped in. And you're right next to her — can you tell us whether she was there?" Stephen Colbert asked.
"She wasn't there. I think almost everybody else was there," John Oliver said.
Oliver described the photoshoot in question. "I remember Chiwetel [Ejiofor, who voices Scar] — we were setting up the shot and Chiwetel was sitting in the front and he said, 'You need to be careful where your foot is. I looked down and there was just this piece of tape on the floor with Beyoncé's name written on it," Oliver said.
Maybe it's for the best that Beyoncé wasn't there. Her goddess-like presence is too overwhelming for us mere mortals to be able to handle.
"Just the future presence of Beyoncé was so intimidating — if you look at my face in there, I look really intimidated. That's because what I'm doing is imagining that I am about to be put into a photo with Beyoncé one day. And that was nerve-wracking enough," Oliver remembered.
That's what we love about Beyoncé. She's fully mastered the art of being in two places at once. Now if John Oliver could just shed some light on that whole moon landing thing…