Most Shared
The American Psychological Association says bigotry and gun laws are to blame for mass shootings, not 'mental illness'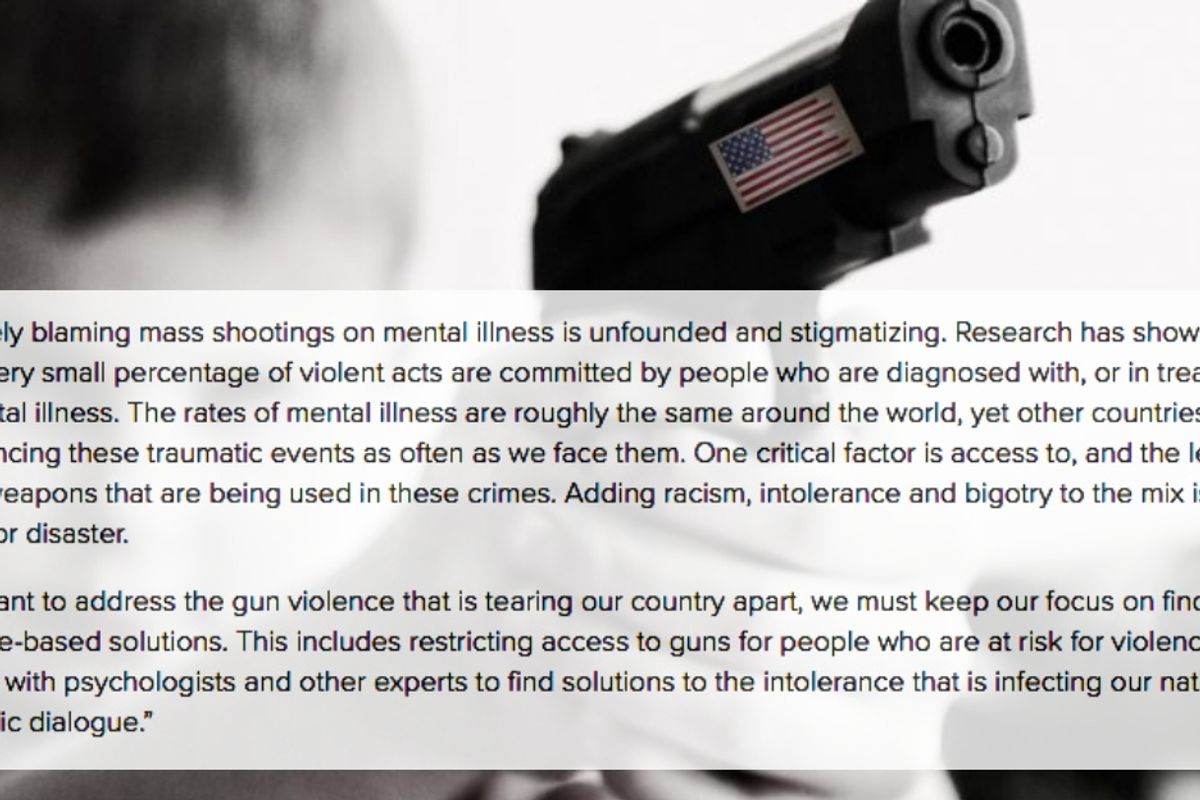 Any time a mass shooting occurs in America—which is basically every week at this point—hoards of people start blaming "mental health." Despite the fact that every other developed nation also has people with mental illnesses and nowhere near our mass shooting numbers, mental health becomes the scapegoat for people who insist that gun violence has nothing to do with guns.
On the surface, it may seem like a plausible enough theory. After all, no one in a sane state of mind walks into a concert, a shopping center, or a place of worship and starts shooting people randomly. Such folks are clearly not right in the head, so "mental health" seems like a logical place to go.
But according to the American Psychological Association—the actual experts in mental health—that blame is misplaced. Instead, they say, the toxic combination of "easy access to assault weapons and hateful rhetoric" and the "negative cognitive and behavioral effects" of racism are the ills that we really need to be addressing if we want to stop mass killings.
APA President Rosie Phillips Davis, PhD, released the following statement on the shootings in El Paso and Dayton. It's worth reading in full:
---
"Our condolences are with the families and friends of those killed or injured in these horrific shootings and with all Americans affected every day by the twin horrors of hate and gun violence.

"As our nation tries to process the unthinkable yet again, it is clearer than ever that we are facing a public health crisis of gun violence fueled by racism, bigotry and hatred. The combination of easy access to assault weapons and hateful rhetoric is toxic. Psychological science has demonstrated that social contagion — the spread of thoughts, emotions and behaviors from person to person and among larger groups — is real, and may well be a factor, at least in the El Paso shooting.

"That shooting is being investigated as a hate crime, as it should be. Psychological science has demonstrated the damage that racism can inflict on its targets. Racism has been shown to have negative cognitive and behavioral effects on both children and adults and to increase anxiety, depression, self-defeating thoughts and avoidance behaviors.

"Routinely blaming mass shootings on mental illness is unfounded and stigmatizing. Research has shown that only a very small percentage of violent acts are committed by people who are diagnosed with, or in treatment for, mental illness. The rates of mental illness are roughly the same around the world, yet other countries are not experiencing these traumatic events as often as we face them. One critical factor is access to, and the lethality of, the weapons that are being used in these crimes. Adding racism, intolerance and bigotry to the mix is a recipe for disaster.

"If we want to address the gun violence that is tearing our country apart, we must keep our focus on finding evidence-based solutions. This includes restricting access to guns for people who are at risk for violence and working with psychologists and other experts to find solutions to the intolerance that is infecting our nation and the public dialogue."
So, here we have the largest scientific and professional organization of psychologists in the United States weighing in on the mental health and mass shootings debate. And really, isn't their opinion the one that matters most? We have experts in specific fields who dedicate their lives to research for a reason. If we're going to talk about mental health, we should be consulting with and listening to the people who study this stuff for a living.
The experts have spoken. Mental health, while definitely an issue that needs addressing in general, is not to blame for America's mass shooting problem. Hatred, bigotry, and racism, combined with easy and ubiquitous access to guns designed to quickly inflict massive damage, is largely what drives these shootings to keep happening. Until we address both of those things, no amount of mental health help is going to put an end to the carnage America keeps experiencing.