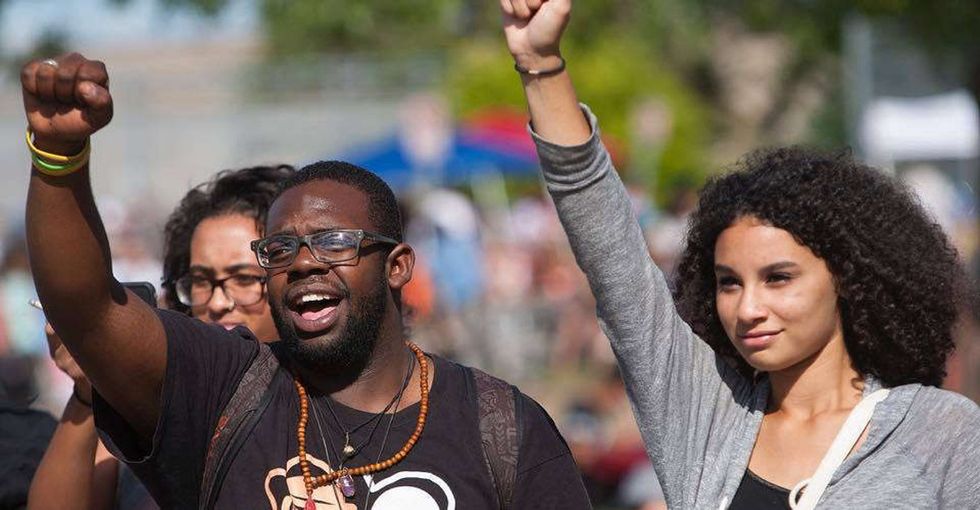 High school classmates of Philando Castile were gutted last week when the police officer who killed him on the side of a suburban Minnesota street was found not guilty.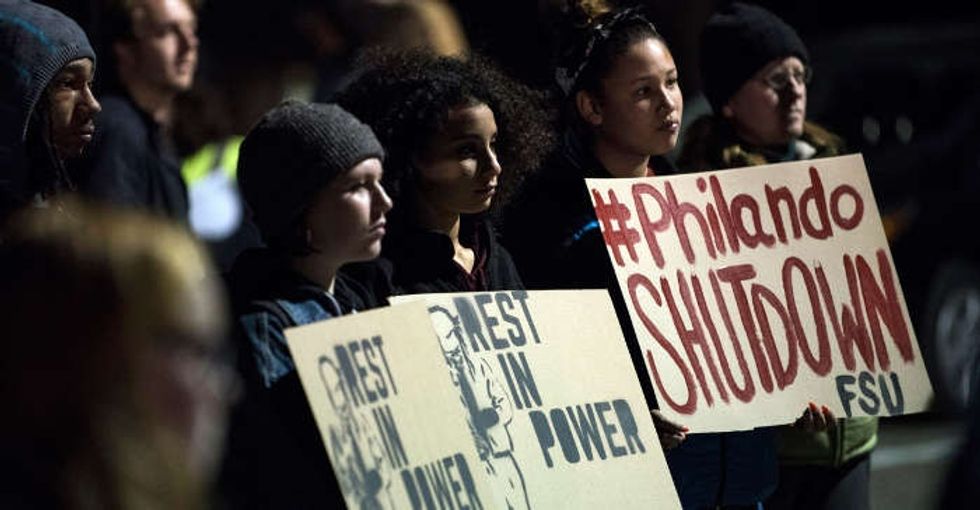 Protesters gathered in November outside the St. Paul school where Philando Castile worked. Stephen Maturen/Getty Images.
In the week since, several of them have turned their outrage into action, raising over $5,000 for a scholarship in Castile's name.
---
"We really didn't ask for it. People just didn't know what to do with their grief and all of that," says Abby Heuckendorf, who went to school with Castile from fourth grade on and is a member of Central Honors Philando, the group that established the fund.
Heuckendorf and a half-dozen others who grew up with Castile established the scholarship fund shortly after his death in 2016 at the suggestion of Central High School's principal.
The small team settled on the scholarship as a fitting tribute to the memory of their classmate who continued to work in the school district where they grew up as a much-beloved kitchen employee — known to students as "Phil" — for 14 years.
The money raised in the days following the verdict adds to the over $45,000 that Central Honors Philando has raised in Castile's name since the shooting.
"It still feels like losing somebody in your larger family circle," Heukendorf says.
The first scholarship grant was awarded to Marques Watson-Taylor, a 2017 Central graduate who the group selected based on an application that the committee felt accorded with Castile's background and values.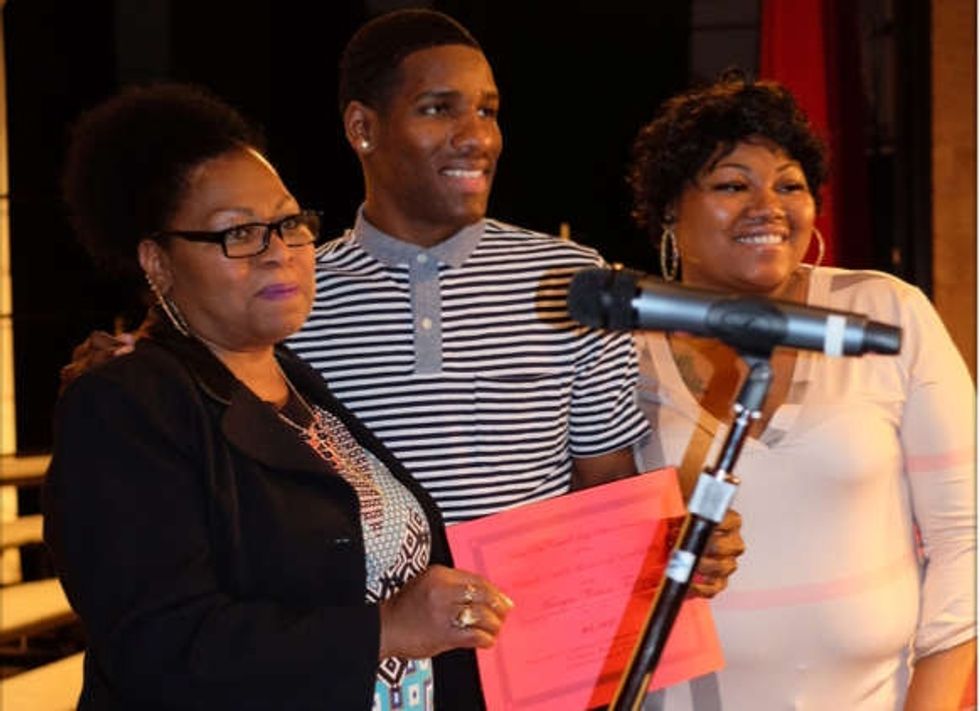 Philando Castile's mother Valerie, left, and sister Allysza with scholarship recipient Marques Watson-Taylor. Photo by Central Honors Philando/Facebook.
The committee has raised over $45,000 since
The group was planning to kick off a fundraising campaign — culminating in an outdoor community event in August — for next year's award when the verdict came down.
"It was like, 'Oh, we're back to square one,'" says Adrian Perryman, a member of the fundraising group whose older brother was a classmate of Castile's at Central High School in St. Paul.
"This is a way for people to help out in a sort of different way, to grieve as well as give back."
— Adrian Perryman

After a brief statement on Facebook condemning the verdict, donations to Central Honors Philando began pouring in organically — enough within one week to finance next year's scholarship.
The group still plans to hold the fundraising event in August, which will include food, art projects, and performances in memory of Castile's life.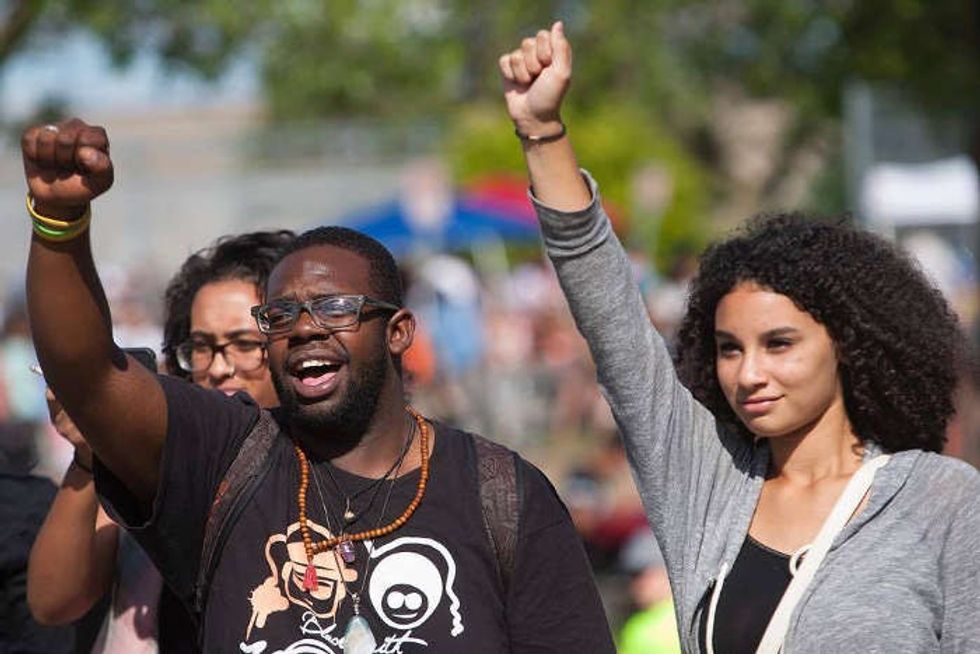 Attendees at last year's fundraising event listen to a musical performance. Photo by Central Honors Philando/Facebook.
In addition to those events, the group will honor individuals who work behind the scenes to support local schools, inspired by Castile's dedication to the district's students.
All proceeds from the event will support the scholarship, with the goal of helping more Central High students take the next step in their education.
"Not everybody wants to protest," Perryman explains. "Not everybody is able to do certain things. Not everybody can camp out at their elected official's office all week and whatnot, so this is a way for people to help out in a sort of different way, to grieve as well as give back."
Devastated but not defeated by his case's resolution, Castile's neighbors may yet get justice by establishing a small semblance of it for the next generation.