Education
5 fun facts about St. Patrick's Day to wow your friends and family
Saint Patrick wasn't Irish and neither is corned beef.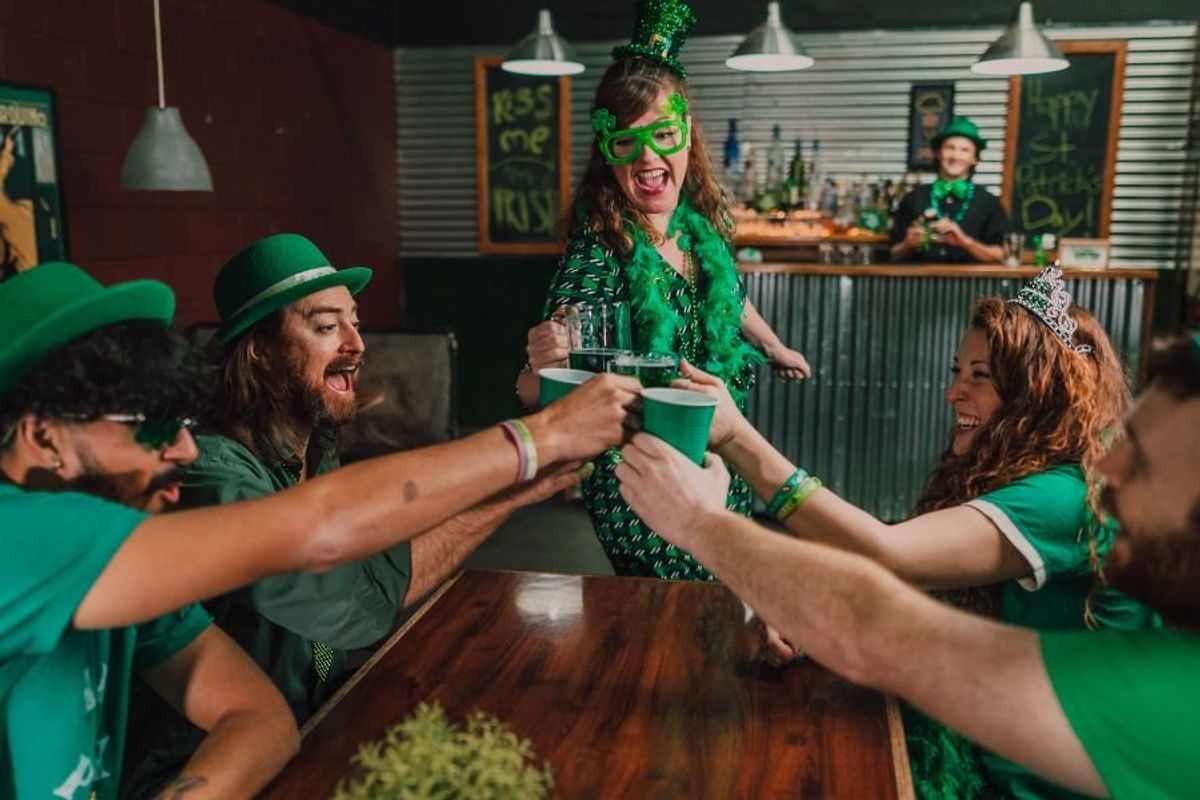 Canva
Shamrocks, leprechauns, corned beef and cabbage, pinches for those who forget to wear green—St. Patrick's Day is filled with traditions that have passed down from generation to generation. What began as a religious holiday in Ireland over 1,000 years ago to honor Saint Patrick, patron saint of Ireland, has morphed into a raucous celebration of all things Irish here across the pond.
Ironically, however, some of those traditions and "all things Irish" didn't actually come from Ireland—including Saint Patrick himself.
If you want to impress your friends with some interesting St. Patrick's day trivia, here's a handful of fun facts to put in your pocket.
---
1. Saint Patrick wasn't actually Irish. He was British.
Born in Britain in 386 A.D., St. Patrick was captured by pirates and brought to Ireland at age 16, where he was sold as a slave. For six years, he worked in the fields, tending sheep and praying. One night, he dreamt that God was directing him to a boat that would take him home, and in 408 A.D., he escaped Ireland. Then, after being ordained as a bishop in 432 A.D., the Pope sent him back to the Emerald Isle to spread Christianity.
"Patrick became inflamed with the desire to help alleviate the suffering of the Irish people who were burdened under the yoke of slavery, brutal tribal warfare and pagan idolatry," Matthew Paul Grote, a Catholic priest with the Order of Preachers, shared with USA Today. Saint Patrick incorporated pagan rituals into Christian worship practices to ease the resistance to Christianity. Even when he was attacked and captured by Irish clans, he would respond with non-violence and share his Catholic faith peacefully, always treating non-Christians with fairness.
He is credited with the spread of Christianity in Ireland, but he himself wasn't Irish.
2. The legend about St. Patrick driving all the snakes out of Ireland? Literally impossible.
Legend has it that St. Patrick was fasting for 40 days on a hilltop when he was attacked by snakes. With a sermon and a wave of his staff, he drove all the snakes in Ireland out to the sea where they all drowned, which is why, according to the lore, there are no snakes in Ireland.
Except there were never any snakes in Ireland, according to the fossil record. The cool climate and being part of an island make Ireland uninhabitable for snakes. Scholars today generally view the snake story as a metaphor for driving paganism out of Ireland.
4. The traditional color associated with St. Patrick was blue, not green.
St. Patrick's Day is all about green green green, from the shamrock shakes to the leprechaun coats to the Irish flag. But the color Saint Patrick himself was actually associated with is blue. The earliest depictions of the patron saint of Ireland show him in blue garments, and according to The Smithsonian, when George III created the Order of St. Patrick, a new order of chivalry for the Kingdom of Ireland, its official color was known as "St. Patrick's Blue."
Green is more of a political color than a religious one, as it became the color of Irish nationalism in 1789 with a series of rebellions against the UK. And really, green makes the most sense as a symbol for a place known as The Emerald Isle. The shamrock helps, too. (Another fun fact: The green, white and orange flag of Ireland was officially adopted in 1937 and points directly to the contemporary history between the Catholic and Protestant branches of Christianity in the country.)
5. The tradition of eating corned beef didn't come from Ireland, either.
For many Americans, a St. Patrick's Day meal simply must include corned beef and cabbage. Traditional Irish fare, right? Nope.
Though the Irish produced some of the world's most sought-after corned beef in the mid-1600s, they didn't eat it themselves. Due to England's oppressive laws, Irish people couldn't afford beef, and when they could afford meat, they ate salted pork or bacon. (The reason they produced corned beef was due to some complicated history with the UK and cattle shipping restrictions.)
Two centuries later, Irish immigrants who had a bit more money started buying kosher beef from their Jewish immigrant neighbors in America. According to The Smithsonian, what we consider Irish corned beef today was really Jewish corned beef tossed into a stew with some cabbage and potatoes—truly an example of the American immigration "melting pot."
In Ireland today, you'd most likely be served lamb or beef stew for a St. Patrick's Day feast. (However, much like our St. Paddy's Day revelry, the American tradition of corned beef has slowly made its way into Ireland's celebrations as well.)
It's a wee bit funny to dive into the history of St. Patrick's Day and find that many of the things we typically think of as old Irish traditions are neither particularly old (compared to Saint Patrick himself) nor purely Irish. That's not to say these traditions are not worth celebrating; Irish Americans have their own storied history in the U.S., after all, and who doesn't love a dyed green river or a green-themed parade with lucky shamrocks and leprechauns?
No matter how you celebrate, have a very Happy St. Patrick's Day! Or as they say in Irish Gaelic, "Beannachtaí na Féile Padraig ort!" (Watch how to pronounce it below.)