True
The experiences we have at school tend to stay with us throughout our lives. It's an impactful time where small acts of kindness, encouragement, and inspiration go a long way.
Schools, classrooms, and teachers that are welcoming and inclusive support students' development and help set them up for a positive and engaging path in life.
Here are three of our favorite everyday actions that are spreading kindness on campus in a big way: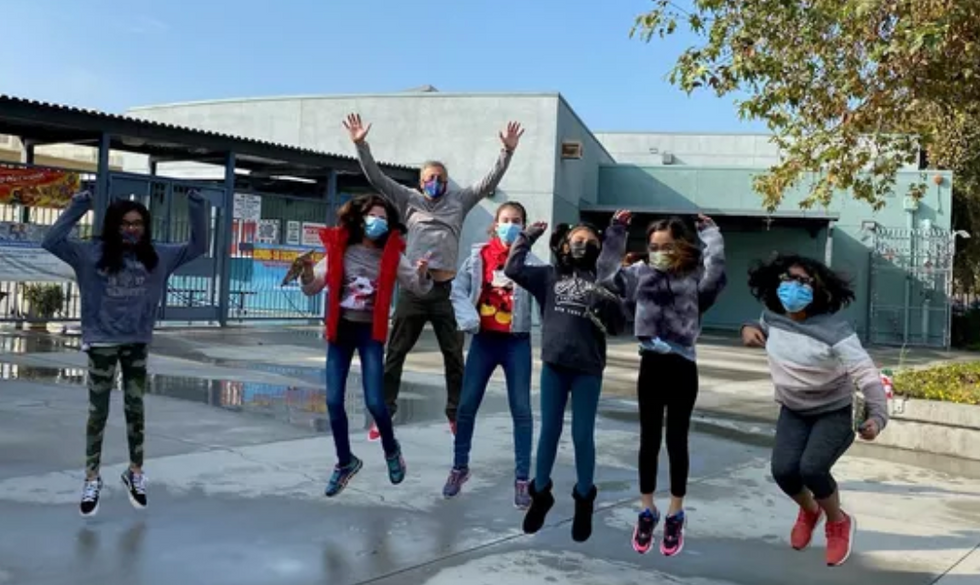 Image courtesy of Mark Storhaug
1. Pickleball to Get Fifth Graders Moving
Mark Storhaug is a 5th grade teacher at Kingsley Elementary in Los Angeles, who wants to use pickleball to get his students "moving on the playground again after 15 months of being Zombies learning at home."

Pickleball is a paddle ball sport that mixes elements of badminton, table tennis, and tennis, where two or four players use solid paddles to hit a perforated plastic ball over a net. It's as simple as that.
Kingsley Elementary is in a low-income neighborhood where outdoor spaces where kids can move around are minimal. Mark's goal is to get two or three pickleball courts set up in the schoolyard and have kids join in on what's quickly becoming a national craze. Mark hopes that pickleball will promote movement and teamwork for all his students. He aims to take advantage of the 20-minute physical education time allotted each day to introduce the game to his students.
Help Mark get his students outside, exercising, learning to cooperate, and having fun by
donating to his GoFundMe
.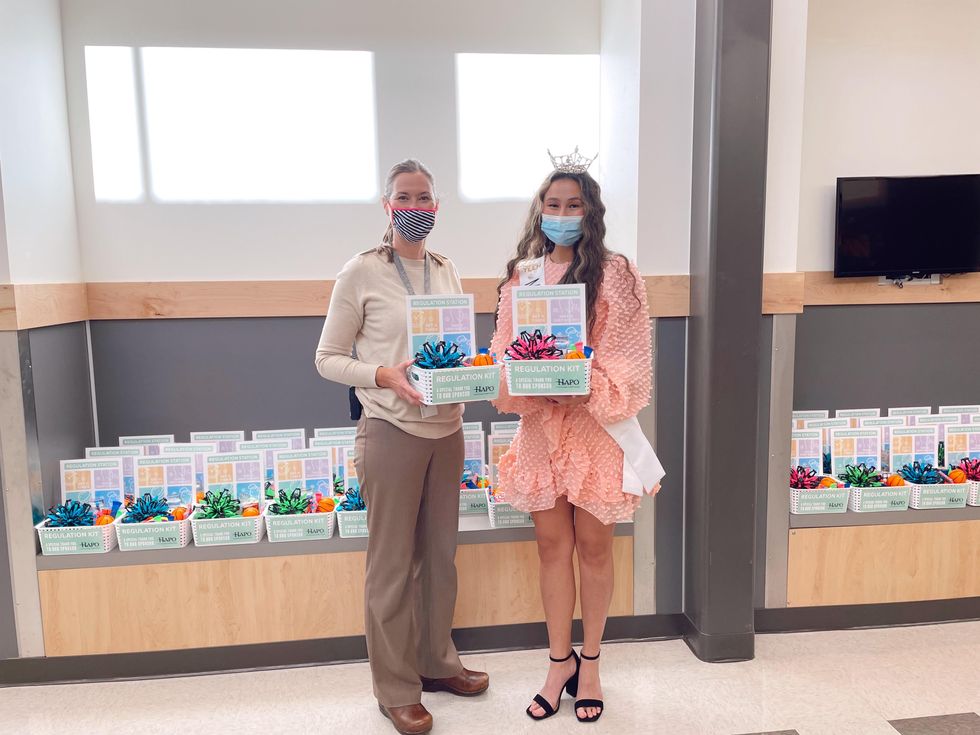 Image courtesy of Kaiya Bates
2. Staying C.A.L.M: Regulation Kits for Kids
According to the WHO around 280 million people worldwide suffer from depression. In the US, 1 in 5 adults experience mental illness and 1 in 20 experience severe mental illness, according to the National Alliance on Mental Illness.
Kaiya Bates, who was recently crowned Miss Tri-Cities Outstanding Teen for 2022, is one of those people, and has endured severe anxiety, depression, and selective mutism for most of her life.
Through her GoFundMe, Kaiya aims to use her "knowledge to inspire and help others through their mental health journey and to spread positive and factual awareness."
She's put together regulation kits (that she's used herself) for teachers to use with students who are experiencing stress and anxiety. Each "CALM-ing" kit includes a two-minute timer, fidget toolboxes, storage crates, breathing spheres, art supplies and more.
Kaiya's GoFundMe goal is to send a kit to every teacher in every school in the Pasco School District in Washington where she lives.
To help Kaiya achieve her goal, visit Staying C.A.L.M: Regulation Kits for Kids.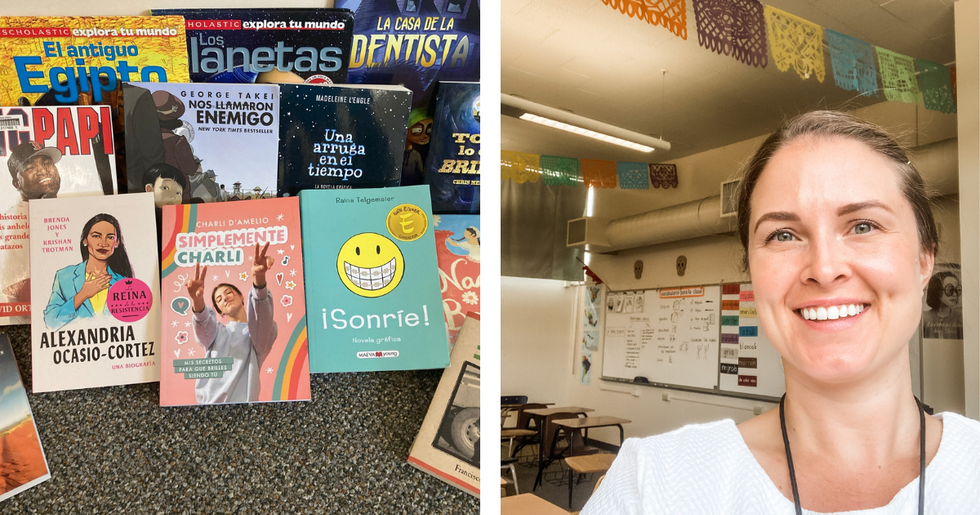 Image courtesy of Julie Tarman
3. Library for a high school heritage Spanish class
Julie Tarman is a high school Spanish teacher in Sacramento, California, who hopes to raise enough money to create a Spanish language class library.
The school is in a low-income area, and although her students come from Spanish-speaking homes, they need help building their fluency, confidence, and vocabulary through reading Spanish language books that will actually interest them.
Julie believes that creating a library that affirms her students' cultural heritage will allow them to discover the joy of reading, learn new things about the world, and be supported in their academic futures.
To support Julie's GoFundMe, visit Library for a high school heritage Spanish class.
Do YOU have an idea for a fundraiser that could make a difference? Upworthy and GoFundMe are celebrating ideas that make the world a better, kinder place. Visit upworthy.com/kindness to join the largest collaboration for human kindness in history and start your own GoFundMe.

From Your Site Articles
Related Articles Around the Web
More
We could all benefit from breaking down some of the walls in our lives.
Images via Amnesty Poland
This article originally appeared on 05.26.16

You'd be hard-pressed to find a place on Earth with more wall-based symbolism than Berlin, Germany.
But there, in the heart of Germany's capital city, strangers sat across from one another, staring into each other's eyes. To the uninitiated, it may look as though you've witnessed some sort of icy standoff. The truth, however, couldn't be more different.
This was about tearing down walls between people.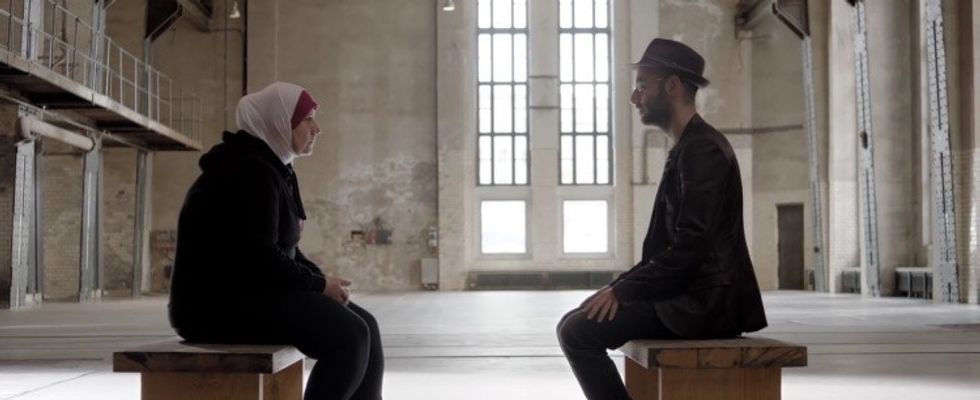 Amnesty International recently released a video in which they show strangers breaking down barriers with the help of eye contact.
The refugee crisis is a contentious issue worldwide. Reasonable people can disagree about the right path forward in finding homes for people displaced by conflict or economic crisis. What's sometimes missing from this conversation, it seems, is empathy.
But what if we could inject some empathy into that debate? And what if it was as easy as making eye contact?
Refugees sat across from Europeans. In many cases, the two parties didn't even share a language; all they had was eye contact. The organization's theory? That it should be enough.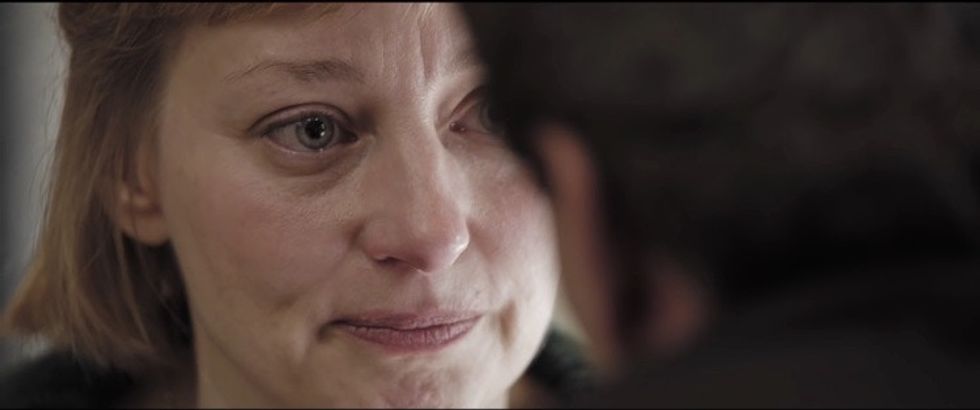 The video's a powerful look at what it means to share in our common humanity. The eye contact bit? That comes from psychologist Arthur Aron.
Aron's 1997 study, "The Experimental Generation of Interpersonal Closeness," put forth the idea that a bond between two strangers can be created quickly through physical proximity and an exchange of specific personal information. In additional studies, Aron found that closeness and bonding can sometimes develop even more strongly through sustained eye contact.
In the nearly 20 years since publishing, Aron's work — which has often been presented in a sort of "here's how to fall in love in less than an hour" type of way — has seen a bit of an online resurgence and for good reason: It seems to work. Pretty neat, right?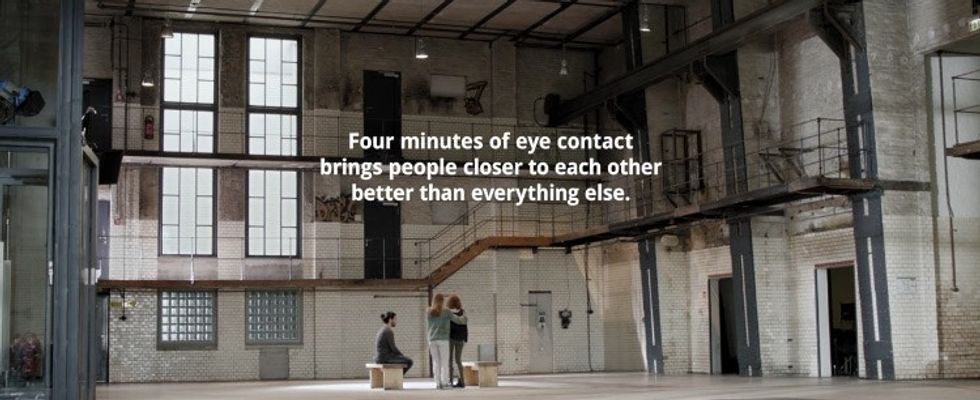 Refugees and borders aside, there are some related studies that have concluded roughly the same thing: Simply existing and interacting with other people can help you empathize with them.
For example, a 1997 study by Gregory Herek of the University of California at Davis suggests that straight people who personally know gay people are more likely to be accepting of gay and lesbian men and women. Further, the more gay people they know, the more likely they are to be cool about everything.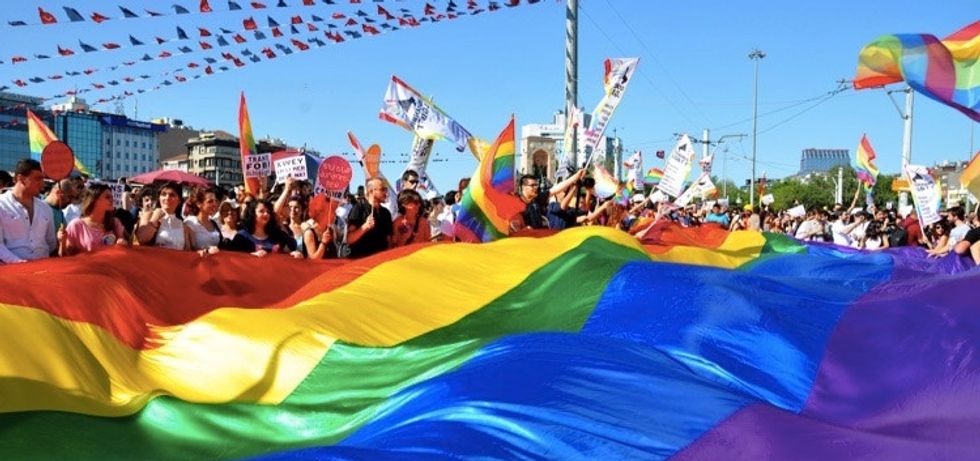 Basically, these studies confirm the old adage: It's hard to hate what you know.
If you personally know someone from a misunderstood group of people — whether that's based on refugee status, gender, religion, sexual orientation, or other often generalized factors — it's a whole lot harder to make sweeping statements about that group.
We've all got walls of our own that we wrestle with every day. What's important is that we're always working to tear them down.
So while you and I may not have been in that room in Berlin, there are almost certainly situations in which we, as a society, can benefit from making use of these same tactics in our own lives.
You can watch Amnesty International's video, "Look Beyond Borders," below.
Clarification 11/02/2017: This post was updated to clarify that Aron's 1997 publication did not explicitly discuss his research into eye contact.
True
When a pet is admitted to a shelter it can be a traumatizing experience. Many are afraid of their new surroundings and are far from comfortable showing off their unique personalities. The problem is that's when many of them have their photos taken to appear in online searches.
Chewy, the pet retailer who has dedicated themselves to supporting shelters and rescues throughout the country, recognized the important work of a couple in Tampa, FL who have been taking professional photos of shelter pets to help get them adopted.

"If it's a photo of a scared animal, most people, subconsciously or even consciously, are going to skip over it," pet photographer Adam Goldberg says. "They can't visualize that dog in their home."
Adam realized the importance of quality shelter photos while working as a social media specialist for the Humane Society of Broward County in Fort Lauderdale, Florida.
"The photos were taken top-down so you couldn't see the size of the pet, and the flash would create these red eyes," he recalls. "Sometimes [volunteers] would shoot the photos through the chain-link fences."

That's why Adam and his wife, Mary, have spent much of their free time over the past five years photographing over 1,200 shelter animals to show off their unique personalities to potential adoptive families. The Goldbergs' wonderful work was recently profiled by Chewy in the video above entitled, "A Day in the Life of a Shelter Pet Photographer."
Get stories worth sharing delivered to your inbox