Joy
Believe it or not, there was a very real global 'pandemic of benevolence' in 2021
People are helping one another more than they were before the pandemic began.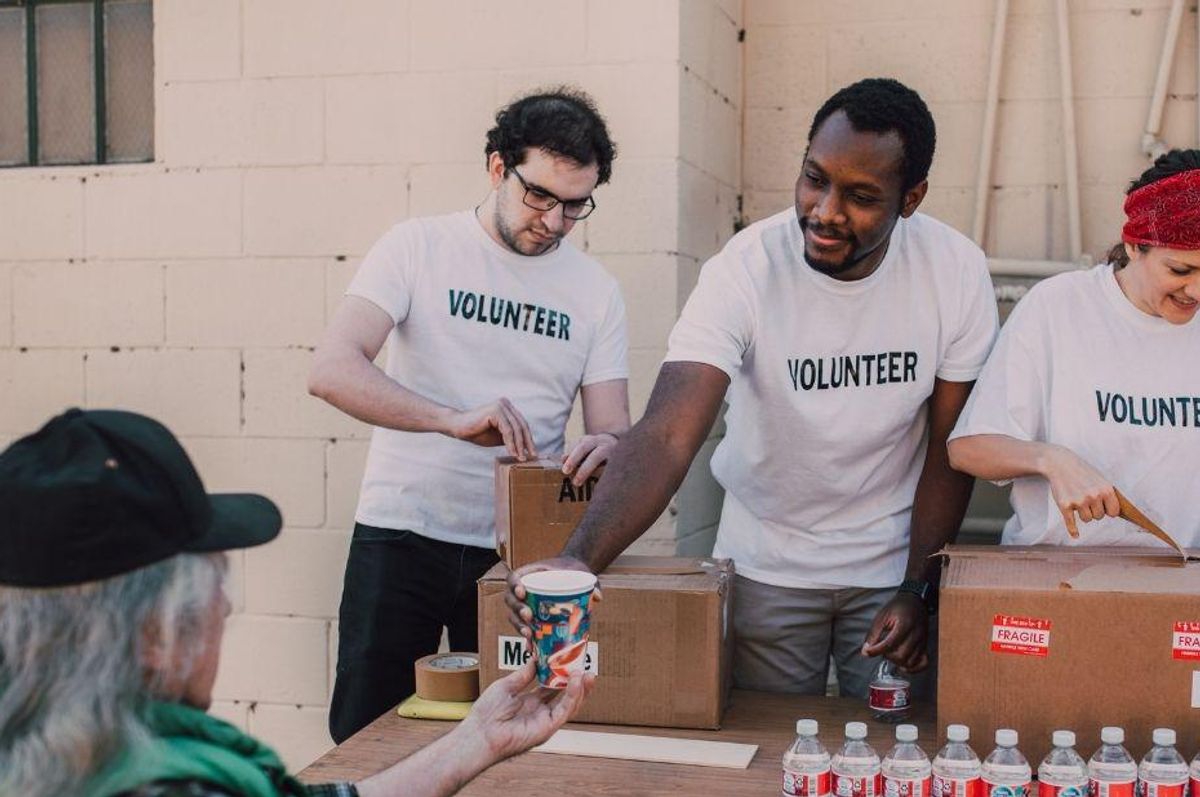 Canva
If you spend any amount of time on certain social media sites, you might think the world has fully plunged into hell-in-a-handbasket territory. (Looking at you here, Twitter.) Viral videos of bad behavior have swept through our feeds with alarming regularity over the past few years. Even just perusing headlines may lead you to believe humanity has lost its humanity, that people are generally terrible to each other and that the partisan polarization that now dominates the political landscape has created a hopeless, toxic toilet full of division and hate.
We're obviously not all singing around the campfire before skipping off into the sunset together, but is humanity really doomed to not care about one another?
Nope. Not even a little bit.
---
In fact, the perception that things have gotten worse isn't grounded in reality at all, at least not according to the data.
Since 2012, the World Happiness Report has been compiled by the UN's Sustainable Development Solutions Network. Using data from Gallup World Poll, the report shares rankings of happiness based on how respondents rank their own life and on various quality-of-life factors in countries around the world.
You're probably wondering what the happiest country in the world is, so let's get that out of the way. It's Finland, for the fifth year in a row. (And yes, the Scandanavian countries were all in the top eight. Some things are just a given at this point.)
This year's report also included sections that specifically analyzed how life has changed during the 2020 and 2021 COVID-19 pandemic, comparing data over the last five years to see the impact the pandemic has had on people in various circumstances. One element the researchers analyzed was benevolence, as measured in "prosocial behaviour" such as donating to causes, doing volunteer work and helping strangers.
The verdict? We're not getting worse. We're getting better.
The conclusion of the report states:
"Although our three measures of prosocial behaviour—donations, volunteering and helping strangers—had differing levels and trends, all showed increases in 2021 in every global region, often at remarkable rates not seen for any of the variables we have tracked before and during the pandemic.
Global benevolence, as measured by the average of the three measures of prosocial behaviour, has increased remarkably in 2021, up by almost 25% of its pre-pandemic level, led by the helping of strangers, but with strong growth also in donations and volunteering."
Benevolence is up by almost 25% over pre-pandemic levels. Who would've guessed?
I shared this report with my teen and young adult daughters and both responded with surprise. We've talked about how social media and media in general can skew our perceptions of things, so it was nice to have some data-driven evidence to back that up.
People being less benevolent, not more, isn't the only skewed perception many of us gotten during the pandemic. I've heard countless people lament the mental health crisis posed by pandemic lockdowns, citing a huge spike in suicides as supposed evidence. Except there was no spike in suicides. In fact, suicides overall went down during 2020 after the pandemic hit.
When we pay too much attention to viral negativity and outrage, we don't get an accurate picture of what's happening overall around the world. I'm not saying we should quit social media altogether, but I do think we need to take news and stories and videos and everyone's thoughts about them with a grain of salt. It's just far too easy to walk away from a scrolling session with the impression that humanity sucks, when the reality is more people are helping one another.
The World Happiness Report summed up the hope we can find in the data quite beautifully:
"The COVID-19 pandemic starting in 2020 has led to a 2021 pandemic of benevolence with equally global spread. All must hope that the pandemic of benevolence will live far beyond COVID-19. If sustainable, this outpouring of kindness provides grounds for hope and optimism in a world needing more of both."