Family
A woman was ready to attend her college graduation, but her baby had other plans
What's better than a diploma? Her newborn baby.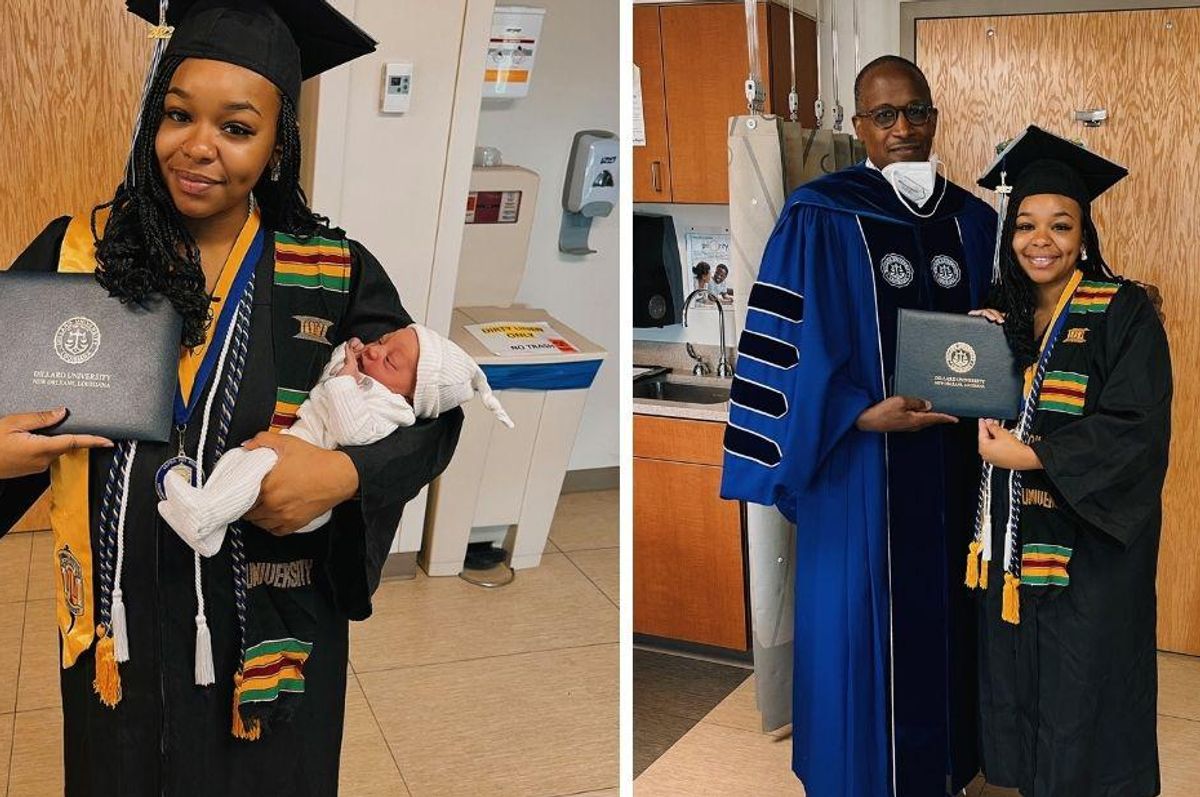 You know what they say about the best laid plans? Well, it's true. And no one knows that better than Jada Sayles. On May 15, Sayles was all set to graduate from Dillard University, a historically Black university in New Orleans. Around 4:30 a.m., she realized that her plans were about to change in a big way. Instead of getting ready for her graduation, she was in labor and being admitted to the hospital.
"I thought I was gonna walk across the stage to get my degree, instead I got my baby," Sayles tweeted, along with a series of photos. "My sweet face decided to make his way on MY big day (now his). Shoutout to my university for still bringing my graduation and degree to me."
---
That's right, even though her sweet baby kept her from walking the stage at her graduation, all was not lost. Her college stepped up and made sure that she was still able to experience her graduation to the fullest.
"Jada went into labor on Friday evening. Texted me around 4:30 am Saturday saying she was being admitted, & the baby was born on her graduation day, May 14th. So we rolled up to the hospital so I could finish my tenure in the most special way," Walter M. Kimbrough, president of Dillard University tweeted.

I did something today I have never done before in 18 years as a college president. I conferred a degree in a hospital… pic.twitter.com/Ro7TR2gtYC

— Walter M. Kimbrough (@HipHopPrez) May 15, 2022
"I did something today I have never done before in 18 years as a college president. I conferred a degree in a hospital…" Kimbrough stated in another tweet. It's clear that he is a very involved and caring administrator.
He shared a video of his bedside speech, captioning the tweet: "I even did the tassel part of commencement! This really was a very sweet moment. I'll never forget it."
Jada Sayles swapped her hospital gown for her graduation gown (and cap!) and stood in her hospital room to be officially declared a graduate. On Twitter, she shared a snapshot of her decorated graduation cap, which included balanced scales (she graduated with a degree in Criminal Justice), the phrase "Black girl magic" and a square for her sweet baby boy.
"I was scheduled to get induced Saturday at 5 p.m.," Sayles told New Orleans news outlet WDSU. "So after graduation, I was planning on heading to the hospital." Obviously, the baby, a boy she named Easton, had other plans.
"It happened so fast. I didn't even realize I was missing graduation because it was just such a fast labor."
Clearly, Sayles will have a story to tell her son many times for years to come. The special bond between a mother and her child is only made stronger by something like sharing this momentous occasion for them both.