All images provided by Bombas
True
We all know that small acts of kindness can turn into something big, but does that apply to something as small as a pair of socks?
Yes, it turns out. More than you might think.
A fresh pair of socks is a simple comfort easily taken for granted for most, but for individuals experiencing homelessness—they are a rare commodity. Currently, more than 500,000 people in the U.S. are experiencing homelessness on any given night. Being unstably housed—whether that's couch surfing, living on the streets, or somewhere in between—often means rarely taking your shoes off, walking for most if not all of the day, and having little access to laundry facilities. And since shelters are not able to provide pre-worn socks due to hygienic reasons, that very basic need is still not met, even if some help is provided. That's why socks are the #1 most requested clothing item in shelters.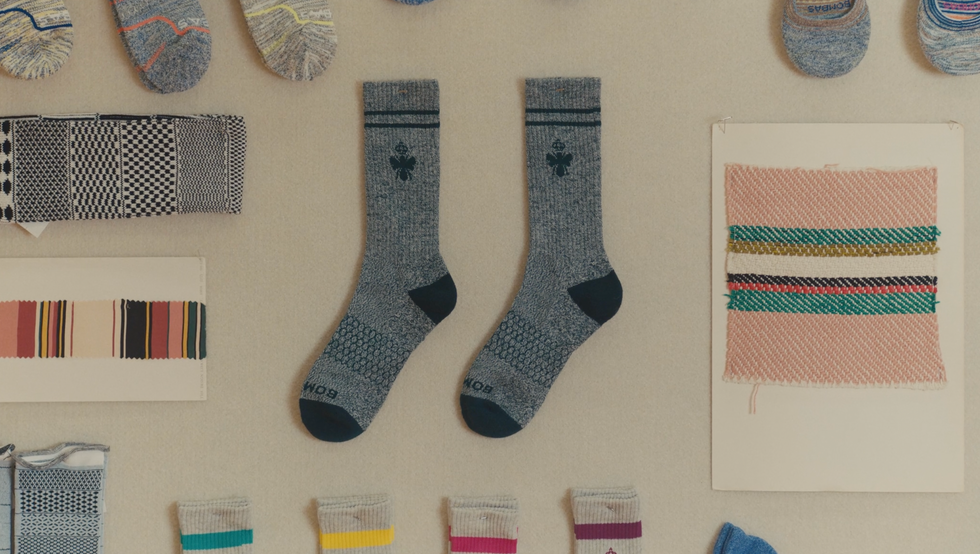 Socks are a simple comfort not everyone has access to
When the founders of Bombas, Dave Heath and Randy Goldberg, discovered this problem, they decided to be part of the solution. Using a One Purchased = One Donated business model, Bombas helps provide not only durable, high-quality socks, but also t-shirts and underwear (the top three most requested clothing items in shelters) to those in need nationwide. These meticulously designed donation products include added features intended to offer comfort, quality, and dignity to those experiencing homelessness.
Over the years, Bombas' mission has grown into an enormous movement, with more than 75 million items donated to date and a focus on providing support and visibility to the organizations and people that empower these donations. These are the incredible individuals who are doing the hard work to support those experiencing —or at risk of—homelessness in their communities every day.
Folks like Shirley Raines, creator of Beauty 2 The Streetz. Every Saturday, Raines and her team help those experiencing homelessness on Skid Row in Los Angeles "feel human" with free makeovers, haircuts, food, gift bags and (thanks to Bombas) fresh socks. 500 pairs, every week.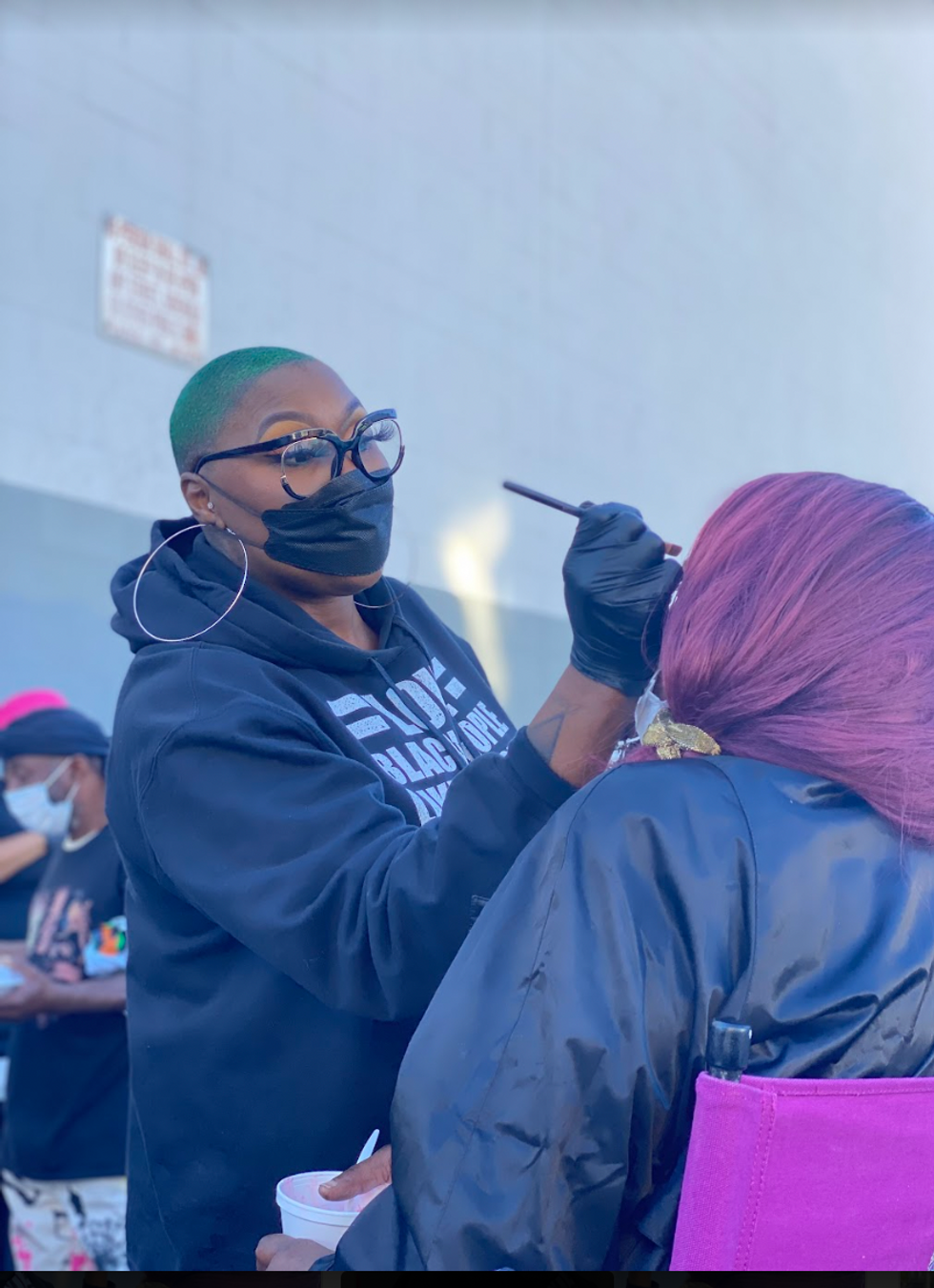 Raines is out there helping people feel their beautiful best
Or Director of Step Forward David Pinson in Cincinnati, Ohio, who offers Bombas donations to those trying to recover from addiction. Launched in 2009, the Step Forward program encourages participation in community walking/running events in order to build confidence and discipline—two major keys to successful rehabilitation. For each marathon, runners are outfitted with special shirts, shoes—and yes, socks—to help make their goals more achievable.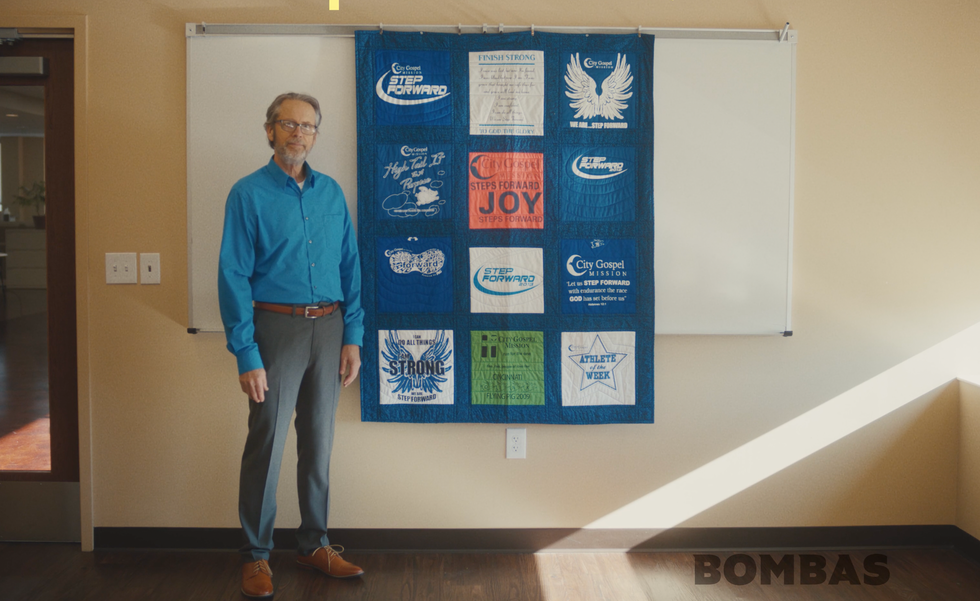 Running helps instill a sense of confidence and discipline—two key components of successful recovery
Help even reaches the Front Street Clinic of Juneau, Alaska, where Casey Ploof, APRN, and David Norris, RN give out free healthcare to those experiencing homelessness. Because it rains nearly 200 days a year there, it can be very common for people to get trench foot—a very serious condition that, when left untreated, can require amputation. Casey and Dave can help treat trench foot, but without fresh, clean socks, the condition returns. Luckily, their supply is abundant thanks to Bombas. As Casey shared, "people will walk across town and then walk from the valley just to come here to get more socks."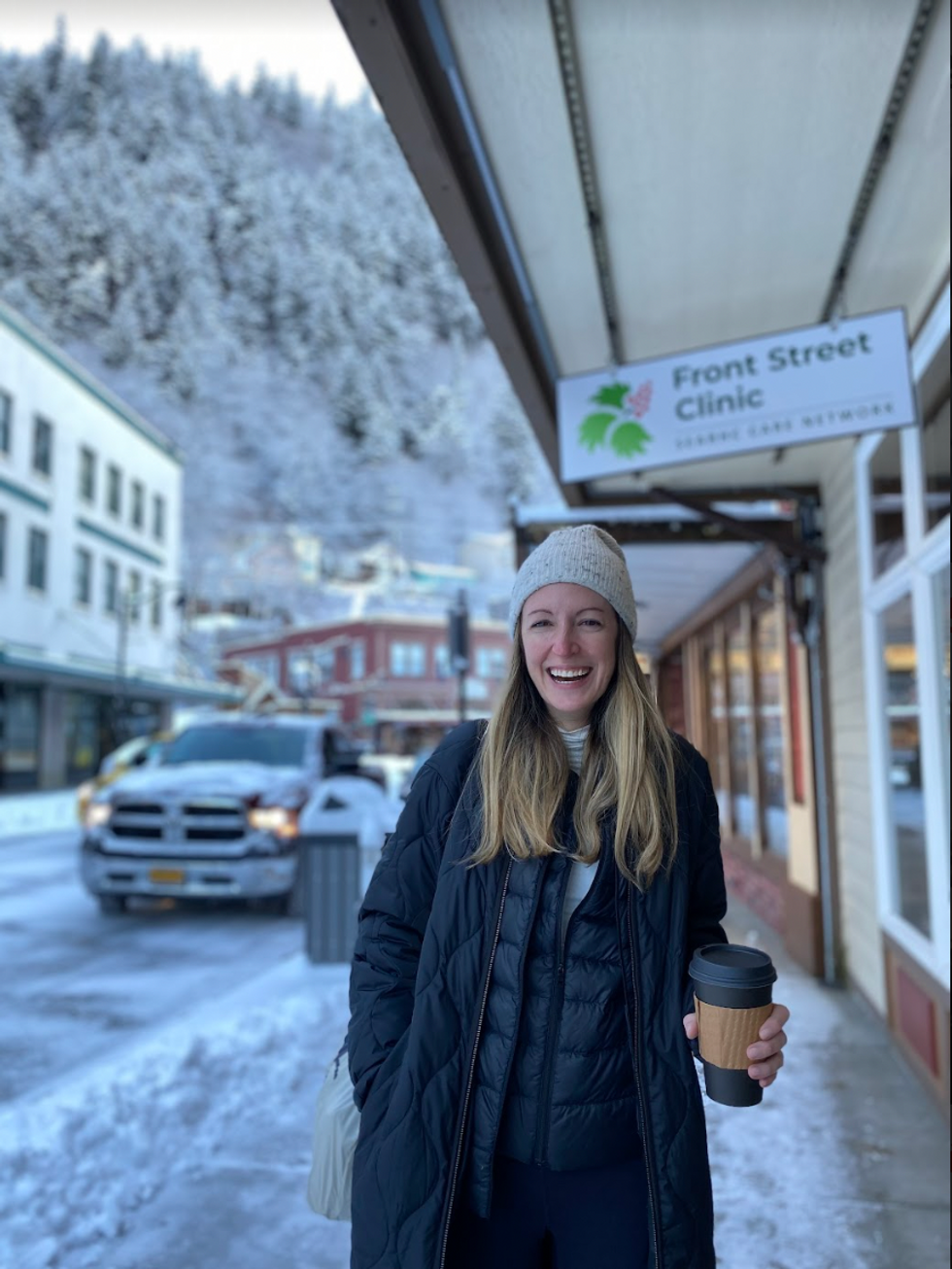 Welcome to wild, beautiful and wet Alaska!
The Bombas Impact Report provides details on Bombas's mission and is full of similar inspiring stories that show how the biggest acts of kindness can come from even the smallest packages. Since its inception in 2013, the company has built a network of over 3,500 Giving Partners in all 50 states, including shelters, nonprofits and community organizations dedicated to supporting our neighbors who are experiencing- or at risk- of homelessness.
Their success has proven that, yes, a simple pair of socks can be a helping hand, an important conversation starter and a link to humanity.
You can also be a part of the solution. Learn more and find the complete Bombas Impact Report by clicking here.
Joy
Grab your boost of serotonin here.
Polina Tankilevitch/Canva
Holy moly—it's fall, y'all!
As pumpkin spice swoops in and we start unpacking our cozy sweaters and cute boots, we can practically taste the seasonal change in the air. Fall is filled with so many small joys—the fresh, crisp smell of apples, the beauty of the leaves as they shift from greens to yellows, oranges and reds, the way the world gets wrapped in a warm glow even as the air grows cooler.
Part of what makes the beauty of fall unique is that it's fleeting. Mother Nature puts on a vibrant show as she sheds what no longer serves her, inviting us to revel in her purposeful self-destruction. It's a gorgeous example of not only embracing change, but celebrating it.
We can find joy in every season when we look for it. That's the beauty of joy—it isn't limited to a certain time or place. It can be cultivated and harvested wherever we are, at any given time.
We're harvesting some joy right here and now. Here are 10 tidbits of joy to warm your heart and put a smile on your face.
1. John Cena sets a new world record with 650 wishes granted with the Make-A-Wish Foundation.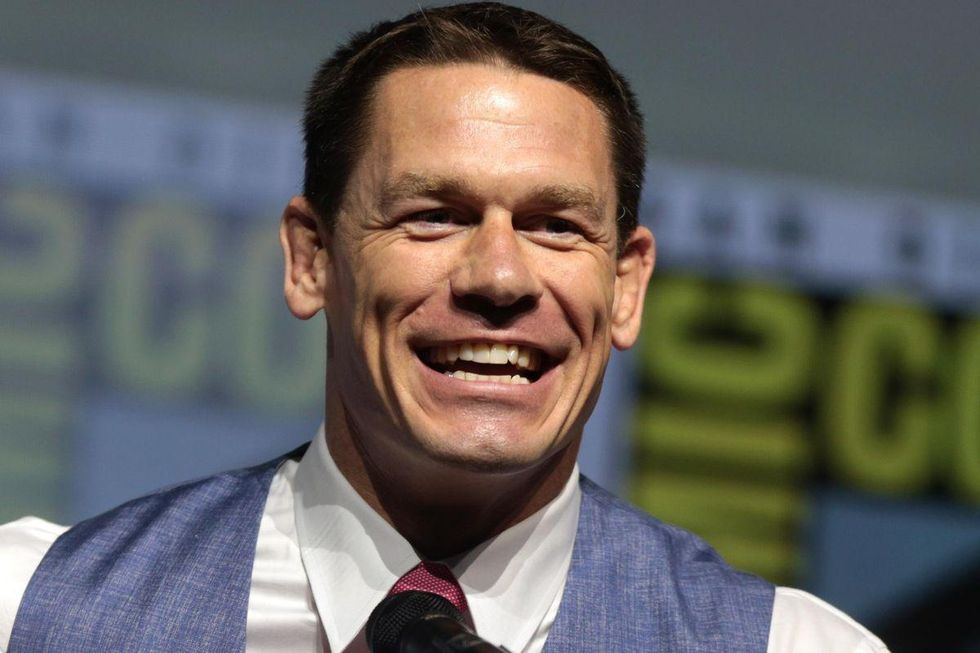 John Cena has become the Make-a-Wish Foundation's most requested celebrity—and he never turns anyone down. He's now fulfilled the wishes of 650 kids, which is about as Upworthy as it gets. Read about some of the wishes he's granted and why it's so important to him here.
2. Baby gets lost in the sauce and can't stop laughing long enough to sleep. (Or maybe vice versa.)
How dang adorable is that?
3. A young man invited a 100-year-old veteran to spend a day at Disneyland with him and it's pure joy.
@isaiahgarza

I took a 100 year old veteran to Disneyland & we became best friends ❤️ #disneyland #kindness #friends #veteran #bestfriends
What a beautiful lesson in kindness. Read the full story here.
4. Fact: Babies belly laughing is the best sound in the world.
\u201cThis is the best sound in the world\u201d

— Kelly Canuck\ud83c\udf41 (@Kelly Canuck\ud83c\udf41) 1664247691
And it's especially delightful when they're laughing along with a sibling. I could watch this all day long.
5. Lizzo played James Madison's 209-year-old crystal flute at the Library of Congress and PHEW.
\u201cHearing @lizzo play some of the Library's priceless antique instruments on Monday was such a gift, and we were honored and happy to help her share that gift with her concert audience Tuesday night. Here is some more behind-the-scenes footage of her Library tour. #LizzoAtLOC\u201d

— Library of Congress (@Library of Congress) 1664394003
Clips from Lizzo's concert at Capital One arena went viral this week as she played a couple of notes on the flute on stage. This video from the Library of Congress shows off her flute-playing skills much more impressively, however. Read more about these historically significant moments here.
6. Wise dad knew exactly what to do when passing the toy store at the mall.
So simple, yet so brilliant. She even thought it was fun. Well played, dad.
7. Blake the rescue Rottweiler sings along with his owner and even matches her pitch.
@chopfromgta

Reply to @mc.lex please watch until the end 😭🥺🤍 #dogsoftiktok #rottweiler #rottweilersoftiktok #petsoftiktok #animals
Blake knows how to bring it. Read the full story here.
8. Amanda Nguyen's story of how she changed sexual assault laws for survivors is incredibly inspiring.
Millions around the world have been positively impacted by her relentless dedication to survivors' rights. Brava, Amanda. Read more about this amazing woman here.
9. Mama kitty showing her baby to her human mama's baby is just too sweet.
"Look! You two are the same!"
10. Let's dance our way through the weekend like this mom and son doing their morning routine.
That kiddo's got some moves. Noice.
Hope that brought a few smiles to your face! If you enjoyed this post and want to have more Upworthy stories delivered to your inbox, subscribe to our free newsletter, The Upworthiest.
Come back next week with another roundup of joy!
popular
'I didn't want to remember the day as complete sadness.'
Get stories worth sharing delivered to your inbox
Get stories worth sharing delivered to your inbox