Education
Honestly, do you know the difference?
True
After over a thousand years of peaceful relations, European semi-superpowers Sweden and Switzerland may finally address a lingering issue between the two nations. But the problem isn't either country's fault. The point is that the rest of the world can't tell them apart. They simply don't know their kroppkakor (Swedish potato dumpling) from their birchermüesli (a Swiss breakfast dish).
This confusion on the European continent has played out in countless ways.
Swedish people who move to the United States often complain of being introduced as Swiss. The New York Stock Exchange has fallen victim to the confusion, and a French hockey team once greeted their Swiss opponents, SC Bern, by playing the Swedish National Anthem and raising the Swedish flag.
Skämtar du med mig? ("Are you kidding me?" in Swedish)
To help the world finally recognize the differences between the two nations, Sweden has created a landmark proposal to end the confusion once and for all.
Sweden (not Switzerland)www.youtube.com
"If people struggle to separate our two countries, we need to help them. We can't change the names of our nations, but we can become more distinct. Sweden offers the luxury of a different nature, that's why we think it's time to decide who promotes what, and hopefully, we can reach an agreement," said Susanne Andersson, CEO of Visit Sweden.
The Swedish proposal is simple and practical, just like its citizens. The country hopes to make a clear distinction between the two countries by deciding who talks about what. "We will be able to communicate things like sandbanks, rooftops and silence. Meanwhile, Switzerland will focus on banks, mountain tops, and loud noises," Andersson said in a statement.

The Northern Lights in Sweden.Photo: David Schreiner/Folio/imagebank.sweden.se
The Swedes hope that people will learn to distinguish Switzerland's technological advancements, such as particle accelerators and luxurious watches, from Sweden's natural phenomena that, instead of winding you up, help you wind down.
The first draft of the official settlement was presented to Switzerland and can be read at the Visit Sweden website. "We're hoping that Switzerland will negotiate with us on this important matter. But if they want contemporary fashion, the answer is no. They get to have leather couture, and we think that's fair," Andersson said, referencing the yellow-painted leather pants traditionally worn by herdsmen in Appenzeller.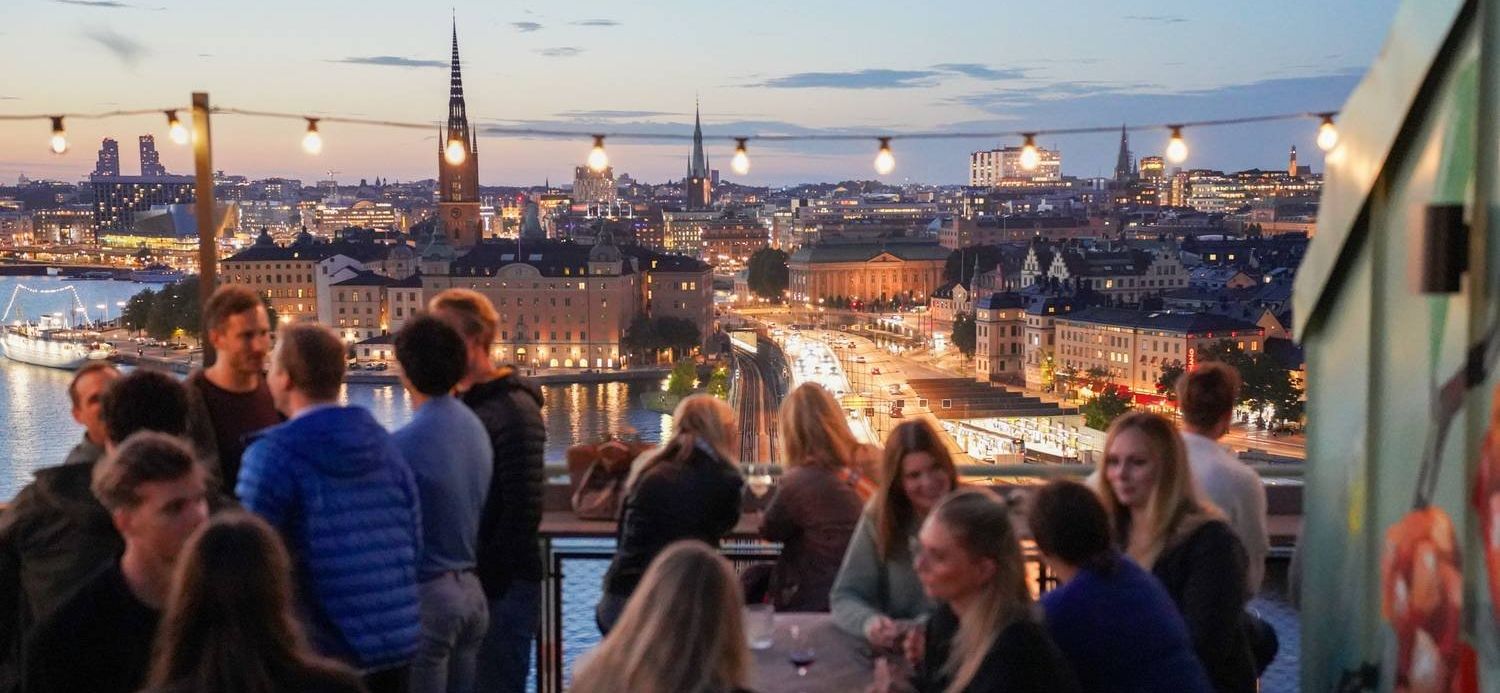 A rooftop in Stockholm, Sweden. Emmie Bolmstedt/Visit Sweden
If Sweden and Switzerland come together on an agreement to distinguish their national identities, it'll be a big win for the entire world. But, until then, the best way for you to truly learn the difference is to visit Sweden yourself.
Sweden's calming, beautiful nature will refresh your spirit like no place on Earth. Imagine sailing on its pristine lakes while a sharp breeze runs through your hår (hair). Enjoy a hike in perpetual daylight during the Midnight Sun Period, or feast your ögon (eyes) on the mesmerizing Northern Lights in Swedish Lapland.
Looking for some high-altitude adventure? You and a friend could even take a yodeling tour in the Alps in the shadows of the magnificent Matterhorn. Sounds like fun? Sorry, got you. The Matterhorn is in Switzerland, and Swedish people don't yodel; it throws off their lagom—a unique brand of Scandinavian chill.
Find your lagom by planning your trip to Sweden today.
Identity
Maybe we need a new word for 'offended.'

All images by Rebecca Cohen, used with permission.
Self proclaimed feminist killjoy Rebecca Cohen is a cartoonist based in Berkeley, California.

Here's what she has to say about her role as an artist taken from her Patreon page.
She says:
"In these trying times, the world needs a hero to resist the forces of tyranny.
That hero is definitely not me.

I just draw funny pictures and like to share my opinions. I'm Rebecca, also known as @gynostar."
Enjoy one of her comics below.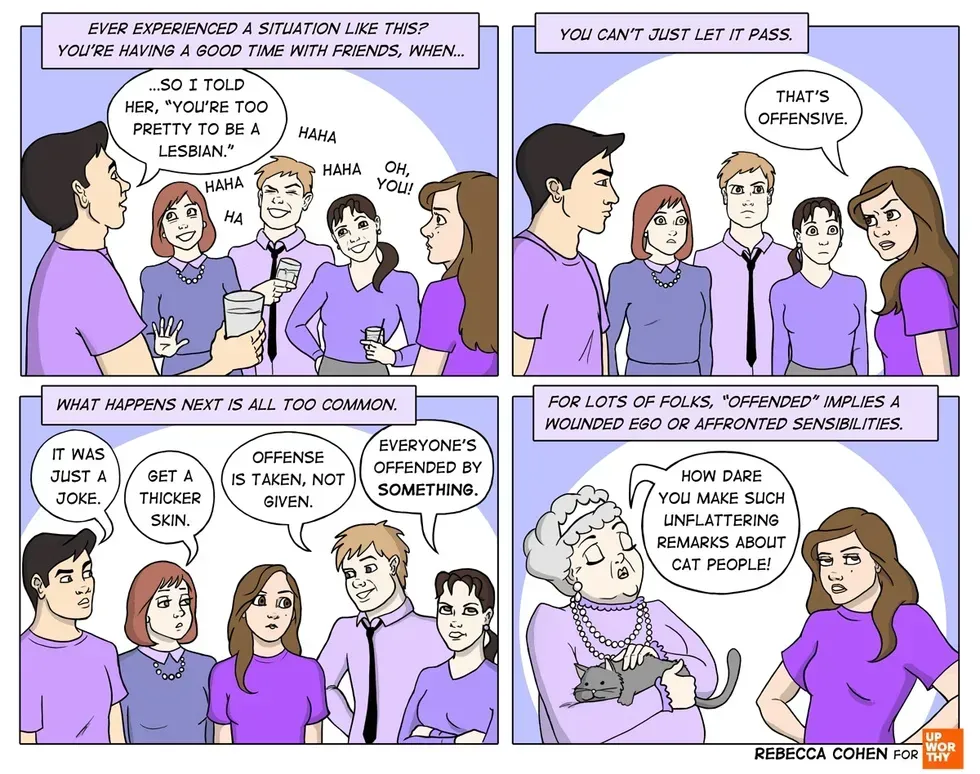 An all to common exchange.
All images by Rebecca Cohen, used with permission.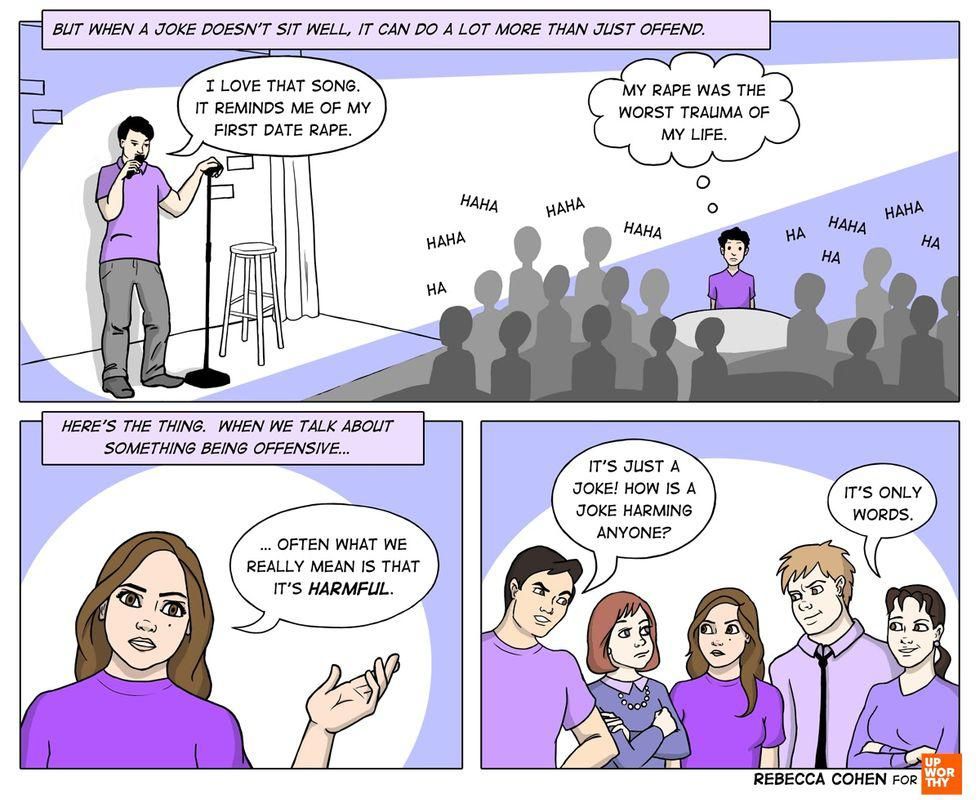 It's only words.
All images by Rebecca Cohen, used with permission.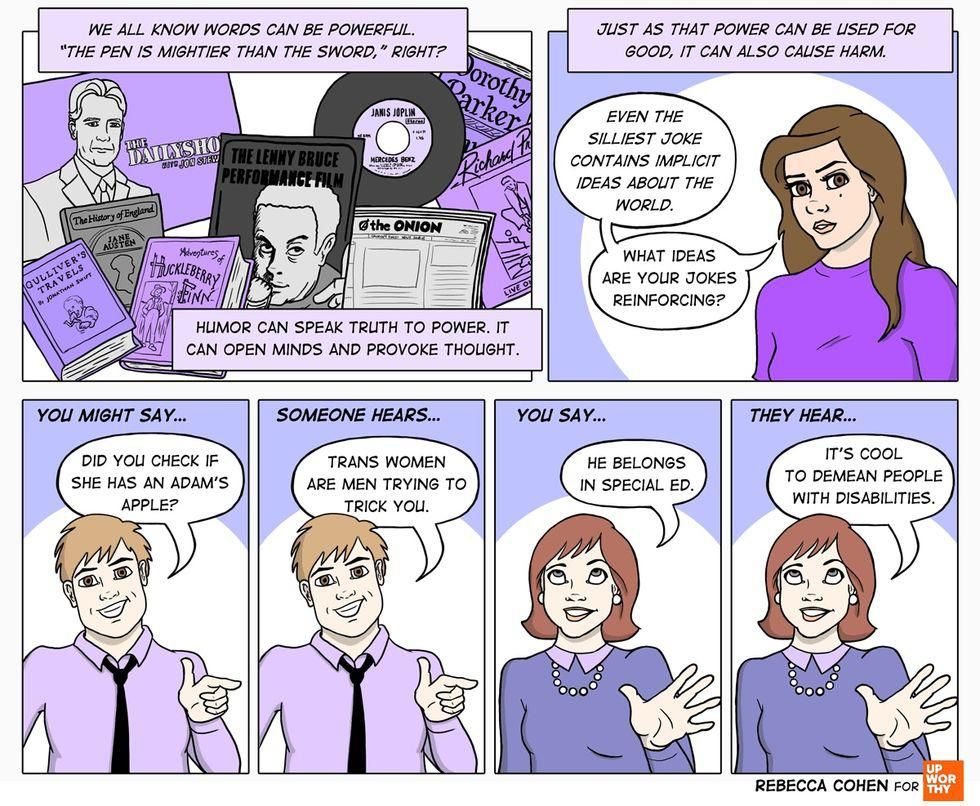 Simple jokes contain implicit ideas.
All images by Rebecca Cohen, used with permission.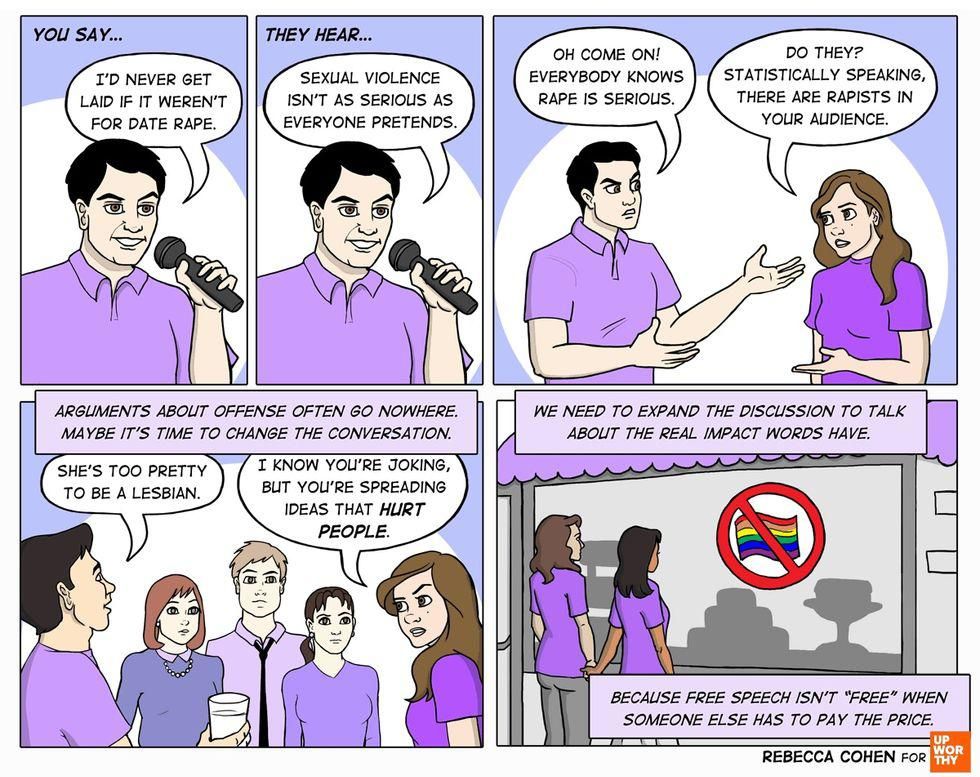 Discussing the impact of words.
All images by Rebecca Cohen, used with permission.
This article originally appeared on 10.19.16
Family
"Go to college, get a degree, work to support your family. Here we are. Did that. Now what?"
Get stories worth sharing delivered to your inbox
Family
Lunarbaboon comics tackle huge, important subjects with an effective, lighthearted touch that you can't help but smile at.
All images by Christopher Grady/Lunarbaboon, used with permission
Christopher Grady, a father and teacher from Toronto, was struggling with anxiety and depression. That's when he started drawing.

He describes his early cartoons and illustrations as a journal where he'd chronicle everyday moments from his life as a husband, elementary school teacher, and father to two kids.
"I needed a positive place to focus all my thoughts and found that when I was making comics I felt a little bit better," he says.
He began putting a few of his comics online, not expecting much of a response. But he quickly learned that people were connecting with his work in a deep way.
The comics series called Lunarbaboon was born, and the response to the first few was so powerful that Grady was inspired do more with his comics than just document his own experience.
"I began getting messages from many people about how they connected to the comics and it gave them hope and strength as they went through their own dark times," he says.
"When they look back…they probably won't remember what was said…or where you were when you said it. They may not remember any details of your time together. But they will remember that you were there…and that's what matters most."
"Usually the circle of people we can support, help, influence is limited to our families, friends, coworkers, random stranger at the bus stop, but with my comic I suddenly found my circle of power was much much larger," Grady explains. "I guess I decided to use this power for good."
Grady continued to draw, making a point to infuse the panels with his own special brand of positivity.
"Kids are always watching adults and they look to the adults as role models," he says. "I try to show (my kids and students) that even with all my flaws and weaknesses I am still a good person and I can still make a positive change in the world."
Lunarbaboon comics tackle huge, important subjects with an effective, lighthearted touch that you can't help but smile at.
Check out Grady's take on teaching his son about consent. (All images by Christopher Grady/Lunarbaboon, used with permission.)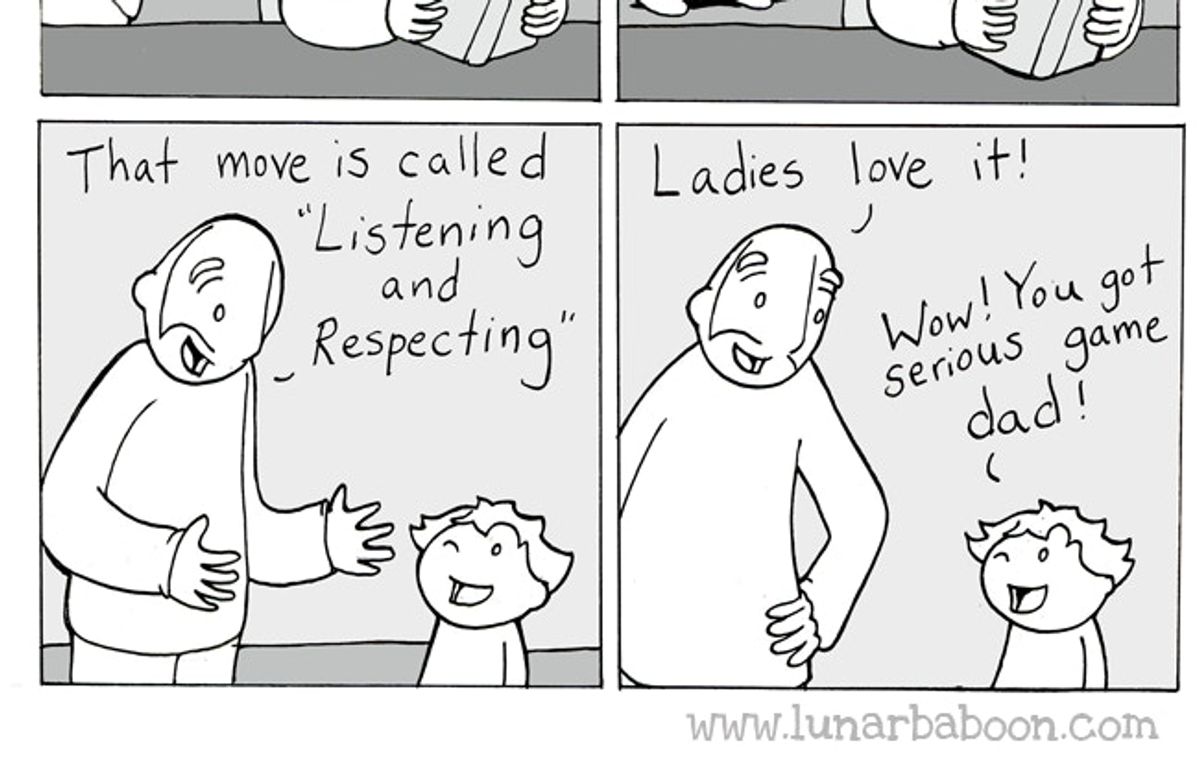 A comic about listening and respecting your partner.
All images by Christopher Grady/Lunarbaboon, used with permission
Here's one about parents being supportive of a gay son or daughter.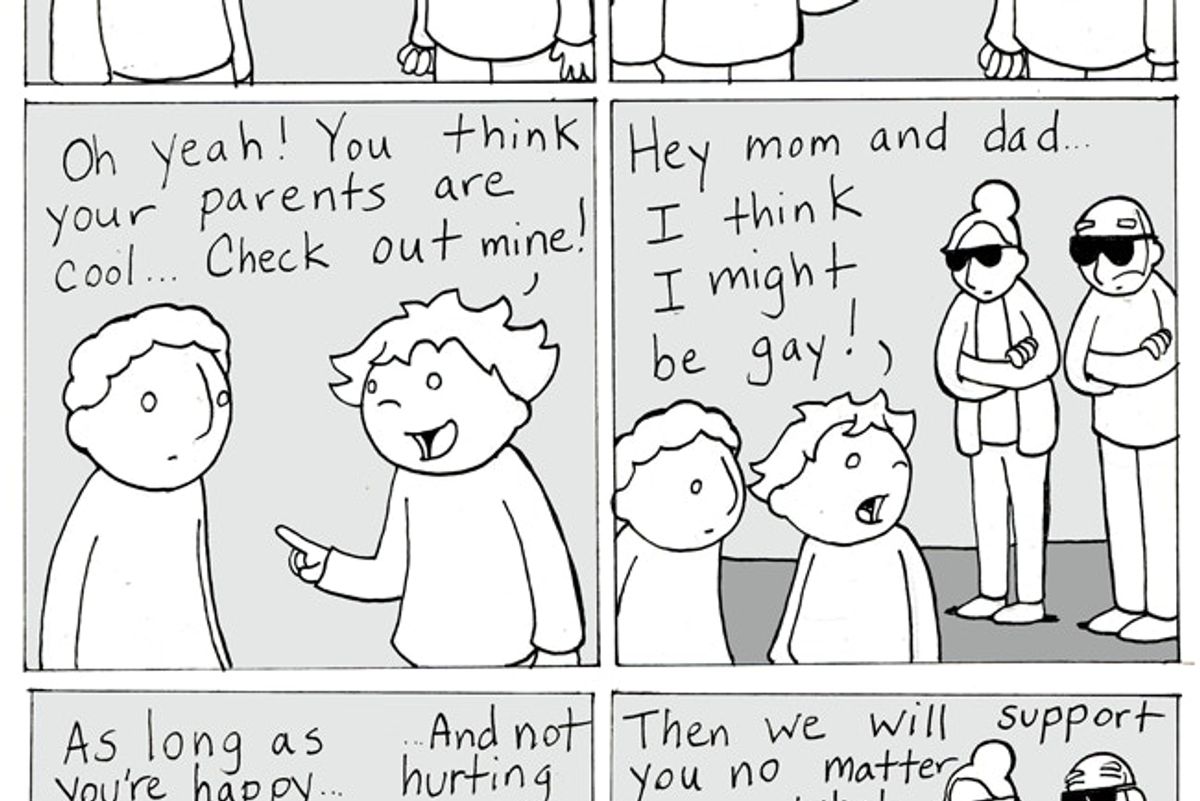 Parents being supportive of their gay son.
All images by Christopher Grady/Lunarbaboon, used with permission
On raising girls in a patriarchal world.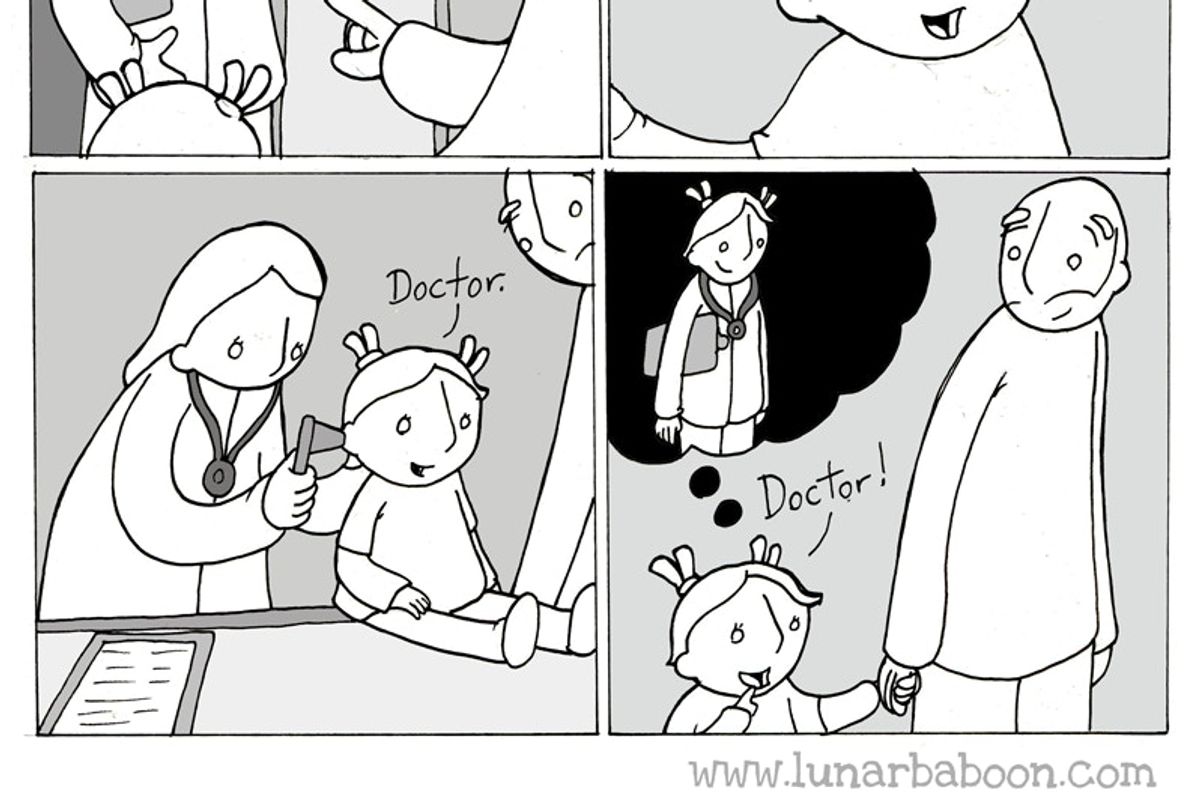 Comic encourages girls to chase all their dreams.
All images by Christopher Grady/Lunarbaboon, used with permission
And here's a sweet one about appreciating the heck out of his wife.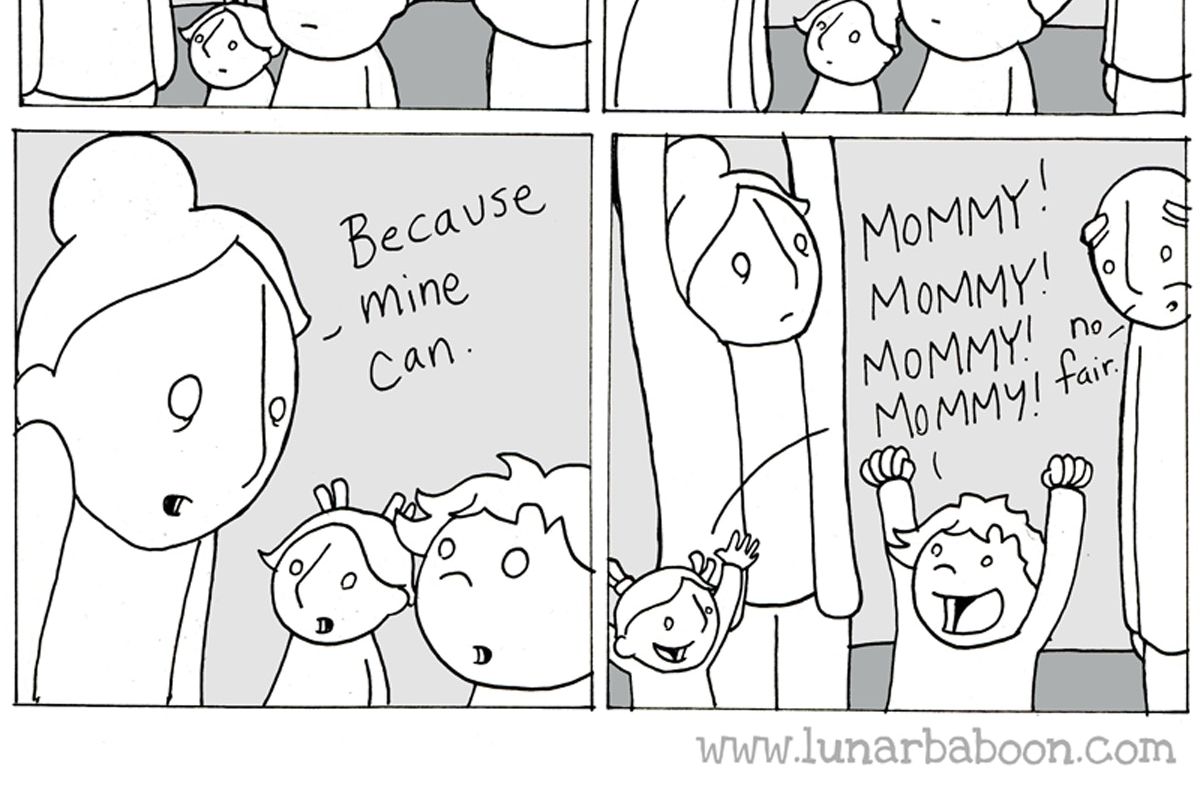 Mom one ups dad easily.
All images by Christopher Grady/Lunarbaboon, used with permission
Big topics. Important issues. Grady tackles them with humility and ease.
As Lunarbaboon has continued to grow, Grady says the messages of support he gets have become increasingly powerful.
He certainly doesn't claim to have all the answers to all the complexities of parenting, but he does say that "people like knowing they aren't alone in life's daily struggles. Most people who contact me just want to say thank you for putting something positive into the world."
Grady doesn't expect his Lunarbaboon comics to fix rape culture or end bigotry. He just hopes his message of love, inclusion, and positivity continues to spread.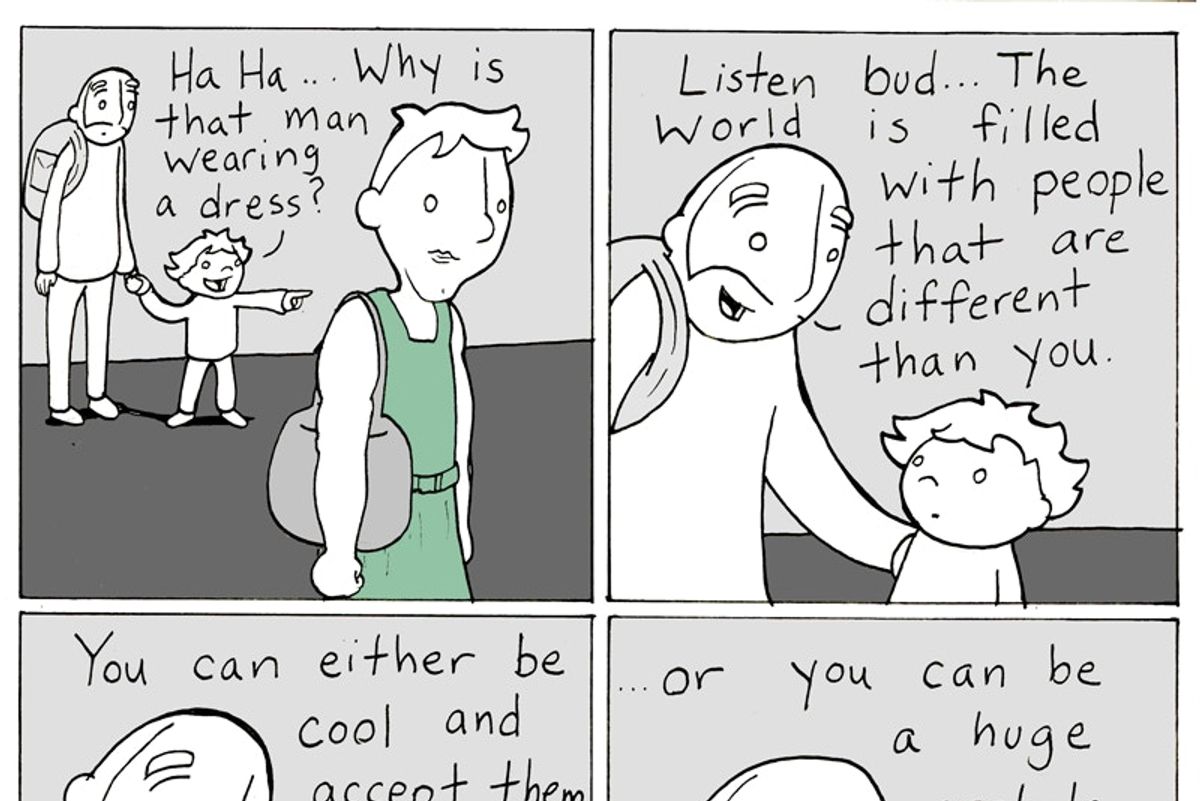 Teaching children to accept what might be different.
All images by Christopher Grady/Lunarbaboon, used with permission
"My hope is that for the short time people read it they smile and feel good," he says. "Then I hope they take that good feeling and smile into the world and make it slightly brighter."
You can check out even more of Grady's awesome work over on his website or in his newly published book.
This article was originally published on November 30, 2017.
Democracy
"Australia has no tolerance for perpetrators of violence against women and children." 👏👏👏
Australia is sending a strong message to domestic abusers worldwide: You're not welcome here.
Australia has recently broadened a migration law to bar any person who has been convicted of domestic violence anywhere in the world from getting a visa to enter the country. American R&B singer Chris Brown and boxing star Floyd Mayweather had been banned from the country in the past, following their domestic violence convictions. Now the ban applies to all foreign visitors or residents who have been found guilty of violence against women or children.
Even convicted domestic abusers who already have visas and are living in Australia can be kicked out under the new rule. The government is using the rule, which took effect on February 28, 2019 to send a message to domestic violence perpetrators.
"Australia has no tolerance for perpetrators of violence against women and children," Federal Minister for Immigration, Citizenship and Multicultural Affairs David Coleman said in a public statement. "The message is clear: if you've been convicted of a violent crime against women or children, you are not welcome in this country, wherever the offence occurred, whatever the sentence."
The ban is supposed to make Australia safer, but not everyone is happy about it.
"By cancelling the visas of criminals we have made Australia a safer place," Coleman said. "These crimes inflict long lasting trauma on the victims and their friends and family, and foreign criminals who commit them are not welcome in our country."
However, Australia's neighboring country of New Zealand has long taken issue with Australia's policy of exporting convicts, and this new policy highlights why. Under the new rule, New Zealanders who have already served their sentences for domestic violence and lived in Australia most of their lives could be kicked out and sent to live in New Zealand. Such circumstances raise questions about when justice has been served and the role of rehabilitation in domestic violence convictions.
Australia, like many other countries, is trying to come to terms with its domestic violence problem.
Barring domestic violence perpetrators from other countries sends a strong message, but it's only meaningful if the country also tackles the problem among its own citizens. According to a Personal Safety Study conducted by the Australian Bureau of Statistics, about 17% of Australian women and 6% of Australian men have experienced partner violence since the age of 15. And the numbers have remained relatively stable since 2005.
That may seem to indicate that little progress has been made; however, as Australian law professor Heather Douglass points out, the numbers only tell part of the story. Since most people in abusive relationships don't report the abuse until after they've left, it could simply be that more are leaving, which is a good thing. There has also been a marked increase in people seeking domestic violence services in some areas, which, again, is a good thing. For far too long, domestic violence was swept under the rug while victims were often too afraid or embarrassed to seek help. More calls for help could mean that the stigma associated with domestic violence is starting to fade.
This story originally appeared on 04.01.19
Joy
This is how it's done, folks.
Get stories worth sharing delivered to your inbox