Sponsored
What will you create on your social media break? Share it at #MyVisionMySight.
True
If you've always lived in a world with social media, it can be tough to truly understand how it affects your life. One of the best ways to grasp its impact is to take a break to see what life is like without being tethered to your phone and distracted by a constant stream of notifications.

Knowing when to disconnect is becoming increasingly important as younger people are becoming aware of the adverse effects screen time can have on their eyes. According to Eyesafe Nielsen, adults are now spending 13-plus hours a day on their digital devices, a 35% increase from 2019.1. Many of us now spend more time staring at screens on a given day than we do sleeping which can impact our eye health.
Normally, you blink around 15 times per minute, however, focusing your eyes on computer screens or other digital displays have been shown to reduce your blink rate by up to 60%.2 Reduced blinking can destabilize your eyes' tear film, causing dry, tired eyes and blurred vision.3
ACUVUEhas been encouraging people to take time off social media and use their newfound time to see their vision, whether that's becoming a makeup influencer, focusing on athletics or embracing their unique talents.
Upworthy caught up with influencer, YouTube star and contact lens wearer Amber Alexander to talk about how she balances her social media use. Recently, she took a social media break while visiting her sister.
"I was able to slow down time and take in each moment," she told Upworthy. "Being on social media 24/7 always puts me in a very overwhelmed and anxious state of mind, so it was so refreshing to put my phone down and see life from a clearer perspective. Every moment felt more meaningful."
"As soon as I put my phone away, I was able to really connect with my family and cherish our time together. I saw how my peace of mind improved when I took a break from social media," she continued.
Alexander understands how social media can have a huge effect on her self-esteem and productivity.
"Scrolling through social media often leads people to compare their own lives, achievements, and physical appearance to people they see online," she told Upworthy. "It is unrealistic and discouraging to see so many attractive, successful people online 24/7. Also, being on social media takes up so much time from our day that could be used socializing with real people, going outside, and working towards meaningful goals."
ACUVUE is challenging young people to take social media breaks to pursue their purposes, visions, missions, and dreams through its Where Vision Meets Sight campaign. But the campaign from ACUVUE is about a lot more than just personal development. They'd like you to inspire others by sharing what you've done during your social media break by using #MyVisionMySight.
Get inspired and learn more on ACUVUE's Where Vision Meets Sight page.
1COVID-19: Screen Time spikes to over 13 hours per day according to Eyesafe Nielsen estimates, published 3/28/20, https://eyesafe.com/covid-19-screen-time-spike-to-....

Joy
Samantha Frye, the newest owner of Rosalie's restaurant, is proving there's more than one way to invest in your future.
Canva
Eighteen year old Samantha Frye has traded college life for entrepreneurship, and she has no regrets.
Frye began working at Rosalie's Restaurant in Strasburg, Ohio at 16 as a dishwasher, working up the ranks as a kitchen prep, server, then line cook. All while working a second job, sometimes third job.
After graduating high school, Frye started college at Ohio State with plans of studying business or environmental engineering. But when she came back to work a shift at Rosalie's for winter break, an opportunity arose—the owners had planned to sell the
restaurant.
"I was thinking that maybe [buying] was something I wanted to do," she told News 5 Cleveland. "I had savings because I was saving for college, so I had quite a bit of money saved away. And I was like, I could possibly do this."
Frye acted on that gut feeling, and used her college funds to buy Rosalie's. Now she spends every day at her new business, either in the kitchen, on the floor or in the office meeting with sales reps.
This Ohio diner is under new ownership: an 18-year-old who started out as a dishwasher and is carrying on a legacy of the past. https://t.co/7VShD0O6n0

— USA TODAY (@USATODAY) May 13, 2023
Though Fyre's mother, Brandi Beitzel, confessed to USA Today that she wasn't initially "on board" with her daughter abandoning college plans, over time she became very "proud" of her for forging her own path, and applauded her "drive and ambition."
That sentiment is echoed both by Rosalie's regulars and staff, who are amazing at the young woman's drive and confidence.
"I just really think she's a great example of a young lady that is following her dreams and doing what she loves," said Leanna Gardner, an employee.
It's no secret that there are significantly less students attending college—down by about a million since the start of the pandemic. And while there are no doubt potential long term collective consequences to that, with exorbitantly high student loan rates, it's easy to see why young adults would avoid massive debt for careers that don't require a college degree.
Luckily, there are more efforts to make college an affordable option being made nationwide, like offering a free two years worth of college to graduating students.

And as Frye is proving by example—not going to college is certainly not a death sentence for one's future. There are many ways to plant seeds for success. Honestly, college or no college, no matter which path is taken, there will likely be more uncertainty than there are guarantees. Perhaps the best bet then is trust those pings of intuition.
"You don't need college to make a decent living, and I think that's what a lot of people think nowadays," Frye attests. "Follow your instinct, honestly. If it feels right, just do it."
via Twitter
Everyone's childhood is different. But there are common objects, sights, sounds, smells, and memories from elementary school that most Gen Xers and Millenials share.

Personally, when i think back to being in elementary school in the '80s, I remember the taste of the chocolate ship cookie we got on Fridays (with the pizza). The humiliation of getting nailed in the back during nation ball. And the grumbling, grinding sound that happened when you slipped a disk into the drive on an Apple IIe computer.
Nowadays, in a world where most kids would have no idea how to even turn on an Apple IIe or have never felt the sting of a rubber nation ball hitting them square between the shoulders, I get a bittersweet feeling when I think back to my elementary school days.

Mel Madara stirred the nostalgia pot on Twitter this week when she posted a series of photos of things she remembers from elementary school that anyone from 50 to 25 probably recollect, too.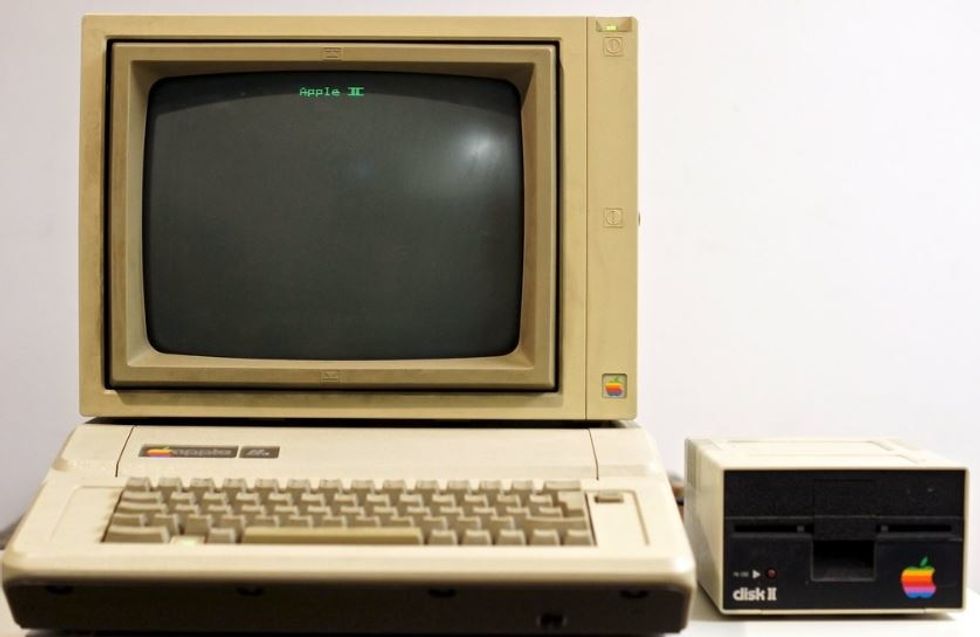 via Daniel Bagel / Flickr
She started up with a series of objects and experiences you may have forgotten that were a daily part of elementary school life.
She inspired countless followers to share the things they remember from elementary school in the '80s and '90s.
Heads-up 7-up!

Can you remember the anxiety as someone walked slowly though the room and you hoped and prayed they touched your thumb?
That clock you can wind up from behind.
Do you remember dying on Oregon trail repeatedly?
Four square!

Was that a state-mandated fitness exam or a test for scoliosis?
M.A.S.H.! Did you wind up in a mansion, apartment, shack or a house? What kind of job did you get? Who did you marry? What kind of car do you drive?

Before Michelle Obama it was acceptable to feed a kid a taquito filled with pizza.
Tether ball was fun until one of those rock hard balls hit you in the face.
The stool that helped you grab that Judy Blume book just out of reach. It aw also a rgeat place to sit and read if the tables were filled up or you just wanted some privacy.
Is the VCR bolted down? Check! TV strapped in? Check. It's time for a rainy day movie.

... or if you're older, you got "Rikki-Tikki-Tavi" or some other Disney nature film on 16mm film in the school cafeteria.
My skin is peeling off!
This brutal contraption isn't a Medieval torture device but a way to sarpen your pencil.
Finally, if more of us listened to this guy, the country would be in a much better place.
Health
People who fail are more likely to die in six years.
Get stories worth sharing delivered to your inbox
Health
The viral videos are a great way to educate men on a sensitive topic.
via TikTok
Menstrual taboos are as old as time and found across cultures. They've been used to separate women from men physically — menstrual huts are still a thing — and socially, by creating the perception that a natural bodily function is a sign of weakness.

Even in today's world women are deemed unfit for positions of power because some men actually believe they won't be able to handle stressful situations while mensurating.
"Menstruation is an opening for attack: a mark of shame, a sign of weakness, an argument to keep women out of positions of power,' Colin Schultz writes in Popular Science.
The big problem with menstrual taboos is the way that males are educated on the subject leaves them with a patchwork of ideas that don't necessarily add up to the whole picture. First, there's the information they get from growing up with women in the house.
Then, there are the cryptic descriptions of menstruation seen in advertising and the cold, scientific way the topic is taught in sex education.
"Boys' early learning about menstruation is haphazard," a 2011 study published in the Journal of Family Issues reads. "The mysterious nature of what happens to girls contributes to a gap in boys' knowledge about female bodies and to some negative views about girls."
Unfortunately, the gaps in the average man's understanding of a complex female health issue can put women in a difficult position. Whether it's denying them positions of power or a failure to understand their discomfort.
That's why it's so important for men to become better educated about menstruation.
A group of women on TikTok are helping the men in their lives better understand the subject by showing them how tampons work on the inside of their bodies by dousing them in water. They call it the Boyfriend Challenge. Some of the guys' reactions are clearly over-the-top, but it's also obvious that many of them have no idea how tampons function.
A video by the Demery family has gone viral attracting nearly eight million views. It's fun to watch, but it also shows men how tampons function and what women go through during their monthly cycle.
This guy was amazed by the absorbancy.
Let's hope this challenge gave some men out there a better understanding of what women go through every month and a little more sympathy for the women in their lives.
Hopefully it also makes them feel a little more comfortable around period products and inspires them to pick up the correct box of tampons next time they're at the grocery store.
This article originally appeared on 01.27.21
Discover the Power of Superfoods for Your Skin with Gleamin
Editor's Note: Upworthy earns a fee for products featured in this article. All products featured meet Upworthy's standards for ethics and quality.

Superfoods have been stealing the spotlight in the health and wellness scene for quite some time now. But did you know their magic isn't just confined to your smoothie bowls or salads? They're making a grand entrance into the beauty industry, with their nutrient-dense powers promising radiant, glowing skin from the outside in.
Enter Gleamin, a pioneering beauty company that's truly ahead of the curve. Gleamin has harnessed the superpowers of these nutritional powerhouses, creating a line of beauty products that make your skin look good and do good. Their vegan, cruelty-free products are packed full of these potent superfoods, promising to enhance natural beauty and empower life.
Gleamin's mission is simple but profound: they aim to nourish your skin the way it deserves. With formulas built with sustainable, ethically sourced superfoods safe for all skin types, Gleamin is more than just a skincare brand. They're a global, trusted company with a vision to offer customers and their community natural, sustainable, and effective skincare solutions. The core of Gleamin's vision is to create a new sense of freedom, a radiant life from the inside out. Discover the power of superfoods for your skin with Gleamin, where real superfood beauty isn't just skin-deep.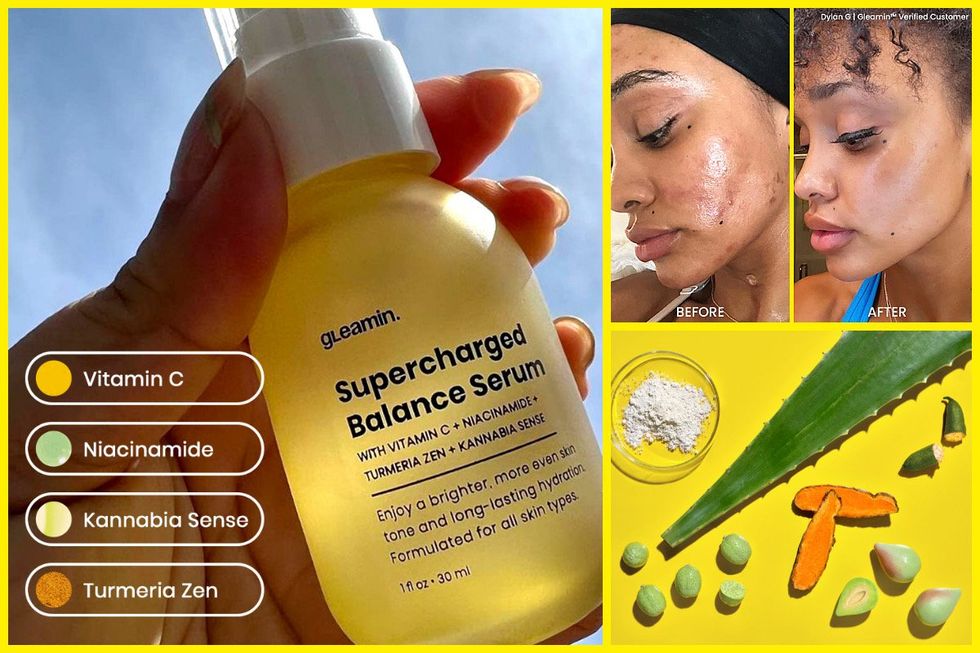 Superfoods are a nutritional powerhouse for your body and a boon for your skin. Think of them as your skin's best friend, delivering a rich dose of antioxidants, vitamins, and minerals that help combat environmental damage, improve skin texture, and boost natural glow. They work to soothe inflammation, combat breakouts, and even help with anti-aging. Simply put, superfoods are nature's solution to skin health.
This is where Gleamin steps in, bridging the gap between your skin and these nutrient-dense miracles. Gleamin crafts its formulas with the finest, sustainably sourced superfoods, each chosen for their unique skin-loving properties. The result? Skincare that nourishes, protects, and beautifies, reflecting the transformative power of nature itself. And the best part is, Gleamin's products are suitable for all skin types. From the driest to the oiliest, everyone can experience the superfood magic.
Now let's zoom in on two of Gleamin's star products - The Shine Bright Bundle and the Vitamin C Clay Mask. The Shine Bright Bundle is your ultimate skincare routine, naturally brightening, nourishing, and hydrating your skin. On the other hand, the Vitamin C Clay Mask, packed with vitamin C, turmeric, aloe vera, and more, is a 10-minute ticket to radiance, fading stubborn dark spots and improving uneven texture. Both of these products encapsulate Gleamin's commitment to superfood-infused beauty.

Are you ready to let your skin shine like never before? Enter the Shine Bright Bundle by Gleamin. This all-encompassing skincare routine is designed to brighten, nourish, hydrate, fade dark spots, and strengthen your skin's barrier, all while delivering a radiant, natural glow.
What sets the Shine Bright Bundle apart? It's the carefully curated superfood ingredients. The kit includes the Vitamin C Clay Mask, a must-have for fading dark spots and smoothing uneven texture. Then, you have the Supercharged Balance Serum, acting like a daily multivitamin for your skin. It nourishes the skin barrier, balances pH, and combats hyperpigmentation. Finally, the Superfood Enriched Daily Moisturizer restores hydration and reduces signs of aging and sun damage. To top it all off, the Muslin Face Cloth ensures gentle yet effective exfoliation.
Incorporating the Shine Bright Bundle into your skincare routine is as easy as 1, 2, 3. Apply the mask and let it dry for 10 minutes before removing it with the Muslin Cotton Washcloth. Then, gently apply a pea-sized amount of the serum, patting it onto the skin. Finally, warm the moisturizer between your fingers and massage it onto your face, neck, and décolleté.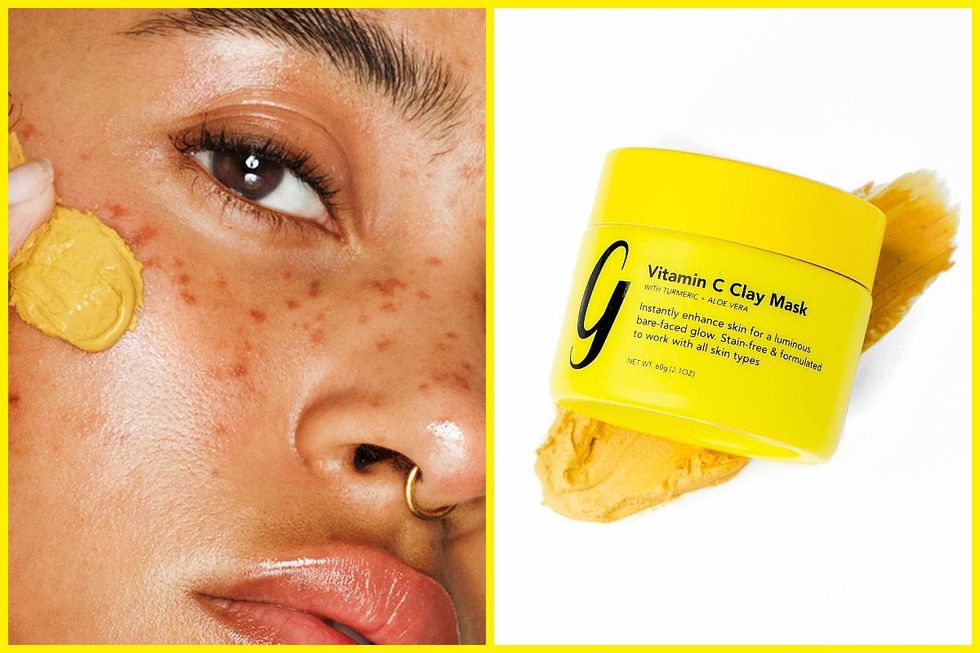 Next, Gleamin's Vitamin C Clay Mask is a natural treatment powerhouse that works its magic in just 10 minutes. It's brimming with a super-dose of vitamin C, turmeric, aloe vera, desert lime, and kakadu plum. These superfood ingredients join forces to detoxify pores, and fade hyperpigmentation, blemishes, and acne scarring, leaving your skin utterly radiant.
This mask does more than just work wonders on your skin; it breaks the mold with its unique selling points. The blend of superfood ingredients is specially formulated to tackle stubborn dark spots and improve uneven skin texture. With this mask, you're getting a fragrance-free, certified vegan, and cruelty-free product, along with a free applicator brush for seamless application. Plus, it's dermatologist-recommended, making it a safe and effective option for all skin types.
Incorporating the Vitamin C Clay Mask into your skincare routine is a breeze. After cleansing, apply the mask evenly to your face using the provided brush. Wait 10 minutes for the mask to dry completely, then rinse gently with warm water and pat dry with a soft, clean towel. Use this mask 2-3 times per week for best results. Whether you opt for a full face application, t-zone, or spot treatment, this mask is a sure way to amp up your skincare game.
At the heart of Gleamin is a staunch commitment to ethical sourcing and sustainable practices. Each ingredient in their formulations is carefully chosen, ensuring that they are potent, ethically sourced, and kind to our planet. As you pamper your skin with Gleamin's superfood-infused products, you can rest assured that you're supporting a company that values the environment and practices sustainability.
Gleamin is more than just a beauty company; it's a trusted, global community. They aim to provide natural, sustainable, honest formulas that address various skin concerns. With over half a million happy customers worldwide and a reputation for delivering real results, Gleamin is redefining the beauty industry, one superfood at a time. Whether you're dealing with stubborn dark spots, uneven skin texture, or simply looking for a radiant glow, Gleamin is here for you. From the inside out, this is beauty that truly gleams.
Dive into the world of superfoods for your skin with Gleamin. Their organic, ethically-sourced beauty products prove that nature has the most powerful solutions for our skin concerns.
So if you're ready to transform your skincare routine, head over to Gleamin's website to explore their range of products and discover your new favorites. Remember, your skin deserves the best. So, why not give it the best with Gleamin?
Pop Culture
Sierra Gonsalves turned her separation into a game by spending months leaving subtle clues about her upcoming split. It was a fun way to help her cope.
Get stories worth sharing delivered to your inbox