True
Innovation is awesome, right? I mean, it gave us the internet!
However, there is always a price to pay for modernization, and in this case, it's in the form of digital eye strain, a group of vision problems that can pop up after as little as two hours of looking at a screen. Some of the symptoms are tired and/or dry eyes, headaches, blurred vision, and neck and shoulder pain1. Ouch!
Eye strain from staring at devices is a widespread issue. Most people work, play, and maintain relationships through screens, which averages out to 6 hours and 35 minutes per day (and that's in addition to work or school)! That translates to 46 hours and 5 minutes per week, or 2,402 hours and 55 minutes per year.2
With numbers like these, attention to eye health is more important now than ever; our dependence on technology certainly isn't going anywhere. And just like innovation brought us technology, innovation also holds the key to combating the effects it has on our bodies. Here are some key suggestions from eye care professionals to help reduce common symptoms of digital eye strain. Spoiler alert: none of them involve wearing glasses!
Follow the 20-20-20 rule.
You can find some relief by taking a 20-20-20 break: every 20 minutes, look at something 20 feet away for 20 seconds. It's easy to remember because we all want 20/20 vision, and it's a good excuse to look out the window.
Adjust your workspace screen to be slightly below eye level and about an arm's length away.
This simple tweak to your work area can really improve your posture, as well as the amount of strain on your eyes. A win-win!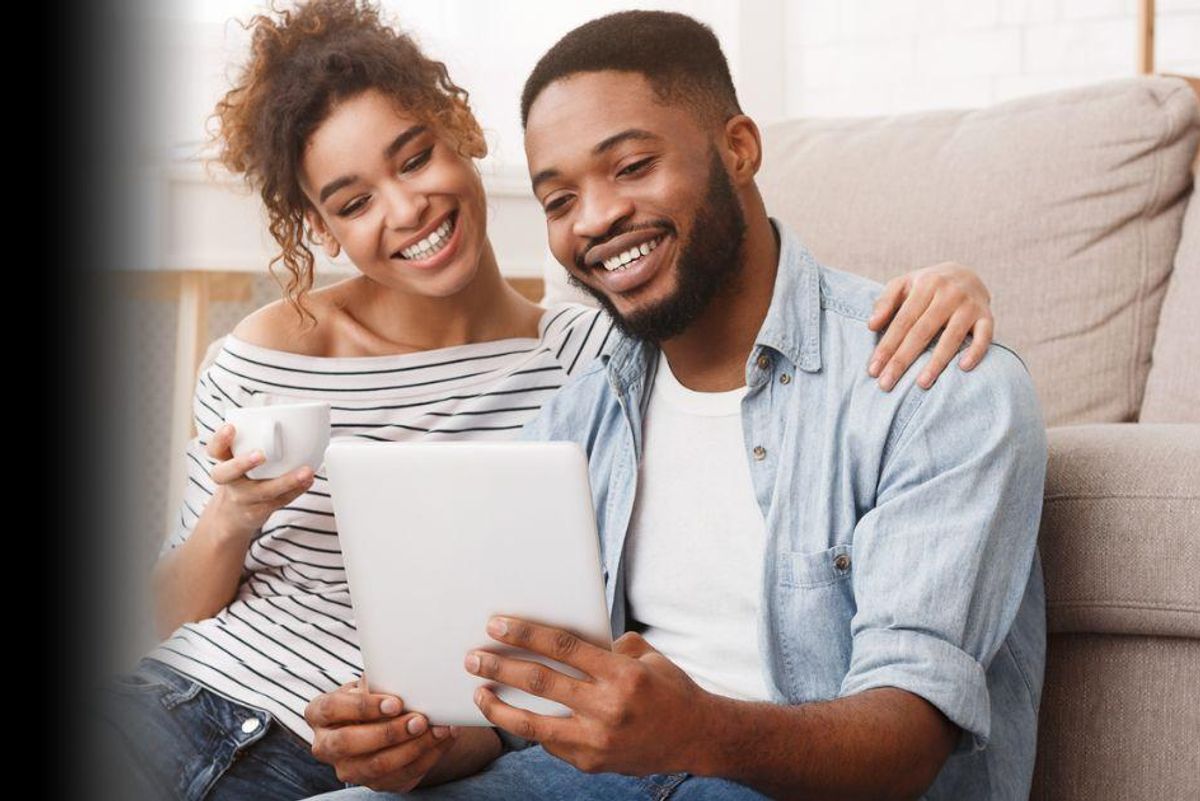 Adjust the brightness of your device.
Brightness levels also play into how hard our eyes have to work. Our screen brightness should match our surroundings, especially during the evening hours.
Say hello to Biofinity Energys® contact lenses!
These contact lenses are specifically made to address eye dryness and tiredness caused by digital devices. Digital Zone Optics® lens design and Aquaform® Technology are two innovations that when combined help with the tiredness and dryness that can be caused by digital eye fatigue.
Additionally, Biofinity Energys® monthly replacement contact lenses are designed to help our eyes better adapt for a more comfortable wearing experience3. This part is tricky because contacts can be hard to adjust to, and trust me—no one wants what feels like gritty sandpaper in there. Comfort is key!
If you're sick of wearing glasses all the time and feel ready to do something new, visit biofinityenergys.com to learn more and to get your free trial certificate.

Asurion-sponsored survey by Market Research Firm Solidea Solutions conducted August 18-20, 2019 of 1,998 U.S. smartphone users, compared to an Asurion-sponsored survey conducted by market research company OnePoll between Sept. 11 – 19, 2017 of 2000 U.S. adults with a smartphone.
popular
Haley Morris-Cafiero's photos might make you rethink how you look at people.
Credit: Haley Morris-Cafiero
Artist Haley Morris-Cafiero describes herself on her website as "part performer, part artist, part provocateur, part spectator." Her recent project, titled "Wait Watchers" has elements of all her self-descriptors.
In an email to us, Morris-Cafiero explained that she set up a camera in the street and stood in front of it, doing mundane activities like looking at a map or eating gelato. While she's standing there she sets off her camera, taking hundreds of photos.
Later, she looks through them and sees what is happening around her. Morris-Cafiero finds that people are often looking at her body, or commenting on it with their gaze or body language, at times even appearing to mock her.
"I then examine the images to see if any of the passersby had a critical or questioning element in their face or body language."
"I consider my photographs a social experiment and I reverse the gaze back on to the stranger and place the viewer in the position of being a witness to a moment in time. The project is a performative form of street photography," she writes.
Her work has been exhibited across the U.S. and abroad.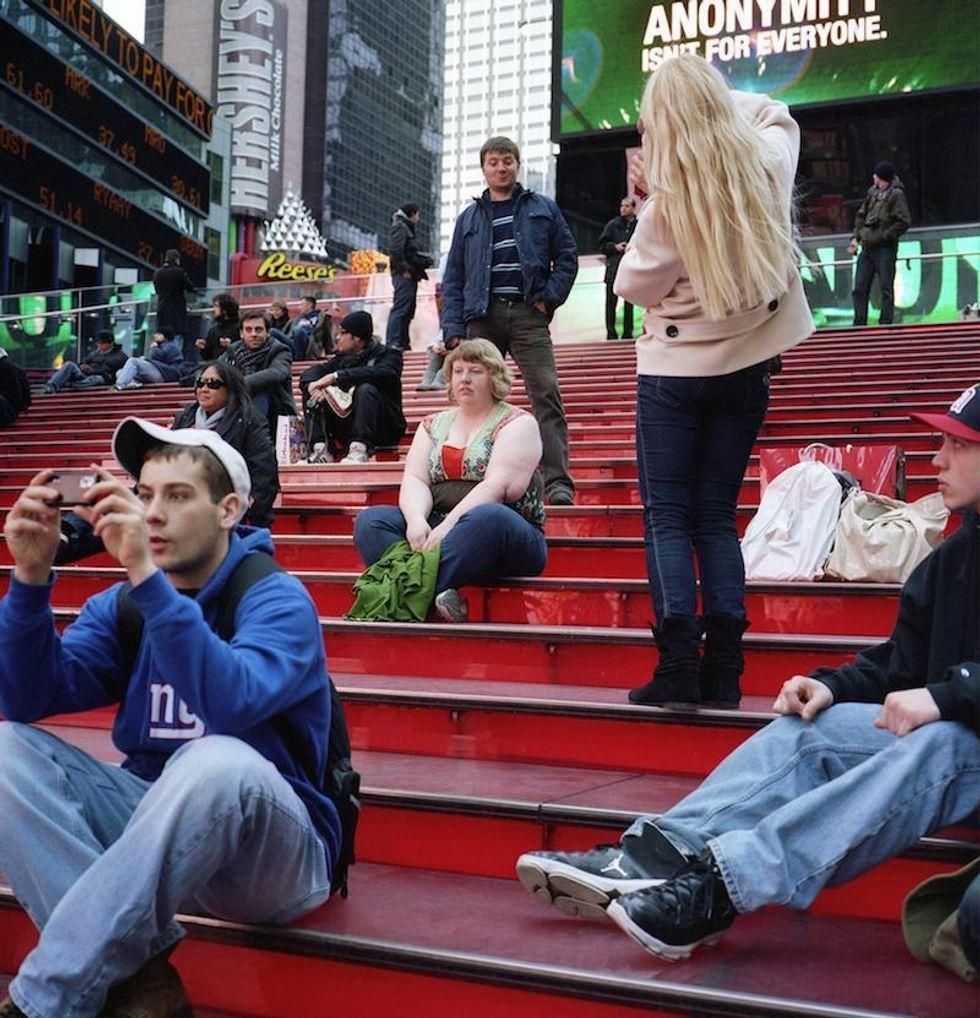 Artist Haley Morris-Cafiero filmed people's reactions to her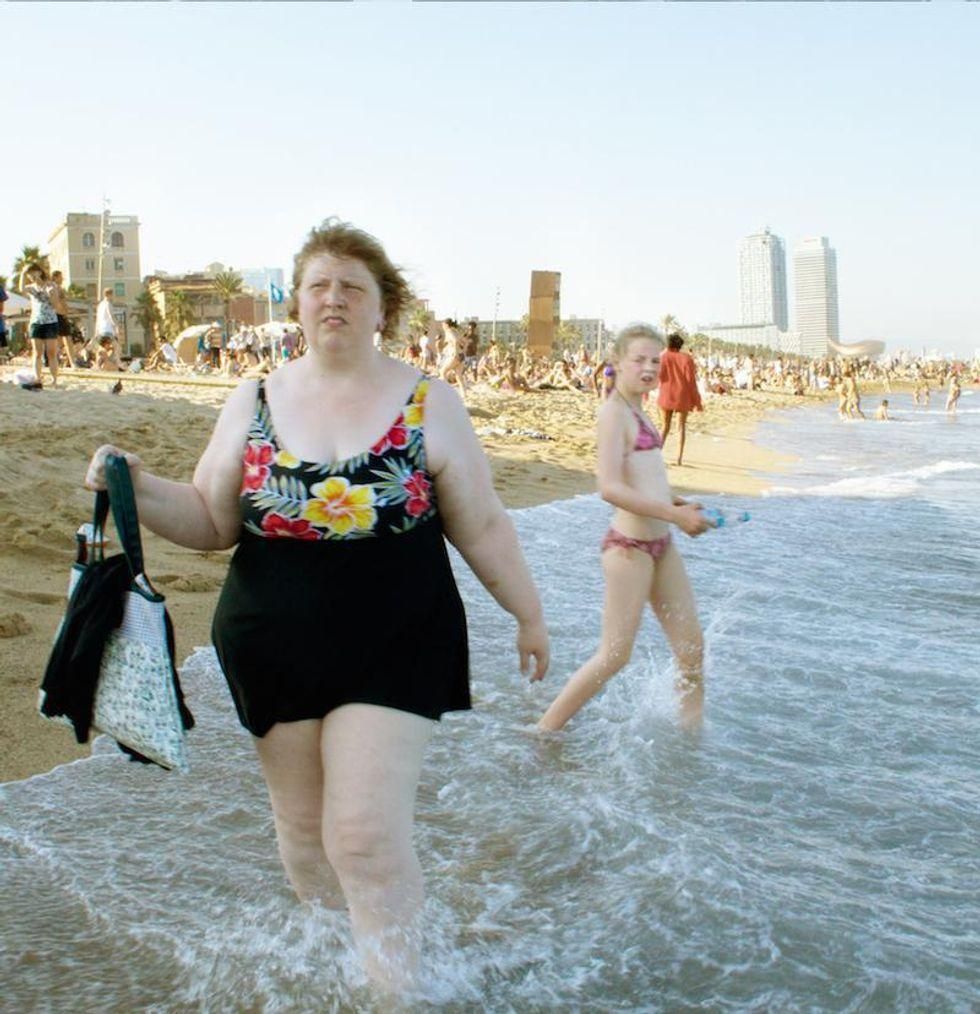 She also published her book, The Watchers, which shows her photo collection and includes comments made to her about her body from passerby.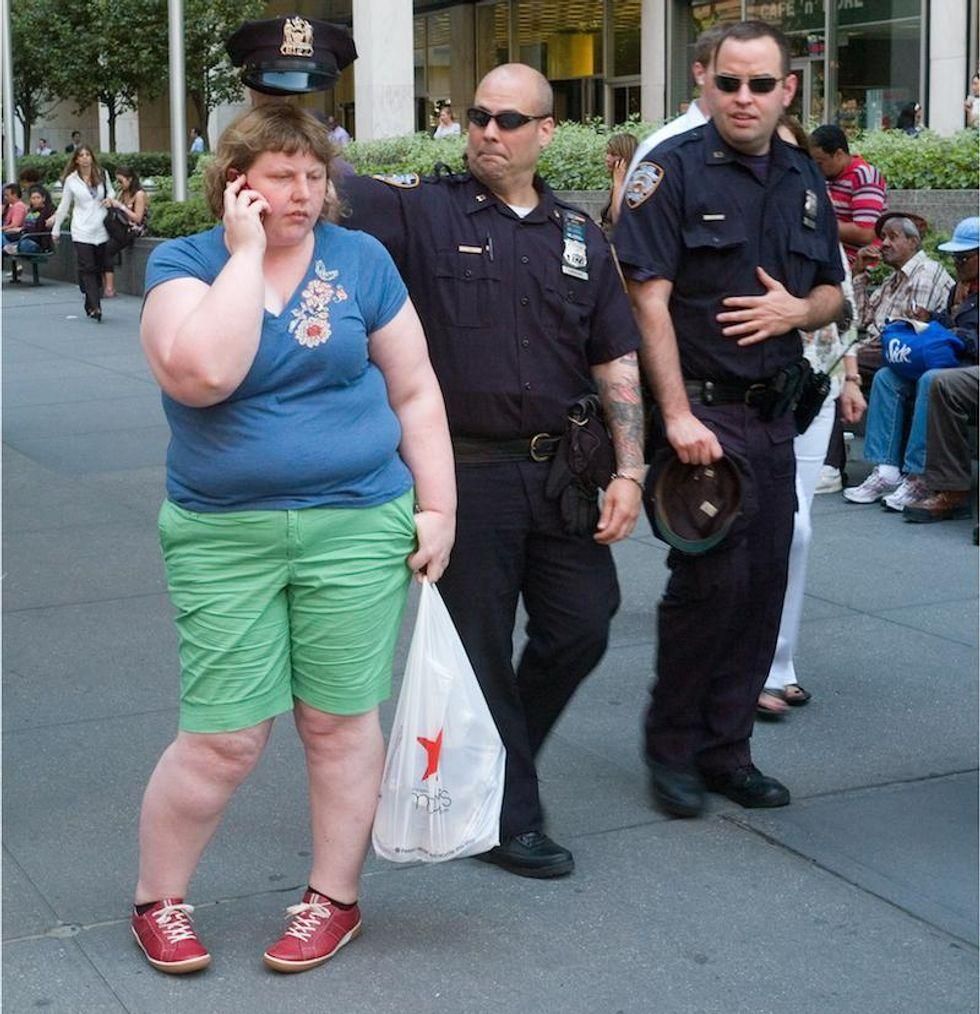 You can see that even people in positions of authority, like this police officer, feel comfortable mocking her just for being out in public.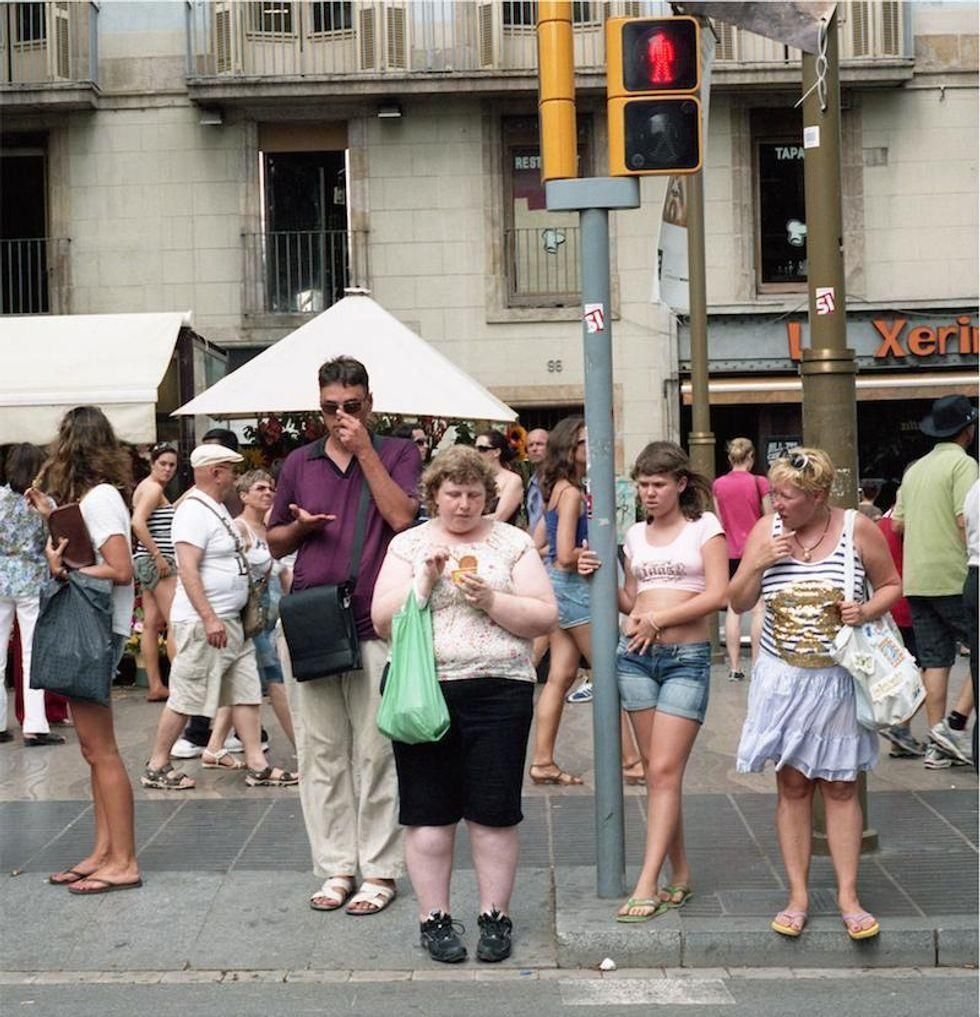 Though she's not looking at the people around her, Morris-Cafiero's photographs capture a split second in time that really crystalizes how people relate to one another on the street and the judgment she receives from strangers.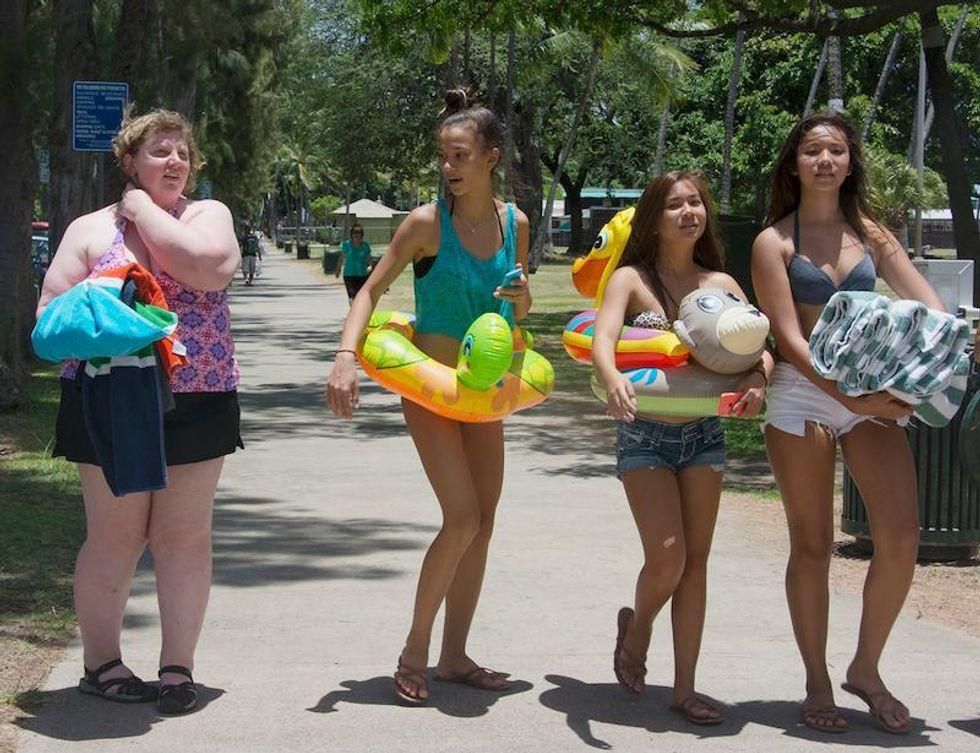 In galleries, with the words beside them, the photos are even more pointed. She also includes the positive words she receives from people who have experienced discrimination for their size or any other aspect to their body that is consistently bothered by the dominant culture.
Though we all theoretically know that people, women in particular, are discriminated against for their size, seeing it captured in photographs is gut-wrenching:
The project has gone viral as people identify with Morris-Cafiero's experience, which means a lot of people relate to being stared at and commented on by folks who should mind their own business. Does that include you? You can check out more of her incredible work here.
Joy
Melissa Highsmith never even knew her real family was searching for her.
In 1971, Melissa Highsmith was kidnapped from her home in Fort Worth, Texas. Her disappearance has been one of the oldest missing person cases in America. Now, she gets to celebrate a long-awaited reunion with her family in what she calls a "Christmas miracle."
As ABC affiliate WFAA reported, Melissa's mother, Alta (who now goes by Alta Apantenco) had put out an ad for a babysitter to watch over her then 21-month-old while she was at work. A white gloved, well-dressed woman going by the name of Ruth Johnson responded to the call, but she was no babysitter. After Johnson picked up baby Melissa from Apantenco's roommate, the two were never seen again.
As any parents would do in this situation, the Highsmiths worked tirelessly to find their little girl, involving the Fort Worth police and even the FBI. Sadly, it was all to no avail. The only glimmer of hope remaining was that there was no evidence of harm, so maybe, just maybe, their Melissa was being well taken care of. And for 51 years, the family held onto that possibility.

Meanwhile, Melissa—who never remembered being kidnapped—led a hard life with the woman who claimed to be her mother. "I didn't feel loved as a child. It was abusive, and I ran away at 15 years old. I went to the streets. I did what I had to do to get by... I worked the streets," she shared in a one-on-one interview with WFAA.
Then in September, everything would change. After receiving a failed tip from the National Center for Missing and Exploited Children that Melissa had been sighted, her father Jeffrie Highsmith (now divorced from Apantenco) decided to try his luck with DNA testing. DNA testing service 23andMe came back with a match linking him to Highworth. Their son Jeff (Melissa's brother) then found her on Facebook and reached out.
Even though Melissa was skeptical, she was shown a baby picture by the Higworths which she admitted looked like her "twin." According to Good Morning America, Melissa had a special birthmark and celebrated a birthday very close to the child taken all those years ago.
Any remaining shadows of doubt immediately disappeared when Melissa confronted the woman she thought was her mother. "The person that raised me, I asked her is there anything you need to tell me and it was confirmed that she knew that I was baby Melissa so that just made it real," she told FOX 25.
Mother & daughter reunited after 51 YEARS!

Melissa was kidnapped when she was 21months old from their Ft Worth apt.

They both gave up on hope. Melissa: "I ran away at 15, & worked the streets."

Family says 23andMe, DNA Genetic Testing matched them, living 20min away.@wfaapic.twitter.com/Vsz9437pRf

— Malini Basu (@MaliniBasu_) November 28, 2022
In perhaps the strangest twist of fate, Melissa and her family had been so close, yet so far this entire time—living less than 20 minutes apart.
That discovery is not without its bittersweetness, but so far the family is focusing on making up for lost time and celebrating their reunion.
"I'm just elated, I can't describe my feelings. I'm so happy to see my daughter that I didn't think I would ever see again," Apantenco told WFAA. "I feel like I am dreaming and I keep having to pinch myself to make sure I'm awake," Melissa added.
On their shared Facebook Group page the family wrote, "the joy is palpable amongst all family members" adding that finding Melissa "was purely because of DNA, not because of any police / FBI involvement, podcast involvement, or even our family's own private investigations or speculations." They are not alone. Previously a man kidnapped in 1964 found his real family using different ancestry services. There are still miles to go in terms of diversifying DNA databases, but DNA testing has taken on an increasingly significant role in finding missing persons over the years, and continues to be a game changer.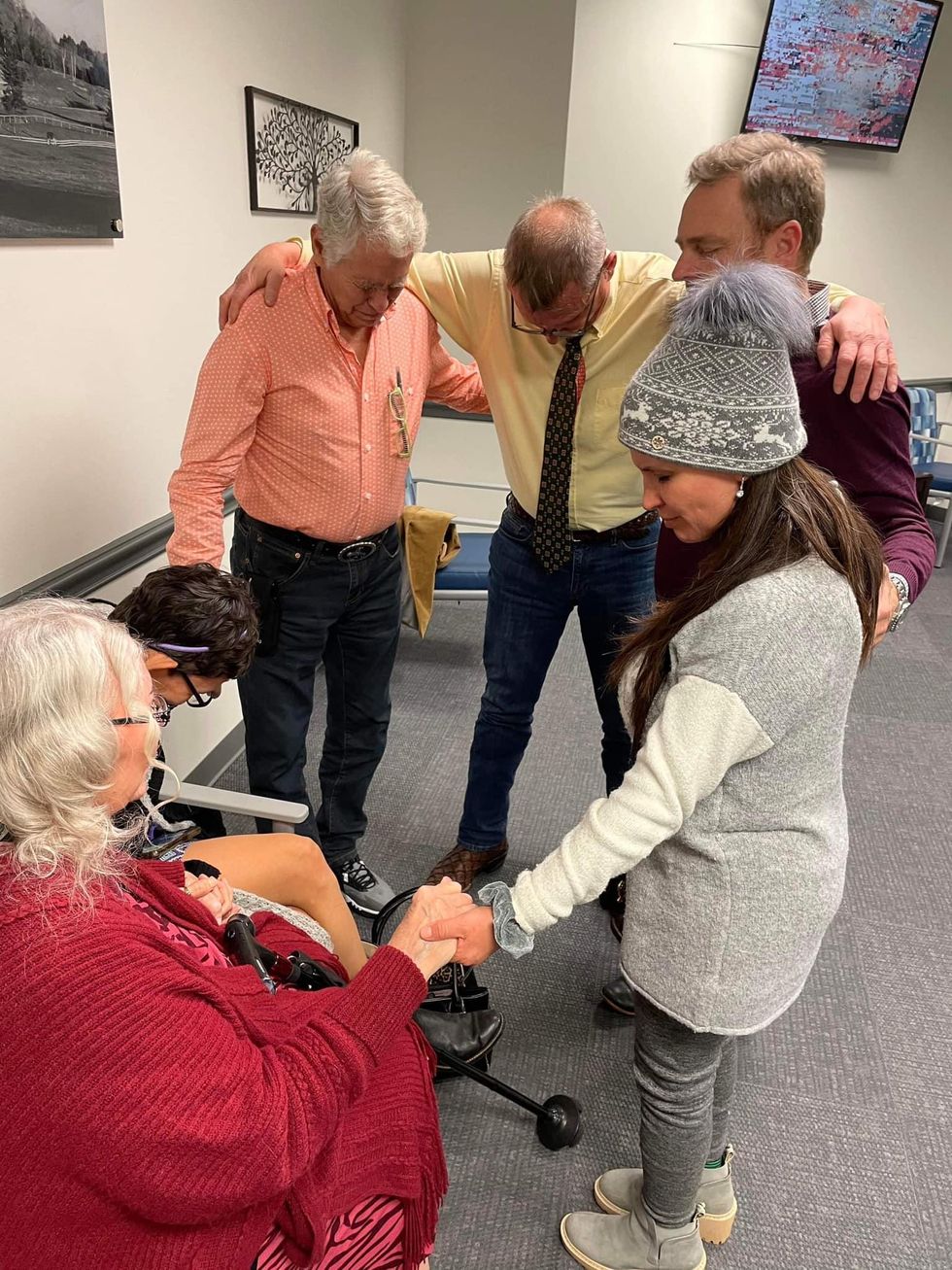 As for the newly reunited Highsmith family, the plan is to simply take things day by day. According to WFAA, Melissa has officially adopted her birth name (she had previously gone by "Melanie"), and is even planning on remarrying her current husband so that her father can walk down the aisle. These are sure to be hard won memories the entire family will cherish forever.