Most Shared
Maya Angelou was a really phenomenal human being.
In a 2009 interview with Maya Angelou, Guardian writer Gary Younge summed up the American poet's incredible biography in a perfect way:

"To know her life story is to simultaneously wonder what on earth you have been doing with your own life and feel glad that you didn't have to go through half the things she has. Before she hit 40 she had been a professional dancer, prostitute, madam, lecturer, activist, singer, and editor. She had lived in Ghana and Egypt, toured Europe with a dance troupe and settled in pretty much every region of the United States."
Pretty impressive—but that's just the Cliff's Notes version.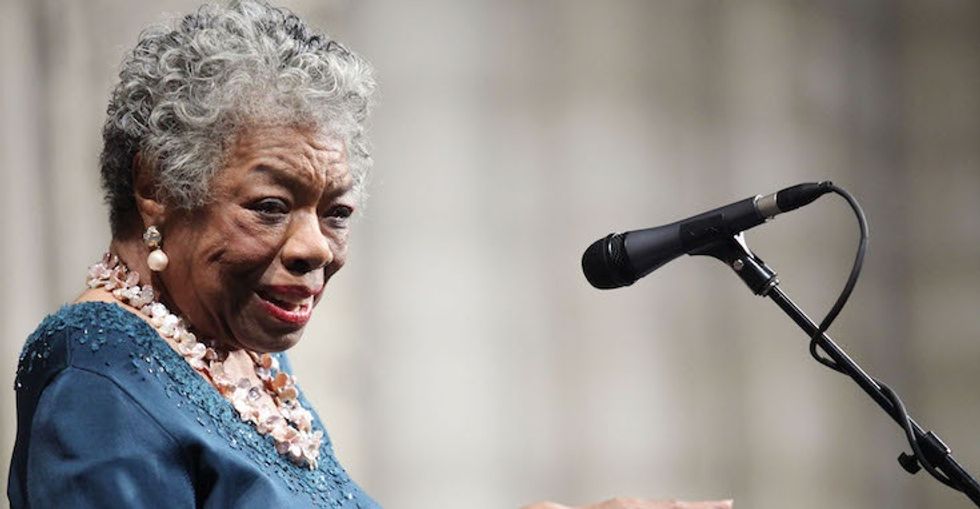 <p class="image-caption">Photo by Astrid Stawiarz/Getty Images.</p><p><strong>T</strong><strong>he more I learn about Angelou, who passed away in 2014 at the age of 86, the more blown away I am by her intellect, strength, and sense of humor.</strong> I also totally get why the media doesn't always tell her whole story: It took Angelou seven full-length autobiographies to get through the whole yarn.</p><p><div id="upworthyFreeStarVideoAdContainer"><div id="freestar-video-parent"><div id="freestar-video-child"></div></div></div></p><p><strong>Here are nine facts about the poet that are often cut from media and teaching materials in the interest of saving time — but that prove what a phenomenal human being she really was:</strong></p><h2>1. She became the first black female streetcar driver in San Francisco...</h2><p>...when she was 14 years old.</p><h2>2. She created a <a href="https://diva.sfsu.edu/collections/sfbatv/10287" target="_blank">10-part documentary</a> about the influence of African-American culture on the broader American cultural landscape.</h2><p>She did this while mourning the death of her friend Martin Luther King Jr. (who was assassinated on her birthday), all without having any formal training as a filmmaker.</p><h2>3. She threw really epic parties.</h2><p>Even into <a href="http://michelletshuffman.tumblr.com/post/131634652311/maya-angelous-sunny-yellow-home-bought-by-a" target="_blank">her 80s</a>, Angelou threw some rocking get-togethers. As she told the <a href="http://www.nytimes.com/2013/04/21/opinion/sunday/a-chat-with-maya-angelou.html" target="_blank">New York Times</a>, not even her health problems could get in the way of her life-of-the-party attitude.</p><p><img type="lazy-image" data-runner-src="https://assets.rebelmouse.io/eyJhbGciOiJIUzI1NiIsInR5cCI6IkpXVCJ9.eyJpbWFnZSI6Imh0dHBzOi8vYXNzZXRzLnJibC5tcy8xOTUxMzE5My9vcmlnaW4uanBnIiwiZXhwaXJlc19hdCI6MTY1ODk3MDA4OX0.DtVIv6fEwl5TcnCo0Pqsy7KvVBvHtIyw48bwNO8q_dc/img.jpg?width=980" id="cc67a" class="rm-shortcode" data-rm-shortcode-id="2e6429808e36a338a568232aeb86c70b" data-rm-shortcode-name="rebelmouse-image"></p><p class="image-caption">Angelou threw a garden party at her home for her 82nd birthday in 2010. Photo by Steve Exum/Getty Images<span class="redactor-invisible-space">.</span><br></p><p>"One of my lungs is half gone and the other half, because I smoked for years, has a lesion. So I can't swim anymore and had the swimming pool covered over. Now it's what I call the dance pavilion, and so <strong>I and my friends sit out and put music on and watch people dance</strong>."</p><h2>4. While living in Egypt, she was one of two African-Americans working at any news publication in the Middle East.</h2><p>The other was W.E.B. Du Bois' stepson, <a href="http://articles.latimes.com/2005/feb/10/local/me-dubois10" target="_blank">David Du Bois</a>, who fought hard to persuade The Arab Observer to hire Angelou. He succeeded, and she became the only woman in the publication's newsroom. What's more, Du Bois <a href="http://www.theroot.com/blogs/journalisms/2014/05/when_maya_angelou_worked_as_a_journalist.html" target="_blank">allegedly</a> used to tell her, "Girl, you realize, you and I are the only black Americans working in the news media in the Middle East?"</p><h2>5. She definitely knew what was important in life.<br></h2><p>Angelou made sure to separate her work from her personal life. Writing was very important to her, but it was, above all, just a job — so she made sure not to do it at home. As Gary Younge wrote in 2009, <strong>"When I ask what she does to relax, it sounds as though she mostly naps, only to wake and receive awards."</strong></p><h2>6. She spoke five different languages, aside from English: French, Spanish, Hebrew, Italian, and Fanti, a Ghanaian language.</h2><p><em></em><em></em><span class="redactor-invisible-space"></span></p><p><img type="lazy-image" data-runner-src="https://assets.rebelmouse.io/eyJhbGciOiJIUzI1NiIsInR5cCI6IkpXVCJ9.eyJpbWFnZSI6Imh0dHBzOi8vYXNzZXRzLnJibC5tcy8xOTUxMzE5NC9vcmlnaW4uanBnIiwiZXhwaXJlc19hdCI6MTYyNjQ5MDk4Mn0.pd8j-wEZ5AA-jmajKntD1F5ZWnKawJUJAI5Hh_Py5Pk/img.jpg?width=980" id="82c75" class="rm-shortcode" data-rm-shortcode-id="5ea8e68c49cff16ead9ca77869fb0dcd" data-rm-shortcode-name="rebelmouse-image"></p><p><em></em></p><p class="image-caption">Photo via Burns Library, Flickr. Used with permission from HistoryBuff.</p><h2>7. She was totally up front about what she wanted.</h2><p>Whenever she agreed to be interviewed, she provided the interviewer with a fabulously straightforward list of rules. The rules included:</p><p><strong>A m</strong><strong>eeting dialogue: </strong>"Dr. Angelou will often pause prior to speaking or when completing her thought. Please hold your thought until she is finishing speaking."</p><p><strong>Room temperature:</strong> "Dr. Angelou requires warm rooms. You may choose to remove your jacket or loosen your tie if you find the room too warm."</p><h2> 8. After being sexually abused as a child, Angelou stopped speaking for six years.</h2><p>That's not awesome at all, obviously, but the way she kept her mind sharp during those years of silence is awesome: She memorized the poetry of Edgar Allen Poe.</p><h2>9. Her music is crazy good.</h2><p>Here's proof:</p><span style="display:block;position:relative;padding-top:56.25%;" class="rm-shortcode" data-rm-shortcode-id="9b62b673f0d92a1797b46a2cd37ce2c7"><iframe type="lazy-iframe" data-runner-src="https://www.youtube.com/embed/rPiUHhQ_xXs?rel=0" width="100%" height="auto" frameborder="0" scrolling="no" style="position:absolute;top:0;left:0;width:100%;height:100%;"></iframe></span><p><strong>Sometimes we forget that famous people like Angelou were also very real human beings who made the world a better place one day at a time.</strong></p>