Science
Storm chaser captured an eye-popping video of a tornado whipping through a Kansas town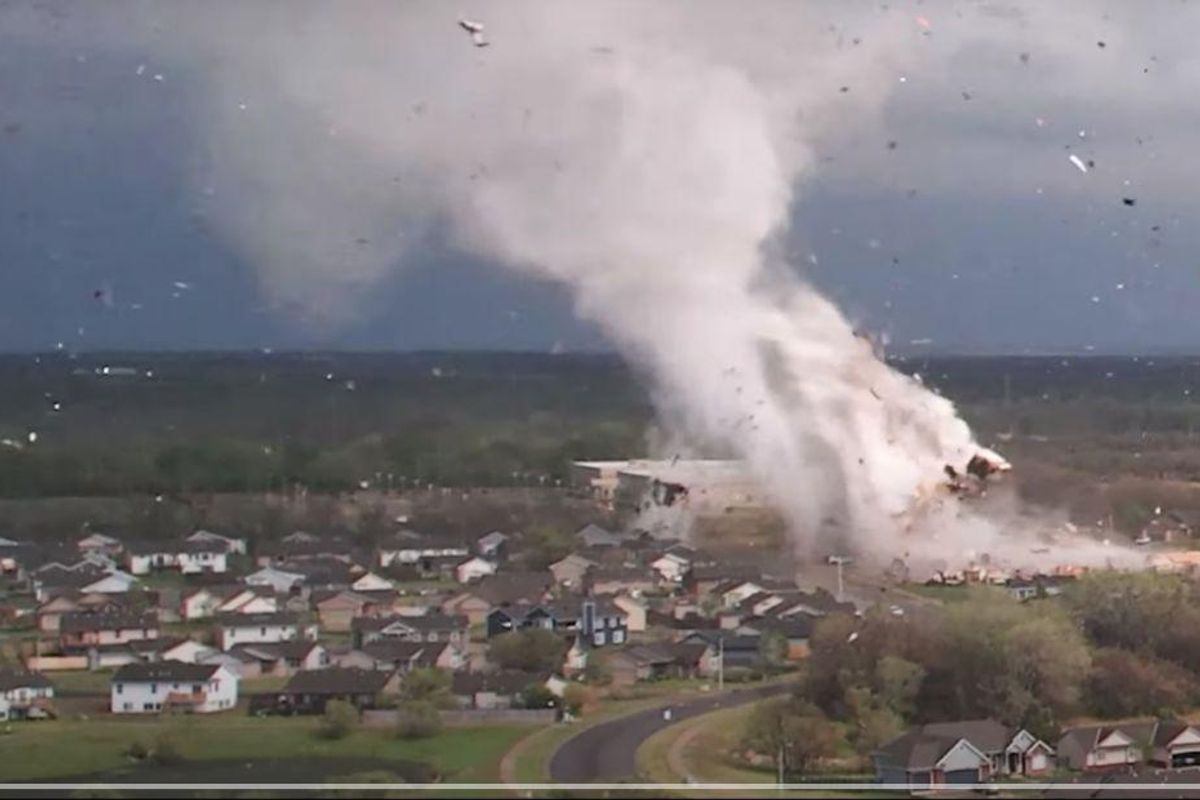 I'd never seen a green sky before living in the Midwest. I also didn't know the difference between a tornado watch and a tornado warning, and it took me a while to keep it straight. (A "watch" means the conditions are ripe for a tornado to form, a "warning" means one has been spotted.)
I learned that green sky spelled trouble, so when we saw ominous greenish clouds gathering one afternoon, we knew to turn on the TV. A tornado watch had been issued in our area, which then turned to a warning.
Then the tornado siren sounded outside. Time to take cover.
We didn't have a basement, so my husband and I grabbed our 4-year-old and shut ourselves into our first-floor bathroom, the only room in our townhome without any windows. The wind began to howl, getting louder and louder until it didn't sound like wind anymore. Imagine static blaring on a TV, only with more layers, both deeper and higher-pitched. The sliding glass door in our dining room rattled. Our daughter cried and I prayed. It lasted maybe five or ten minutes.
---
When the quiet returned and we emerged, we discovered the tornado hadn't even come all that close to us. One had touched down a few miles away, in the middle of a field. No damage, no one hurt.
That experience was scary enough; I can't imagine the terror of actually having a tornado on top of you, nor can I imagine being a storm chaser who actually runs towards those dark skies and raging winds.
Storm chasers provide a view of tornados that we wouldn't otherwise get to see, but "extreme meteorologist" Reed Timmer's hi-res drone capture of a tornado whipping through Andover, Kansas on April 30 offers a visual that even most storm chasers haven't been able to provide. Tornado footage is usually somewhat grainy or fuzzy, even when the person with the camera is able to get close, but Timmer's drone footage offers stunning detail.
No lives were lost in this tornado, which Timmer said was an EF3. (The Enhanced Fujita scale measures the intensity of tornados, and ranges from F0 (light damage—damaged billboards, some tree branches broken) to F5 (incredible damage—strong homes lifted off their foundations and disintegrated, trees uprooted and debarked). In this video, you can see roofs being lifted off of buildings like they're made of cardboard. It's incredible.
Watch:
Highest-res drone footage of the Andover, KS #tornado which has received a preliminary rating of EF3. Note how the tornado propagates via vortex dynamics and likely terrain. Incredibly, no lives were lost by this tornadopic.twitter.com/FJDBH8TAv6

— Reed Timmer (@Reed Timmer) 1651360463
Timmer then compiled his drone footage with additional footage taken from the ground and shared it on YouTube.
"Audio has been softened for the faint of heart," Timmer shared. "Miraculously, no lives were lost from this tornado despite immense damage and nearly 1000 structures impacted."
Seeing the tornado touching down from multiple perspectives is both terrifying and fascinating. Watching the funnel cloud form and meander in the sky before causing such immense destruction is strangely mesmerizing. What an odd phenomenon.
Seriously, storm chasers live on a whole other level than the rest of us. Watch: