All photos courtesy of The Coca-Cola Company
True
You're walking down the sidewalk, earbuds in, listening to your favorite hip-hop beats. As your head bobs to the sounds, the sun warms your back. It's a perfect day.
When the chorus hits, the empty Sprite bottle in your hand becomes a drumstick, passing traffic becomes a sea of concertgoers, and the concrete beneath your feet is suddenly a stage. Spinning on your heels, you close out the song with your face to the sky and hands in the air.
Spotting a bright blue bin, you chuck in your imaginary drumstick. The sound that echoes back is satisfyingly cool, a deep, reverberating clunk so loud you can hear it over the music.
That is the sound of recycling.
Imagine how harmonious it would sound to mix the tones of millions of bottles going through the recycling process—the melody of all of us doing our part?
The Coca-Cola Company recognizes its responsibility to help address the world's plastic packaging crisis. Several of the company's most popular brands were historically made in green plastic bottles—however, when green plastic is recycled, it is usually turned into single-use items that do not get recycled again. To take one more step toward greater sustainability, Sprite, Fresca and Seagram's are now being packaged in clear plastic bottles, increasing the likelihood of them being recycled over and over again—a process known as "closed loop recycling."
Surprisingly enough, closed loop recycling and music have a lot in common. Music producers typically use a technique called sound sampling: the process of taking an old sound, chopping it up, and flipping it into a completely new beat. Just like the process of recycling, old can be new in sound sampling. An old sound is used in a new track, which is morphed again into a newer track, and so on. Beats being made today will be recycled by another creative in the future. Que Uptown Funk!
To celebrate the shift from green to clear, The Coca-Cola Company partnered with iconic, genre-defining/defying producers Mark Ronson and Madlib to create the world's first album composed of the sounds of the plastic recycling process itself. The Recycled Records EP uses real ambient sounds sampled from various points in the closed-loop recycling chain at four different recycling facilities scattered across the United States. From the percussion of a forklift beeping, to the tonal beat of a conveyor belt, to the hi-hat of air blown into a plastic bottle, the EP brings to life the magic of multiple reuses.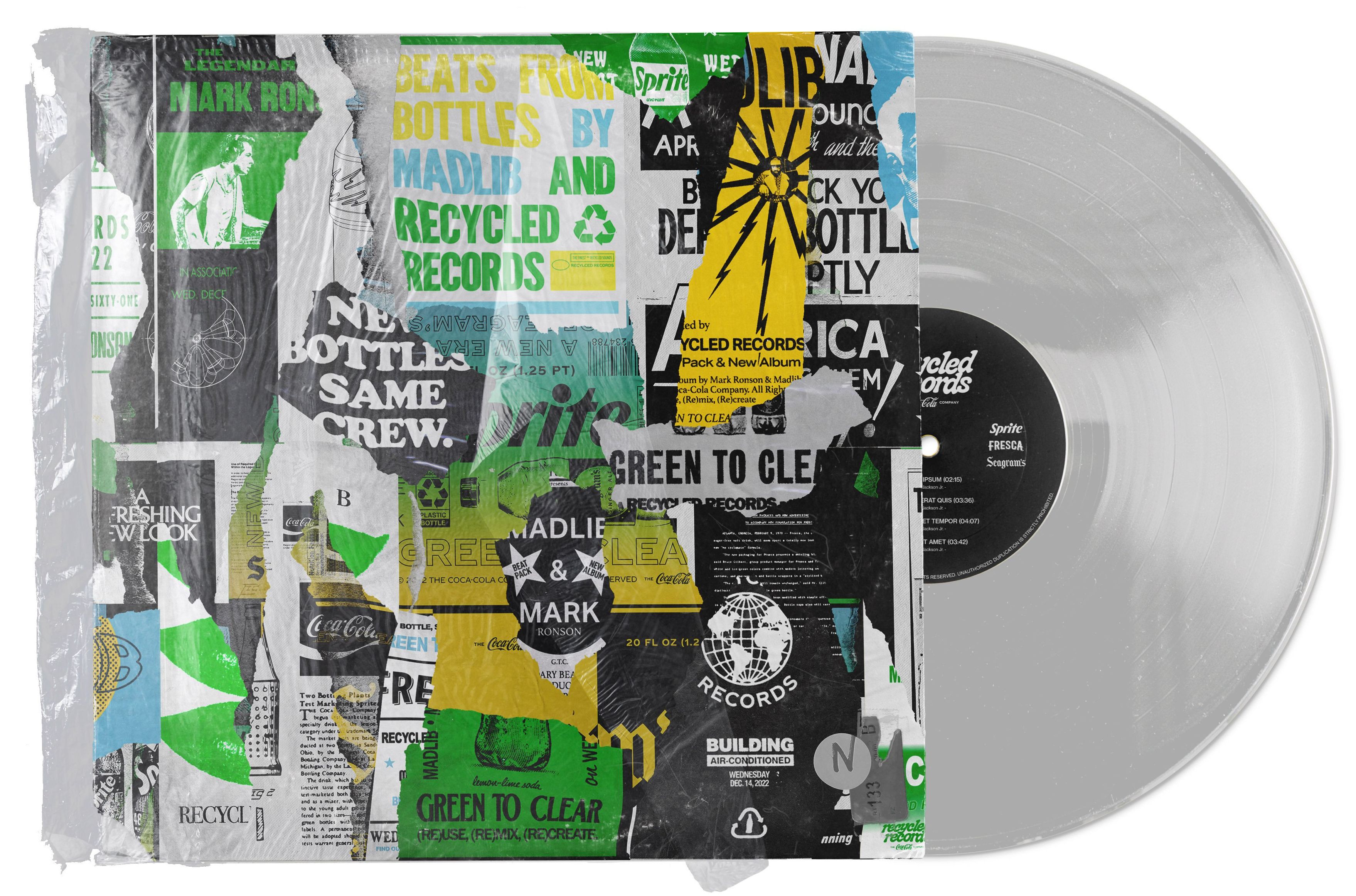 "It sounds very crazy to say it, but anything can become a sample…any sound can be manipulated. The sound of opening a barrel of plastic has its own funk and flow to it," said Ronson.
Not only did The Coca-Cola Company find a way to literally turn the sounds of recycling into music, thanks to the Recycled Records Beat Machine, you can be part of that process, too. Using the site, music enthusiasts are able to remix the very same recycled sound library used by Ronson and Madlib into innovative compositions of their own through an interactive, one-of-a-kind digitized version of an 808 beat machine. Generally, the biggest obstacle for many aspiring artists is accessing the proper musical technology, which is yet another reason why Recycled Records is so dang cool—this beat machine is free and accessible to anyone with an internet connection.
Innovation and creativity are the way of the future; tap into yours today by creating a Recycled Record of your very own. Maybe someday, other people will be dancing down the street listening to YOUR beats!
We can all get a little fascinated by doppelgängers and it's fun to find people who look alike. But what do you do when your baby girl looks uncannily like a famous middle-aged man?
Mom Dani Grier Mulvenna shared a photo of her infant daughter Cora side by side with a photo of Woody Harrelson on Twitter, with the caption "Ok but how does our daughter look like Woody Harrelson." The resemblance truly is remarkable, and the tweet quickly racked up hundreds of thousands of likes, shares and replies.
Naturally, the jokes about Harrelson being the baby's secret father came next, but then Harrelson himself got wind of it.
The actor shared a screenshot of Mulvenna's tweet on his Instagram page and included a delightful little poem he called "Ode to Cora."
\u201cOk but how does our daughter look like Woody Harreslon\u201d

— Dani Grier Mulvenna (@Dani Grier Mulvenna) 1659529434
You're an adorable child
Flattered to be compared
You have a wonderful smile
I just wish I had your hair
How adorable and wholesome is that? Not only did he acknowledge his look-alike, but he even made a self-deprecating joke about his receding hairline.
People gushed in the comments and Mulvenna shared how tickled her daughter will be someday by the connection.
"You've made our day ❤️ can't wait to show her this when she's older, you have another fan for life xxx," she wrote.
Mulvenna also shared on Twitter that her daughter doesn't always look like Woody Harrelson, but when she does, she really does.
\u201cCora says, thank you all so much for the likes and retweets and also that she doesn't always look like Woody Harreslon, it's just that when she does...she really really does xxx\u201d

— Dani Grier Mulvenna (@Dani Grier Mulvenna) 1659529434
What a cutie. What's hilarious is that sweet little Cora has no clue about any of this excitement and she won't for many more years. What a fun story her parents will be able to share with her.
Social media has created a world where people can connect in ways they never would have before. When these platforms are so often used for negative means, it's lovely to see something so sweet and pure come out of them.
This article originally appeared on 08.05.22

Science
Arthur and Bernardo finally get to see each other face to face.
Image by sasint/Canva
The things human beings have figured out how to do boggles the mind sometimes, especially in the realm of medicine.
It wasn't terribly long ago that people with a severe injury had to liquor up, bite a stick, have a body part sewn up or sawed off and hope for the best. (Sorry for the visual, but it's true.) The discoveries of antibiotics and anesthesia alone have completely revolutionized human existence, but we've gone well beyond that with what our best surgeons can accomplish.
Surgeries can range from fairly simple to incredibly complex, but few surgeries are more complicated than separating conjoined twins with combined major organs. That's why the recent surgical separation of conjoined twin boys with fused brains in Brazil is so incredible.
The twins, Bernardo and Arthur Lima, are almost 4 years old and have never seen one another's face. They've spent their lives conjoined at the top of their heads, facing opposite directions. Born as craniopagus twins (joined at the cranium), their brains were also fused together, making their separation extremely complex. According to the BBC, they've been cared for at the Instituto Estadual do Cérebro Paulo Niemeyer (Paulo Niemeyer State Brain Institute) in Rio de Janeiro for the past two and a half years.
Surgeon Noor ul Owase Jeelani is the founder of medical charity Gemini Untwined, which funded the surgery. He helped lead the team of nearly 100 medical workers who worked for months to prepare for the boys' separation, which was one of the most complicated of its kind.
Jeelani told the BBC that it was the first time surgeons in separate countries practiced by operating in the same "virtual reality room" together, wearing VR headsets.
"It's just wonderful," he said. "It's really great to see the anatomy and do the surgery before you actually put the children at any risk. You can't imagine how reassuring this is for the surgeons. To do it in virtual reality was just really man-on-Mars stuff."
Watch Jeelani explain how they prepared for the procedure:
Prior attempts to separate the twins had been unsuccessful, making the surgery even more challenging due to scar tissue. However, after multiple surgeries that took more than 33 hours collectively, the boys were successfully separated in June.
"It was without a doubt the most complex surgery of my career," said neurosurgeon Gabriel Mufarrej of the Paulo Niemeyer State Brain Institute, according to EuroNews. "At the beginning, nobody thought they would survive. It is already historic that both of them could be saved."
Jeelani told the BBC that the boys' heart rates and blood pressure were "through the roof" for four days after the surgery—until they were reunited and touched hands.
According to Reuters, Bernardo and Arthur are the oldest twins with fused brains to be successfully separated. They will spend the next six months in rehabilitation.
Congratulations to the Lima family and to the global team that combined dedication, perseverance and the miracle of modern technology to create a brighter future for these young boys.
This article originally appeared on 08.04.22

Get stories worth sharing delivered to your inbox
Education
Frances 'Effy' Jones, one of the first women to be trained to use a typewriter and to take up cycling as a hobby, recalls life as a young working woman in London.
Family
Kids shouldn't have to act like adults.
Joy
"I know this is a small tragedy in the grand scheme of the world, but one that I feel acutely knowing that I expected many more years with my friend."
Tons of people found themselves clicking on the trending hashtag #RIPMarty, expecting to hear tragic news about a celebrity of some sort.
Instead, they learned about Marty the cat, whose owner shared the most heartbreakingly beautiful goodbye letter following his passing. That letter quickly went viral online, leaving folks completely invested Marty's story, not to mention utterly devastated.
Will Menaker, who shared the letter on Twitter, began by sharing how he and Marty first met. Or more accurately, how Marty introduced himself by emerging from under a car and unapologetically following Menaker up to the steps of his apartment seeking pets. Eventually, as the weather began to get colder, Menaker experimented with bringing Marty inside.
"From that moment on I was in love. I wouldn't say I 'had' a cat, but from then on I shared a house with a tuxedo cat I would name Marty," Menaker wrote.
Other than being TNR'd (trapped, neutered, released), Marty's past was a mystery. What Menaker did know of his feline companion was that he had "striking green eyes," was "always friendly but aloof" and was "outgoing but possessed a Sphinx-like dignity that nothing could assail."
Those are already lovely words, but you might want to grab tissues for this next part.
Yesterday, I had to say goodbye to a friend. pic.twitter.com/E3sbk5LTKb

— Will 🦥 Menaker (@willmenaker) March 29, 2023
"Yesterday, we had to say goodbye. After months of trying to treat a cancer that he had been suffering from, enough was enough. He stopped eating and drinking entirely and by then had wasted away to weighing almost nothing…I decided to make the only decision we could on his behalf. He went to sleep in our house and in my arms."
Tapping into every pet parent's grief, Menaker wrote, "I know this is a small tragedy in the grand scheme of the world, but one that I feel acutely knowing that I expected many more years with my friend. We are heartbroken but grateful for the years that we did have him in our lives."
Despite the obvious anguish, Menaker's letter ends on a hopeful note.
"I firmly believe cats are connected in some way to the other side. They have been around human civilization for roughly 9,000 years and are the only animal species that has domesticated human beings and not vice versa…Whatever happens after our deaths, I think cats are somehow involved, and I hope that when it comes time, Marty will guide me on my own journey to the Western Lands.
"Goodbye Marty, I'll miss you terribly."
Menaker's moving words had people in tears over a cat they didn't even know.
Sees "RIP Marty" trending.

Clicks to see which Marty.

Reads about Marty the kitty.

Sobs

Marty was a good kitty. https://t.co/J5KCiAhvDI

— TheAlabastard🏒🏋🏼‍♀️🐈🤟🏻 (@ThatAlabastard) March 29, 2023
Many commiserated with pictures of their own belated fur babies.
Others still applauded Menaker for showing Marty such compassion and love.
Taking in an animal and loving them, caring for them, is one of the greatest acts of compassion in this world.

RIP Marty, you lived a good life, and you were very clearly loved. https://t.co/AjNYMiS4rl

— Evangelicals Are Fascists 🏳️‍🌈 (@JasonIsCreating) March 29, 2023
Goodbye, Marty. We might not know you, but we are touched by your story. Enjoy that great scratching post in the sky.
Get stories worth sharing delivered to your inbox