Courtesy of Amita Swadhin
True
In 2016, Amita Swadhin, a child of two immigrant parents from India, founded Mirror Memoirs to help combat rape culture. The national storytelling and organizing project is dedicated to sharing the stories of LGBTQIA+ Black, indigenous people, and people of color who survived child sexual abuse.
"Whether or not you are a survivor, 100% of us are raised in rape culture. It's the water that we're swimming in. But just as fish don't know they are in water, because it's just the world around them that they've always been in, people (and especially those who aren't survivors) may need some help actually seeing it," they add.
"Mirror Memoirs attempts to be the dye that helps everyone understand the reality of rape culture."
Amita built the idea for Mirror Memoirs from a theater project called "Undesirable Elements: Secret Survivors" that featured their story and those of four other survivors in New York City, as well as a documentary film and educational toolkit based on the project.
"Secret Survivors had a cast that was gender, race, and age-diverse in many ways, but we had neglected to include transgender women," Amita explains. "Our goal was to help all people who want to co-create a world without child sexual abuse understand that the systems historically meant to help survivors find 'healing' and 'justice' — namely the child welfare system, policing, and prisons — are actually systems that facilitate the rape of children in oppressed communities," Amita continues. "We all have to explore tools of healing and accountability outside of these systems if we truly want to end all forms of sexual violence and rape culture."
Amita also wants Mirror Memoirs to be a place of healing for survivors that have historically been ignored or underserved by anti-violence organizations due to transphobia, homophobia, racism, xenophobia, and white supremacy.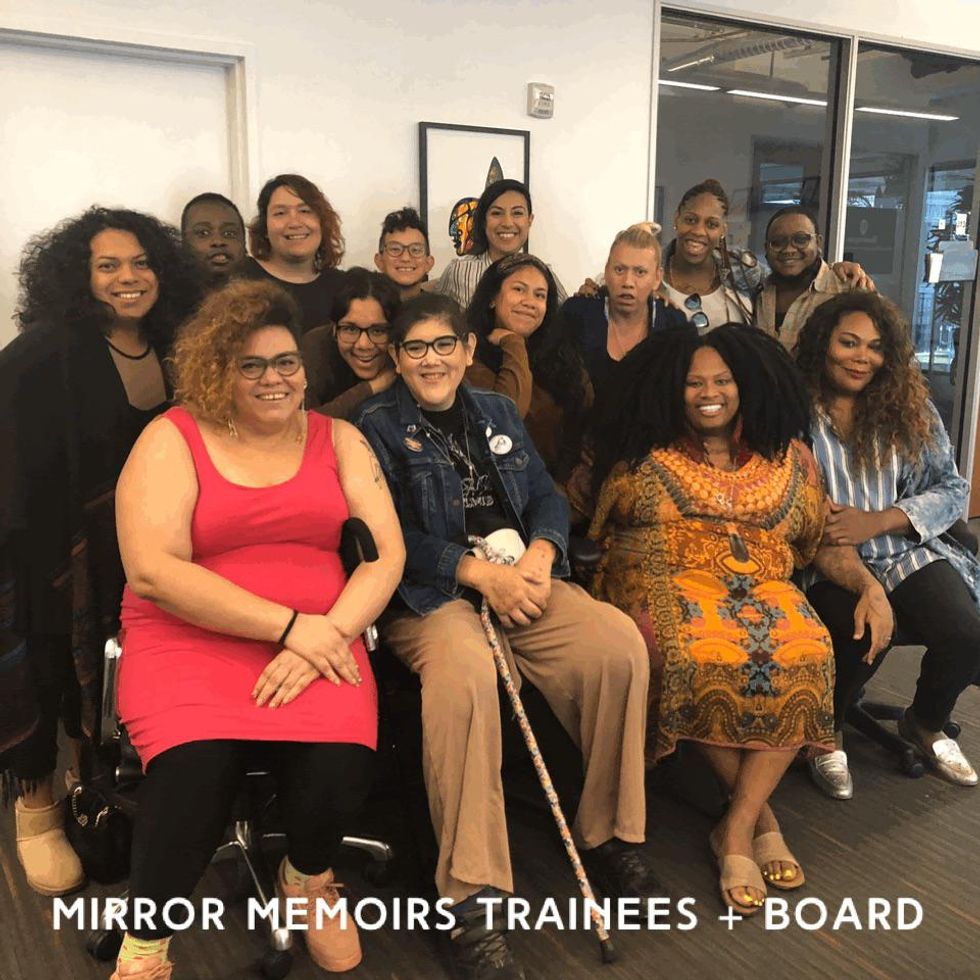 Amita Swadhin
"Hearing survivors' stories is absolutely healing for other survivors, since child sexual abuse is a global pandemic that few people know how to talk about, let alone treat and prevent."
"Since sexual violence is an isolating event, girded by shame and stigma, understanding that you're not alone and connecting with other survivors is alchemy, transmuting isolation into intimacy and connection."
This is something that Amita knows and understands well as a survivor herself.
"My childhood included a lot of violence from my father, including rape and other forms of domestic violence," says Amita. "Mandated reporting was imposed on me when I was 13 and it was largely unhelpful since the prosecutors threatened to incarcerate my mother for 'being complicit' in the violence I experienced, even though she was also abused by my father for years."
What helped them during this time was having the support of others.
"I'm grateful to have had a loving younger sister and a few really close friends, some of whom were also surviving child sexual abuse, though we didn't know how to talk about it at the time," Amita says.
"I'm also a queer, non-binary femme person living with complex post-traumatic stress disorder, and those identities have shaped a lot of my life experiences," they continue. "I'm really lucky to have an incredible partner and network of friends and family who love me."
"These realizations put me on the path of my life's work to end this violence quite early in life," they said.
Amita wants Mirror Memoirs to help build awareness of just how pervasive rape culture is. "One in four girls and one in six boys will be raped or sexually assaulted by the age of 18," Amita explains, "and the rates are even higher for vulnerable populations, such as gender non-conforming, disabled, deaf, unhoused, and institutionalized children." By sharing their stories, they're hoping to create change.
"Listening to stories is also a powerful way to build empathy, due to the mirror neurons in people's brains. This is, in part, why the project is called Mirror Memoirs."
So far, Mirror Memoirs has created an audio archive of BIPOC LGBTQI+ child sexual abuse survivors sharing their stories of survival and resilience that includes stories from 60 survivors across 50 states. This year, they plan to record another 15 stories, specifically of transgender and nonbinary people who survived child sexual abuse in a sport-related setting, with their partner organization, Athlete Ally.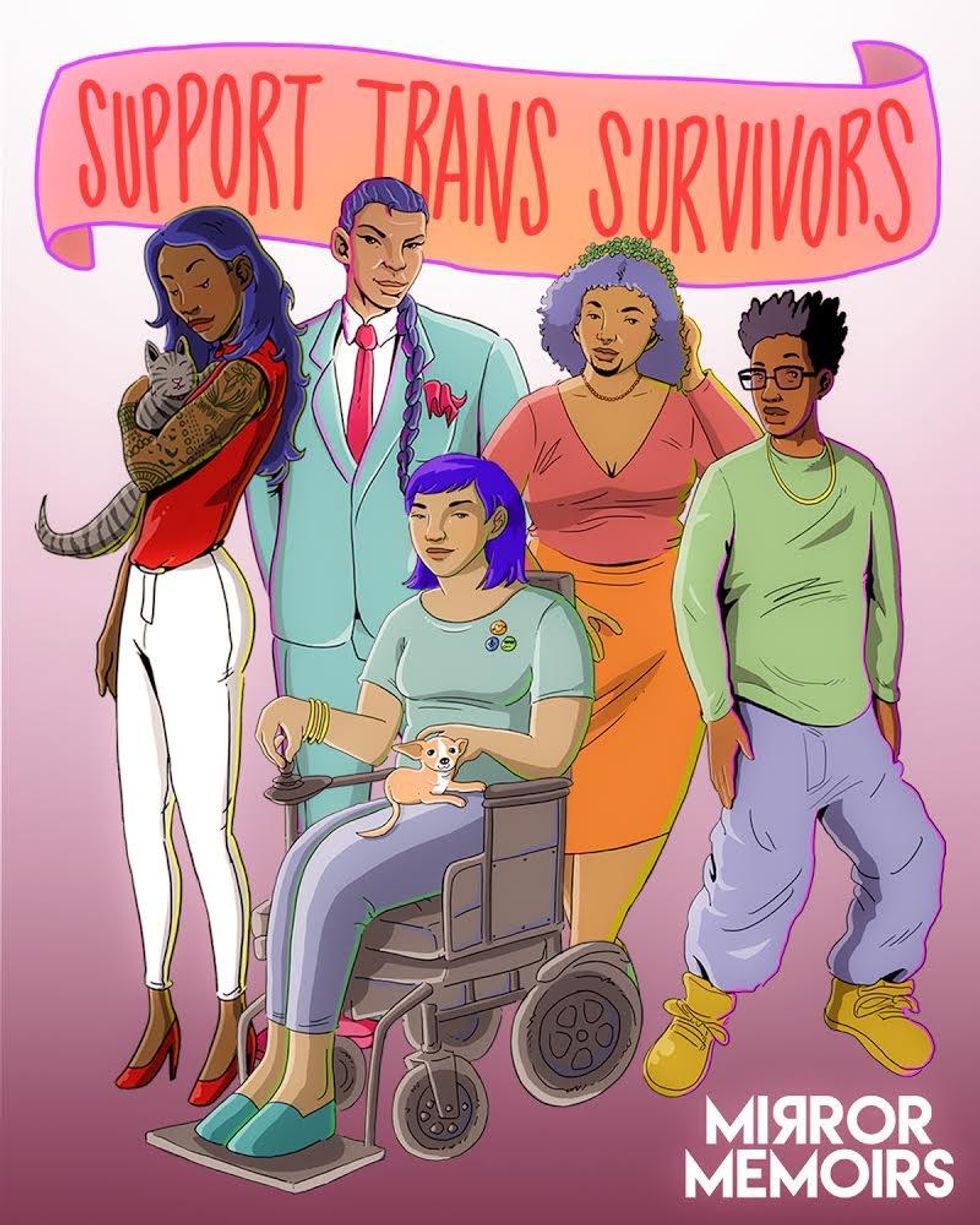 "This endeavor is in response to the more than 100 bills that have been proposed across at least 36 states in 2021 seeking to limit the rights of transgender and non-binary children to play sports and to receive gender-affirming medical care with the support of their parents and doctors," Amita says.
In 2017, Mirror Memoirs held its first gathering, which was attended by 31 people. Today, the organization is a fiscally sponsored, national nonprofit with two staff members, a board of 10 people, a leadership council of seven people, and 500 members nationally.
When the pandemic hit in 2020, they created a mutual aid fund for the LGBTQIA+ community of color and were able to raise a quarter-million dollars. They received 2,509 applications for assistance, and in the end, they decided to split the money evenly between each applicant.
While they're still using storytelling as the building block of their work, they're also engaging in policy and advocacy work, leadership development, and hosting monthly member meetings online.
For their work, Amita is one of Tory's Burch's Empowered Women. Their donation will go to Mirror Memoirs to help fund production costs for their new theater project, "Transmutation: A Ceremony," featuring four Black transgender, intersex, and non-binary women and femmes who live in California.
"I'm grateful to every single child sexual survivor who has ever disclosed their truth to me," Amita says. "I know another world is possible, and I know survivors will build it, together with all the people who love us."
To learn more about Tory Burch and Upworthy's Empowered Women program visit https://www.toryburch.com/empoweredwomen/. Nominate an inspiring woman in your community today!

True
The experiences we have at school tend to stay with us throughout our lives. It's an impactful time where small acts of kindness, encouragement, and inspiration go a long way.
Schools, classrooms, and teachers that are welcoming and inclusive support students' development and help set them up for a positive and engaging path in life.
Here are three of our favorite everyday actions that are spreading kindness on campus in a big way: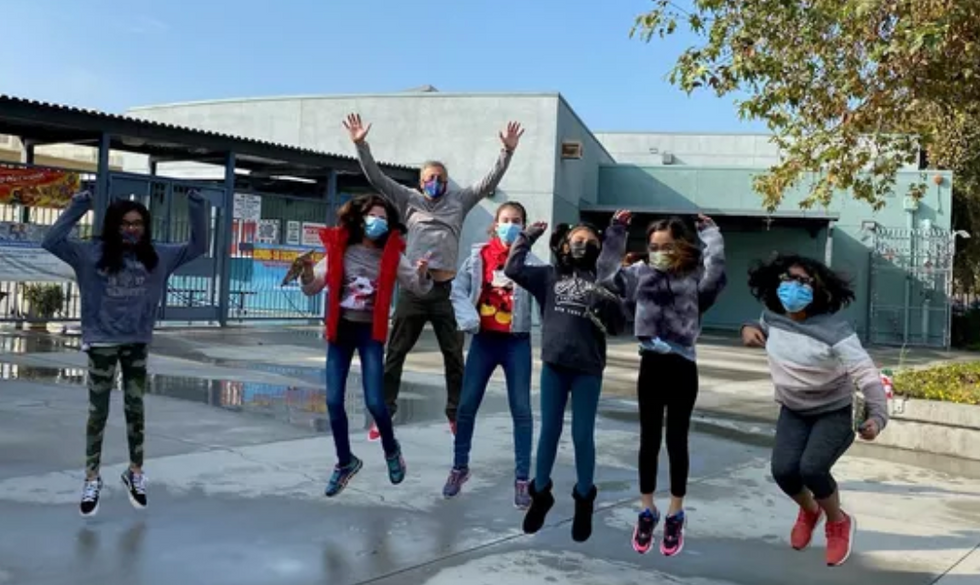 Image courtesy of Mark Storhaug
1. Pickleball to Get Fifth Graders Moving
Mark Storhaug is a 5th grade teacher at Kingsley Elementary in Los Angeles, who wants to use pickleball to get his students "moving on the playground again after 15 months of being Zombies learning at home."

Pickleball is a paddle ball sport that mixes elements of badminton, table tennis, and tennis, where two or four players use solid paddles to hit a perforated plastic ball over a net. It's as simple as that.
Kingsley Elementary is in a low-income neighborhood where outdoor spaces where kids can move around are minimal. Mark's goal is to get two or three pickleball courts set up in the schoolyard and have kids join in on what's quickly becoming a national craze. Mark hopes that pickleball will promote movement and teamwork for all his students. He aims to take advantage of the 20-minute physical education time allotted each day to introduce the game to his students.
Help Mark get his students outside, exercising, learning to cooperate, and having fun by
donating to his GoFundMe
.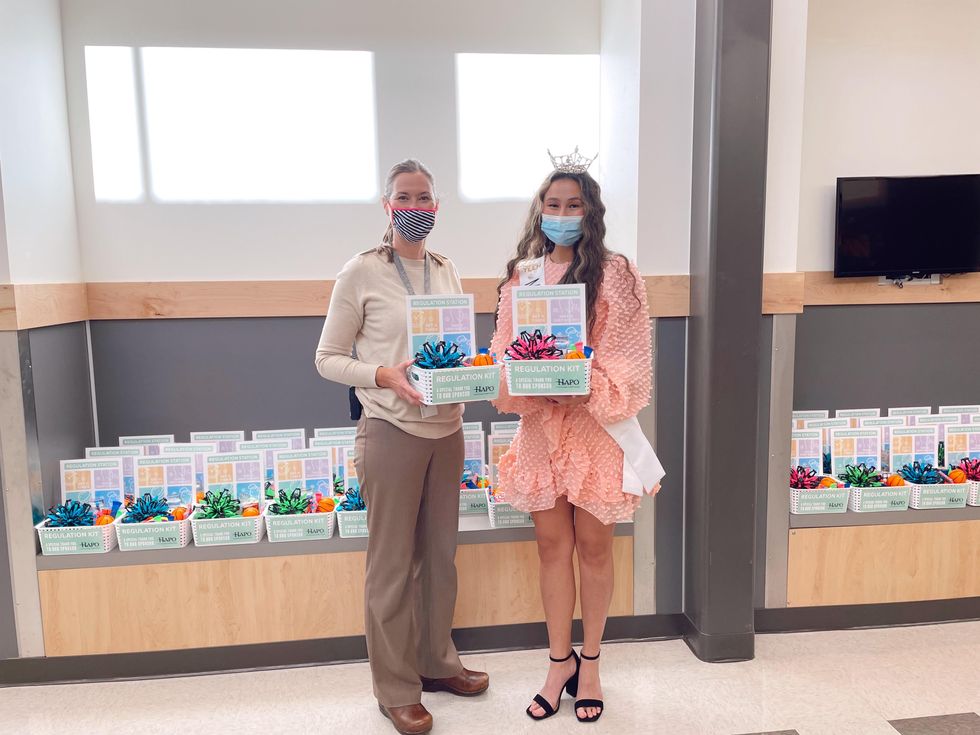 Image courtesy of Kaiya Bates
2. Staying C.A.L.M: Regulation Kits for Kids
According to the WHO around 280 million people worldwide suffer from depression. In the US, 1 in 5 adults experience mental illness and 1 in 20 experience severe mental illness, according to the National Alliance on Mental Illness.
Kaiya Bates, who was recently crowned Miss Tri-Cities Outstanding Teen for 2022, is one of those people, and has endured severe anxiety, depression, and selective mutism for most of her life.
Through her GoFundMe, Kaiya aims to use her "knowledge to inspire and help others through their mental health journey and to spread positive and factual awareness."
She's put together regulation kits (that she's used herself) for teachers to use with students who are experiencing stress and anxiety. Each "CALM-ing" kit includes a two-minute timer, fidget toolboxes, storage crates, breathing spheres, art supplies and more.
Kaiya's GoFundMe goal is to send a kit to every teacher in every school in the Pasco School District in Washington where she lives.
To help Kaiya achieve her goal, visit Staying C.A.L.M: Regulation Kits for Kids.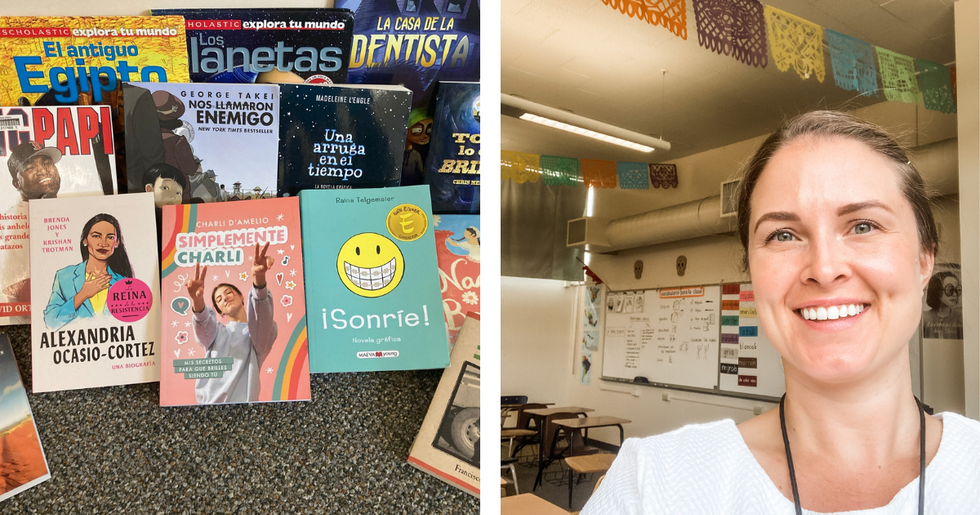 Image courtesy of Julie Tarman
3. Library for a high school heritage Spanish class
Julie Tarman is a high school Spanish teacher in Sacramento, California, who hopes to raise enough money to create a Spanish language class library.
The school is in a low-income area, and although her students come from Spanish-speaking homes, they need help building their fluency, confidence, and vocabulary through reading Spanish language books that will actually interest them.
Julie believes that creating a library that affirms her students' cultural heritage will allow them to discover the joy of reading, learn new things about the world, and be supported in their academic futures.
To support Julie's GoFundMe, visit Library for a high school heritage Spanish class.
Do YOU have an idea for a fundraiser that could make a difference? Upworthy and GoFundMe are celebrating ideas that make the world a better, kinder place. Visit upworthy.com/kindness to join the largest collaboration for human kindness in history and start your own GoFundMe.

From Your Site Articles
Related Articles Around the Web
A few years ago, the midwives of the Royal Oldham hospital in England decided to illustrate the horrors of childbirth using the whimsy of Halloween pumpkin art. The maternity ward became a zone of terror, as the "dilation pumpkins" were lined up in ascendant order, matching how the cervix dilates during labor, from a harmless 1cm to a terrifying 10cm.
The first pumpkin looks adorably surprised. Nothing too scary about that, right? Kind of like it just had an unexpected visit from a cute puppy.
Then take a look at that last pumpkin, apparently at the optimum dilation for giving birth, mouth fully agape, with an expression that can't help but convey "OUCH!" No amount of fun googly eyes are gonna make that image less frightening. Yikes.
I think one twitterer put it best: "I like how they go from mildly surprised to utterly baffled," along with an appropriate yet disturbing GIF.
Dr. Lindsey Fitzharris, a medical historian at the University of Oxford, reposted the ghastly gourds on her Twitter, saying "I don't think I've ever seen anything scarier in my life." And now, with more than 10,000 likes and 1,500 retweets, the image is viral yet again.
This year, there were more pregnant pumpkin contributions. One twitterer shared an image of a pumpkin actually giving birth. Yep, this was from the same hospital. They really know how to express their creativity in a very acute way over there.
Another person commented on the original photo, observing that "3 and 9 appear to be wearing condoms for hats which I would suggest is a bit late to be thinking about!" By the look on the pumpkins' faces, I'd say they wish they had thought about using those condom hats.
Speaking of birth control, one suggestion was to show these pumpkins in a sex ed class, saying it would "stop the birth rate in no time!" So hey, if you're looking to kill two birds—scare teenagers and promote the use of contraceptives—there's a way to do it!
Apparently it had a visceral effect on mothers and non-mothers alike. One person wrote "23 years ago I went from 2 to 10 centimeters in 45 minutes, without anesthetic. Those pumpkins don't look nearly terrified enough," while another replied, "I'm assuredly not pregnant and this is still distressing."
Many were at a loss for words and resorted to using memes that sent a clear message. I think this one pretty much sums the general group reaction:
But at least it made some a little more appreciative of mom. One daughter is gonna go bake some "thanks for enduring incredible pain to birth me" brownies. That almost makes it worth it, right?
Kudos to the dark humor of the Royal Oldham midwives. When it comes to conveying the nightmare otherwise known as the miracle of life, they've really squashed it.
Get stories worth sharing delivered to your inbox
Get stories worth sharing delivered to your inbox