popular
Balance out heavy holiday eating with some lighter—but still delicious—fare.
Albertson's
True
The holiday season has arrived with its cozy vibe, joyous celebrations and inevitable indulgences. From Thanksgiving feasts to Christmas cookie exchanges to Aunt Eva's irresistible jelly donuts—not to mention leftover Halloween candy still lingering—fall and winter can feel like a non-stop gorge fest.
Total resistance is fairly futile—let's be real—so it's helpful to arm yourself with ways to mitigate the effects of eating-all-the-things around the holidays. Serving smaller amounts of rich, celebratory foods and focusing on slowly savoring the taste is one way. Another is to counteract those holiday calorie-bomb meals with some lighter fare in between.
Contrary to popular belief, eating "light" doesn't have to be tasteless, boring or unsatisfying. And contrary to common practice, meals don't have to fill an entire plate—especially when we're trying to balance out heavy holiday eating.
It is possible to enjoy the bounties of the season while maintaining a healthy balance. Whether you prefer to eat low-carb or plant-based or gluten-free or everything under the sun, we've got you covered with these 10 easy, low-calorie meals from across the dietary spectrum.
Each of these recipes has less than 600 calories (most a lot less) per serving and can be made in less than 30 minutes. And Albertsons has made it easy to find O Organics® ingredients you can put right in your shopping cart to make prepping these meals even simpler.
Enjoy!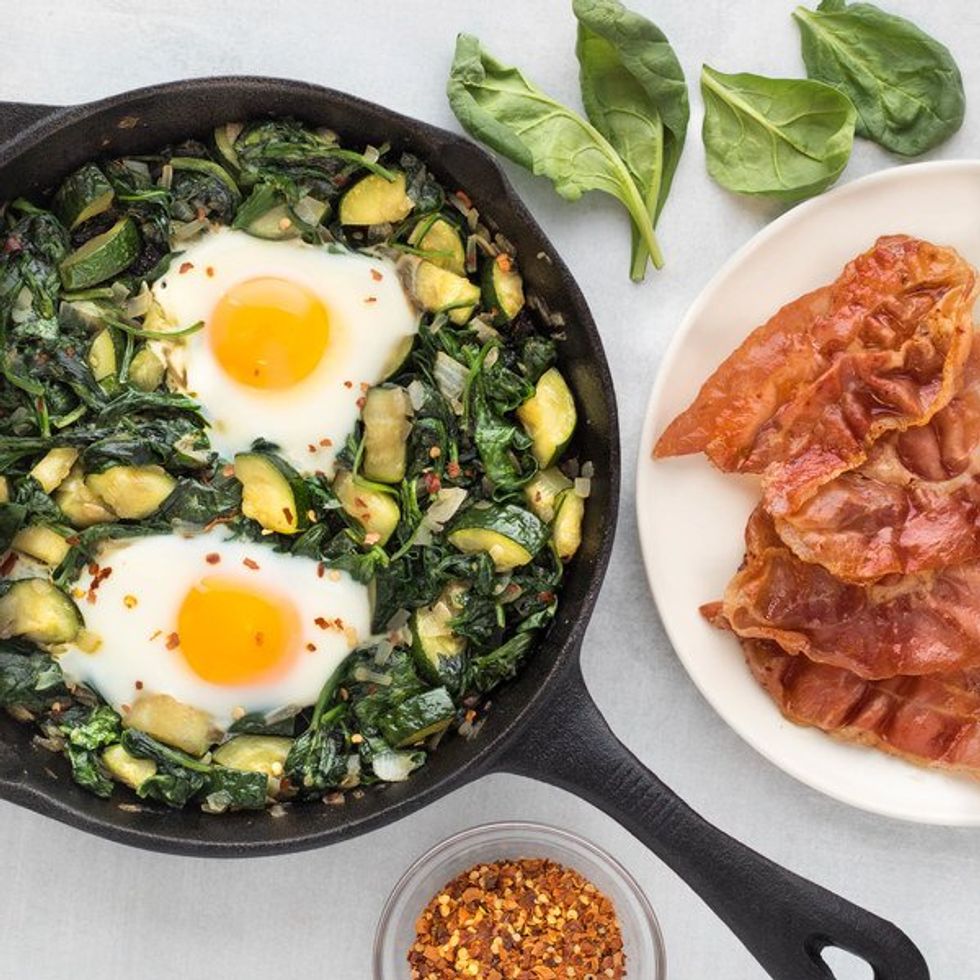 Not quite green eggs and ham, but closeAlbertsons
Breakfast Skillet of Greens, Eggs & Ham
273 calories | 20 minutes
Ingredients:
1 (5 oz) pkg baby spinach
2 eggs
1 clove garlic
4 slices prosciutto
1/2 medium yellow onion
1 medium zucchini squash
1/8 cup butter, unsalted
1 pinch crushed red pepper
Find full instructions and shopping list here.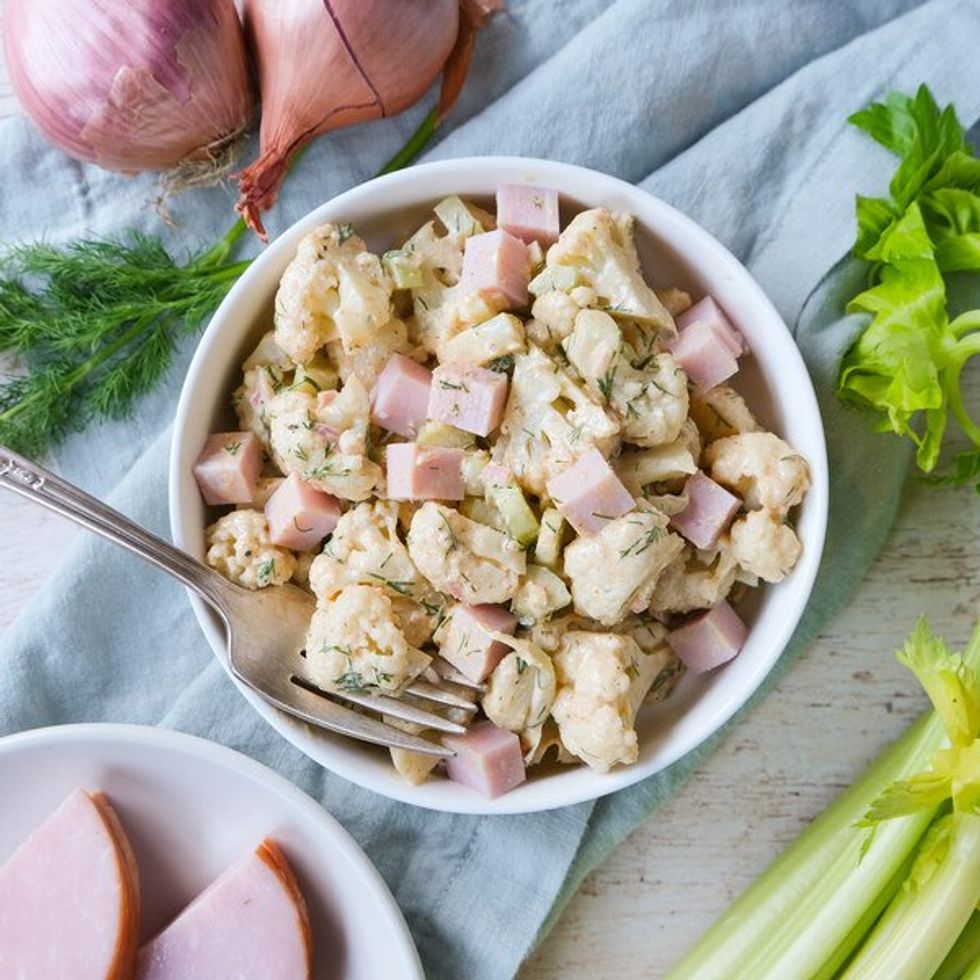 Get your cauliflower power on.Albertsons
Creamy Cauliflower Salad with Ham, Celery & Dill
345 calories | 20 minutes
1/2 medium head cauliflower
1 stick celery
1/4 small bunch fresh dill
8 oz. ham steak, boneless
1/2 shallot
1/4 tspblack pepper
1/4 tsp curry powder
2 tsp Dijon mustard
1/4 tsp garlic powder
3 Tbsp mayonnaise
1/8 tsp paprika
2 tsp red wine vinegar
1/2 tsp salt
Find full instructions and shopping list here.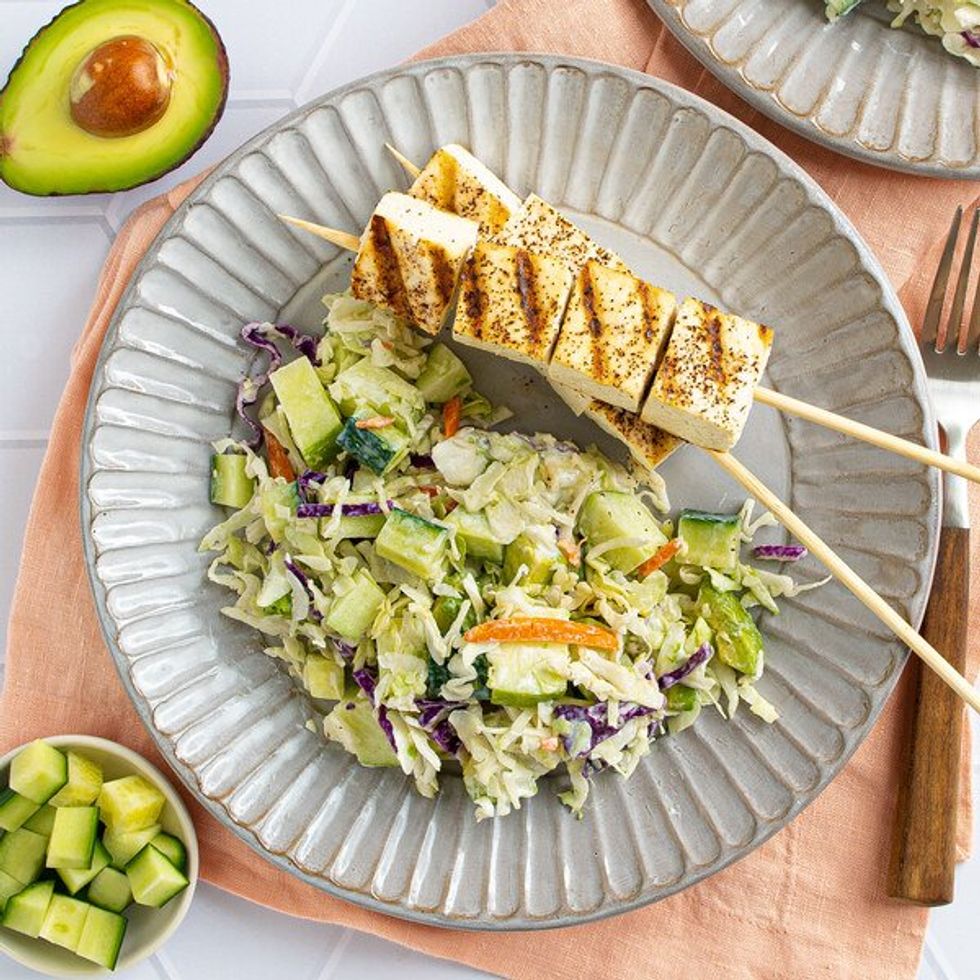 Plant-based food fan? This combo looks yums. Albertsons
Grilled Chili Tofu Skewers with Ranch Cabbage, Apple & Cucumber Slaw
568 calories | 20 minutes
1 avocado
1/2 English cucumber
1 (12 oz.) package extra firm tofu
1 Granny Smith apple
3 Tbsp (45 ml) Ranch dressing
1/2 (14 oz bag) shredded cabbage (coleslaw mix)
2 tsp chili powder
1 Tbsp extra virgin olive oil
1/2 tsp garlic powder
1/2 tsp salt
Find full instructions and shopping list here.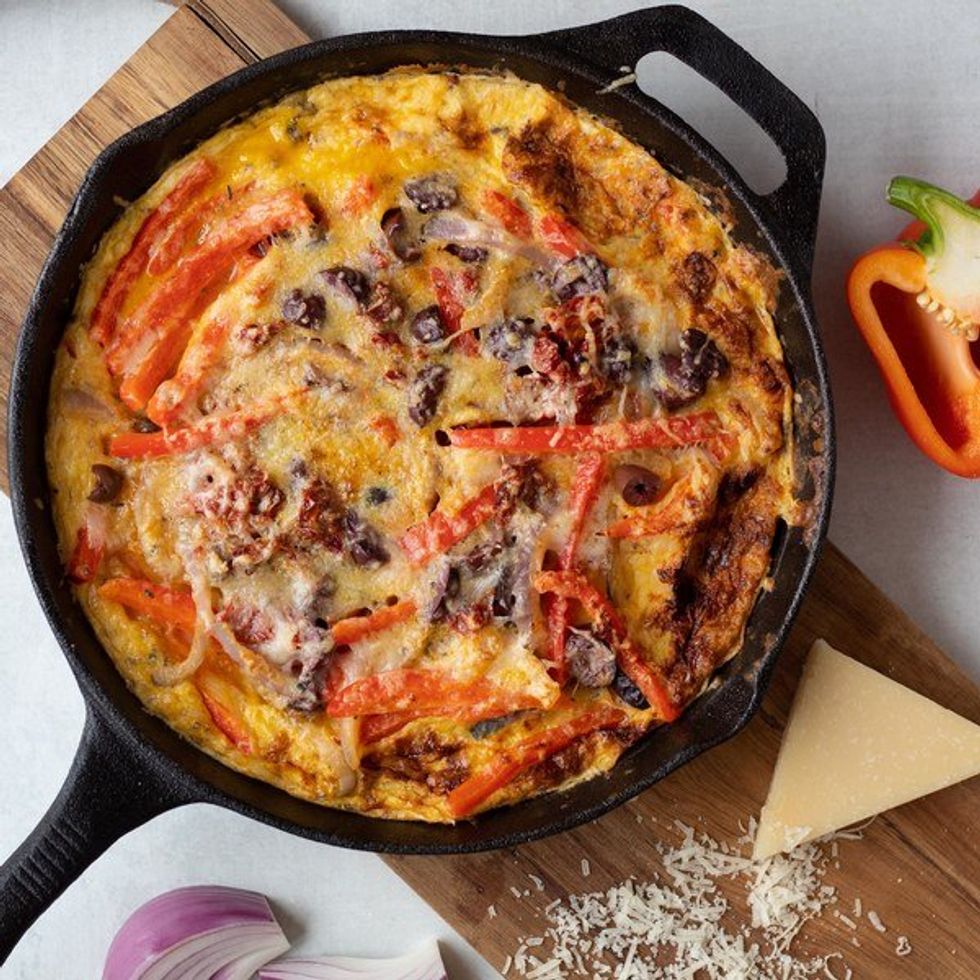 Sometimes you just gotta frittata.Albertsons
Bell Pepper, Olive & Sun-Dried Tomato Frittata with Parmesan
513 calories | 25 minutes
6 eggs
1/2 cup Kalamata olives, pitted
2 oz Parmesan cheese
1 red bell pepper
1/2 medium red onion
8 sundried tomatoes, oil-packed
1/4 tsp black pepper
1 Tbsp extra virgin olive oil
1/2 tsp Italian seasoning
1/4 tsp salt
Find full instructions and shopping list here.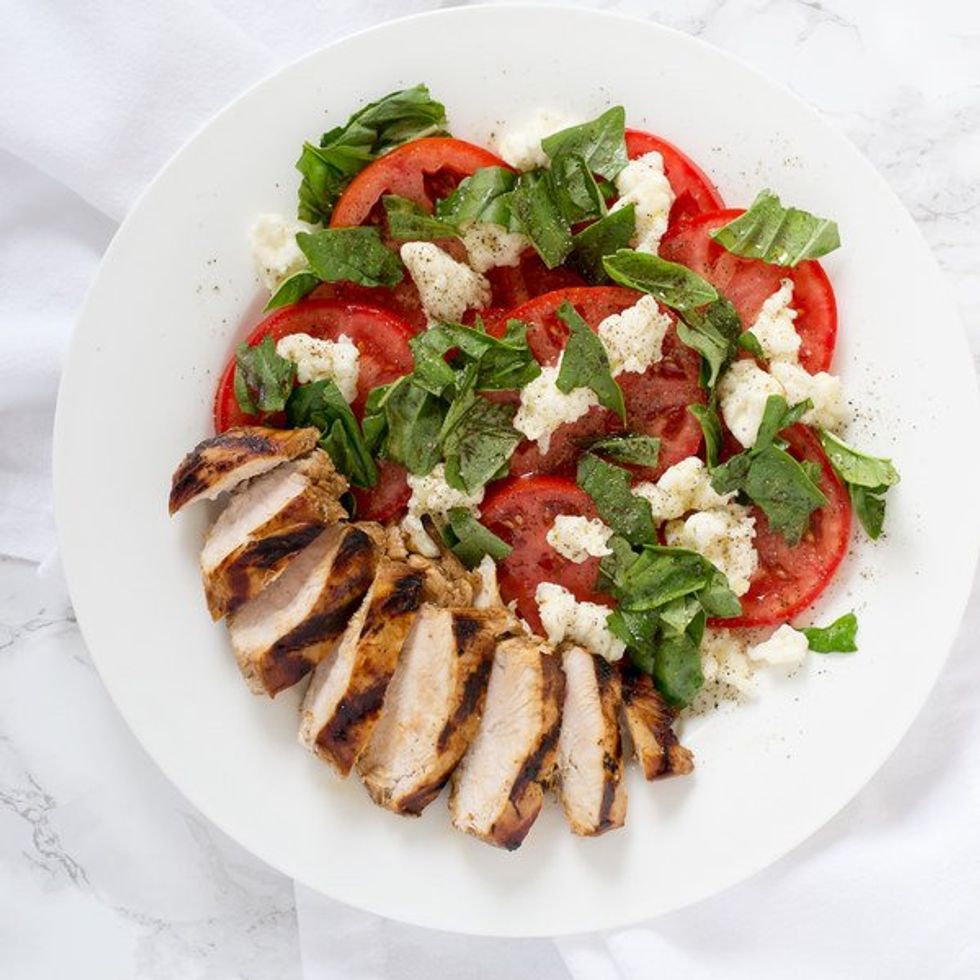 Caprese, if you please.Albertsons
Balsamic Grilled Chicken with Classic Caprese Salad
509 calories | 25 minutes
3/4 lb chicken breasts, boneless skinless
1/2 small pkg fresh basil
1/2 (8 oz pkg) fresh mozzarella cheese
1 clove garlic
3 tomatoes
1 Tbsp balsamic vinegar
4 3/4 pinches black pepper
1 1/2 tsp extra virgin olive oil
3/4 tsp salt
Find full instructions and shopping list here.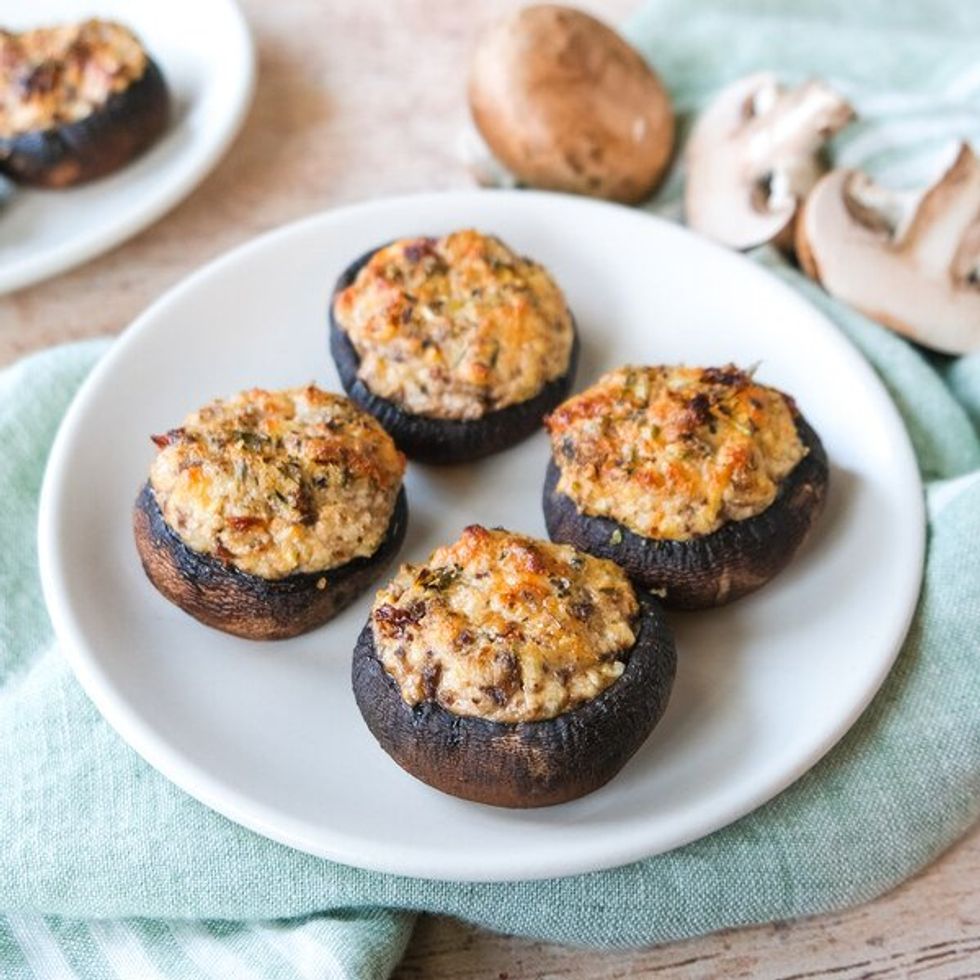 These mushrooms look positively poppable.Albertsons
Warm Goat Cheese, Parmesan & Sun-Dried Tomato Stuffed Mushrooms
187 calories | 35 minutes
1/2 lb cremini mushrooms
1 clove garlic
1/2 (4 oz) log goat cheese
1/4 cup Parmesan cheese, shredded
2 sundried tomatoes, oil-packed
1 1/4 pinches crushed red pepper
1 tsp extra virgin olive oil
1/4 tsp Italian seasoning
2 pinches salt
Find full instructions and shopping list here.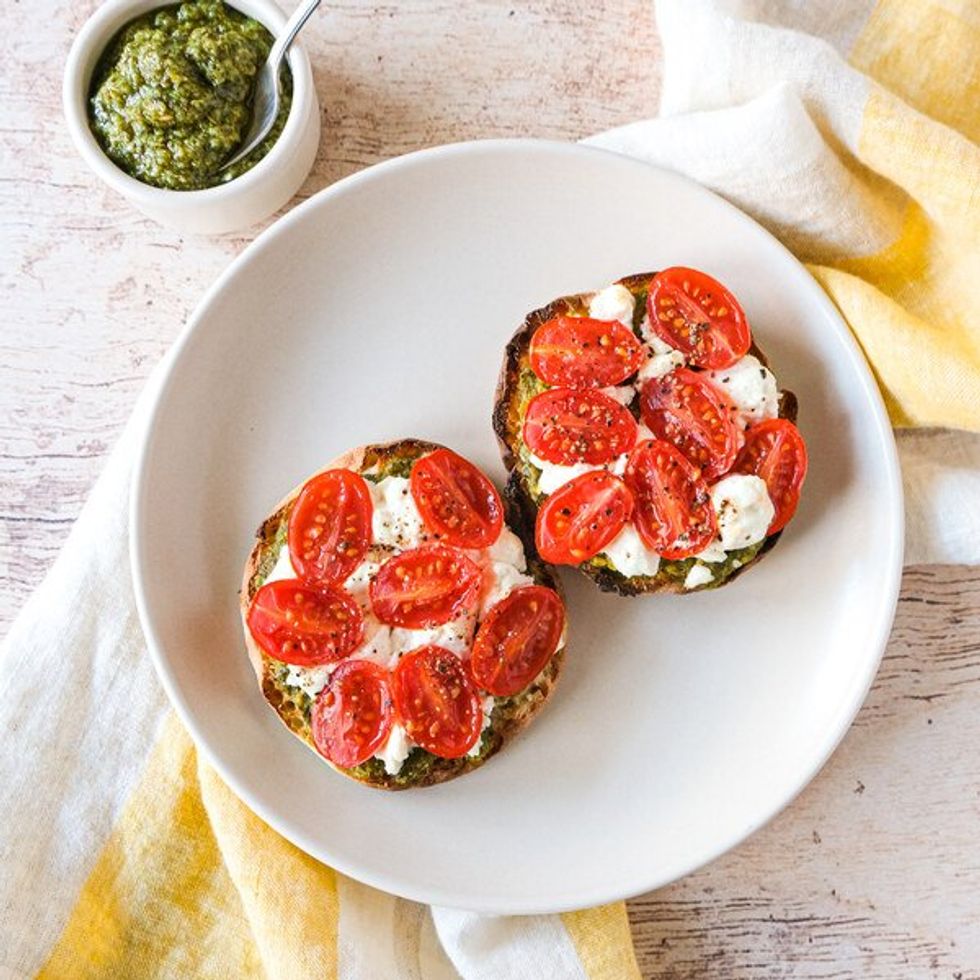 Move over, avocado toast. English muffin pizzas have arrived.Albertsons
English Muffin Pizzas with Basil Pesto, Goat Cheese & Tomatoes
327 calories | 10 minutes
3 Tbsp (45 ml) basil pesto
2 English muffins
1/2 (4 oz) log goat cheese
1/2 pint grape tomatoes
3/4 pinch black pepper
2 pinches salt
Find full instructions and shopping list here.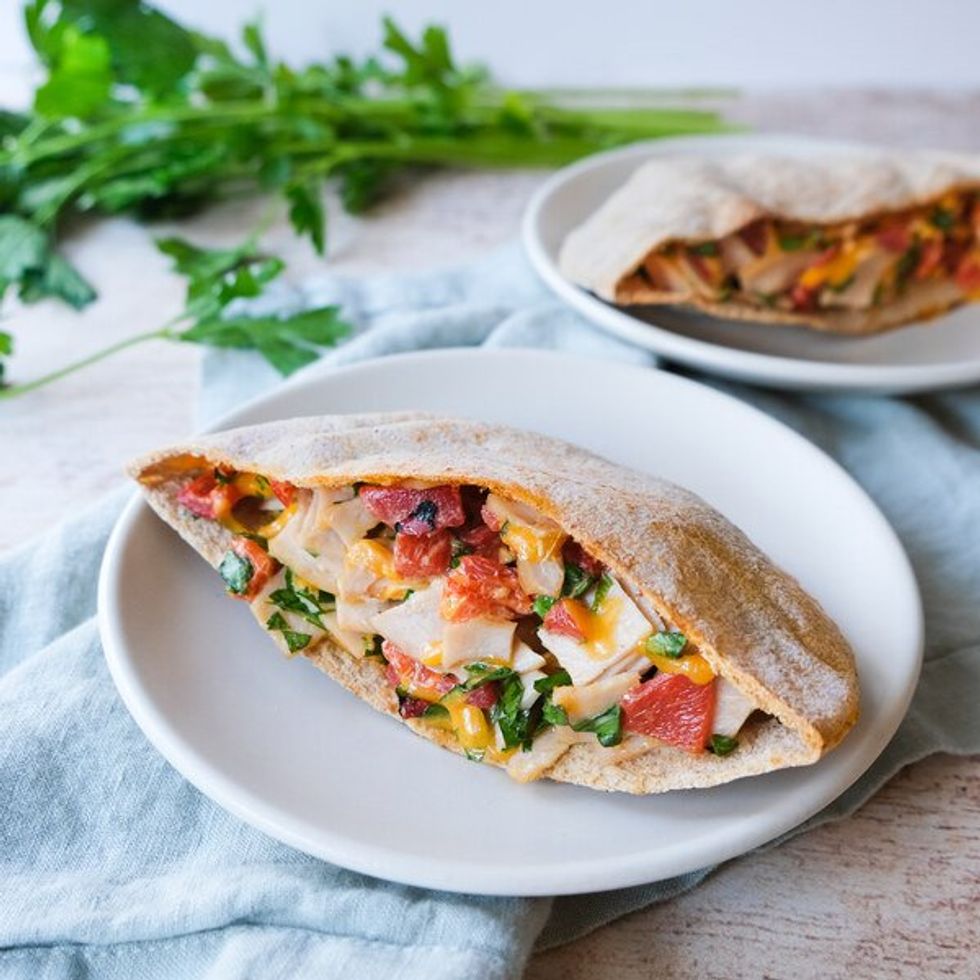 This pita pocket packs a colorful punch.Albertsons
Warm Pita Pocket with Turkey, Cheddar, Roasted Red Peppers & Parsley
313 calories | 20 minutes
1/4 (8 oz) block cheddar cheese
1/2 bunch Italian (flat-leaf) parsley
4 oz oven roasted turkey breast, sliced
1/2 (12 oz) jar roasted red bell peppers
1 whole grain pita
3/4 pinch black pepper
1/2 tsp Dijon mustard
2 tsp mayonnaise
Find full instructions and shopping list here.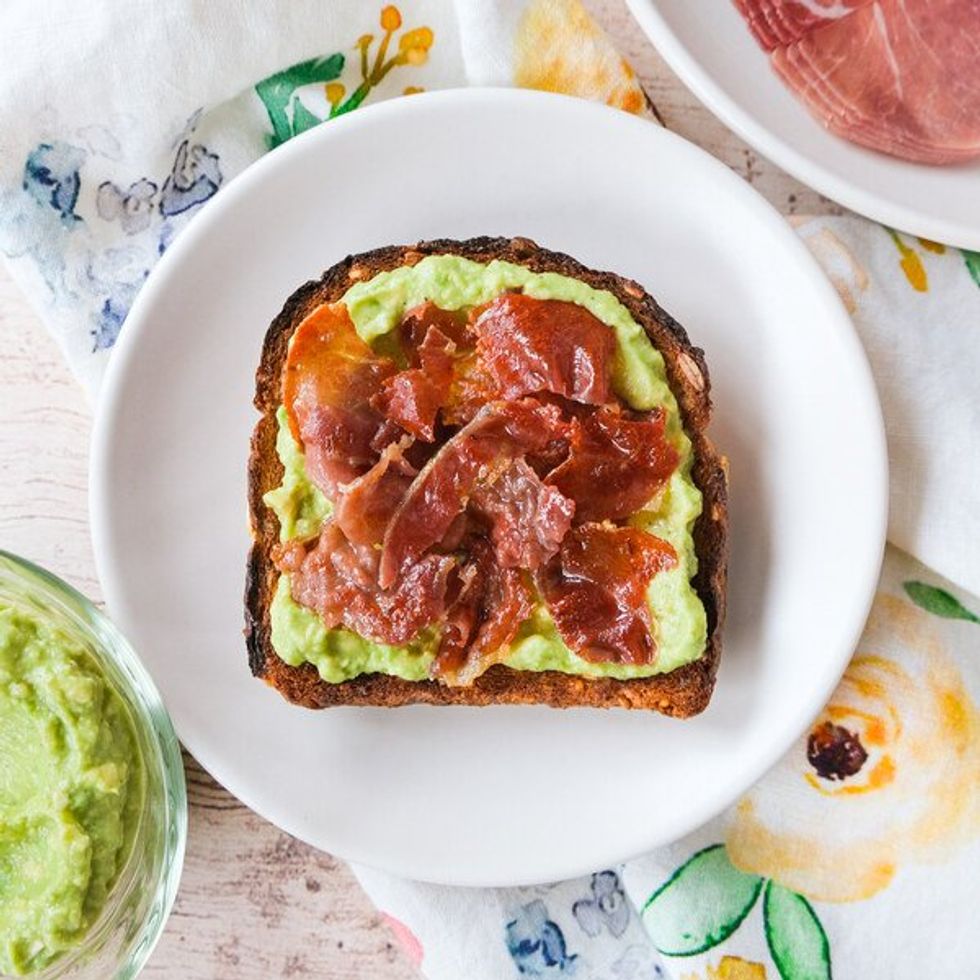 Did we say, "Move over, avocado toast?" What we meant was "Throw some prosciutto on it!" Albertsons
Avocado Toast with Crispy Prosciutto
283 calories | 10 minutes
1 avocado
2 slices prosciutto
2 slices whole grain bread
1 5/8 tsp black pepper
1/2 tsp extra virgin olive oil
1/8 tsp garlic powder
1/8 tsp onion powder
Find full instructions and shopping list here.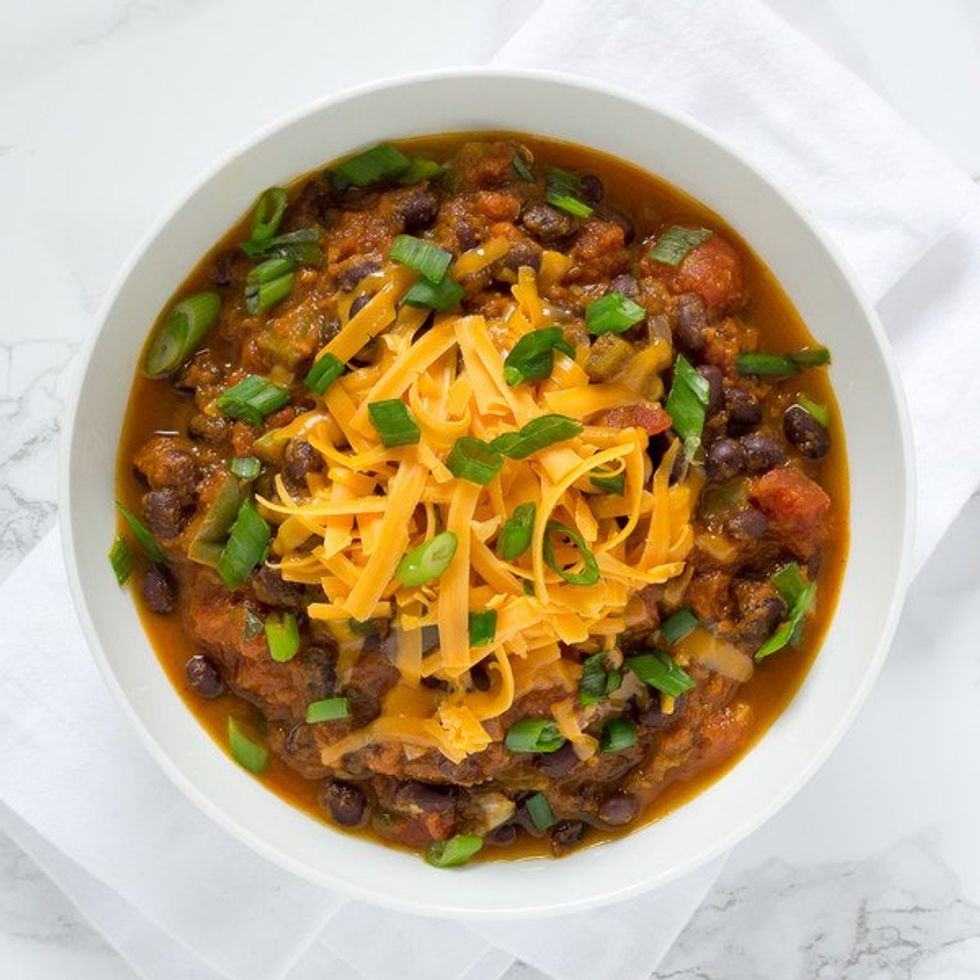 Vegetarian chili with a fall twistAlbertsons
Black Bean & Pumpkin Chili with Cheddar
444 calories | 30 minutes
2 (15 oz can) black beans
1/2 (8 oz ) block cheddar cheese
2 (14.5 oz) cans diced tomatoes
2 cloves garlic
2 green bell peppers
1 small bunch green onions (scallions)
1 (15 oz) can pure pumpkin purée
1 medium yellow onion
1/2 tsp black pepper
5 7/8 tsp chili powder
1/2 tsp cinnamon
2 tsp cumin, ground
1 tsp salt
1 Tbsp virgin coconut oil
Find full instructions and shopping list here.
For more delicious and nutritious recipes, visit albertsons.com/recipes.
Health
This is what leadership should look like. 💯
Image shared by Madalyn Parker
Madalyn Parker wanted to take a couple days off work. She didn't have the flu, nor did she have plans to be on a beach somewhere, sipping mojitos under a palm tree.
Parker, a web developer from Michigan, wanted a few days away from work to focus on her mental health.
Parker lives with depression. And, she says, staying on top of her mental health is absolutely crucial.
"The bottom line is that mental health is health," she says over email. "My depression stops me from being productive at my job the same way a broken hand would slow me down since I wouldn't be able to type very well."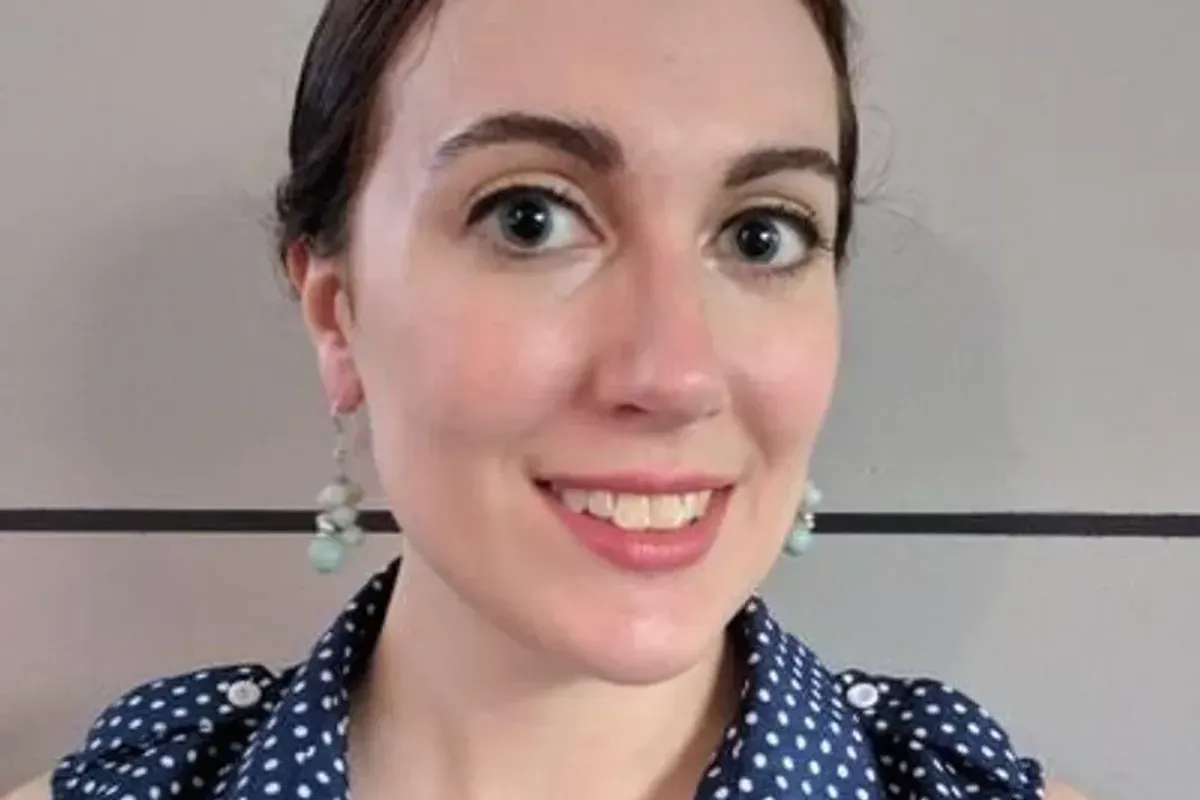 Madalyn Parker was honest with her colleagues about her situation.
Photo courtesy Madalyn Parker.
She sent an email to her colleagues, telling them the honest reason why she was taking the time off.
"Hopefully," she wrote to them, "I'll be back next week refreshed and back to 100%."
Soon after the message was sent, the CEO of Parker's company wrote back:
"Hey Madalyn,

I just wanted to personally thank you for sending emails like this. Every time you do, I use it as a reminder of the importance of using sick days for mental health — I can't believe this is not standard practice at all organizations. You are an example to us all, and help cut through the stigma so we can all bring our whole selves to work."
\u201cWhen the CEO responds to your out of the office email about taking sick leave for mental health and reaffirms your decision. \ud83d\udcaf\u201d

— madalyn (@madalyn) 1498854569
Moved by her CEO's response, Parker posted the email exchange to Twitter.
The tweet, published on June 30, 2017, has since gone viral, amassing 45,000 likes and 16,000 retweets.
"It's nice to see some warm, fuzzy feelings pass around the internet for once," Parker says of the response to her tweet. "I've been absolutely blown away by the magnitude though. I didn't expect so much attention!"
Even more impressive than the tweet's reach, however, were the heartfelt responses it got.
"Thanks for giving me hope that I can find a job as I am," wrote one person, who opened up about living with panic attacks. "That is bloody incredible," chimed in another. "What a fantastic CEO you have."
Some users, however, questioned why there needs to be a difference between vacation time and sick days; after all, one asked, aren't vacations intended to improve our mental well-being?
That ignores an important distinction, Parker said — both in how we perceive sick days and vacation days and in how that time away from work is actually being spent.
"I took an entire month off to do partial hospitalization last summer and that was sick leave," she wrote back. "I still felt like I could use vacation time because I didn't use it and it's a separate concept."
Many users were astounded that a CEO would be that understanding of an employee's mental health needs.
They were even more surprised that the CEO thanked her for sharing her personal experience with caring for her mental health.
After all, there's still a great amount of stigma associated with mental illness in the workplace, which keeps many of us from speaking up to our colleagues when we need help or need a break to focus on ourselves. We fear being seen as "weak" or less committed to our work. We might even fear losing our job.
Ben Congleton, the CEO of Parker's company, Olark, even joined the conversation himself.

In a blog post on Medium, Congleton wrote about the need for more business leaders to prioritize paid sick leave, fight to curb the stigma surrounding mental illness in the workplace, and see their employees as people first.
"It's 2017. We are in a knowledge economy. Our jobs require us to execute at peak mental performance," Congleton wrote. "When an athlete is injured, they sit on the bench and recover. Let's get rid of the idea that somehow the brain is different."
This article originally appeared on 07.11.17
Joy
Weddings bring up all kinds of emotions. These photographers knew exactly how to celebrate that.
Health
Courage and body positivity. This is me.
Image from YouTube video.
Matt Diaz has worked extremely hard to lose 270 pounds over the past six years.
But his proudest moment came in March 2015 when he decided to film himself with his shirt off to prove an important point about body positivity and self-love.
Matt had lap-band surgery in 2009 at age 16.
Through the course of his weight-loss journey, Matt became passionate about promoting body positivity for people of all shapes and sizes.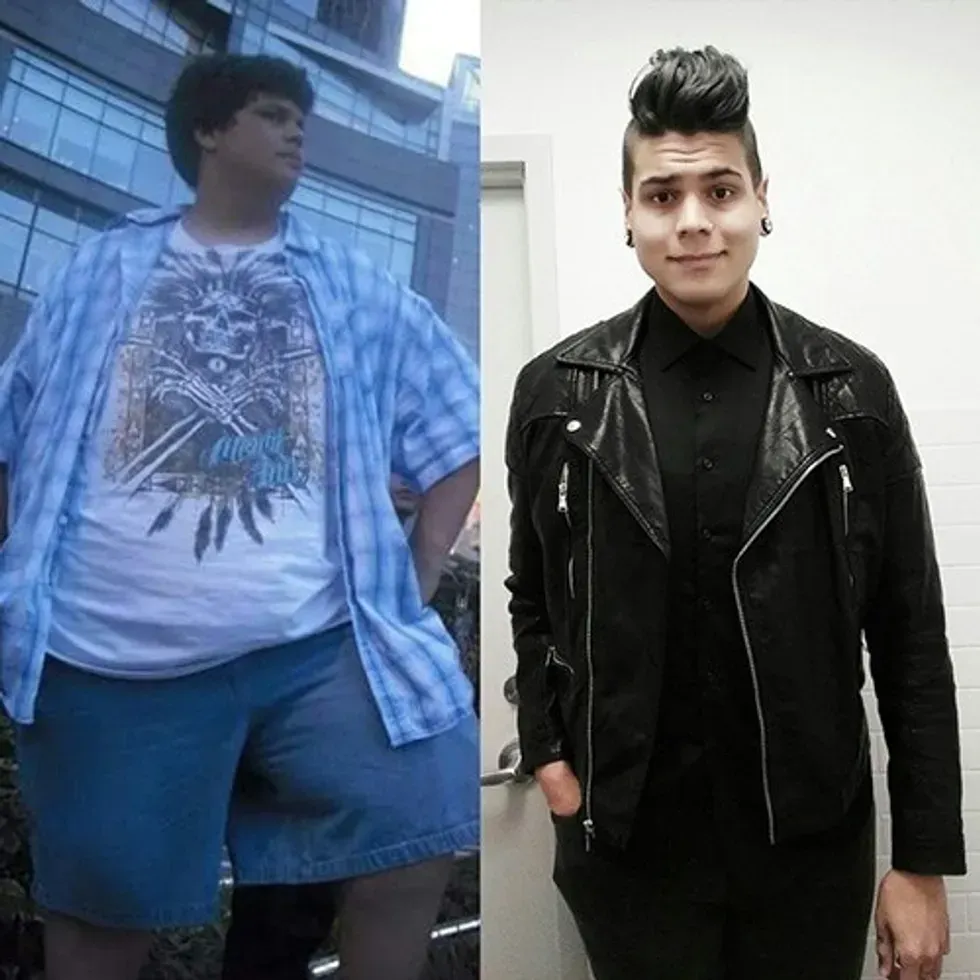 Here's Matt at 16 years old and 497 pounds versus recently after his surgery — at 22 years old and 220 pounds.
Images via Matt Diaz, used with permission.
To stay motivated, he started sharing his journey on social media, posting before-and-after photos, answering questions and giving support to followers, and even sharing his meals and favorite workouts. Six years later, Matt is down over 270 pounds and is a very active voice in the online body-positivity movement.
But in all his years of sharing his story, the one thing he's never done is showed what his body looks like after 200+ pounds of weight loss. So he uploaded the video above to show his followers his true self.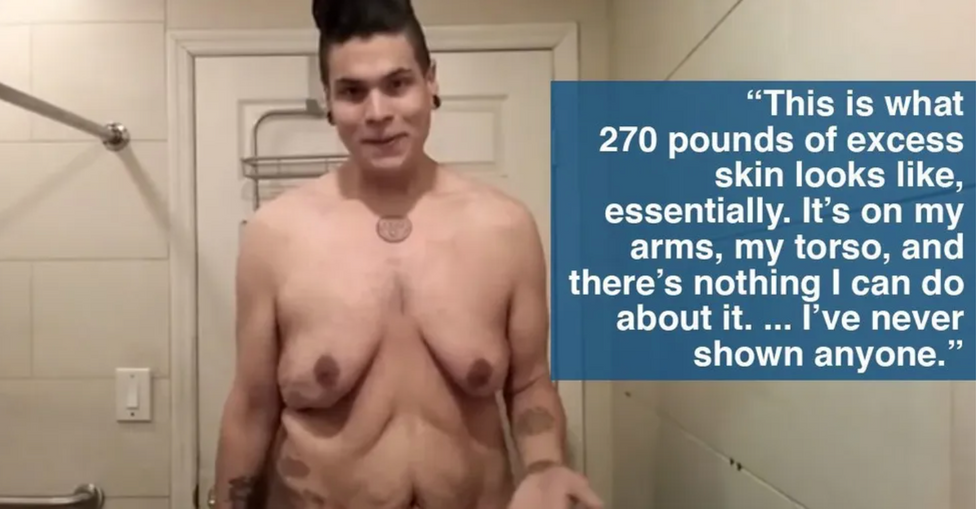 Sharing what happens with extreme weight loss.
Images via Matt Diaz, used with permission.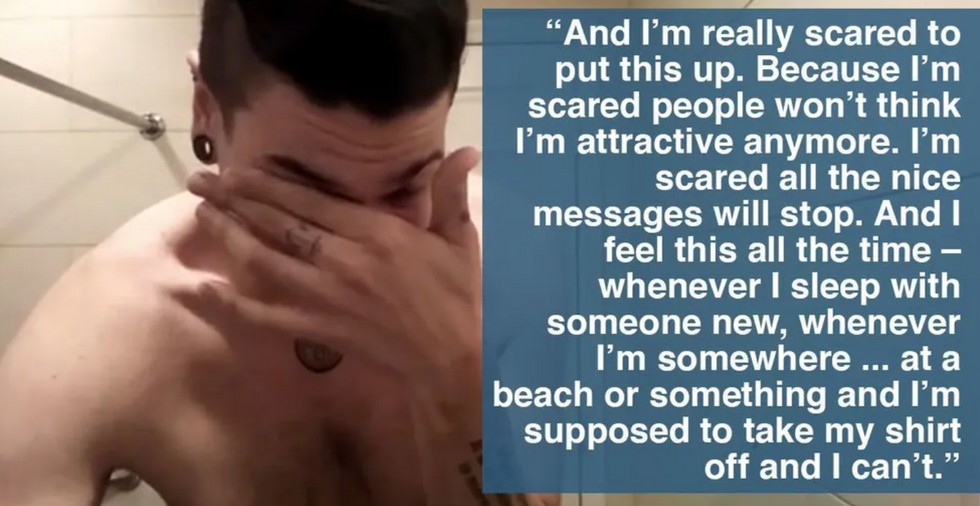 Working through fear...
Images via Matt Diaz, used with permission.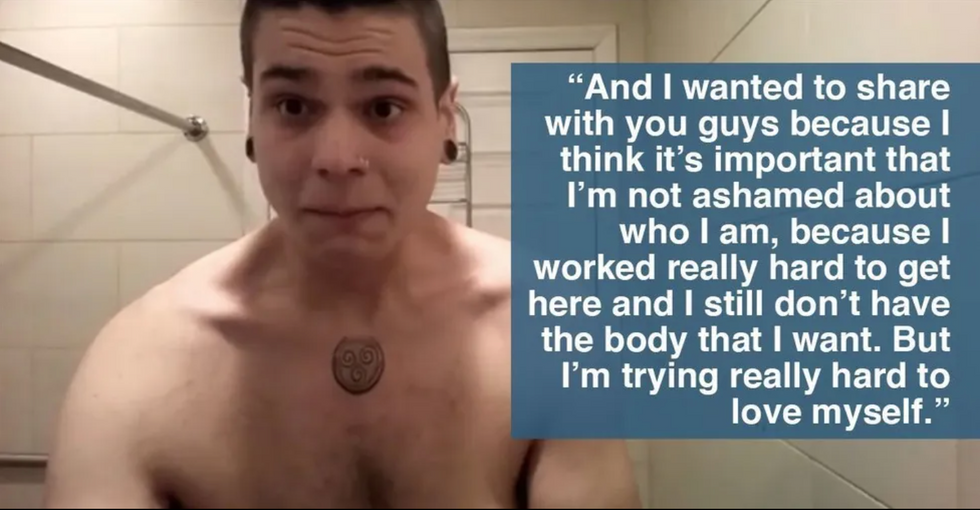 Loving myself.
Images via Matt Diaz, used with permission.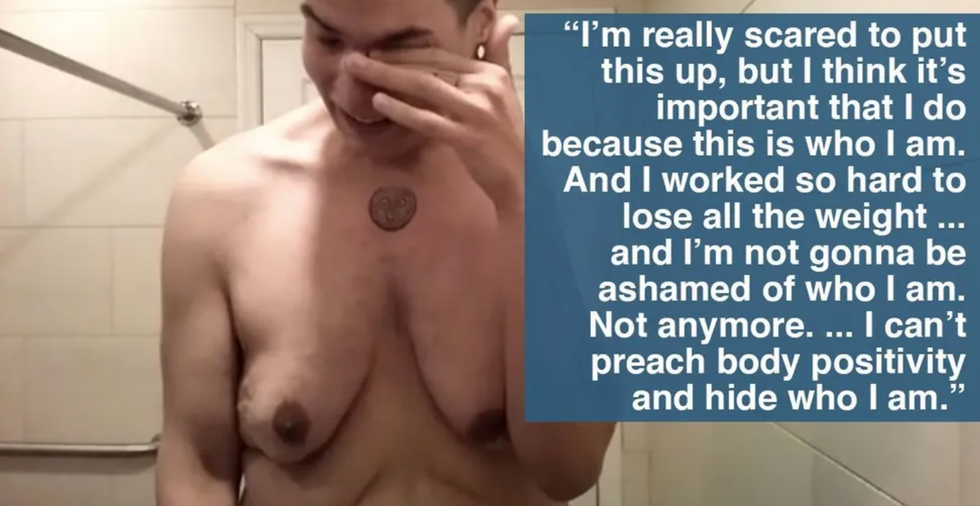 Scary and important.
Images via Matt Diaz, used with permission.
Shortly after he posted the video online, originally to Tumblr, it quickly went viral and garnered thousands of shares and comments from people around the web. I was one of the thousands touched by the video, so I reached out to Matt to find out more about what motivated him and what he hopes others can take away from his story. Here's what he had to say:
Why was it so important for you to post this video?
"I'm a really big advocate for self-love and body positivity. I think it's important that we learn to love the bodies we're in, even if we don't necessarily like every little thing about them. However, in the time I'd been writing and talking about it, I'd never actually shown my excess skin to anyone. It felt dishonest somehow, to others and to myself. I couldn't tell others that I wanted them to love themselves and keep myself hidden away and ashamed of my skin."
"I know what it feels like to hate your body, and to be depressed about it, and I never want anyone to feel that way again. So, if making myself vulnerable can help one person, why not?"
— Matt Diaz
What's the response been like? Anything particularly unexpected?
"I think that putting any opinion on the Internet will garner a certain amount of negativity and cynicism, but I haven't seen anything like that at all. I've read every comment and message since the video has gone up, literally thousands, and they're all so thoughtful.
A really surprising side-effect were the number of transgender people who've thanked me saying that they understood my struggle, even though their body-related insecurity grew from different roots. I'd never even begun to [think] of what that must be like, and the fact that my message could help even though my problems began somewhere else is really incredible."
What advice or words of encouragement do you have for someone who's struggling to love their body?
"I know it's difficult, especially when you're starting out. I want you to remember that you are not the problem, certain aspects of society are the problem. You'll constantly be told that you're too heavy or too tall to be attractive, or you're not masculine or feminine enough, or that your skin isn't the right tone or your hair isn't the right color, and these people are always always always wrong.
Luckily, we're slowly starting to see these ideas get phased out by modernity. Plus-sized, un-retouched models are getting more attention in major brands, more attention is being put on the alternative scene for high fashion, it's becoming clear that these negative ideas are not going to last, though it's going to take a while."
"Understand that to love yourself is to contest the negative things that were put into your head. Every smile, tattoo, bathing suit, and crop top is a small revolution. Tell yourself you're beautiful every day, and I promise you will be."
— Matt Diaz
Watch video below:
Matt's story is a personal one, but it's one we can all learn from.
I think the most important thing to take away here is that self-love takes time and is different for everyone no matter what they look like. It's also worth noting that for Matt, losing weight was an important part of his journey, but that might not be the case for everyone. Even so, our society has such incredibly high and unrealistic body standards that even many of those who do work to lose weight end up feeling uncomfortable or being shamed for not having "perfect bodies" once they've lost weight.
There's no such thing as a "perfect body" because everyone is different, which is what makes us beautiful and great! I'm glad there are people like Matt in the world who are not only willing to share their stories but also to inspire others by showing that body confidence comes in all shapes and sizes, and that everyone deserves to feel good about who they are. Here's hoping Matt's inspiring words can help others begin to love and accept themselves, no matter where they're at in their journey.
This story originally appeared on 03.18.15.
Get stories worth sharing delivered to your inbox
Joy
"I see him doing the absolute best that he can with what he has."
Health
Dr. Brené Brown says we need to be vulnerable to help.
Education
In many ways, the future turned out much brighter than these youngsters expected it to.
Get stories worth sharing delivered to your inbox