More
These fat old lesbians smoking weed are the only thing worth paying attention to on the Internet.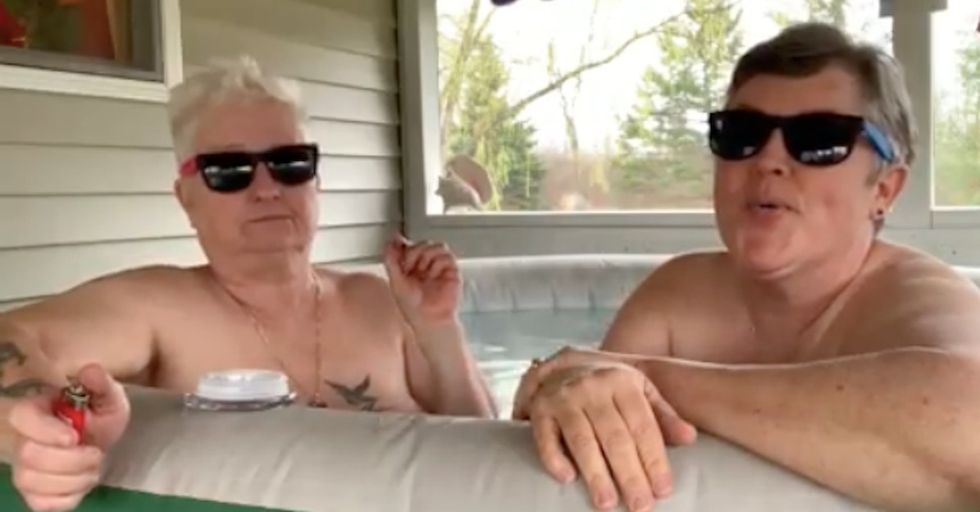 The internet is a truly wonderful place*. Aside from allowing us to order food and other perishable/non-perishable goods without speaking to anyone, it also allows us to connect with people we never thought possible. Like two old, fat lesbians who smoke weed all the time. Did you think you were going to find out about them today? Well, guess what: It's happening. It's happening RTFN.
Sue and Lee are retired and reside in a house with an inflatable hot tub in Maine. I did not know they existed before, but an interview in The Cut brought them rip-roaring into my life, and now, like the interview's author, there is no one I would rather be when I grow up.
Sue and Lee, of course, never meant to be viral sensations. Together for 12 years and married for four, the pair just wanted something fun to do. So they started a social media project.
In their videos, they smoke weed in front of  a lovingly placed woodcut that appropriately reads "inspire" in their home; they smoke weed while they pour sugar all over a calendar (it makes sense if you know the song they're parodying); they smoke weed out of off-brand barbies. Recently, they filmed a video of themselves singing "Like a Virgin" while holding hands in bed. These videos are so silly, so unflinchingly and honestly cheesy, so mundane**.  
"We didn't plan on being part of a movement. We just are fat, and old, and gay," Lee says in the couple's interview with The Cut.  That's also exactly what makes them so incredibly important.
Let me tell you a quick story: I knew I was gay really, really early in life. But I also knew that people thought being gay — even in San Francisco, where I live — was wrong. It's a message I got from everywhere — from the media, which primarily played homosexuality for shock value in the '90s, to my parents, who had bought into these negative stereotypes. They would bundle us all into the car when visitors came to town and take us down Castro street where we could gawk at the homosexuals openly holding hands.
It was especially sad for me. I'd sit in the back of that car and hope that maybe this whole "gay thing" was just a phase. And when it wasn't, I worried about being one of those old gay dudes in The Castro. I didn't have any role models to show me that you could be gay, old, and happy. Even though I eventually figured it out, I know that I would have loved to have a Sue and Lee to show me that life could be fucking awesome at all stages, body types, and sexual orientations.
"We're hoping that people see us as just normal, everyday people. We're trying to tell people not to hate gays, or fat people, or old people," Sue says in the interview.
You keep rocking on, ladies. Let's spread their message far and wide.
*It is also dark and full of terrors, but we are not speaking about that today.
**Take note, Met Gala attendees: This is what camp is!