Most Shared
There's a new stamp that lets you legally transform $20 bills with the face of Harriet Tubman.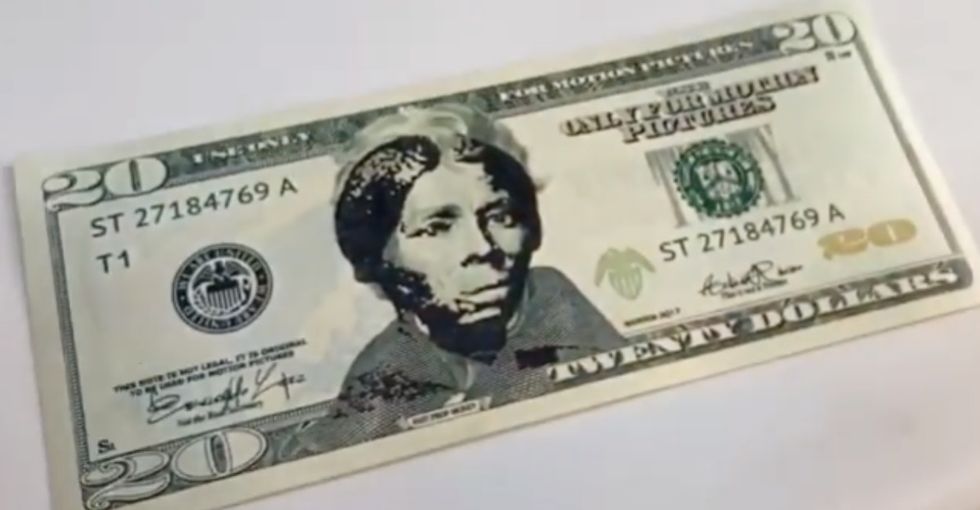 Harriet Tubman was slated to replace Andrew Jackson on the $20 by 2020. Now that change has been delayed—by eight years.
Treasury Secretary Steve Mnuchin has announced that the redesign of the U.S. $20 bill, which was announced in 2016, will not be on the table until well after a new president is in the White House.
"The primary reason we've looked at redesigning the currency is for counterfeiting issues," Mnuchin said, according to The Hill. "Based upon this, the $20 bill will now not come out until 2028. The $10 and the $50 will come out with new features beforehand."
---
Nevermind the fact that the $20 and $100 are the most commonly counterfeited currency in the U.S., so it would make logical sense to focus on changing the $20 anyway. Nevermind the fact that President Trump adores Andrew Jackson—the anti-abolitionist president responsible for the abominable Trail of Tears—and has called the change to the $20 "pure political correctness."
Sure, it's about counterfeiting. Let's go with that.
I can't qwhite put my finger on why this is happening. https://t.co/cShXbU7yyK

— Audra McDonald (@Audra McDonald) 1558561087.0
No worries. You can make your own Harriet Tubman $20 with this nifty 3-D stamp.  
Artist Dano Hall has taken matters into his own hands and created a stamp that anyone can use to transform a Jackson $20 to a Tubman $20. The stamp is perfectly designed to cover Jackson's head with Tubman's, and is meant to make a statement.
Hall told The Awesome Foundation:
"I was inspired by the news that Harriet Tubman would replace Andrew Jackson on the $20 bill, and subsequently saddened by the news that the Trump administration was walking back that plan. So I created a stamp to convert Jacksons into Tubmans myself. I have been stamping $20 bills and entering them into circulation for the last year, and gifting stamps to friends to do the same."
He also added his reasoning for wanting to see Tubman's face on our currency, and why the act of individually stamping bills is a powerful act of subversion.
"This country, and its government, have a serious problem with representation. Who we choose to honor as a society affects the moral attitudes that are baked into us as we grow up. The impact that seeing the face of Harriet Tubman staring back at you from a $20 bill should not be underestimated. This sort of representation can subtly but deeply affect someone's conception of themselves and their place in society. The slightly subversive nature of it being currency that's been hand-stamped by another human makes a discovery of one of these bills all the more joyous."
See the stamp in action:
If you're wondering, yes, it's legal. Probably.
People may be wondering if stamping someone else's face on a U.S. bill is legal. After, all, there are laws about defacing currency. But according to the legal experts at stampstampede.org, stamping Tubman's face on the $20 doesn't fall under the category of things you can't do to currency.
The website, founded by Ben Cohen of Ben & Jerry's Ice Cream fame, states:
"There are three things that you CANNOT do to paper currency:
You CANNOT change the denomination — for example, you cannot add two zeros to a one dollar bill and pretend that it's a one hundred dollar bill. That's illegal.
You CANNOT burn, shred, or destroy currency, rendering it unfit for circulation.
You CANNOT advertise a business on paper currency. For example, if you own a Bagel shop, you cannot stamp "Eat at Joe's Bagel's" on a dollar.
But we are putting political messages on the bills, not commercial advertisements. Because we all want these bills to stay in circulation and we're stamping to send a message about an issue that's important to us, it's legal!"
You can read two lawyer's takes on the legality of the stamps here. Others argue that writing or stamping on bills is technically illegal, but you're not likely to get in trouble for it. Ben Cohen has stamped bills on national television multiple times, and has shown his stamped bills to lawmakers and politicians as high as the U.S. president, and has never faced any legal action.
At best, it's a legal gray area and the chances of you getting into legal trouble with it are slim to none—at least as of now.
If you want to buy a Tubman stamp, get in line. The Etsy shop selling it has received a huge surge of requests and is trying to keep up with demand. If you manage to get one, the stamp will set you back a perfectly appropriate $20. Or, Hall has given instructions for creating your own, as long as you agree not to sell it for profit.  
Here's to artists finding creative ways to take a stand in this whackadoodle era.