Family
The new daddy 'poo timer' is a funny gift idea, but it calls attention to a real issue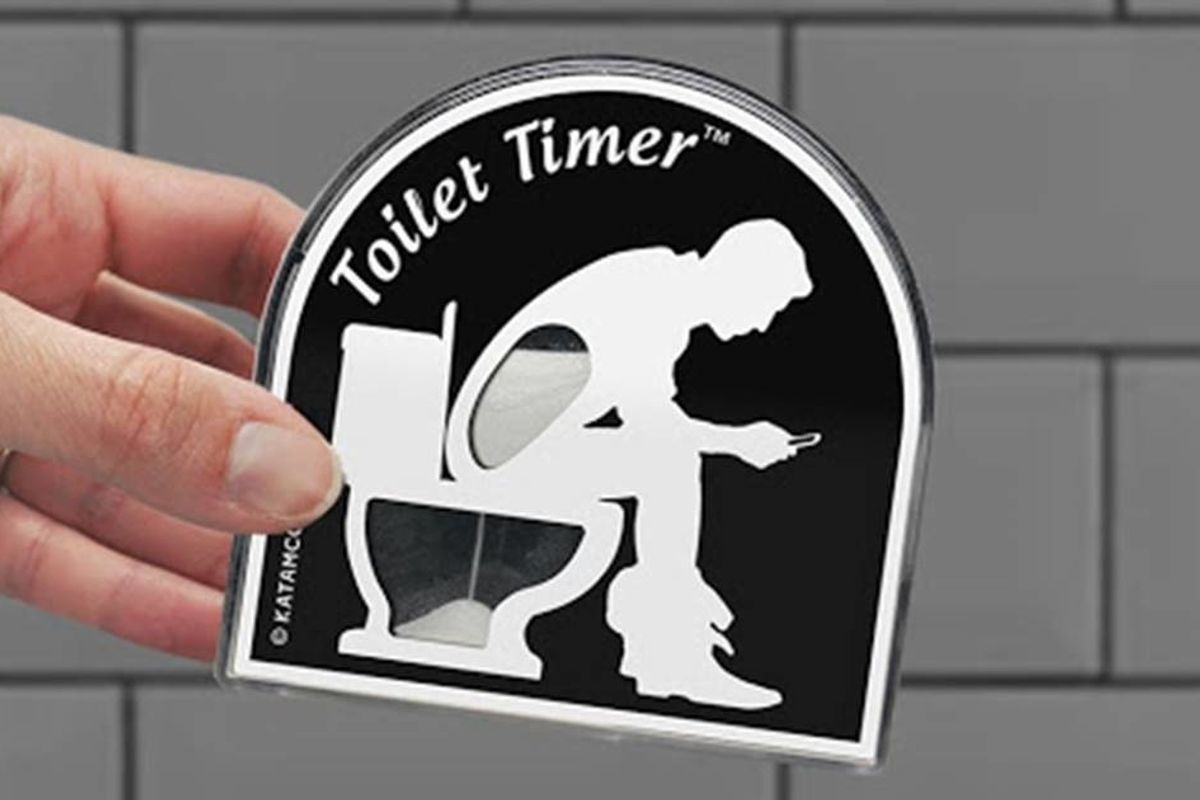 There are many, many things that change in a household after children arrive. The number of toys and bright-colored items strewn about the house make it look like a clown moved in.

Parents soon give up any chance of watching a TV show they enjoy until after the children go to bed.
The refrigerator becomes jam-packed with juice boxes, go-gurts, and large frozen bags of chicken nuggets.
There's also a strange disappearing act that happens.
---
"Mom, where's dad?" the child asks.
"He's in the bathroom," mom replies with a shrug.
Funny, before children, dad used to be in and out of the bathroom in a few minutes. Now, he spends thirty minutes staring at his phone, watching YouTube, and setting his fantasy baseball lineup in his new palace of solace.
While it's always good to get some alone time, it becomes a problem when dad leaves his spouse to handle the child-rearing and chores because he's taking his time on the throne.
In a recent story covered by Upworthy, a mother on Reddit admitted she turns off the wi-fi in the house if her husband takes too long in the restroom.
"Over the past couple months he has been spending more and more time in there," the mother wrote. "He always takes his phone. He is always watching YouTube. His average session is 25 minutes in there, often longer, rarely shorter."
"Today I started a new rule. If he is in the bathroom for more than 10 minutes, I flip the wifi off," she wrote. "He has not spent more than 15 minutes in the bathroom at a stretch today, but is extremely upset."
For those who find that tactic a bit drastic, Katamco has created the Toilet Timer, an hour-glass style timer that can be flipped over when dad enters the bathroom.
"The Toilet Timer is for the poo-crastinator taking their sweet time," reads the product description. "This is a sand timer that runs for about five minutes. Help your loved one get back to the people they are trying to avoid."
While the daddy poo-timer seems like a fun passive-aggressive gag gift, there's a real reason it exists. After having kids, the average dad's time spent on the pot goes up considerably.
A poll of 1,000 British men found that dads spend seven hours a year hiding from their families in the bathroom.
The poll found that 25% of men said if they couldn't escape to the bathroom they "don't know how they'd cope." A third said that a trip to the bathroom is the only time they get to themselves.
Fourteen percent stow away items such as books, magazines, and food for the time they spend in their palace of solitude.
Who the hell eats while sitting on the toilet?
Domestic life can be stressful for both parents. Maybe if these dads need a breather from the trials of domesticity they should just ask their spouses? That seems to be a much more constructive way of handling the stress than hiding out in fear.